The Sweden Allsvenskan serves as a fertile ground for emerging football talent, and Comparisonator platform spotlights the standout U23 players who are making significant impacts in five key parameters. From key passes by midfielders to duels won by centre-backs, these young stars are not only leaving an indelible mark on their respective positions but also signaling a promising future for Swedish football. In this analysis, we delve into the performances of these U23 talents, showcasing their prowess and potential to shape the landscape of the Allsvenskan.
Our team of recruitment analysts dived into Denmark Superliga current season, and listed top 5 leaders in each parameter category:
Key Passes by Midfielders
Successful Dribbles by Wingers
Ball Recoveries by Fullbacks
Touches in Box by Strikers
Duels Won by Centre-Backs
Best U23 Players in the Sweden Allsvenskan in 5 Parameters
The best 5 players ranked in the selected parameters based on the matches played so far this season. These players ranked according to their per 90 min averages. In this analysis, the Comparisonator team used the Recruitment Shop feature of the Platform.

Please note that all numbers are per 90 min data from the 2023/24 Season So Far.
HOW DOES COMPARISONATOR's RECRUITMENT FEATURE WORKS?
"Recruitment Shop" allows recruiters & scouts to search/list players with one click from any league and any position according to their performance (using artificially intelligent Comparisonator Performance index), height, age, passport country. Player actions can be filtered towards qualities searched for. Out of contract players can be found from more than 300.000 players within the database.
For example decision makers will can list all U21 best centre forwards (or any positions) in Croatia & Serbia (or from 275 competitions), add amount of goals, aerial duels won if looking for a target man from the filter section, or dribbles made if looking for forwards. Very simply detail the position to search to find suitable players.
In summary, these U23 players in the Sweden Allsvenskan not only contribute significantly to their teams but also embody the future of Swedish football. As they continue to develop and gain experience, their influence on the league and potentially on the international stage is set to grow, solidifying their roles as key contributors in the vibrant landscape of Swedish football.
Key Passes
Tashreeq Matthews leads U23 midfielders with an impressive average of 0.77 key passes per 90 minutes, showcasing his playmaking abilities. Amane Romeo, Ismet Lushaku, Otto Rosengren, and Hampus Finndell also feature prominently, each contributing significantly to the creation of goal-scoring opportunities from the midfield.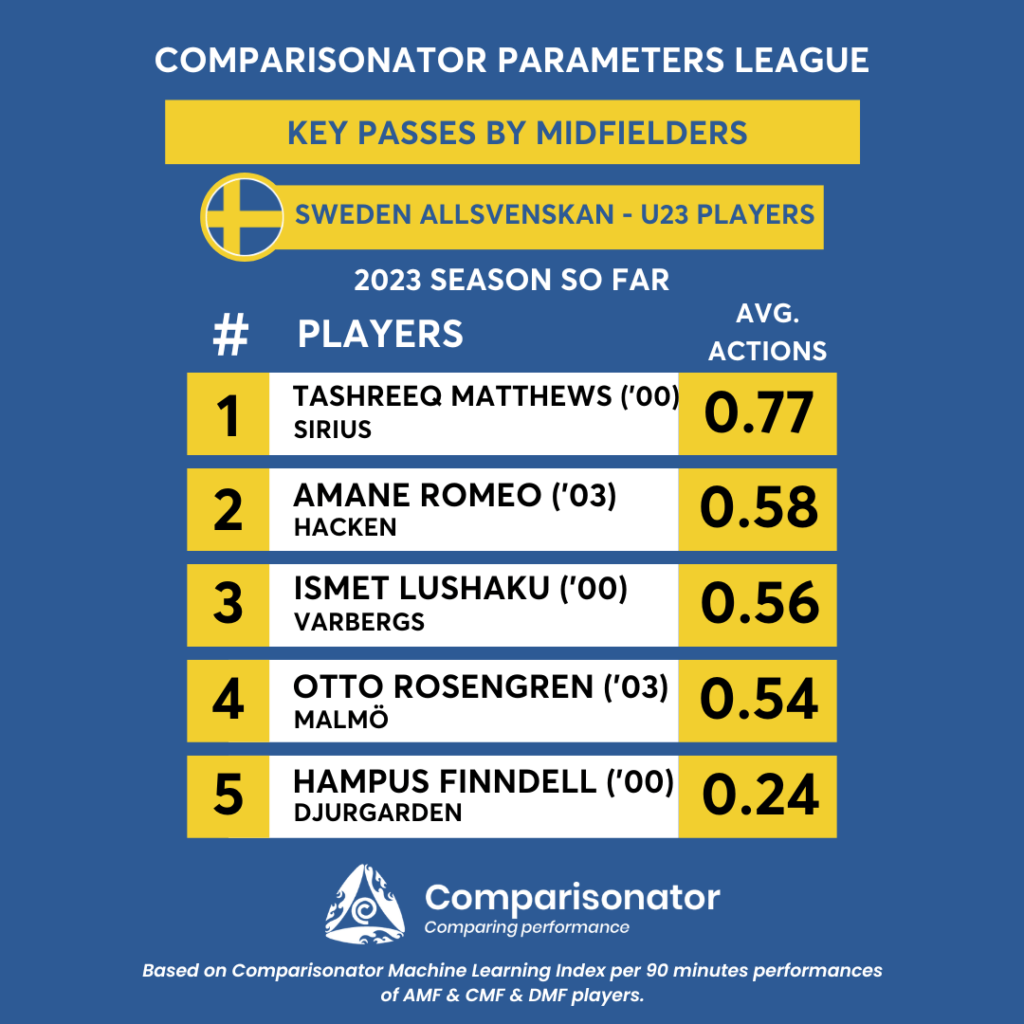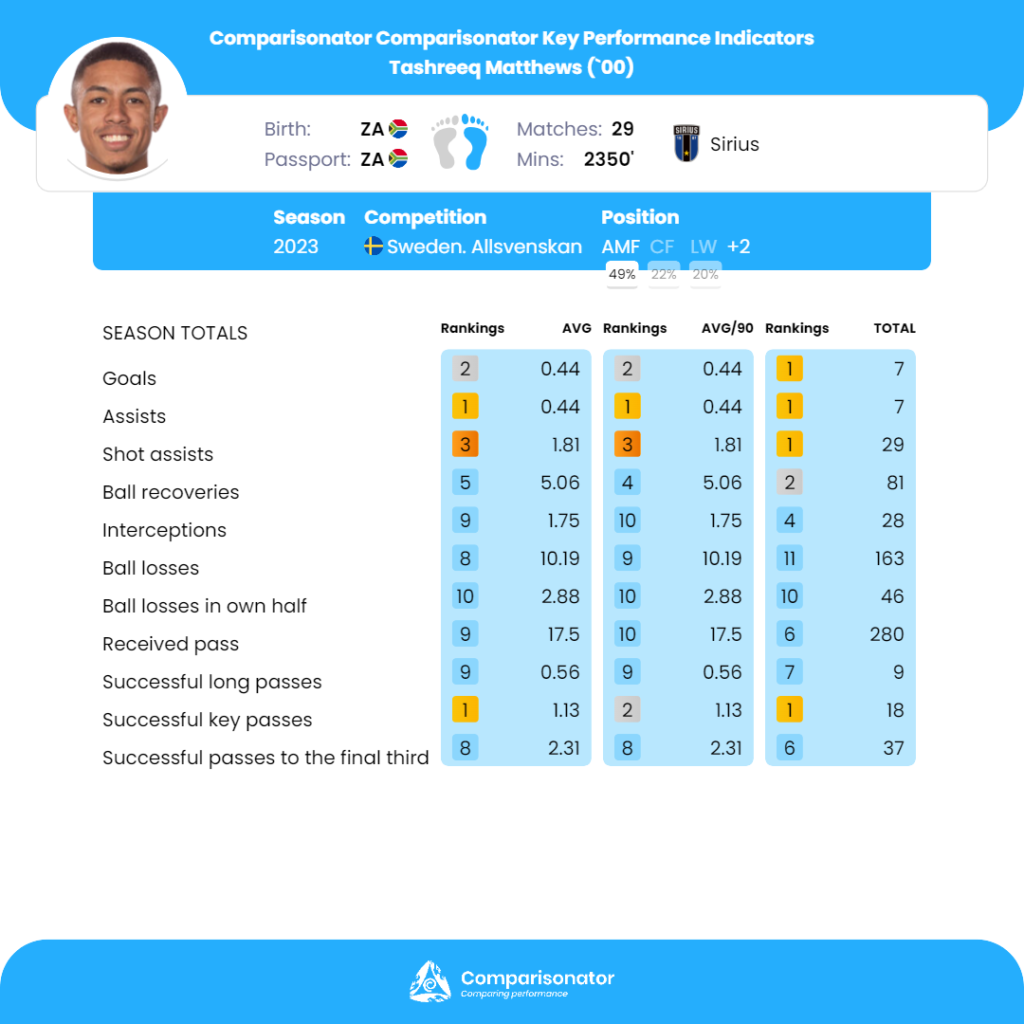 Successful Dribbles
Victor Djukanovic tops U23 wingers with an impressive average of 5.14 successful dribbles per 90 minutes, demonstrating his ability to take on defenders and create attacking opportunities. Momodou Lamin Sonko, Andre Al-Sanati, Oskar Fallenius, and Noah Shamoun closely follow, each adding their flair and dynamism to the wide areas.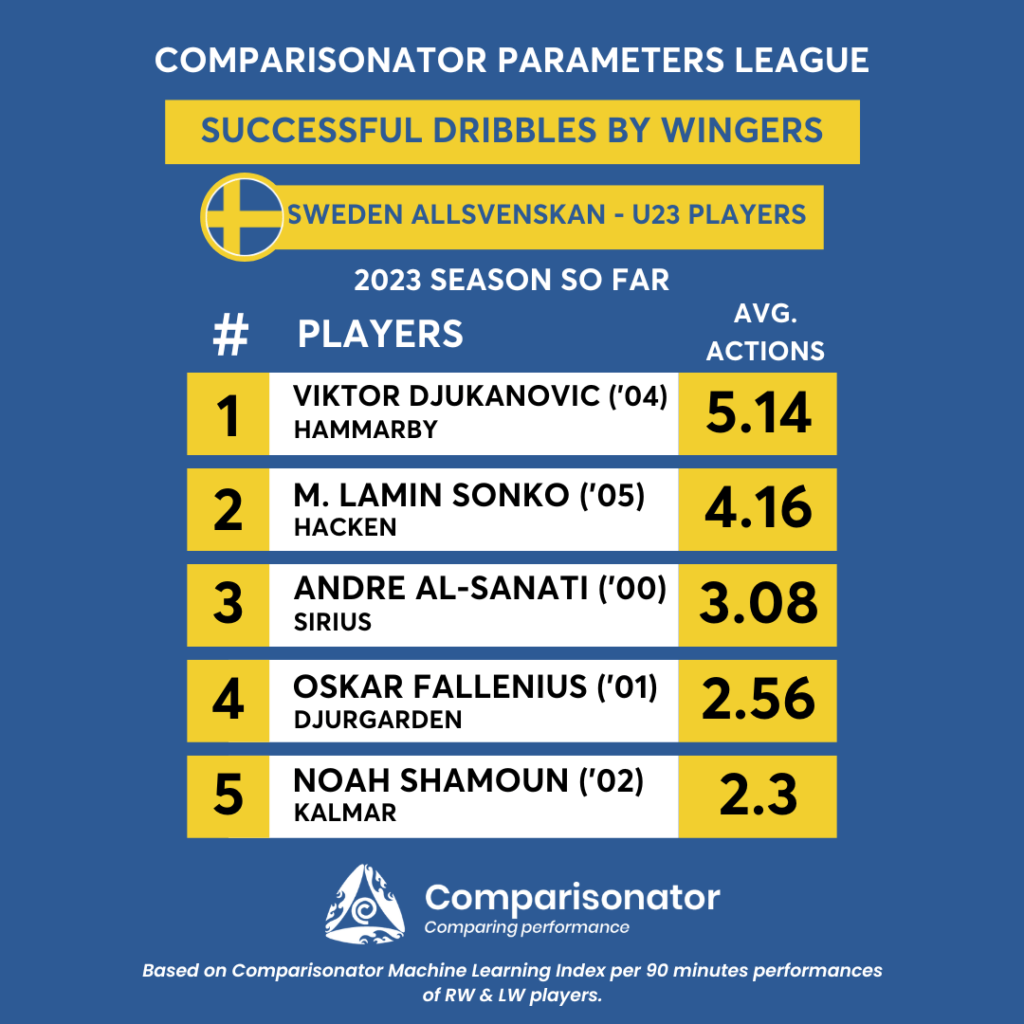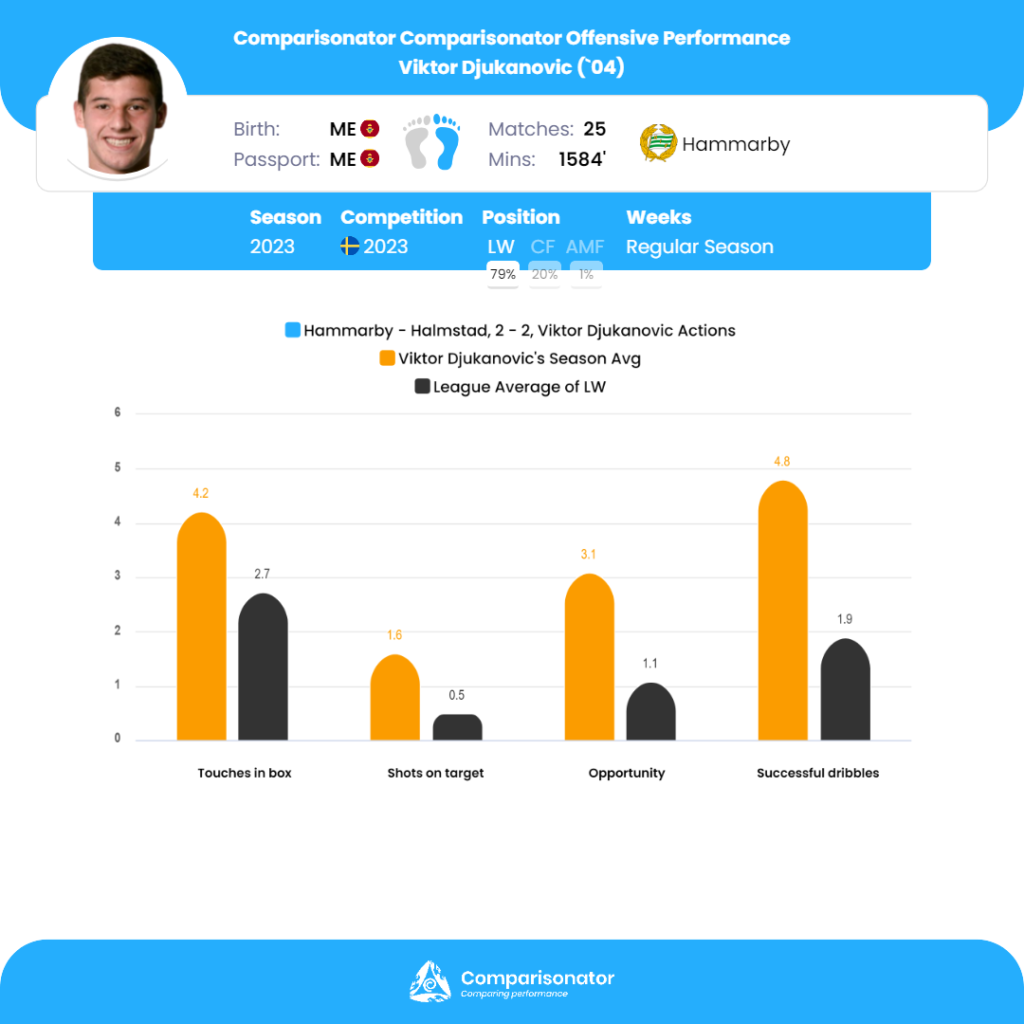 Ball Recoveries
In terms of defensive contributions, Valgeir Lunddal Fridriksson leads U23 fullbacks with an average of 9.29 ball recoveries per 90 minutes. Markus Karlsson, Jakob Voelkerling Persson, Vinicius Nogueira, and Yahya Kalley also stand out, highlighting their defensive diligence and ability to regain possession.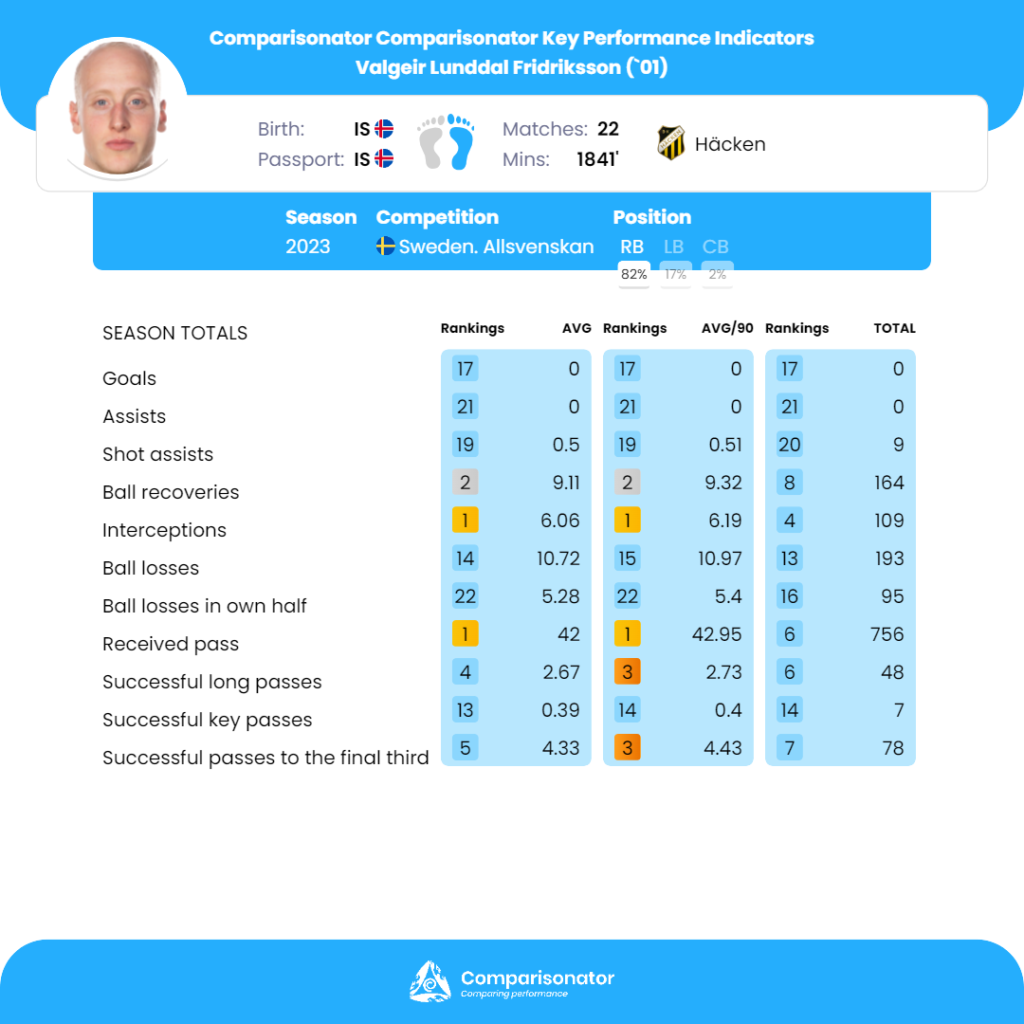 Touches in Box
Omar Faraj leads U23 strikers with an impressive average of 4.02 touches in the box per 90 minutes, showcasing his presence and involvement in goal-scoring areas. Alexander Johannson, Jusef Erabi, Dion Krasniqi, and Joakim Persson also exhibit their attacking prowess, emphasizing their impact in the opponent's danger zone.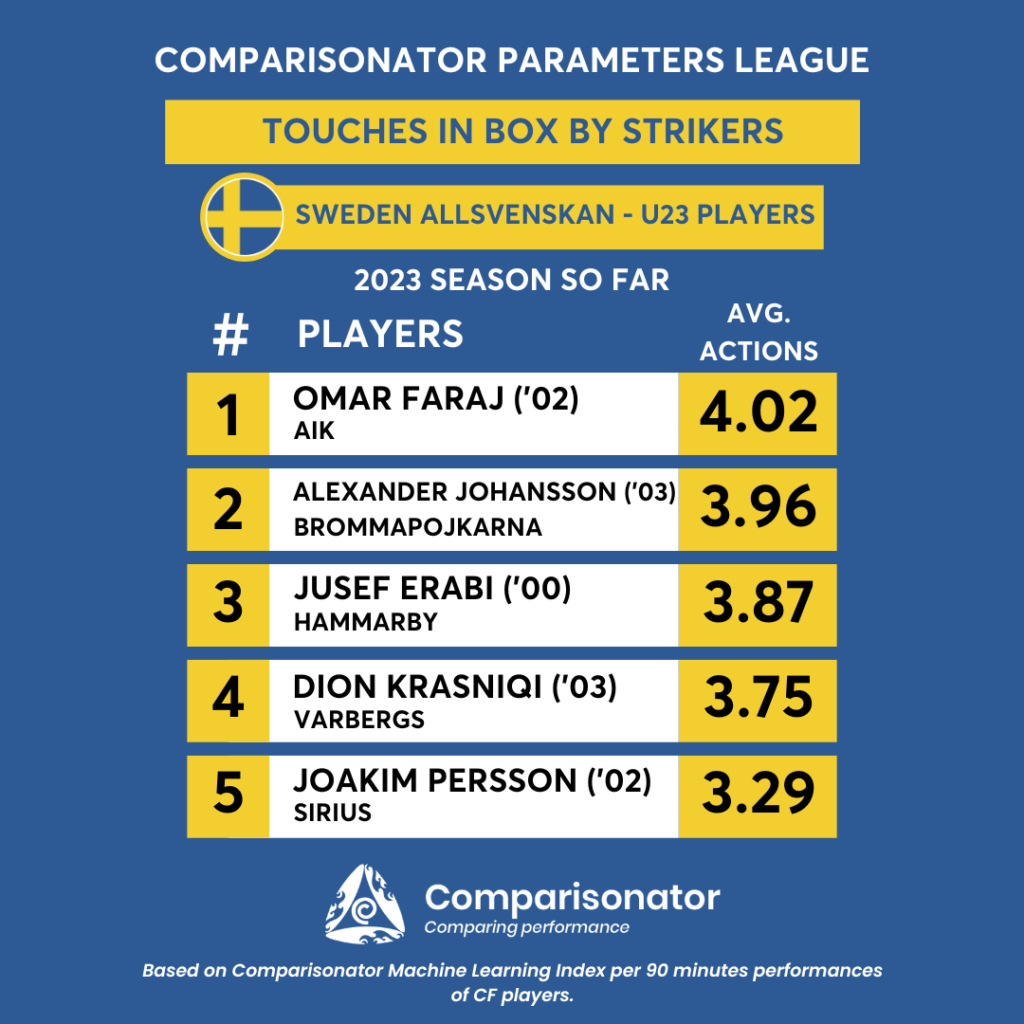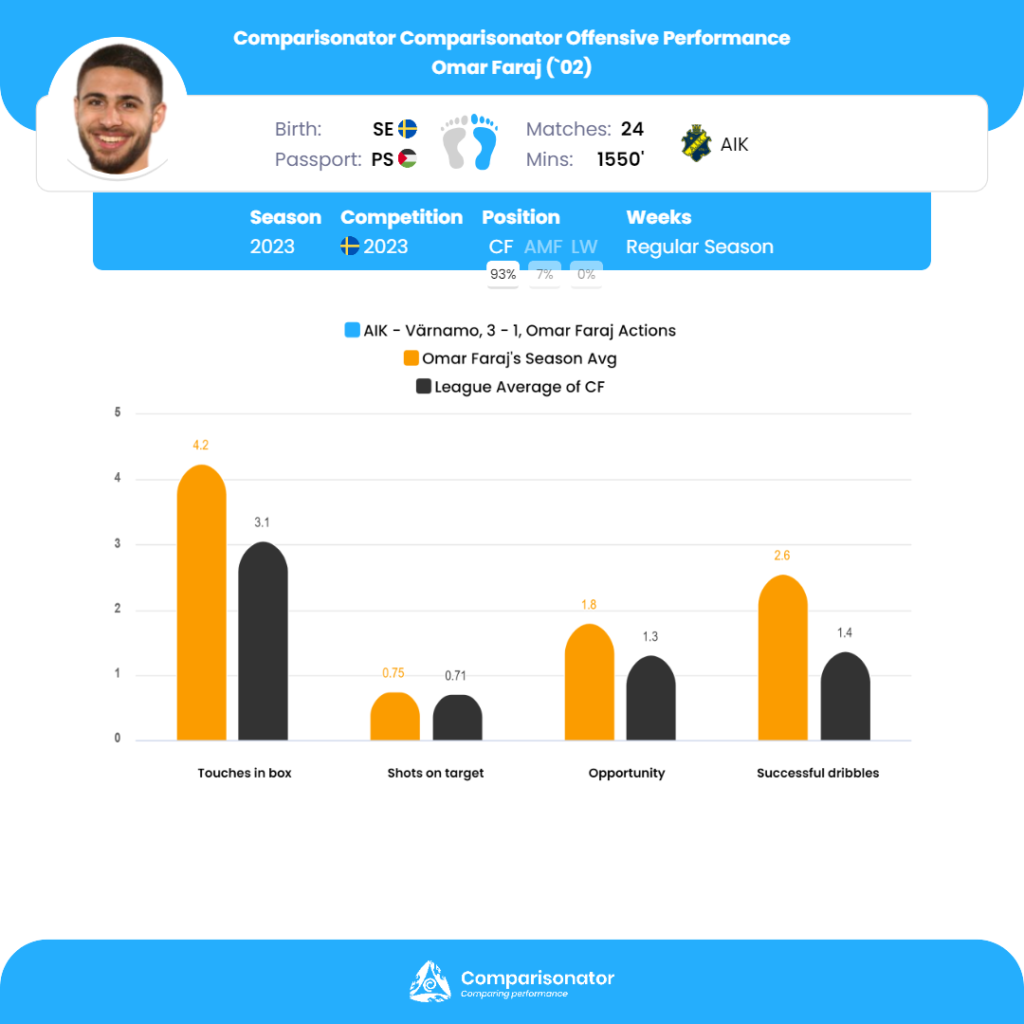 Duels Won
Among U23 centre-backs, Seid Korac stands out with an average of 11.2 duels won per 90 minutes, displaying his defensive strength. Victor Eriksson, Anton Eriksson, Nathaniel Adjei, and Ibrahim Buhari also showcase their ability to win crucial battles in defense.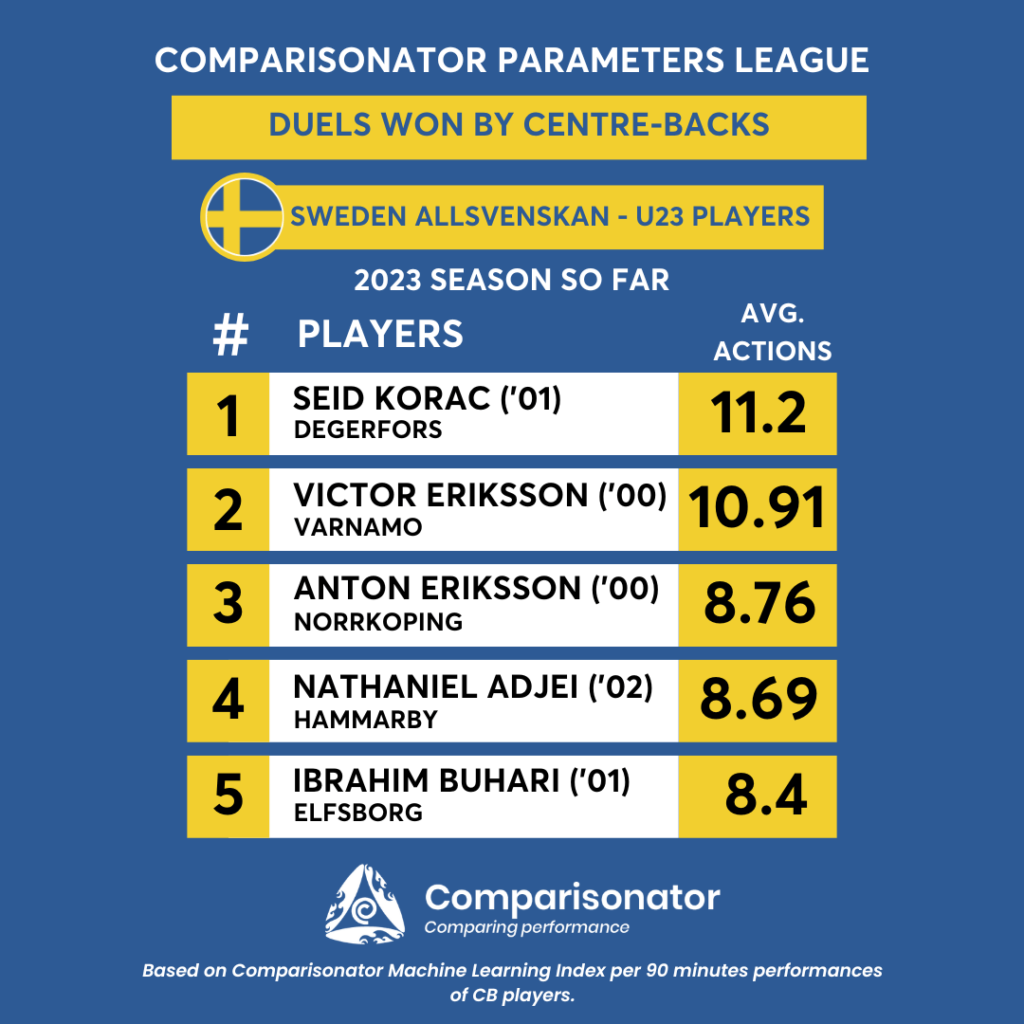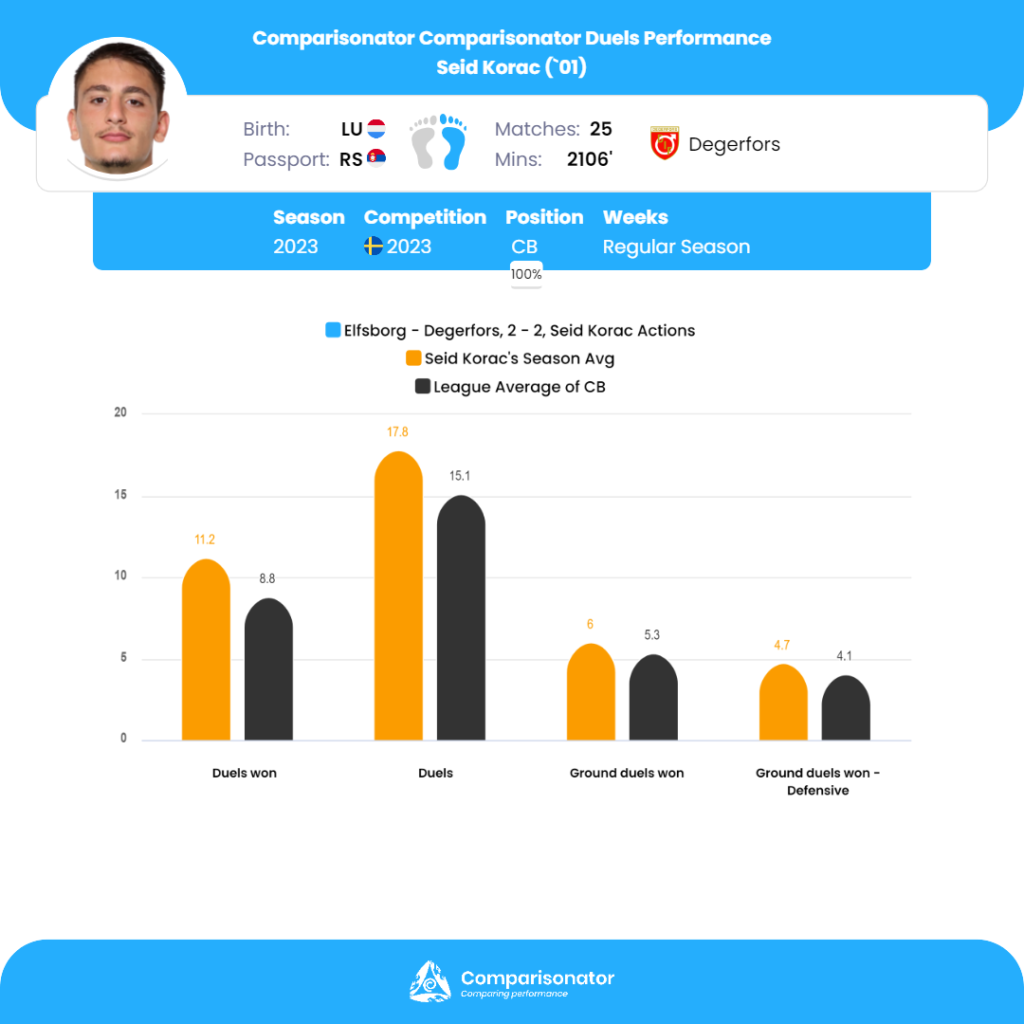 Selected via Comparisonator machine learning index.
Data Comparisons provided by Comparisonator is for educational purposes only and not intended to be monetized.