UEFA Conference League Group Stage continued to provide thrilling football action in its second week, and three standout players have taken the spotlight, identified by Comparisonator platform. These remarkable athletes have consistently outperformed their peers in key statistical categories, making a significant impact on their respective teams. Fabiano Parisi, the Left Back from Fiorentina, has displayed his versatility with shot assists and ball recoveries in the opponent's half. Miguel Crespo, the Defensive Midfielder for Fenerbahçe, has excelled in both ball recoveries and successful dribbles. Nicolas Gonzalez, the Right Winger also representing Fiorentina, has been a dynamic force with his progressive runs and touches in the opponent's box. In this article, we delve into the performances of these three exceptional players and their contributions during the UEFA Conference League's second week.
Best XI
Best Defender
Best Midfielder
Best Forward
Best Player Performances of UEFA Europa Conference League –
2023-24 Season Group Stage Second Week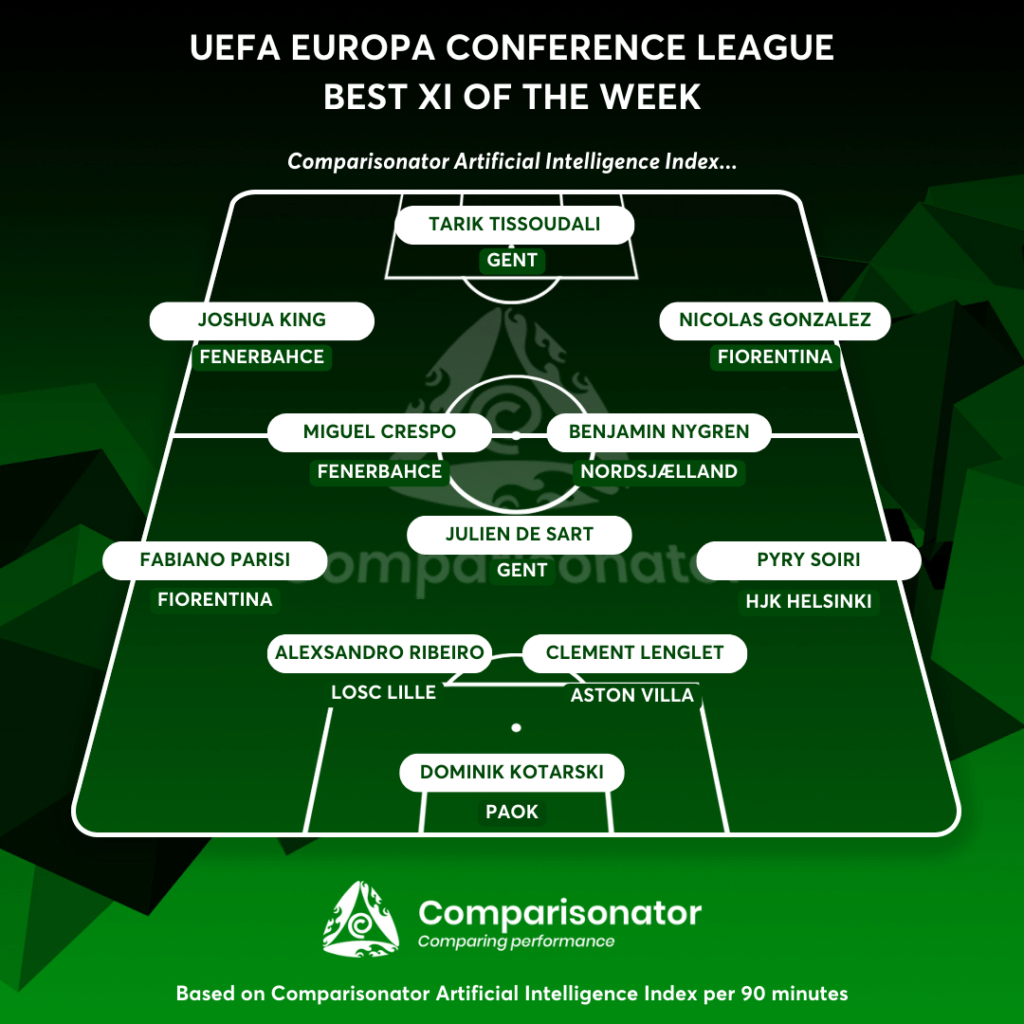 Fabiano Parisi – (LB) Fiorentina
Fabiano Parisi, operating as a Left Back for Fiorentina, has stood out as a versatile and impactful player. His impressive Comparisonator Main AI score of 676 reflects his all-around abilities. Parisi has not only been solid in defense but has also been a creative force with three shot assists. His ability to recover the ball in the opponent's half (6 ball recoveries) showcases his influence in both halves of the pitch. Parisi's contributions have undoubtedly played a key role in Fiorentina's success during the second week of the UEFA Conference League.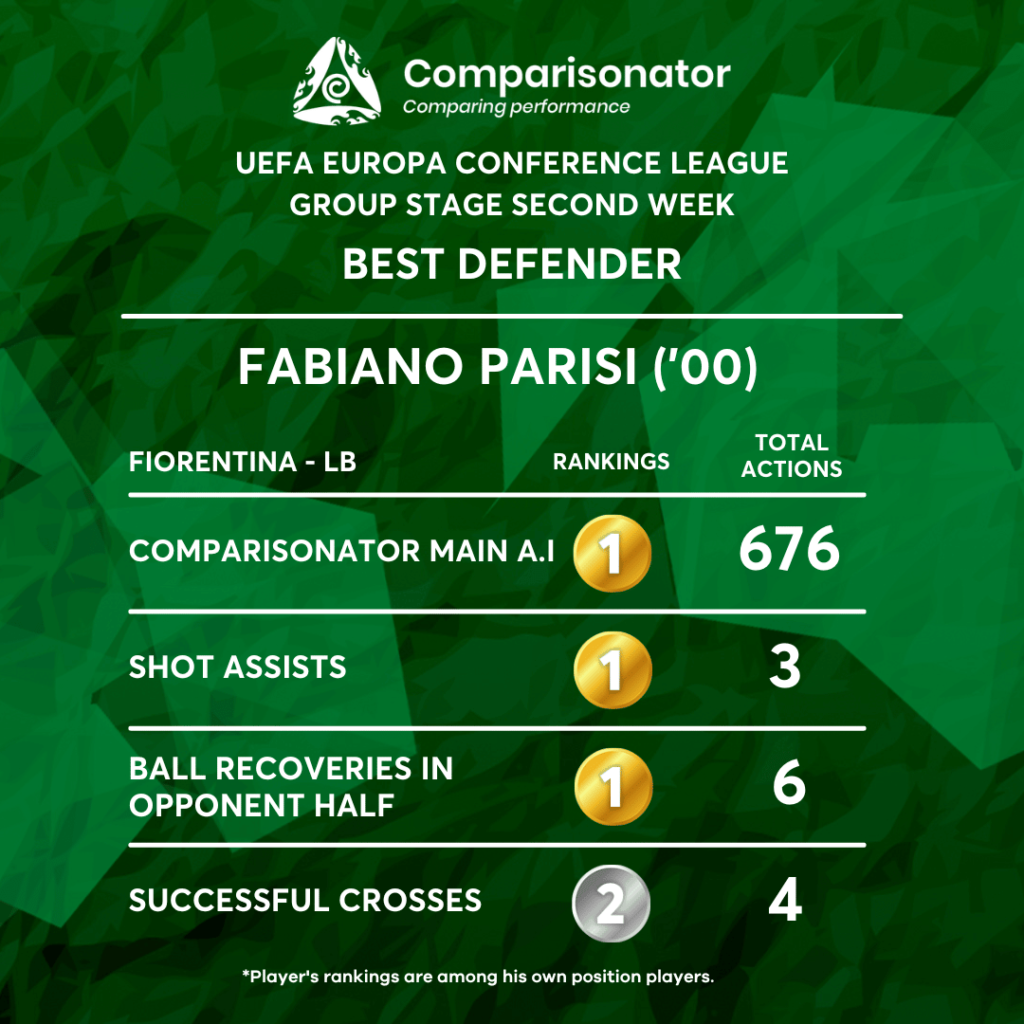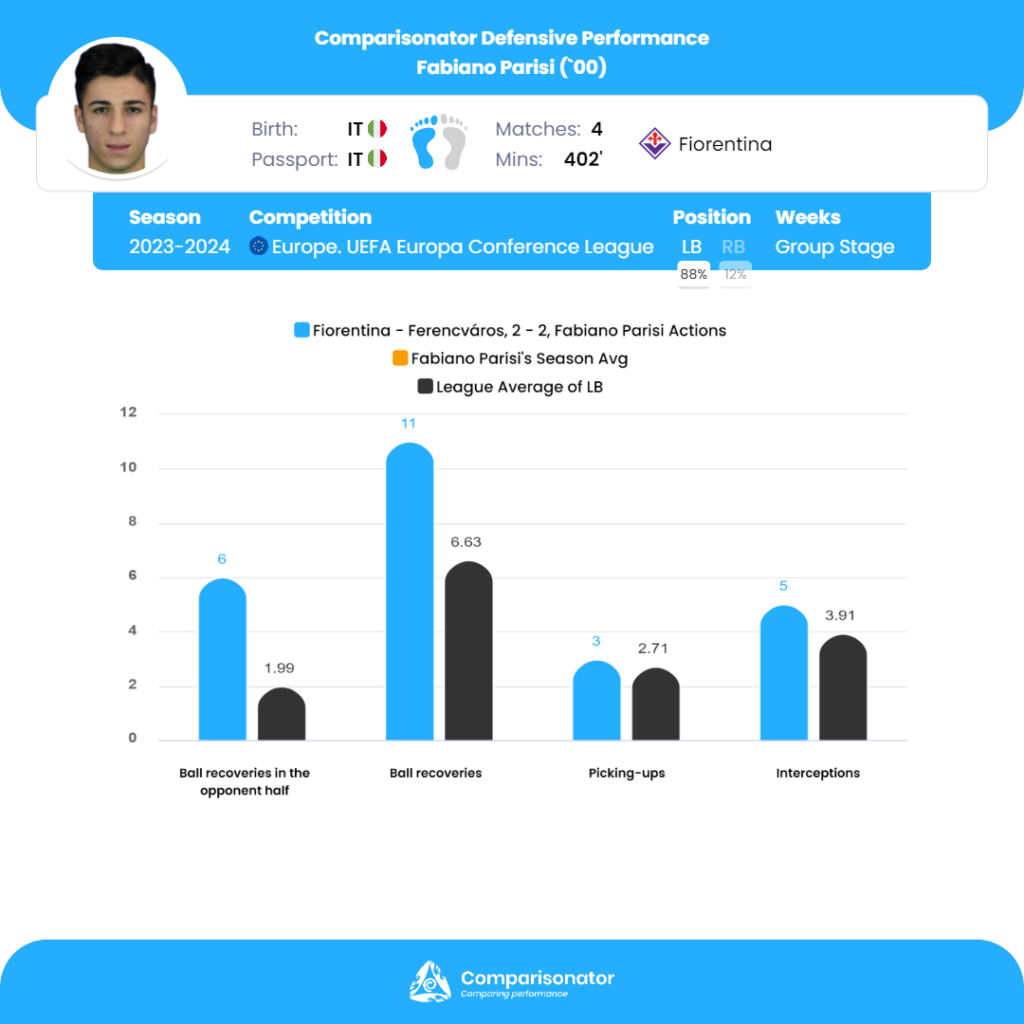 Miguel Crespo – (DMF) Fenerbahçe
Fenerbahçe's Defensive Midfielder, Miguel Crespo, has been a dominant presence in the middle of the park. His top-ranking Comparisonator Main AI score of 649 underscores his overall impact. Crespo's ability to control the ball and the game is evident in his three successful dribbles, while his remarkable 22 ball recoveries underline his work rate and defensive prowess. His presence in midfield has undoubtedly been instrumental in Fenerbahçe's performance during the second week.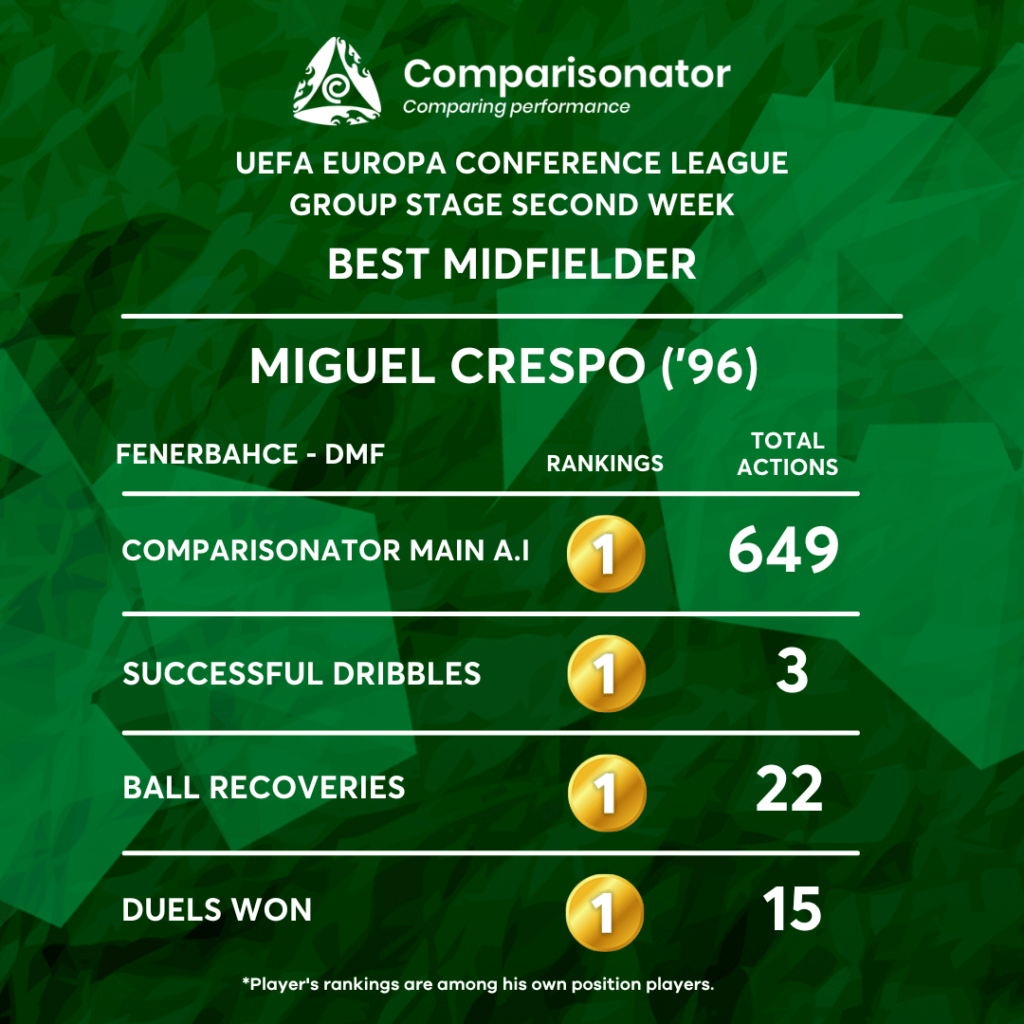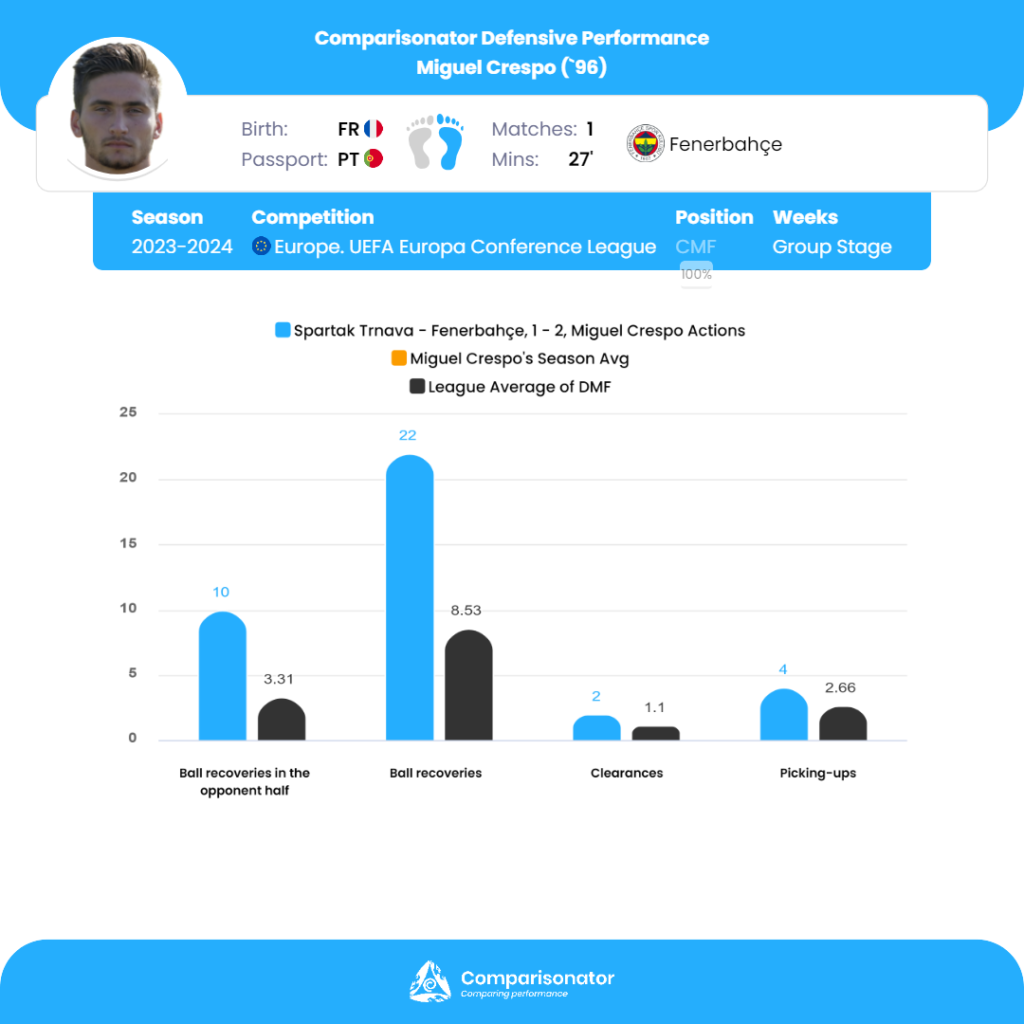 Nicolas Gonzalez – (RW) Fiorentina
Fiorentina's Right Winger, Nicolas Gonzalez, has been a dynamic force on the flanks. With a Comparisonator Main AI score of 712, he has been a consistent threat. Gonzalez's seven progressive runs showcase his ability to drive the team forward, while his six touches in the opponent's box highlight his attacking intent. His dynamic play has been a key factor in Fiorentina's success during the UEFA Conference League's second week.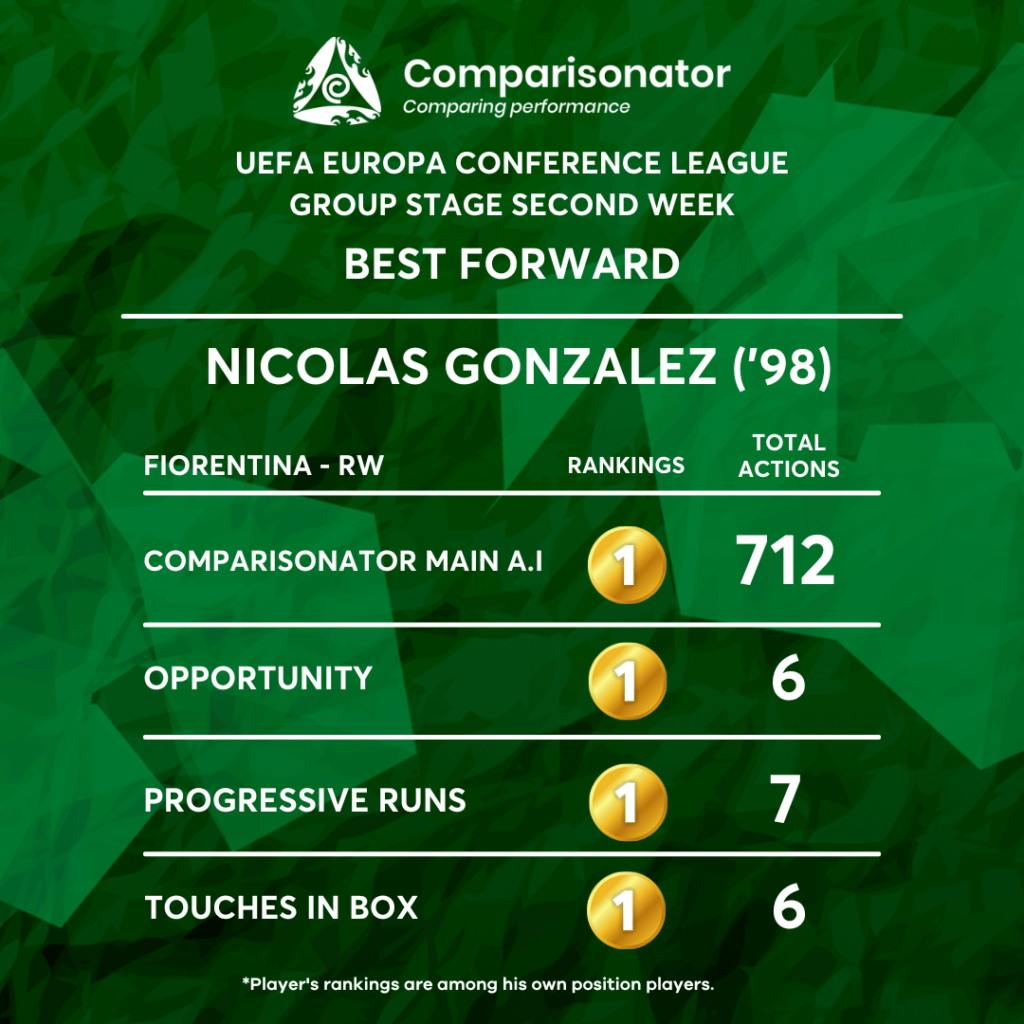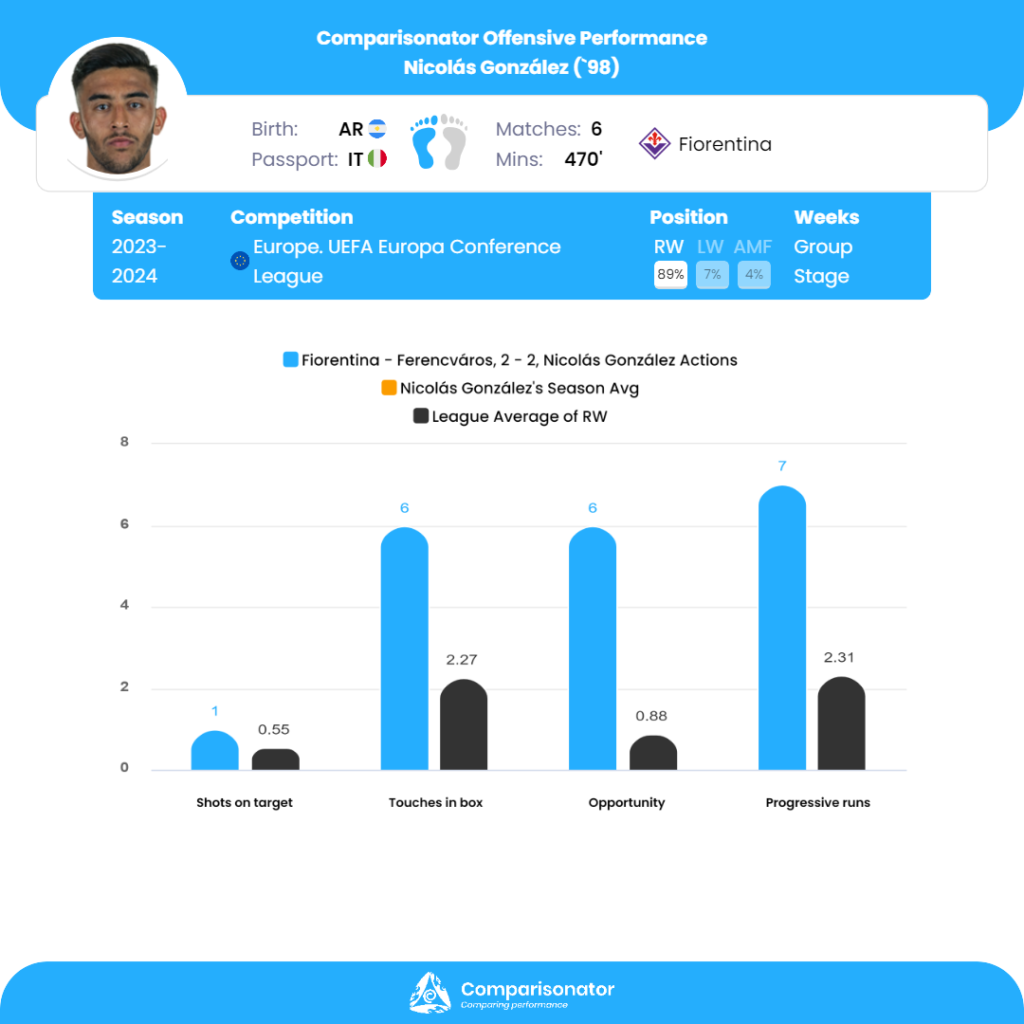 Selected via Comparisonator machine learning index.
Data Comparisons provided by Comparisonator is for educational purposes only and not intended to be monetized.