Comparisonator data analysts investigated Chelsea loanee Crystal Palace player Conor Gallagher's performance using Comparisonator platforms' Me2Me feature.
Gallagher remarked our team's attention when he was selected to Bronze XI of Top 5 Big Leagues in our previous Comparisonator World Starlight Analysis. Gallagher showed an interesting performance in Crystal Palace with his 2021-2022 season performance. Rumours said that Gallagher is going back to Chelsea, due to apparent decision from manager Thomas Tuchel. He had his first cap to England National Team in 2021.
Comparisonator Scouting Data Team studied Gallagher's 2021-2022 offensive performance and tracked players' Comparisonator Index patterns in the last 3 seasons.
THE PROCESS OF THE STUDY:
Comparisonator Me2Me feature allows users to compare players' own performance match by match, week by week, season by season; including cup/tournament/league matches, home/away games, time periods etc.
Me2Me feature shows mathematical match data performance increase or decrease in which parameters and illustrating the rises & falls.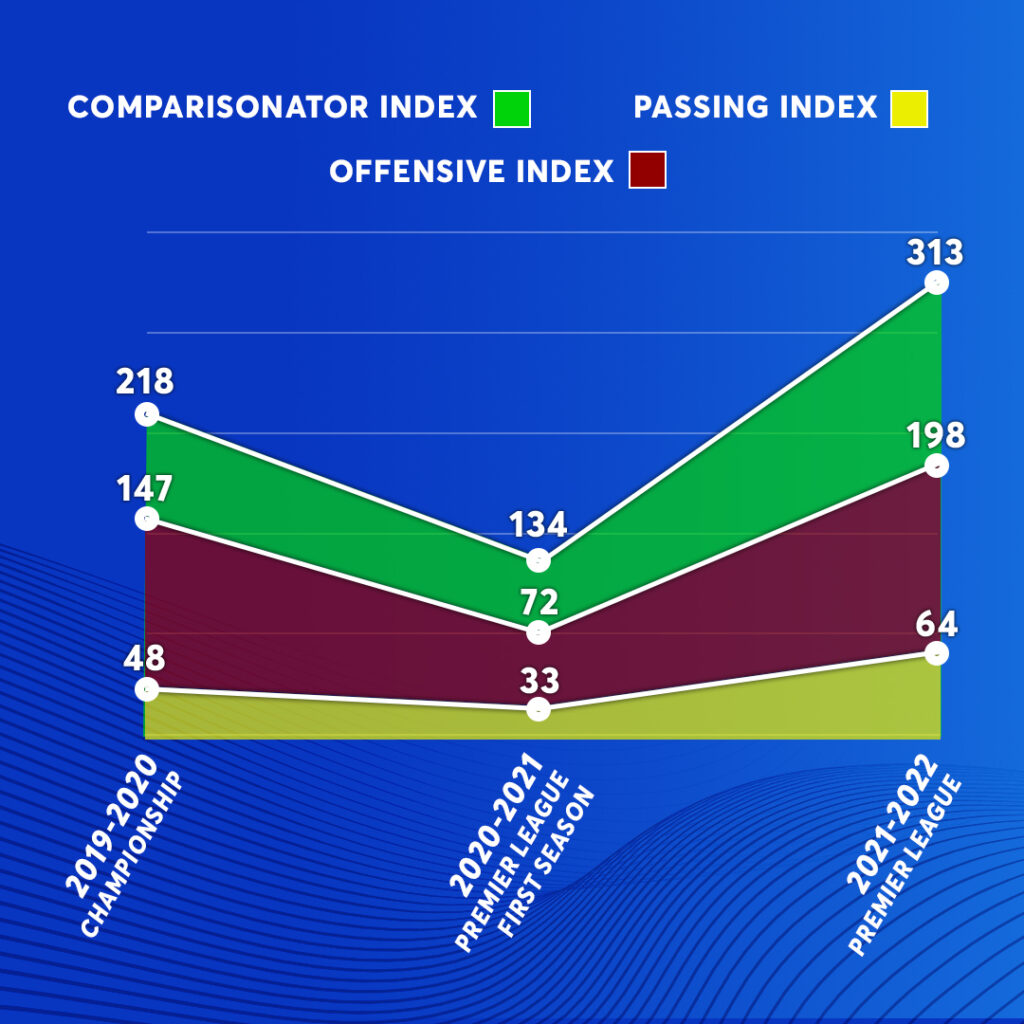 Gallagher's performance is tracked by his last 3 seasons in Comparisonator Index parameters.
Gallagher played at Swansea City in Championship in 2019-2020 season.
2020-2021 season was Gallagher's first experience in Premier League with West Bromwich Albion.
In 2021-22 season, Gallagher has attracted football community with his Crystal Palace performance.
The left-hand graphic indicates the changes of Gallaghers parameters in offensive, passing and total index.
2019-20
Championship
Swansea City
2020-21
Premier League
West Bromwich
2021-22
Premier League
Crystal Palace
Comparisonator Index
218
134
313
Comparisonator Offensive Index
147
72
198
Comparisonator Passing Index
48
33
64
To indicate players' performance in detail, we used the Comparisonator Me2Me feature and compared Conor Gallagher's offensive parameter changes in the last 2 seasons.
Comparisonator Me2Me feature helps users easily compare players' own performance in offensive, defensive, passing and duels parameters and understand players' performance traction.
The right-hand graphic shows Gallagher's 2020-2021 season vs 2021-2022 data in offensive parameters.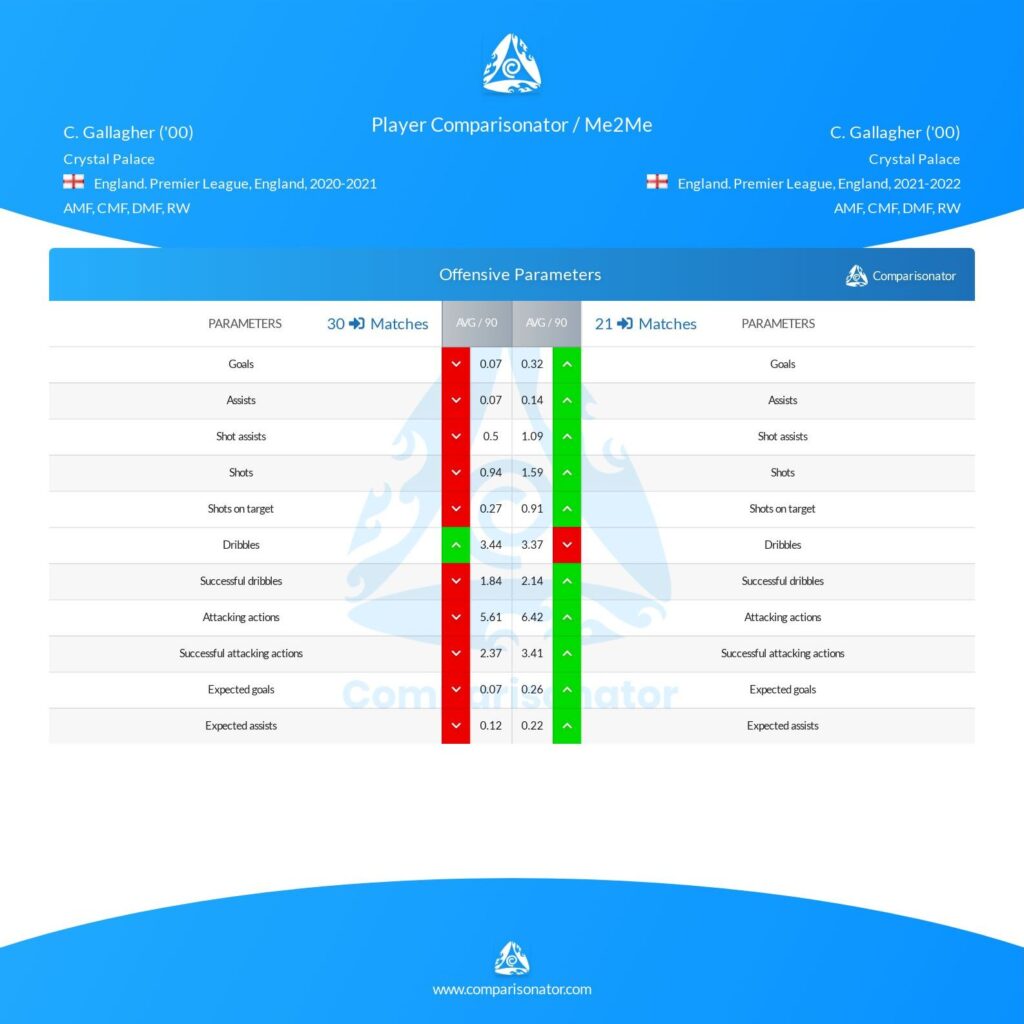 What is Comparisonator Me2Me?
Search and select player, select season, select the particular position of the player, select particular match (or entire season) select the parameters you want to compare:
'Same players' match to the same player's another match.'
'Same players' match to same player's season averages.'
Figure out the 'League performance vs UEFA/FIFA and different National Team matches'
Distinguish 'home performance vs away.'
Be conscious of mathematical match data increase vs decrease of your own player
Prove your player's performance evaluation and easily share PDF reports