Step into the world of Morocco's Botola Pro league, guided by Comparisonator's insights. We're about to unveil the rising U23 stars shaping the nation's soccer scene. Join us for a swift journey through player profiles, highlighting their potential and impact on the field.
In summary, the Botola Pro league introduces these extraordinary U23 talents who embody the spirit of promise and progression. Amine Zouhzouh, Jamal Ech-Chamakh, and Paul Bassene, each in their respective positions, are redefining the landscape of Moroccan football through their multifaceted skills and contributions.
Amine Zouhzouh (RW) – FAR Rabat
Our odyssey begins with Amine Zouhzouh, a name reverberating with excitement within Far Rabat's right-wing position. Positioned as the leader among right wingers, Zouhzouh showcases an impressive 1.11 shots on target per match, painting a picture of his clinical finishing abilities. The pitch is his canvas, and his versatility is evident with an astounding 5.53 ball recoveries per match, embodying his tireless work ethic on both ends. Furthermore, Zouhzouh's dribbling prowess is undeniable, evidenced by 3.37 successful dribbles per match. His holistic approach to the game cements his standing as a multifaceted talent.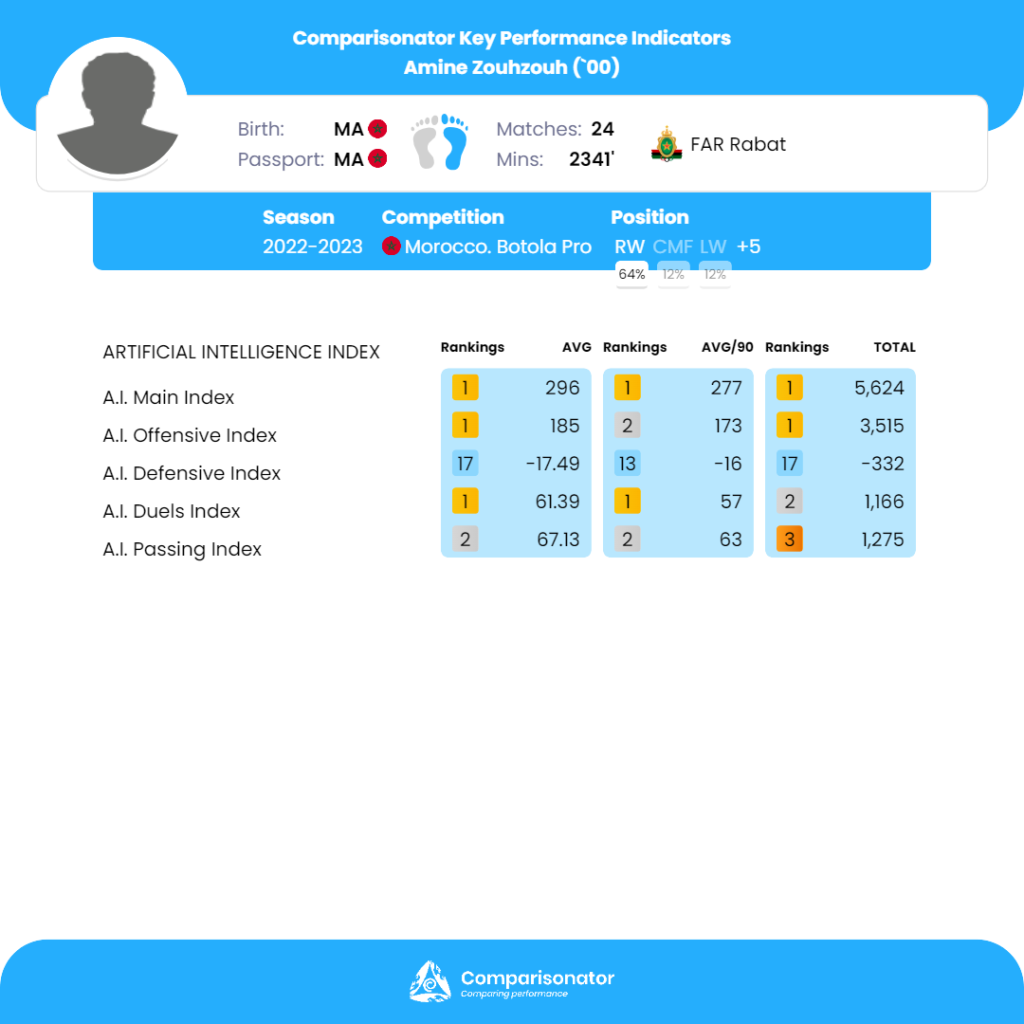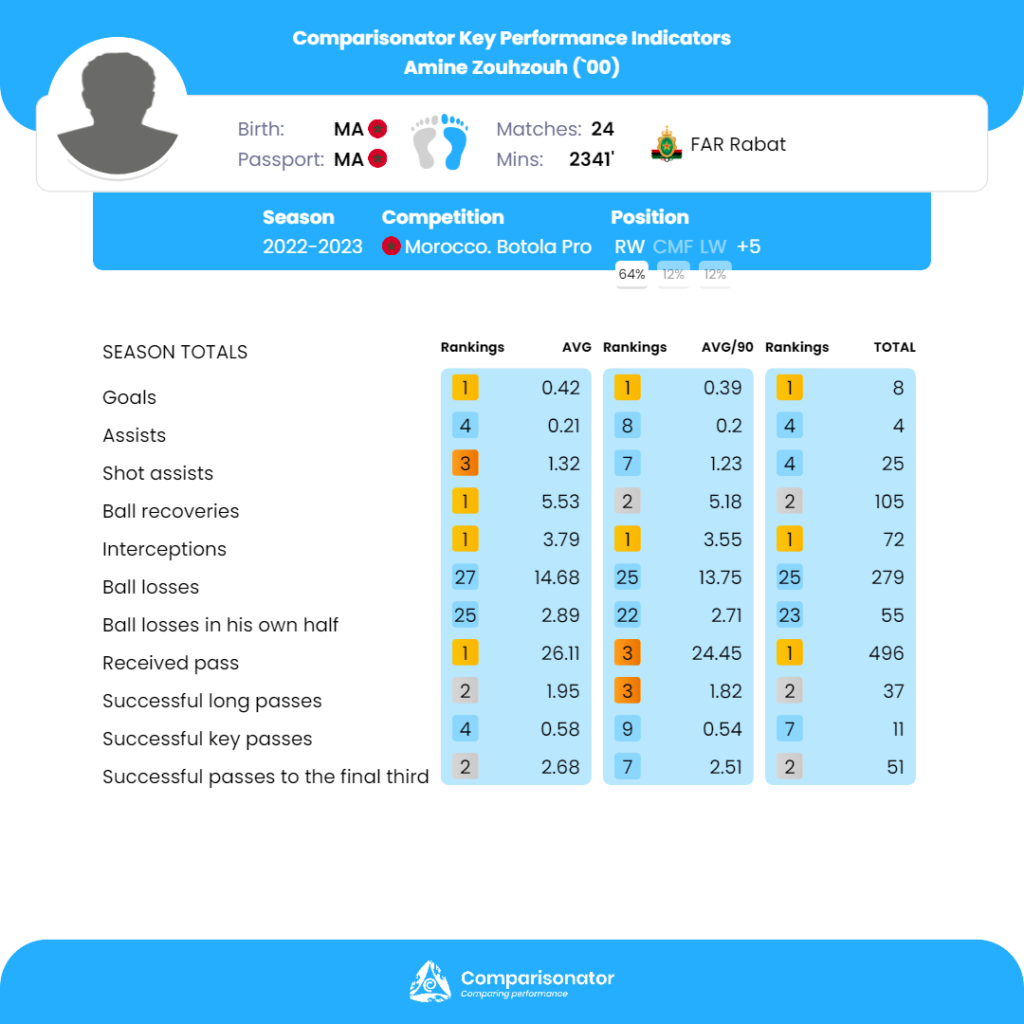 Jamal Ech-Chamakh (LB) – Hassania Agadir
Shift your gaze to Jamal Ech-Chamakh, the embodiment of versatility in Hassania Agadir's left-back role. Holding the top spot among left backs, Ech-Chamakh's artistry with the ball is reflected in 2.26 successful dribbles per match. Yet his talents transcend the offensive realm, as his keen sense of timing and positioning earns him a remarkable 3.11 picking-ups per match. However, it's his defensive prowess that truly sets him apart, prevailing in an impressive 11.95 duels per match. Ech-Chamakh's ability to blend defensive mastery with creative finesse marks him as a defender to watch closely.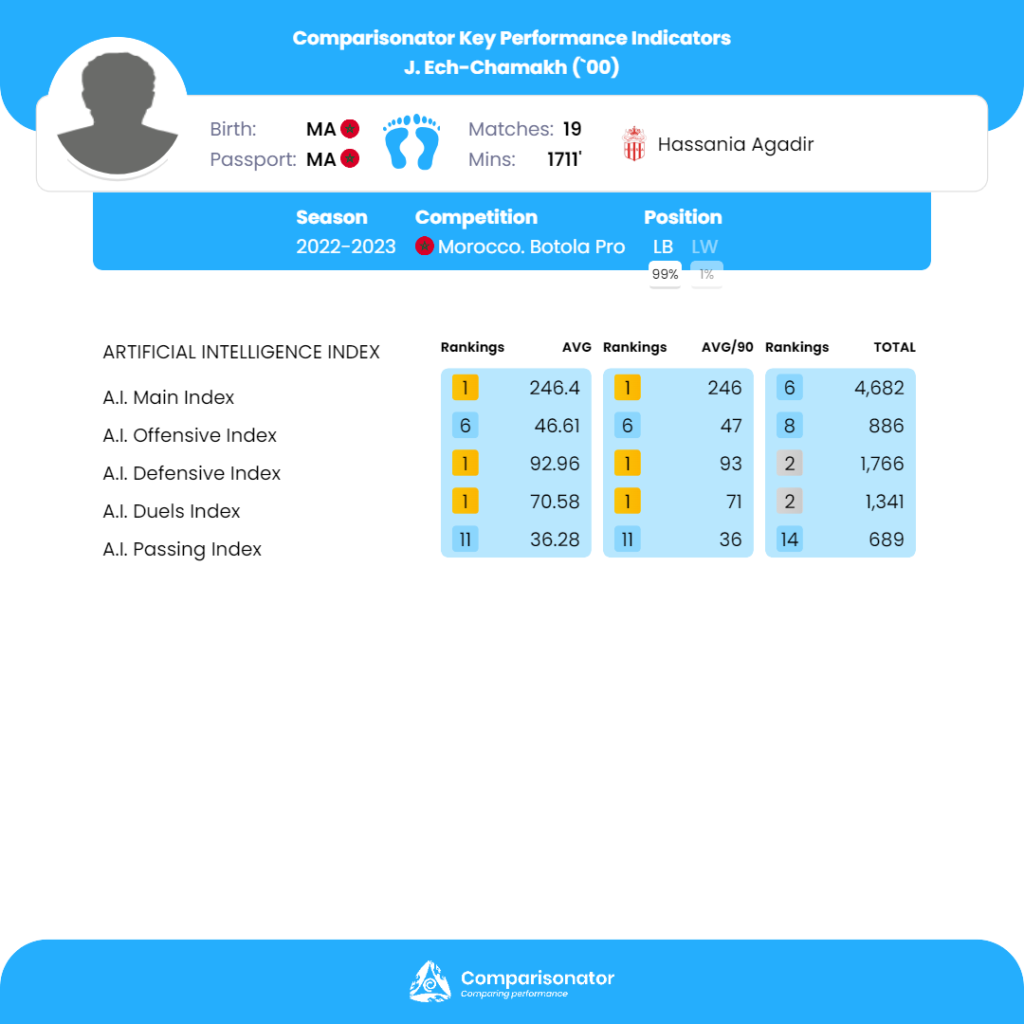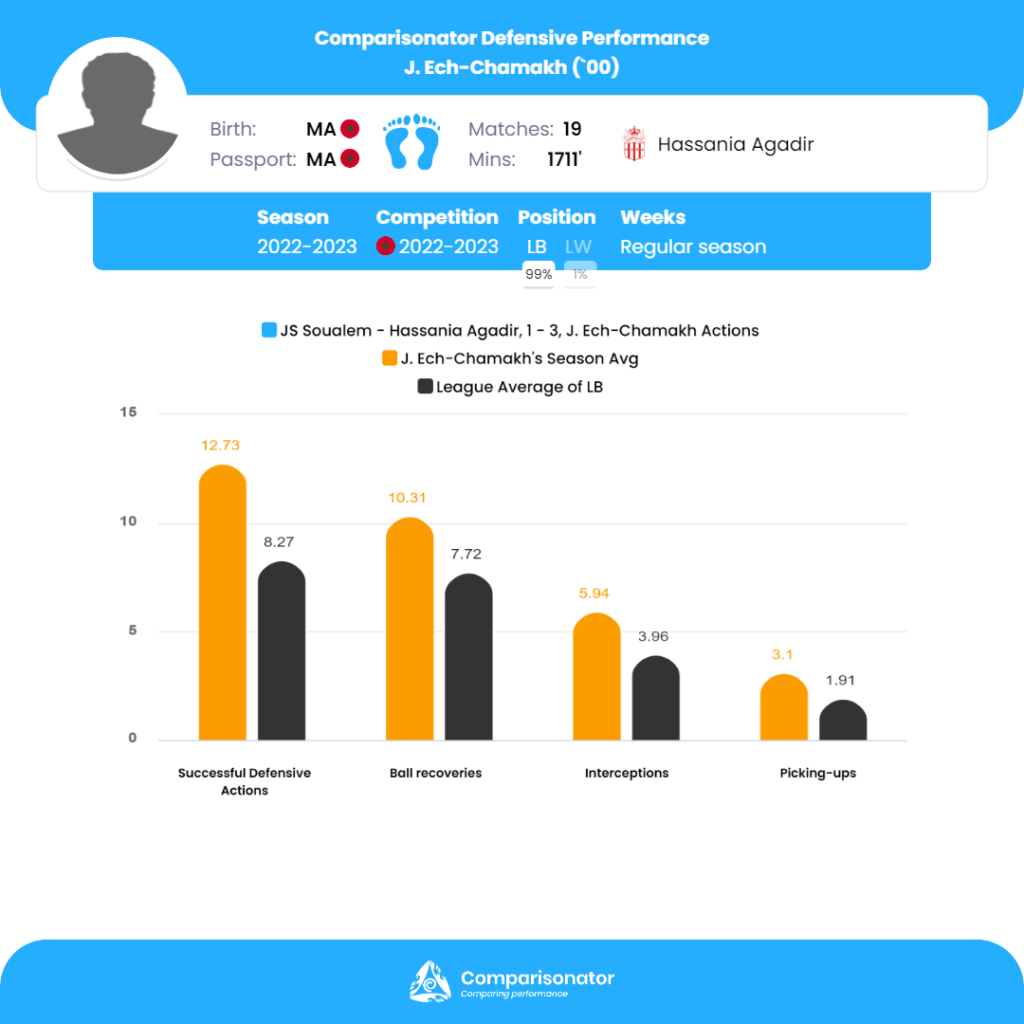 Paul Bassene (CF) – Mouloudia Oujda
Enter Paul Bassene, the rising star of Mouloudia Oujda, positioned at the forefront of center forward brilliance. Commanding the top spot in shots on target, Bassene showcases a remarkable 1.13 shots per match that consistently challenge goalkeepers. His contributions extend beyond mere shots, as he generates 2.21 opportunities per match, showcasing his knack for creating scoring chances. Notably, Bassene's determination is evident in his dueling prowess, winning an average of 10.08 duels per match. As he hones his craft, Bassene's journey is poised to make waves in Moroccan soccer.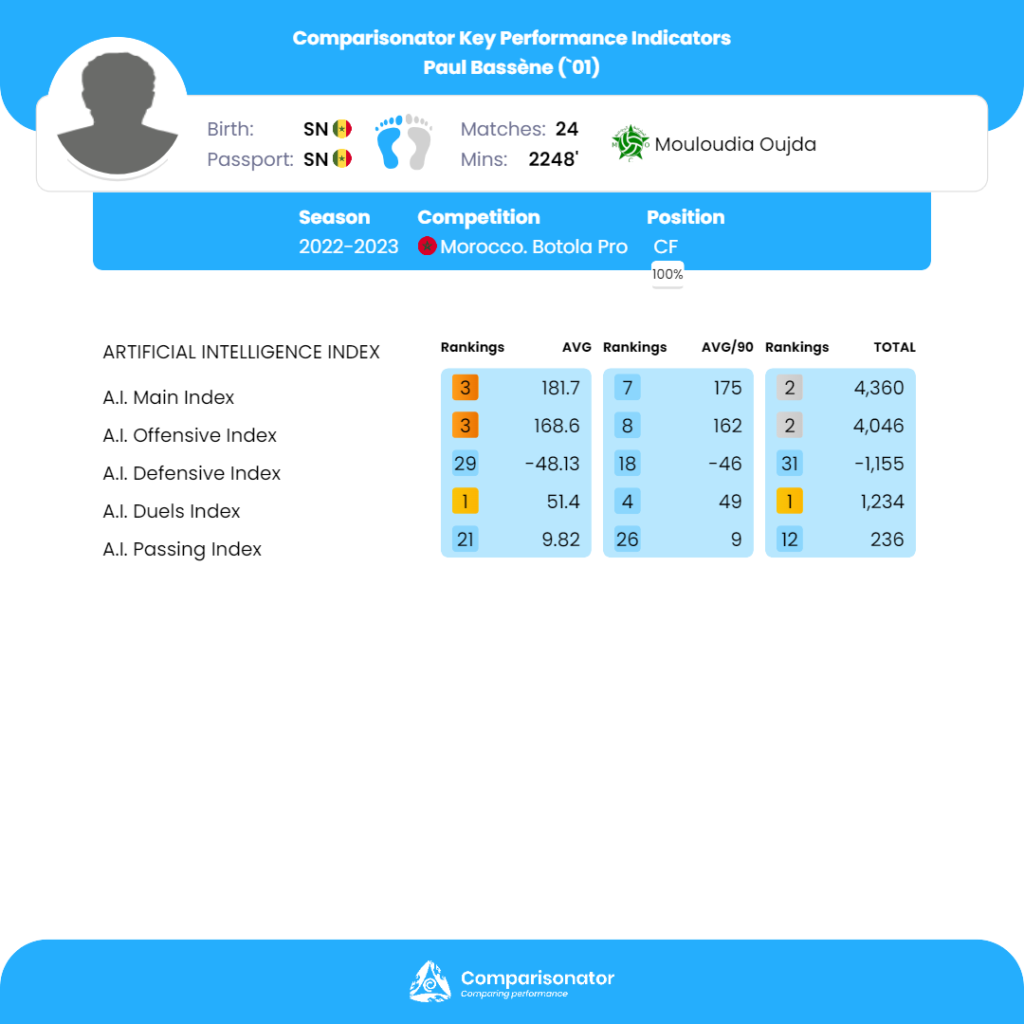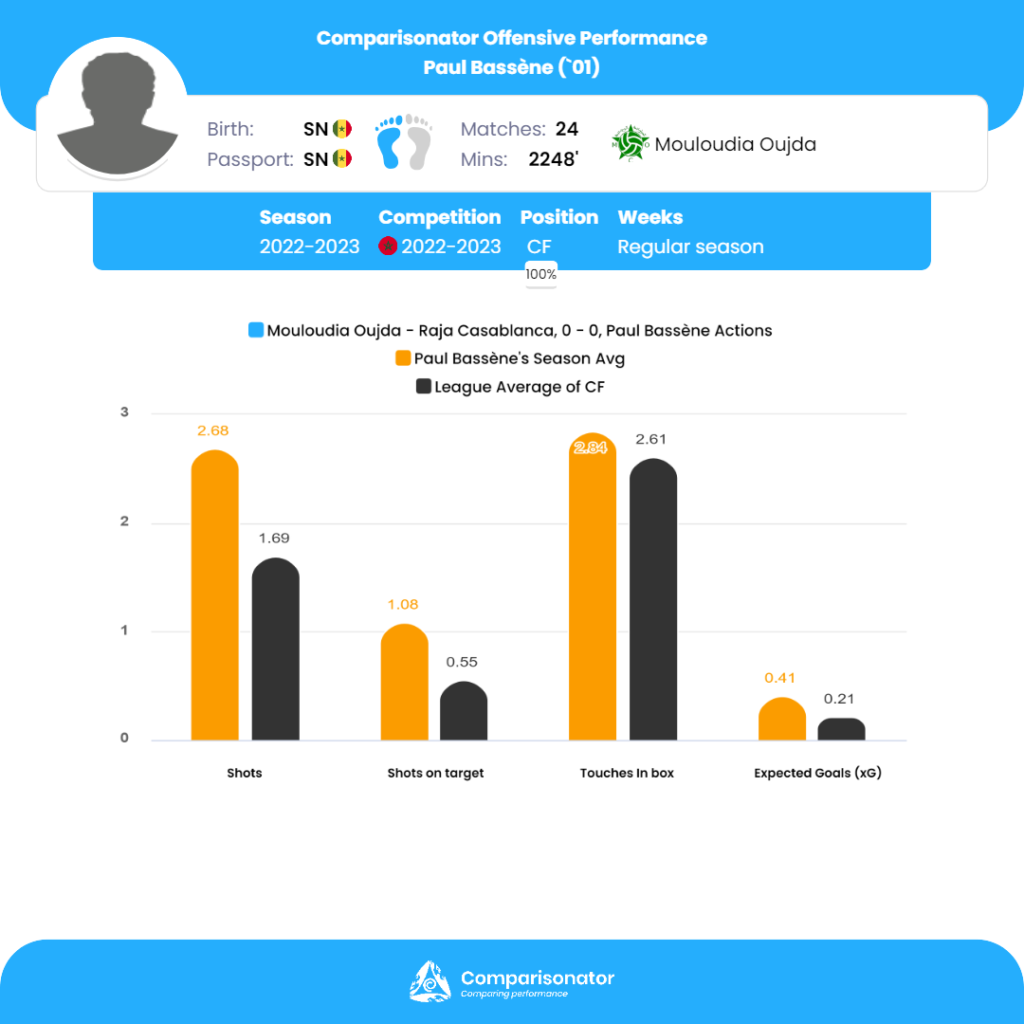 Selected via Comparisonator machine learning index.
Data Comparisons provided by Comparisonator is for educational purposes only and not intended to be monetized.