In the vibrant realm of Liga Portugal 2, a breeding ground for football talent, Comparisonator platform has pinpointed three exceptional U21 prospects who are poised to make a substantial impact. Hailing from Benfica II, Académico Viseu, and Mafra, these young stars shine in their respective positions, promising a bright future for Portuguese football.
In the competitive landscape of Liga Portugal 2, Maestro, Famana Quizera, and Ousmane Diao are the emerging stars to watch. Their performances and potential are integral to the ever-evolving world of Portuguese football. As they continue to progress, their stories will influence the league's competitiveness and inspire future generations of football talents.
Maestro (CMF) – Benfica II
The moniker "Maestro" suits him well as he orchestrates the midfield for Benfica II. This central midfielder leads the league in expected goals (xG) with an impressive 0.42, showcasing his knack for contributing to goal-scoring opportunities. He also ranks third in ball recoveries in the opponent's half, displaying his defensive work rate, and ranks third in progressive runs, indicating his ability to drive the ball forward. Maestro is a dynamic playmaker to keep a close eye on.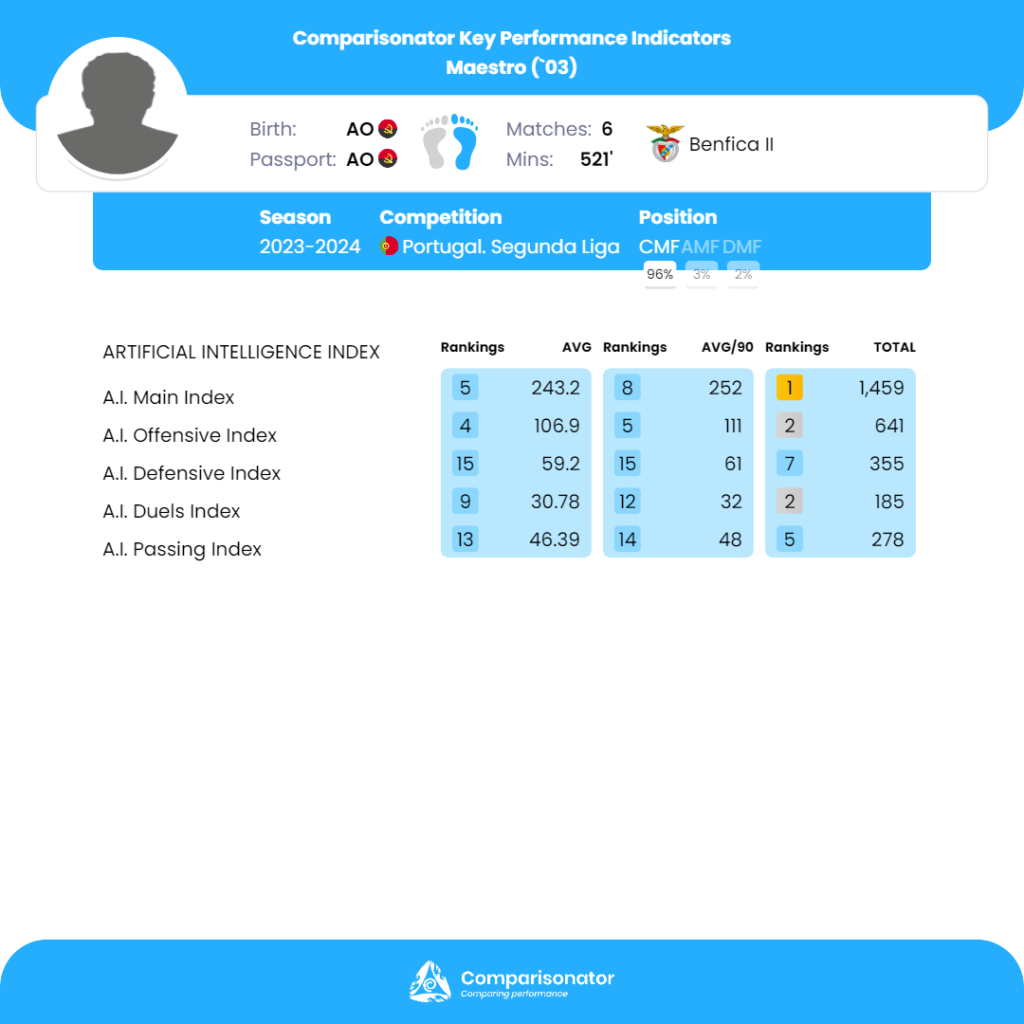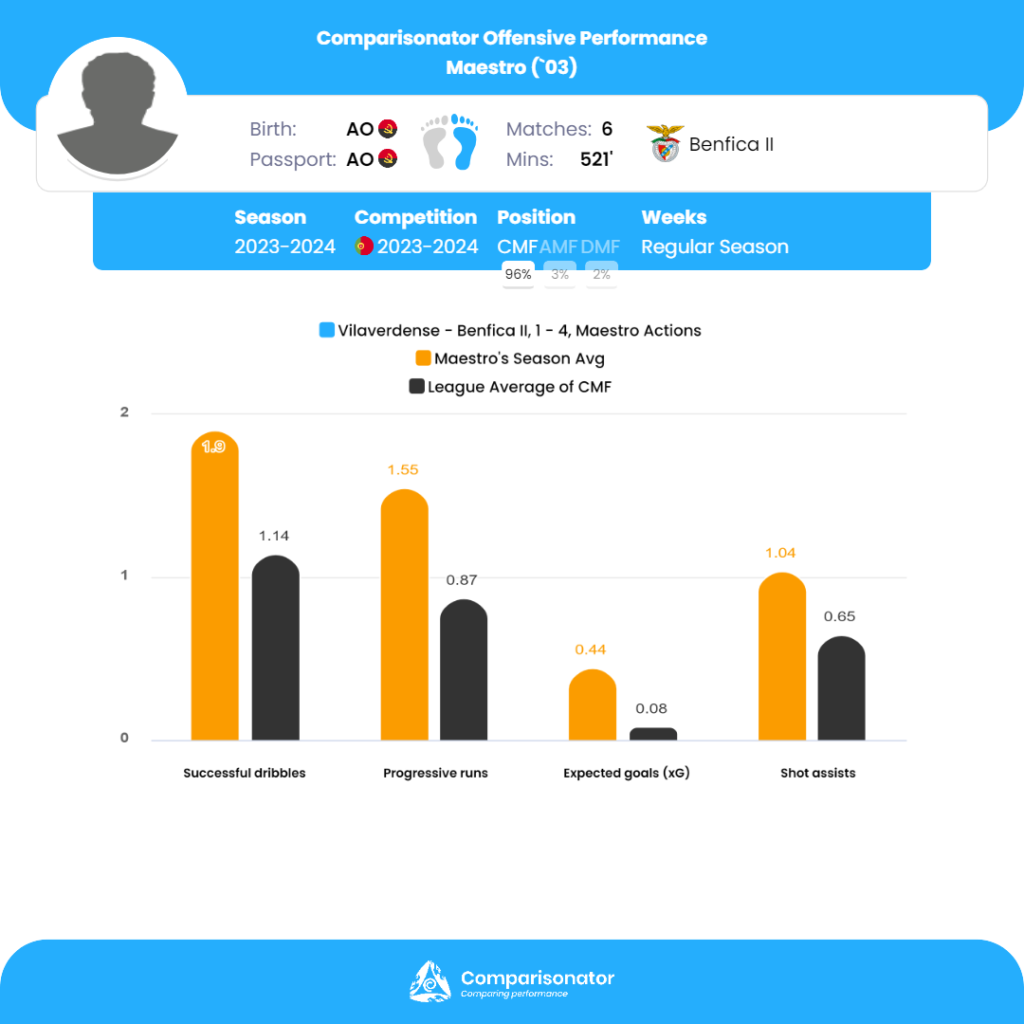 Famana Quizera (CMF) – Academico Vizeu
Famana Quizera, the central midfielder for Académico Viseu, is a master of the box. He tops the league in touches in the box with an average of 3.6, illustrating his ability to influence the game in critical areas. Additionally, Quizera ranks second in shot assists, highlighting his creative vision and playmaking skills. He also secures the third position in shots on target, showcasing his goal-scoring threat from midfield. Quizera's versatility and impact in the attacking third make him a prospect with immense potential.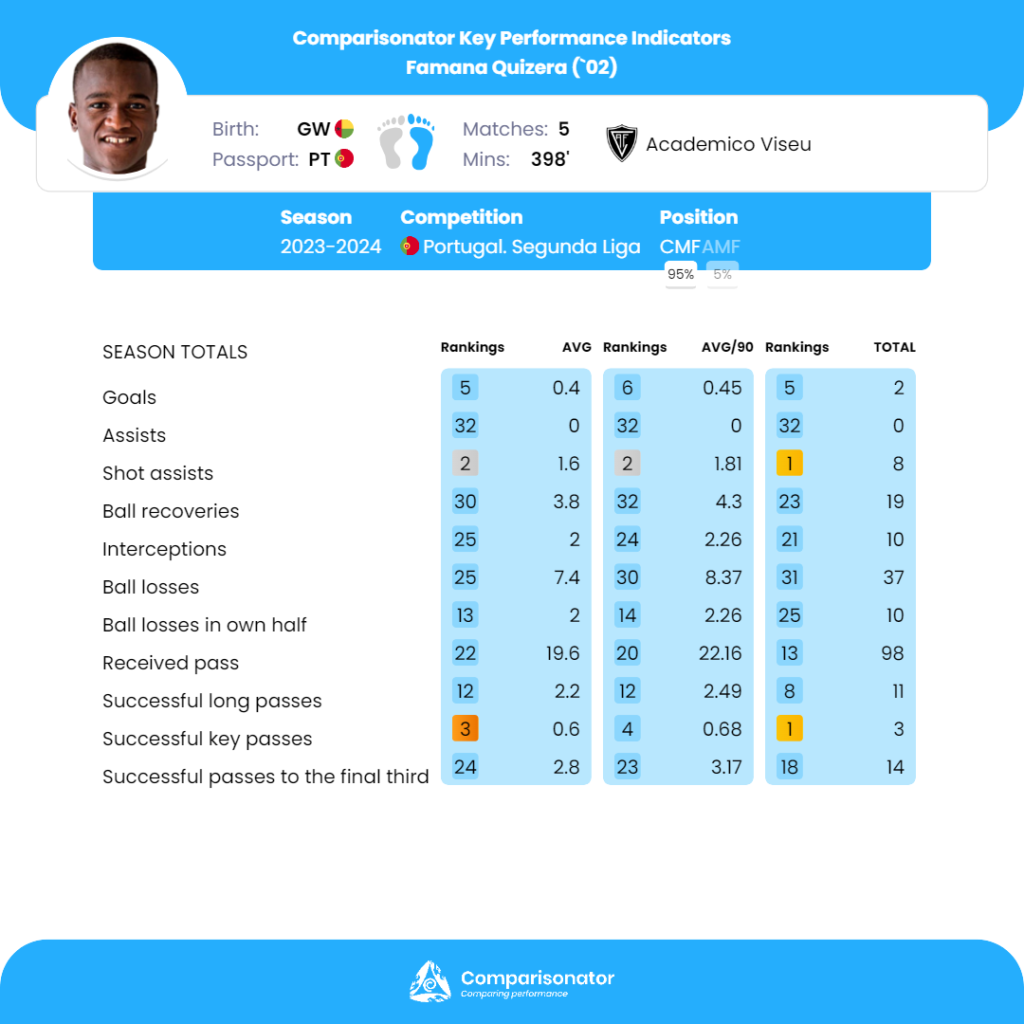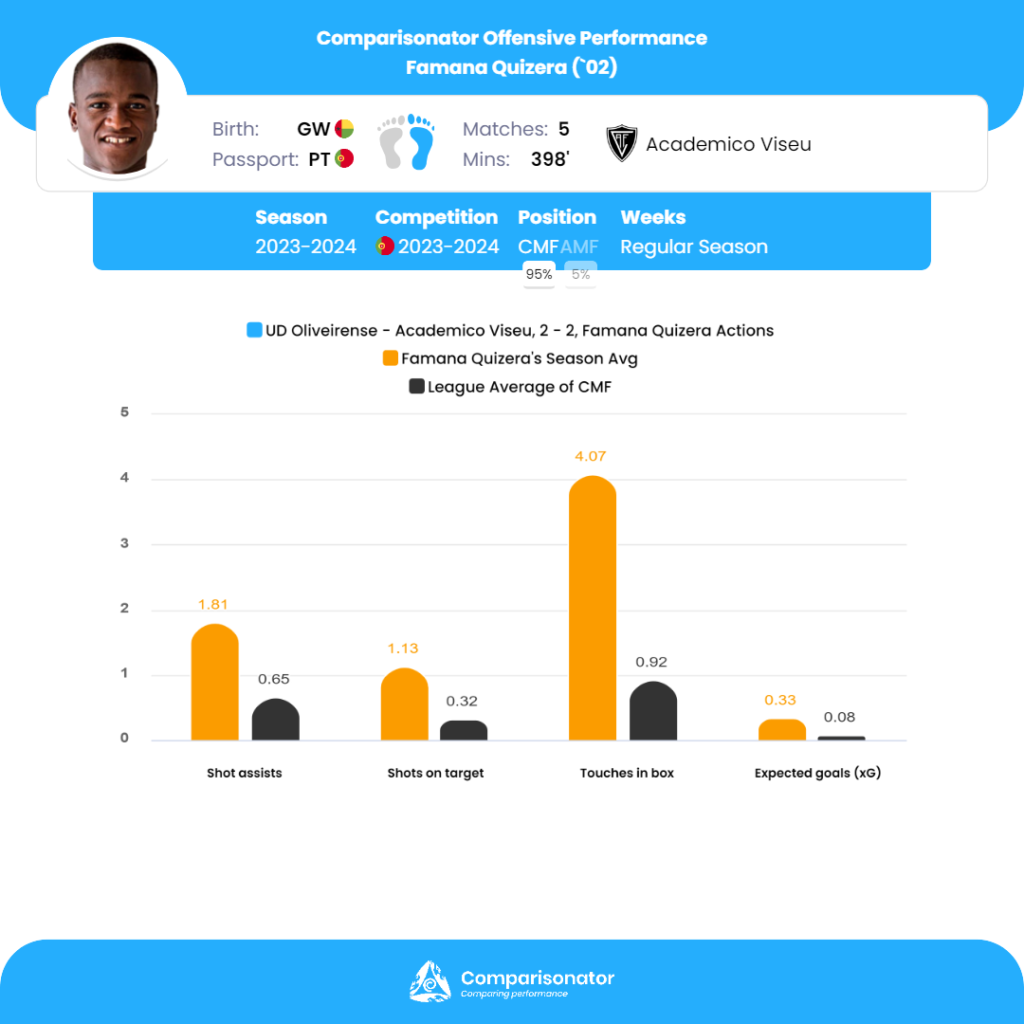 Ousmane Diao (RB) – Mafra
Ousmane Diao, stationed as a right-back for Mafra, boasts impressive defensive statistics. He leads the league in ball recoveries with an astonishing average of 10.75 per match, demonstrating his relentless pursuit of regaining possession. Diao is also the leader in duels won, emphasizing his prowess in one-on-one situations. Furthermore, he ranks second in successful long passes, highlighting his ability to initiate attacks from the back. Diao's tenacity and defensive mastery make him a standout in Liga Portugal 2.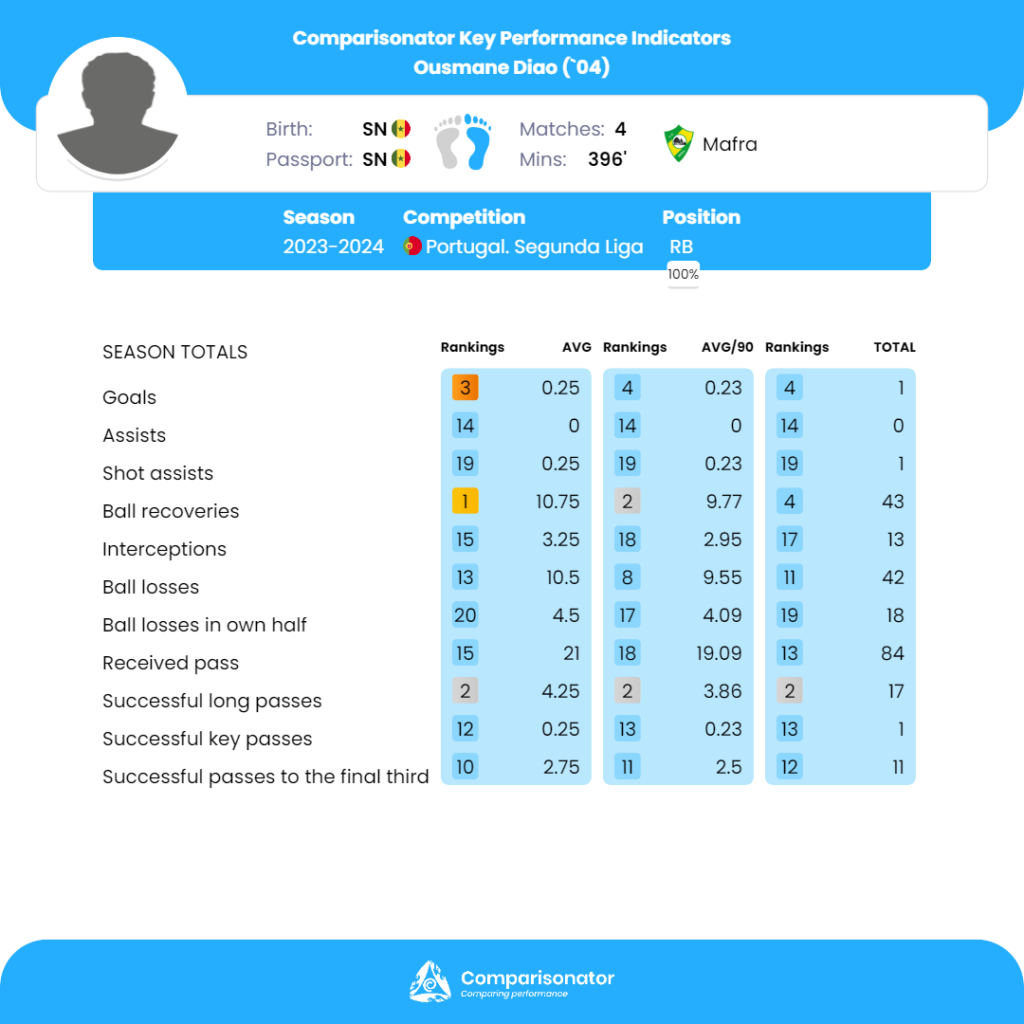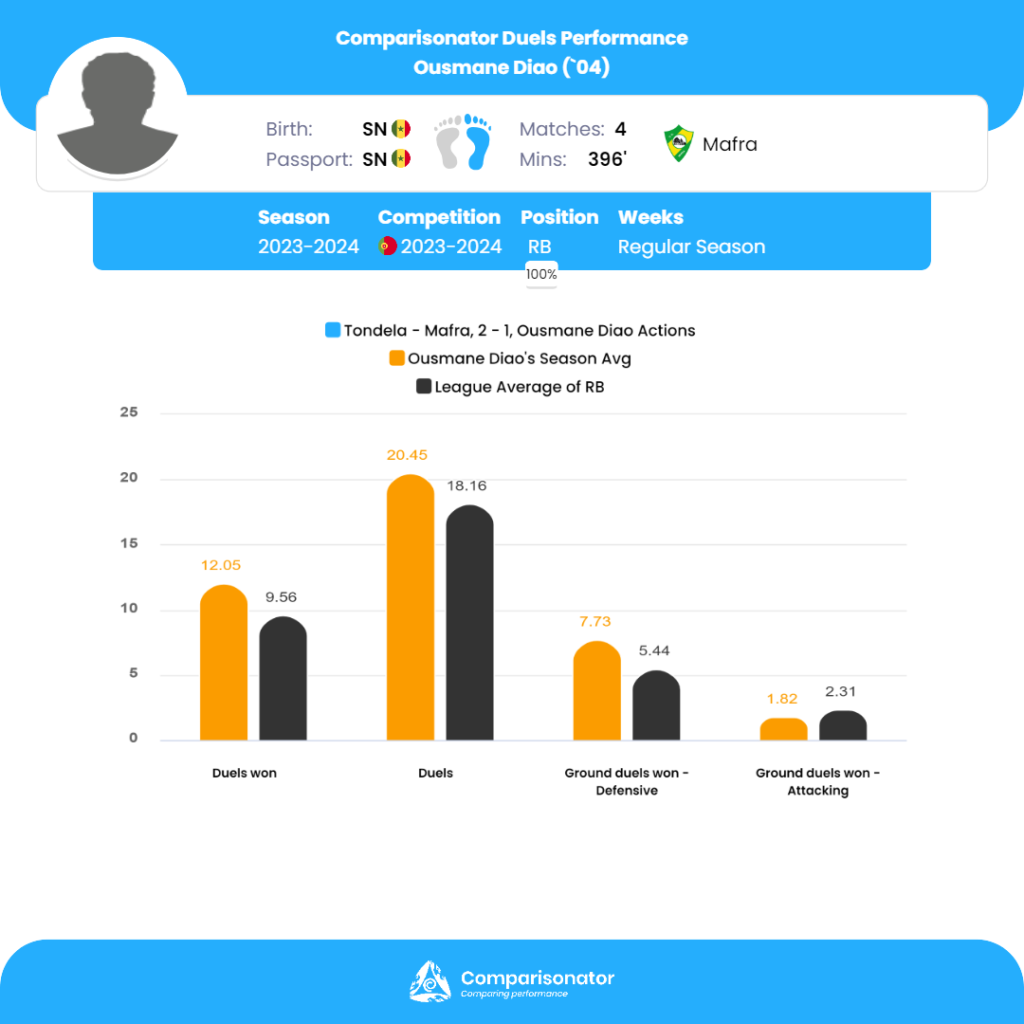 Selected via Comparisonator machine learning index.
Data Comparisons provided by Comparisonator is for educational purposes only and not intended to be monetized.