In the competitive realm of Spain's LaLiga 2, Comparisonator platform has pinpointed three outstanding U23 talents destined to leave a mark on the league. Hailing from Villarreal B, Sporting de Gijón, and Alcorcón, these young stars showcase a diverse range of skills, promising a vibrant future for LaLiga 2.
In the competitive landscape of Liga Portugal 2, Maestro, Famana Quizera, and Ousmane Diao are the emerging stars to watch. Their performances and potential are integral to the ever-evolving world of Portuguese football. As they continue to progress, their stories will influence the league's competitiveness and inspire future generations of football talents.
Alberto del Moral (CMF) – Villarreal B
Alberto del Moral, steering the midfield for Villarreal B, emerges as a playmaker extraordinaire. He tops the charts in successful passes and ball recoveries, signifying his strong presence in the heart of the field. Additionally, del Moral secures the second position in interceptions, illustrating his defensive prowess and influence in regaining possession. His precise passing and defensive contributions make him a player to keep an eye on.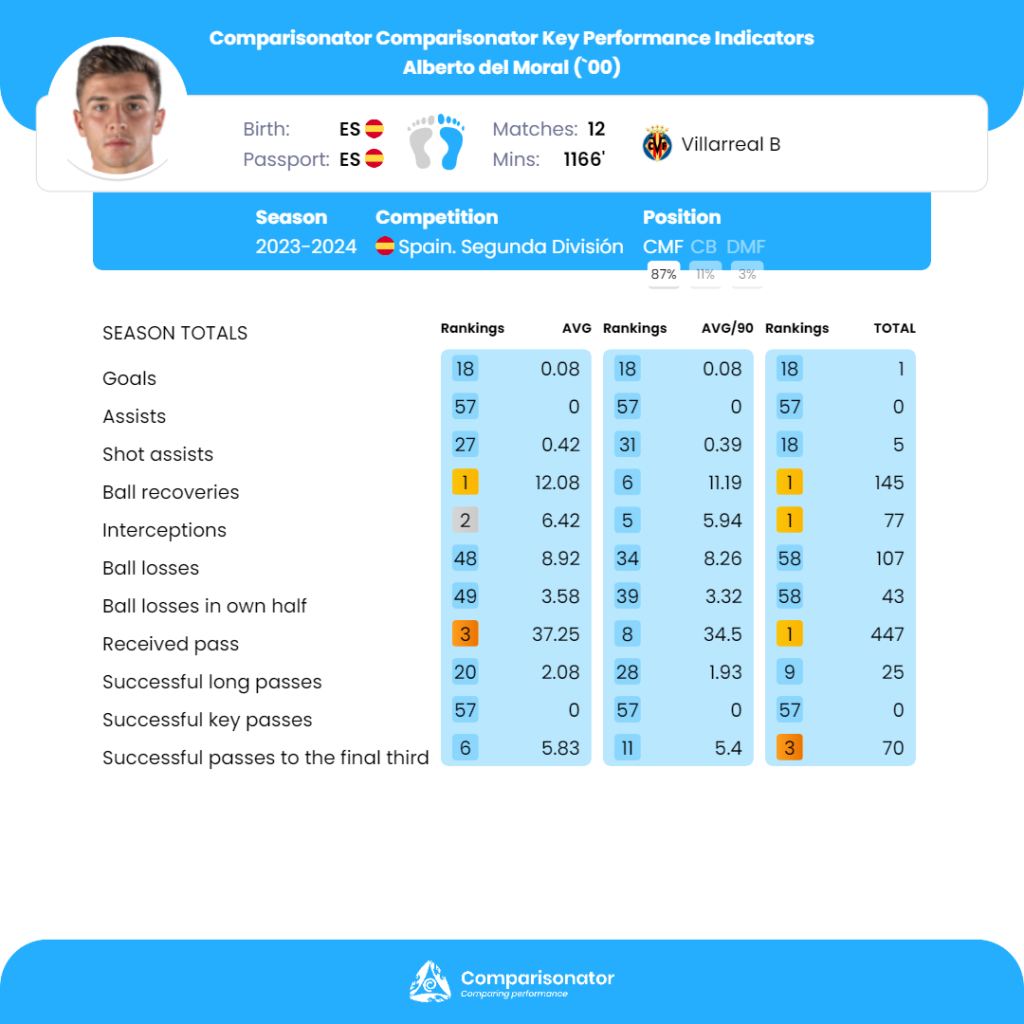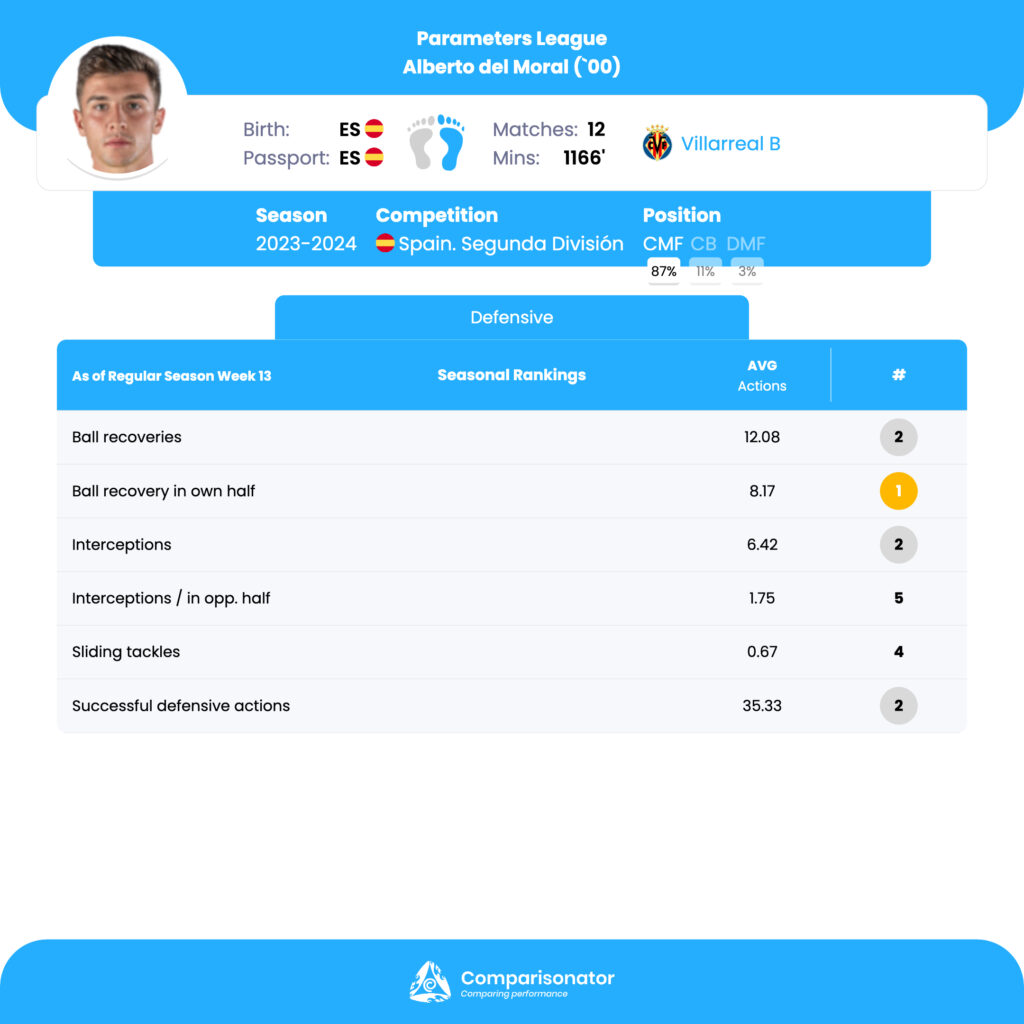 Haissem Hassan (RW) – Sporting de Gijon
Haissam Hassan, the right winger for Sporting de Gijón, stands out as a dynamic force in LaLiga 2. His mastery in successful dribbles and progressive runs leads the league, demonstrating his ability to take on opponents and drive forward play. Although he secures the third position in touches in the box, his attacking prowess and ability to create opportunities are undeniable, painting him as a player with immense potential.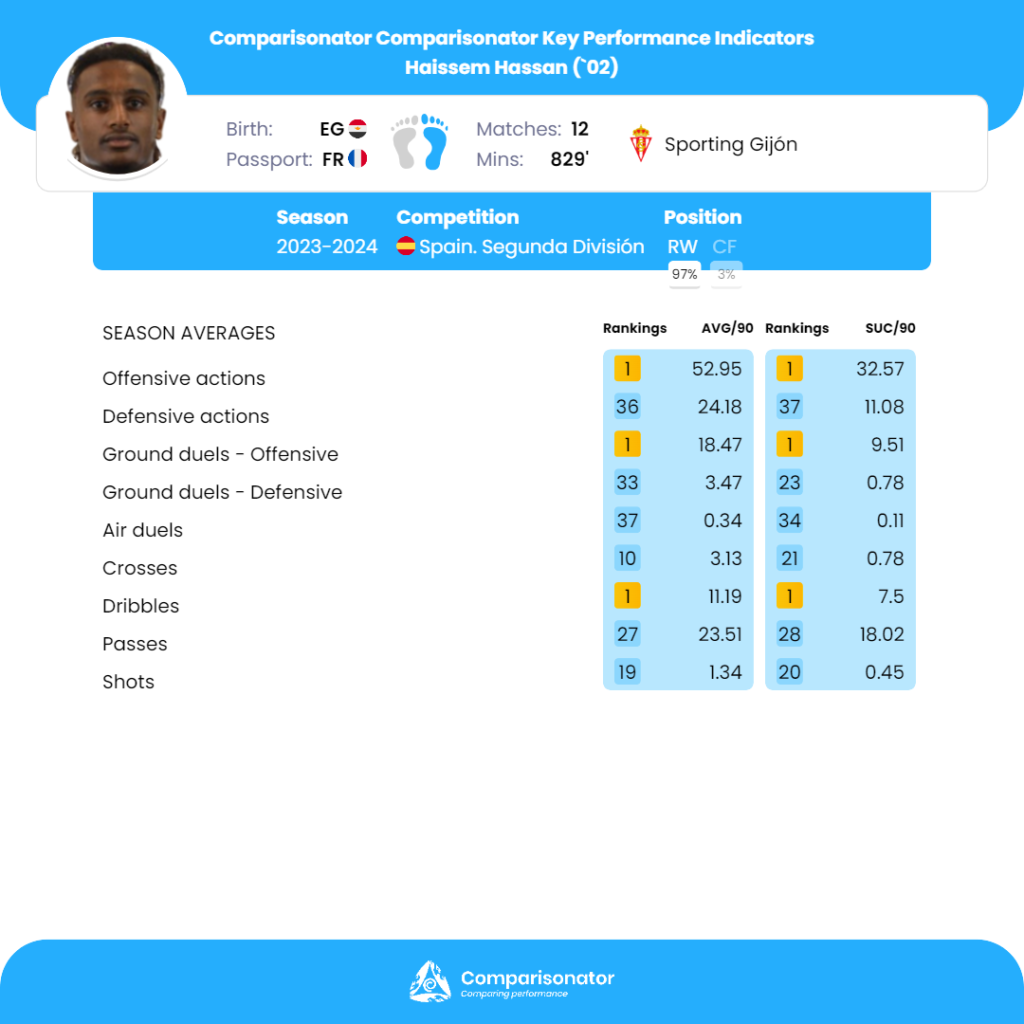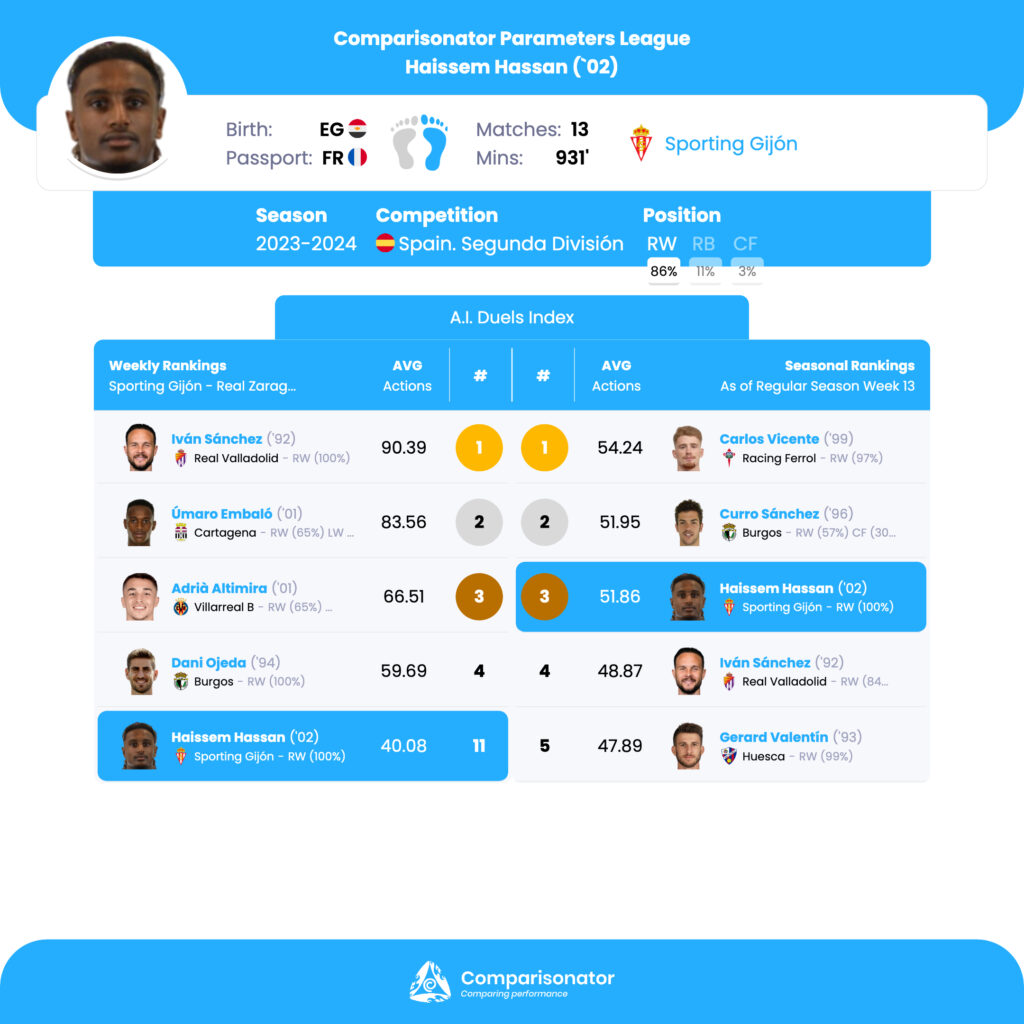 Emmanuel Addai (LW) – Alcorcon
Emmanuel Addai, entrusted with the left-wing role at Alcorcón, showcases a compelling blend of offensive and defensive capabilities. He leads the league in opportunities created and ranks second in successful dribbles, highlighting his impact in the attacking third. Addai secures the third position in duels won, emphasizing his tenacity and defensive contributions. His well-rounded style positions him as an invaluable asset.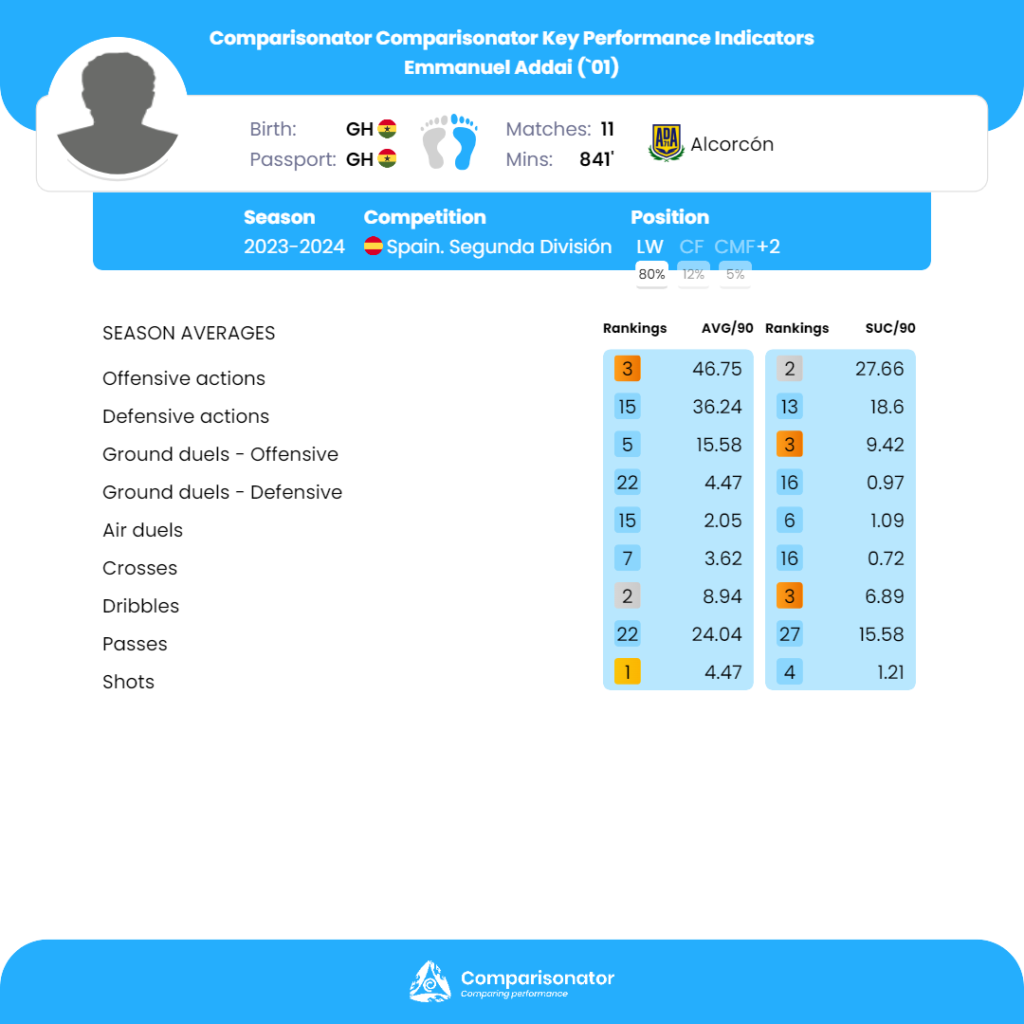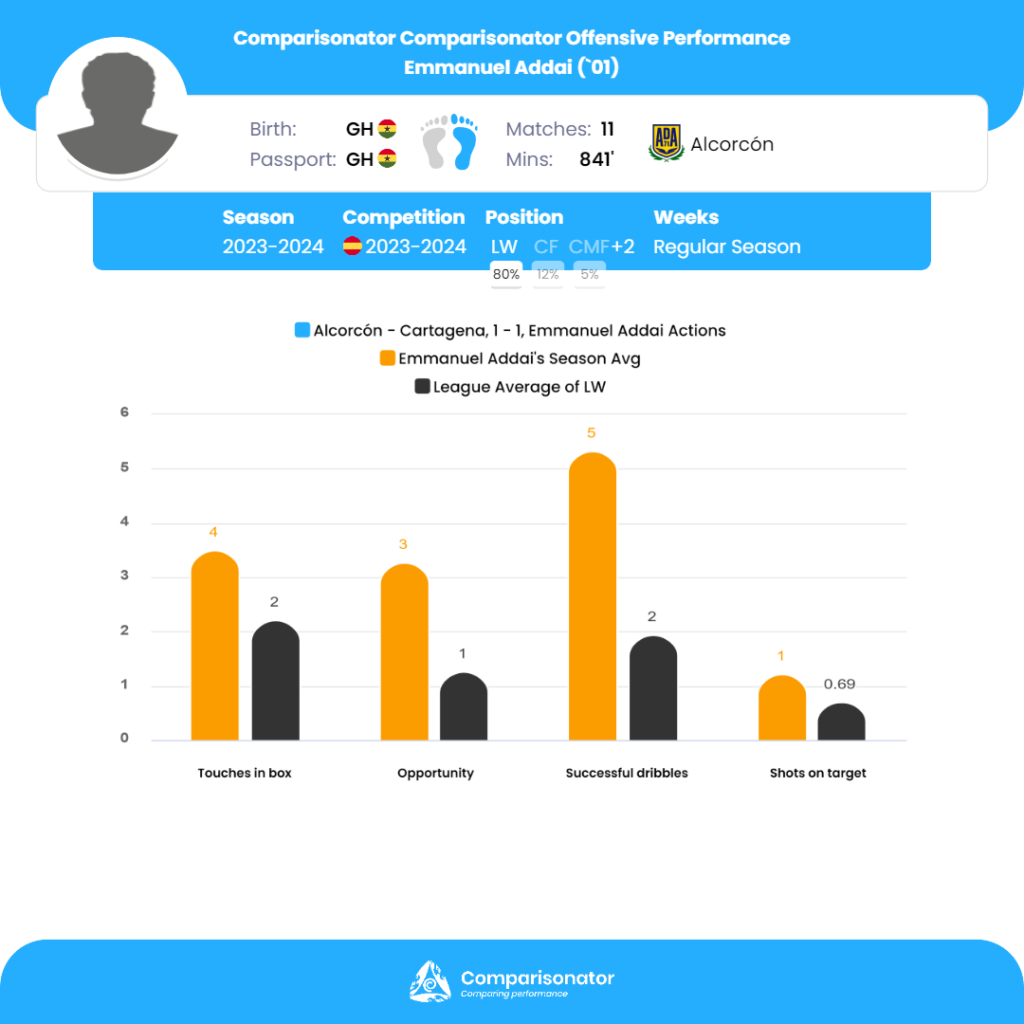 Selected via Comparisonator machine learning index.
Data Comparisons provided by Comparisonator is for educational purposes only and not intended to be monetized.