In the 2022/23 season of the England Women's Championship, three remarkable players have risen to the forefront as the best in their respective positions, as identified by Comparisonator platform. These athletes have not only showcased their exceptional skills but have consistently outperformed their peers in key statistical categories, making them standout performers in the league. Rebecca Rayner, an attacking midfielder from Sheffield United, has demonstrated her flair with successful dribbles, key passes, and smart passes. Abi Harrison, a centre forward representing Bristol City, has shone as a goal creator with shot assists, key passes, and successful long passes. Jade Pennock, another centre forward, this time for Birmingham City, has made her mark with progressive runs, interceptions, and goal-scoring opportunities. In this article, we delve into the performances of these three exceptional women and their significant contributions to the England Women's Championship.
3 Best Women Players in England Women Championship – 2022/23 Season
Rebecca Rayner – (AMF) Sheffield United
Rebecca Rayner, the attacking midfielder for Sheffield United, has taken the England Women's Championship by storm with her creative abilities. She leads the league in successful dribbles with four, showcasing her ability to take on defenders with confidence. Moreover, her top-ranking in key passes (0.88) and smart passes (2.25) highlights her vision and precision in setting up goal-scoring opportunities for her teammates. Rayner's dynamic performances in the midfield have undoubtedly been a driving force behind Sheffield United's success in the 2022/23 season.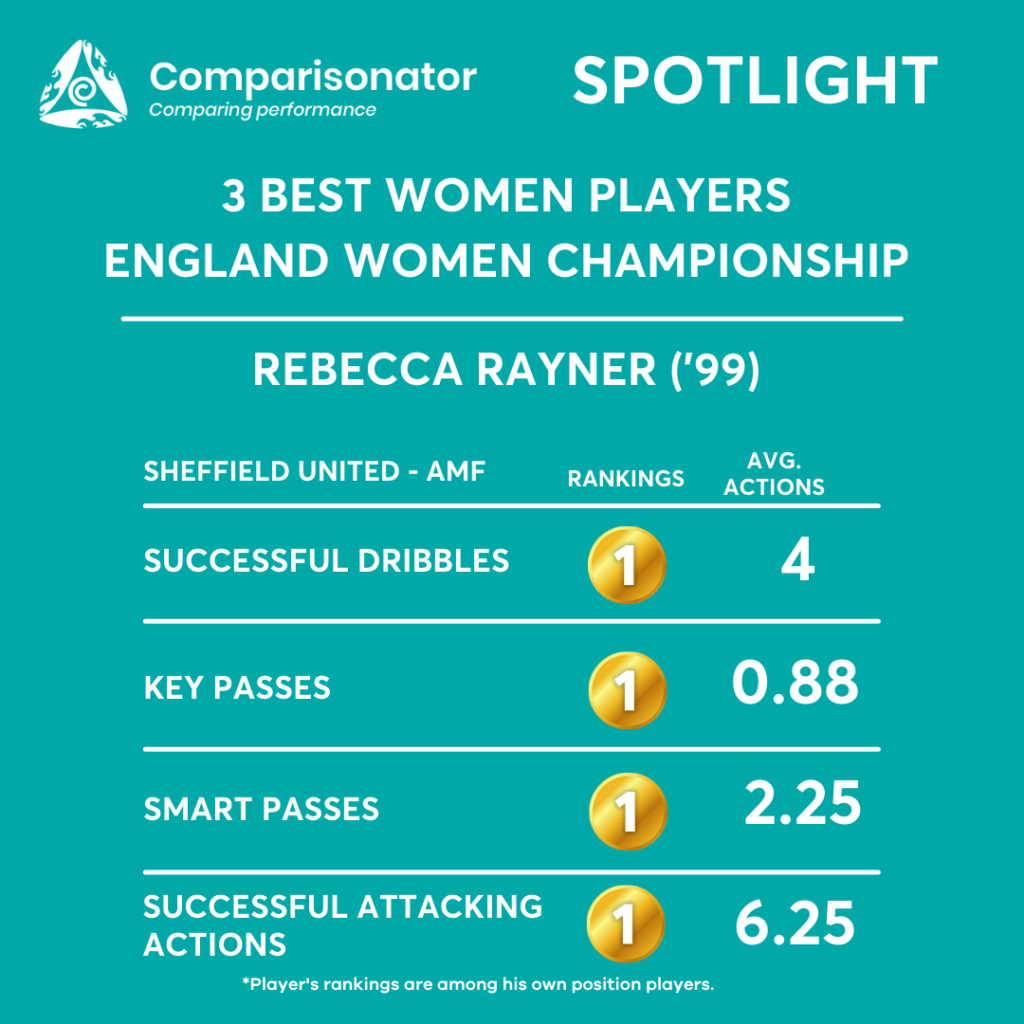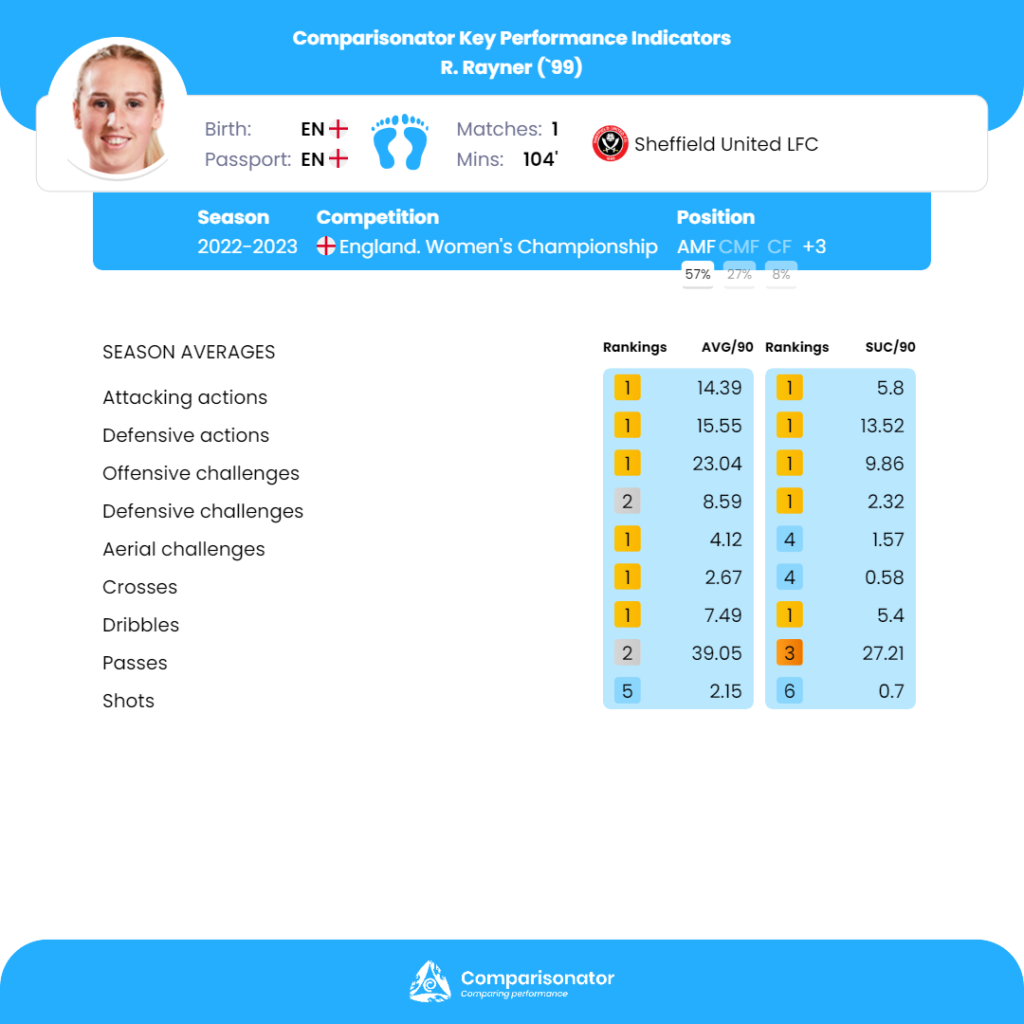 Abi Harrison – (CF) Bristol City
Bristol City's centre forward, Abi Harrison, has been a prolific goal creator in the England Women's Championship. Her top rankings in shot assists (1.74) and key passes (1.21) underline her playmaking abilities, consistently providing her team with opportunities to find the back of the net. Additionally, Harrison's proficiency in successful long passes (1.32) adds a layer of versatility to her game, enabling her to contribute to her team's build-up play. Her presence up front has been instrumental in Bristol City's campaign this season.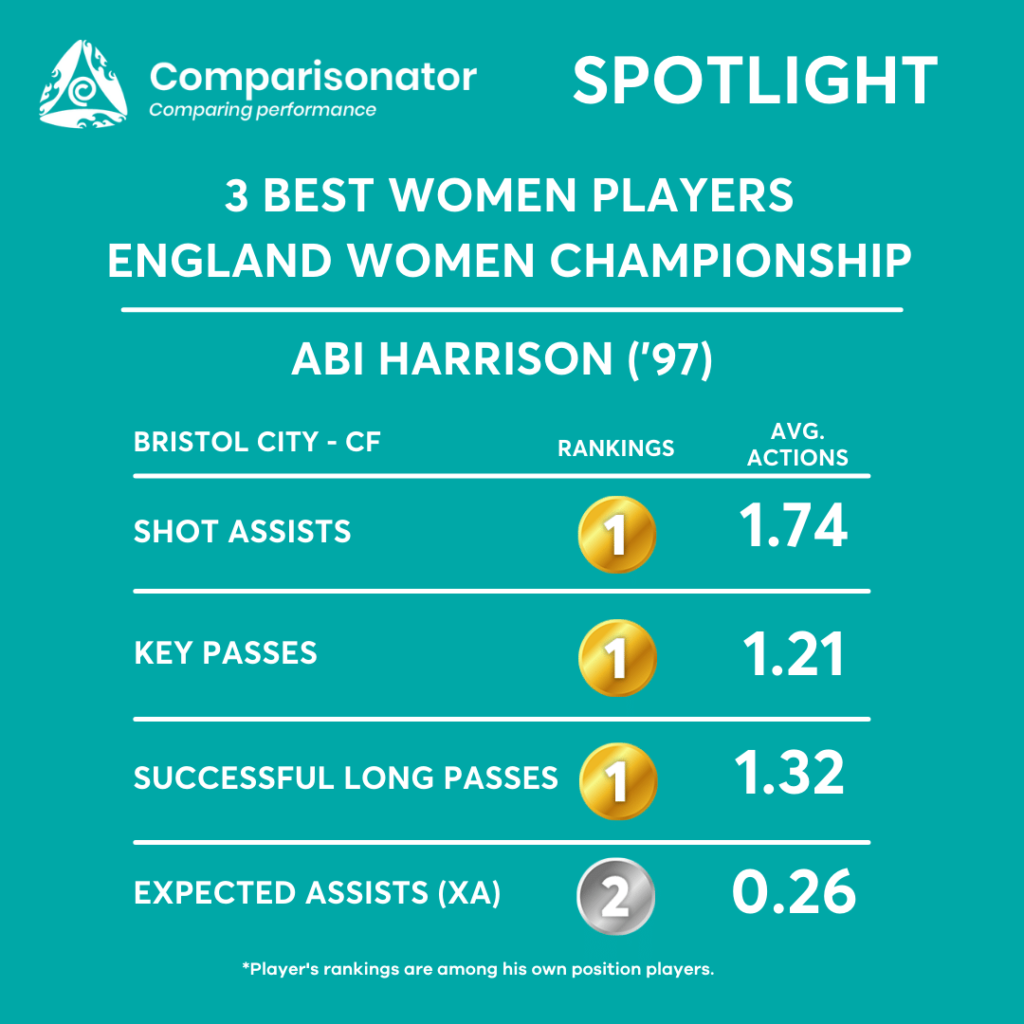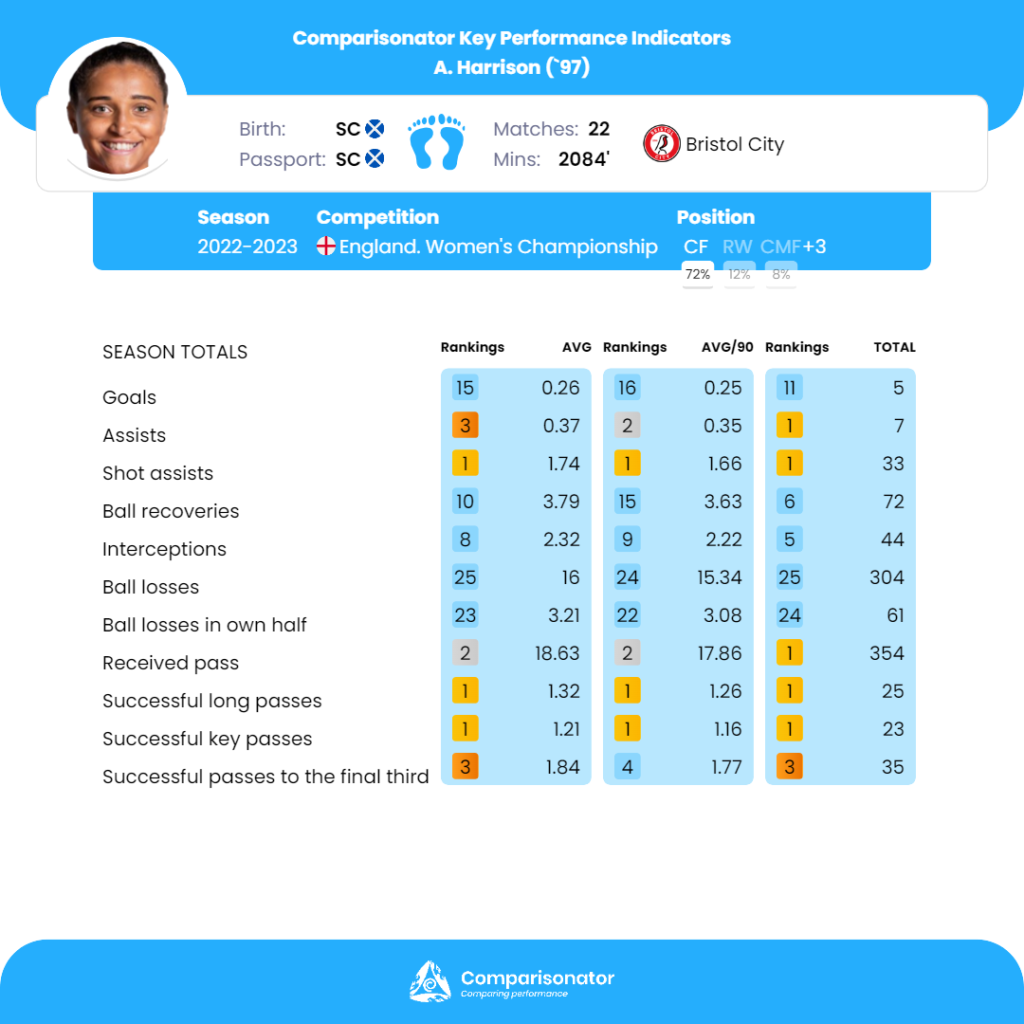 Jade Pennock – (CF) Birmingham City
Jade Pennock, donning the centre forward position for Birmingham City, has displayed a well-rounded skill set that extends beyond goal-scoring. Her top rank in progressive runs (2.26) highlights her ability to drive the team forward with dynamic movements. Furthermore, Pennock's impressive four interceptions per match underscore her defensive contribution and awareness. While her opportunities created (3.56) are ranked second in the league, Pennock's ability to impact the game both offensively and defensively makes her an invaluable asset for Birmingham City.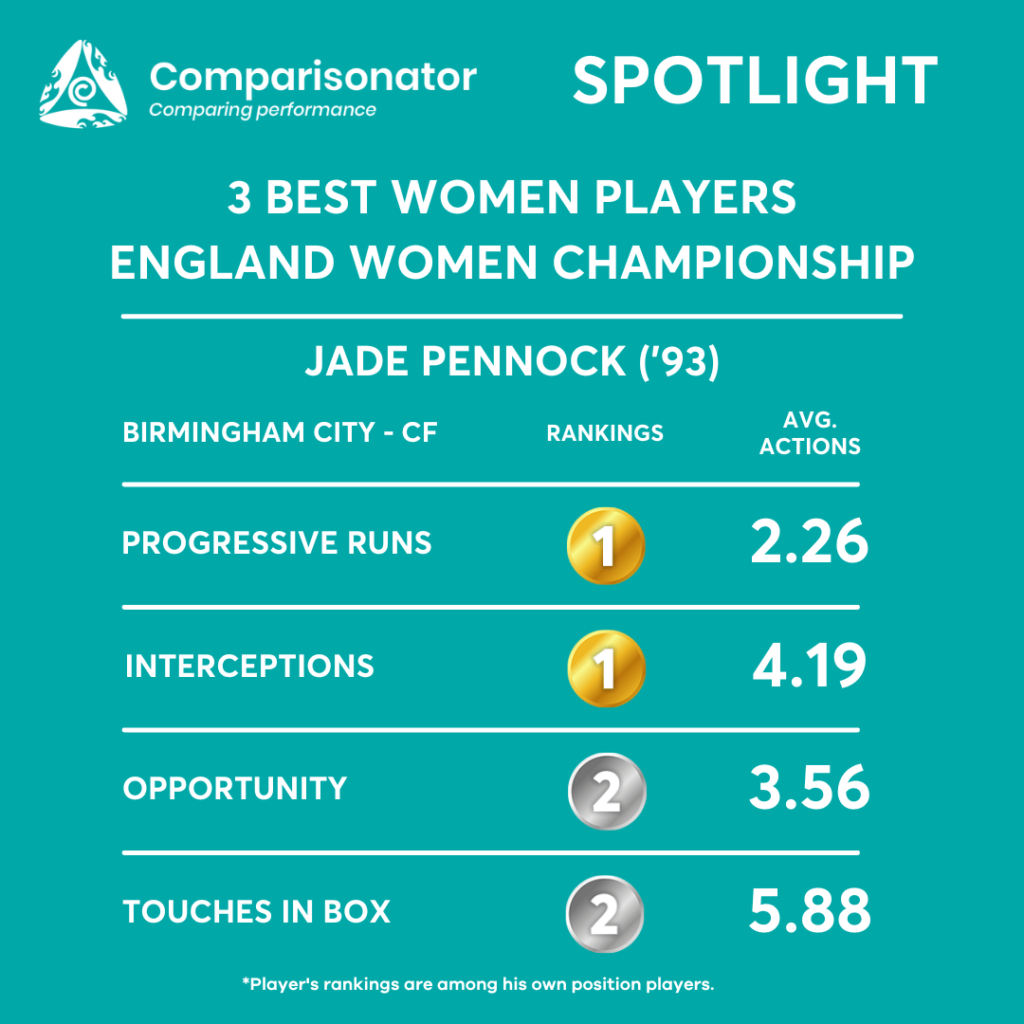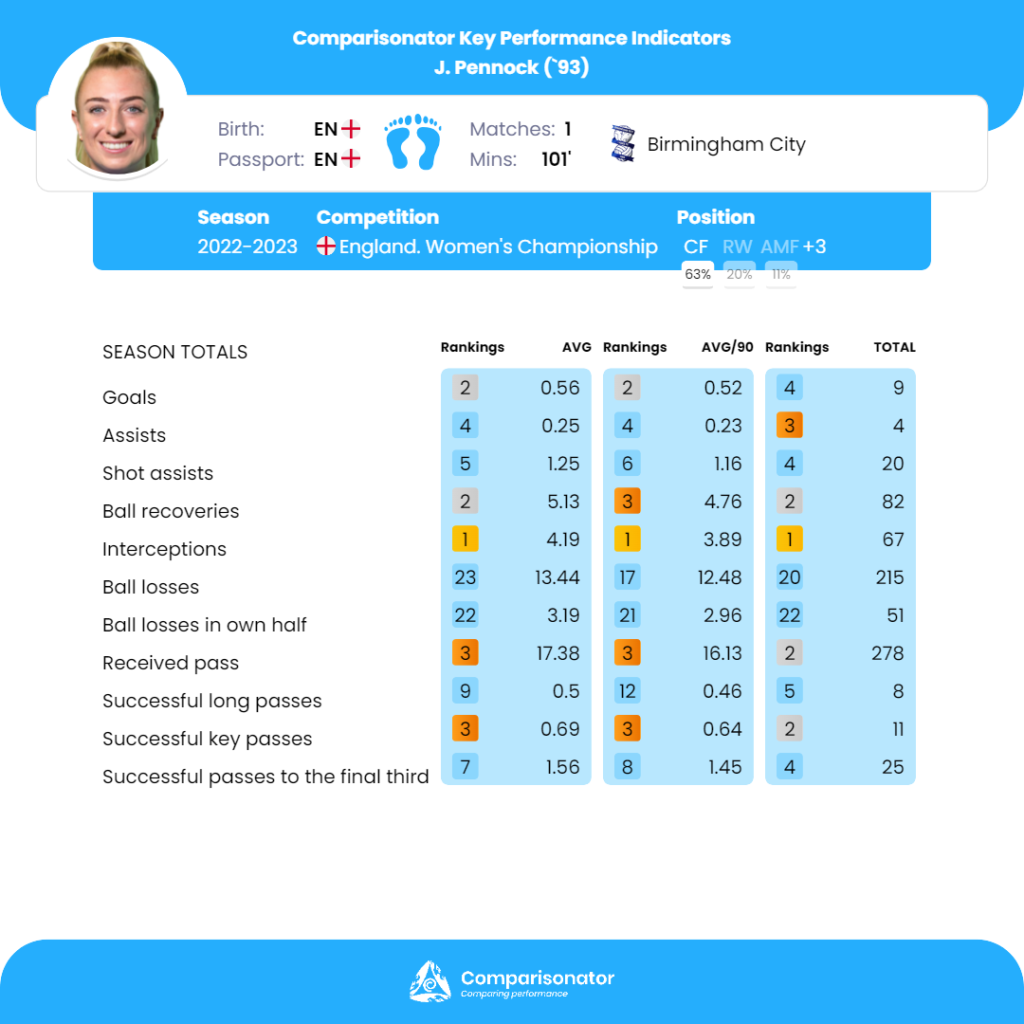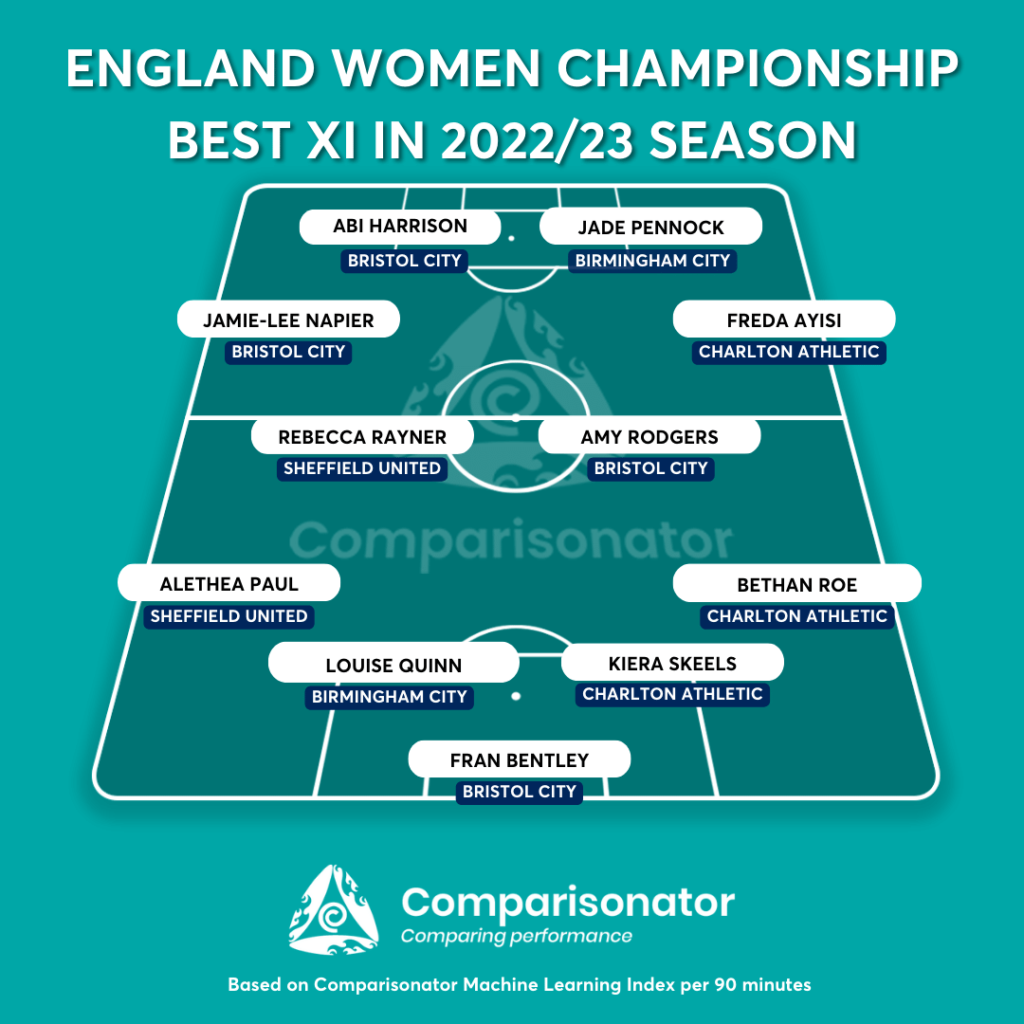 Selected via Comparisonator machine learning index.
Data Comparisons provided by Comparisonator is for educational purposes only and not intended to be monetized.