The 2023 K1 League season in South Korea has witnessed the emergence of three outstanding Under-23 talents who have been turning heads with their exceptional performances on the field. Identified and analyzed through the innovative Comparisonator platform, these young players have showcased their skills in key positions, making a significant impact on their respective teams. Ji-Sung Eom of Gwangju, Jae-Won Hwang of Daegu, and Ju-Sung Kim of Seoul have demonstrated remarkable prowess in their positions as a left-winger, right-back, and center-back, respectively. Let's delve into the statistical insights provided by Comparisonator to understand the standout attributes that have set these players apart in the 2023 season.
3 Best U23 Players in South Korea K1 League – 2023 Season So Far
Ji-sung Eom – (LW) Gwangju
Starting with Gwangju's left-winger Ji-Sung Eom, his standout performances are evident in the league rankings within the left-wing position. Eom has seized the opportunity with a remarkable average of 2.04 total actions per match, placing him at the top of the league. His progressive runs and successful dribbles are equally impressive, securing the 2nd position in both categories with 2.72 and 2.84 averages per match, respectively. Eom's dynamic playstyle and ability to capitalize on opportunities make him a player to watch as he continues to make a significant impact on the pitch.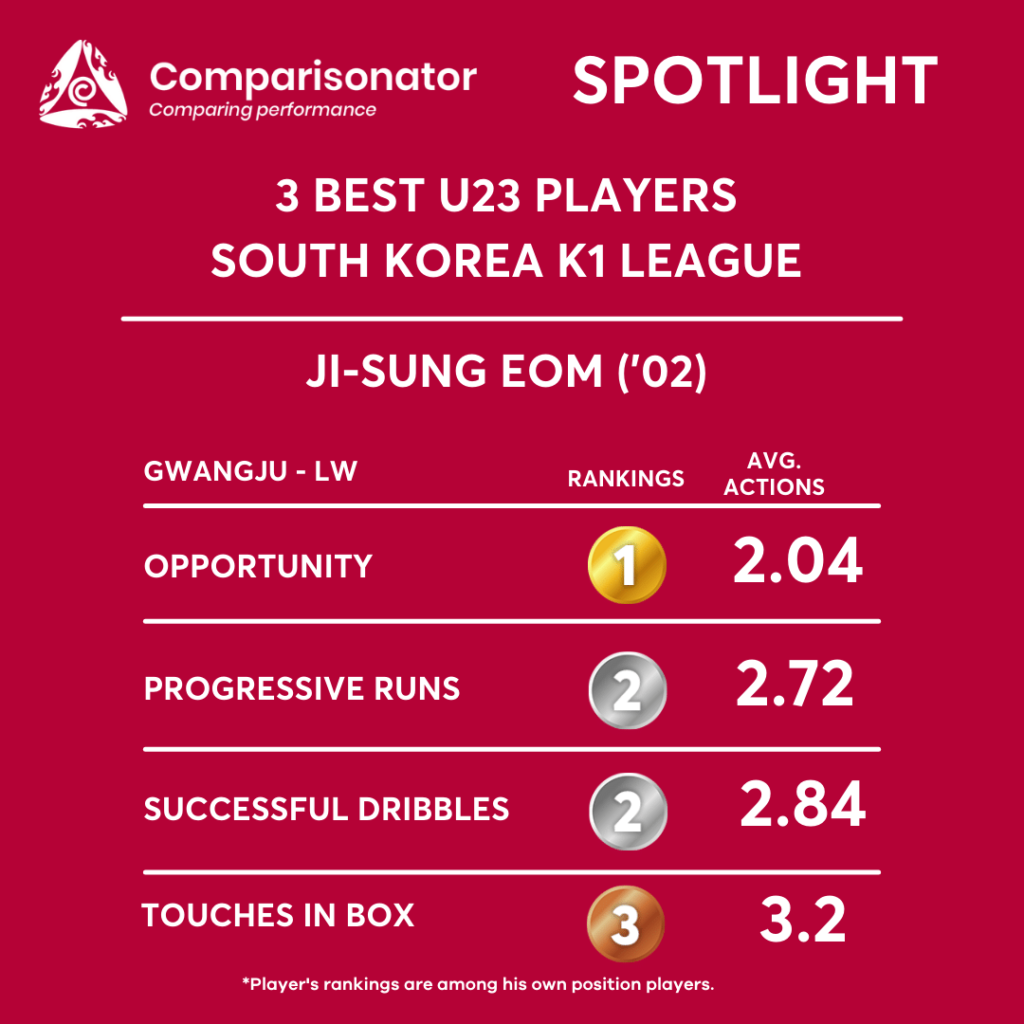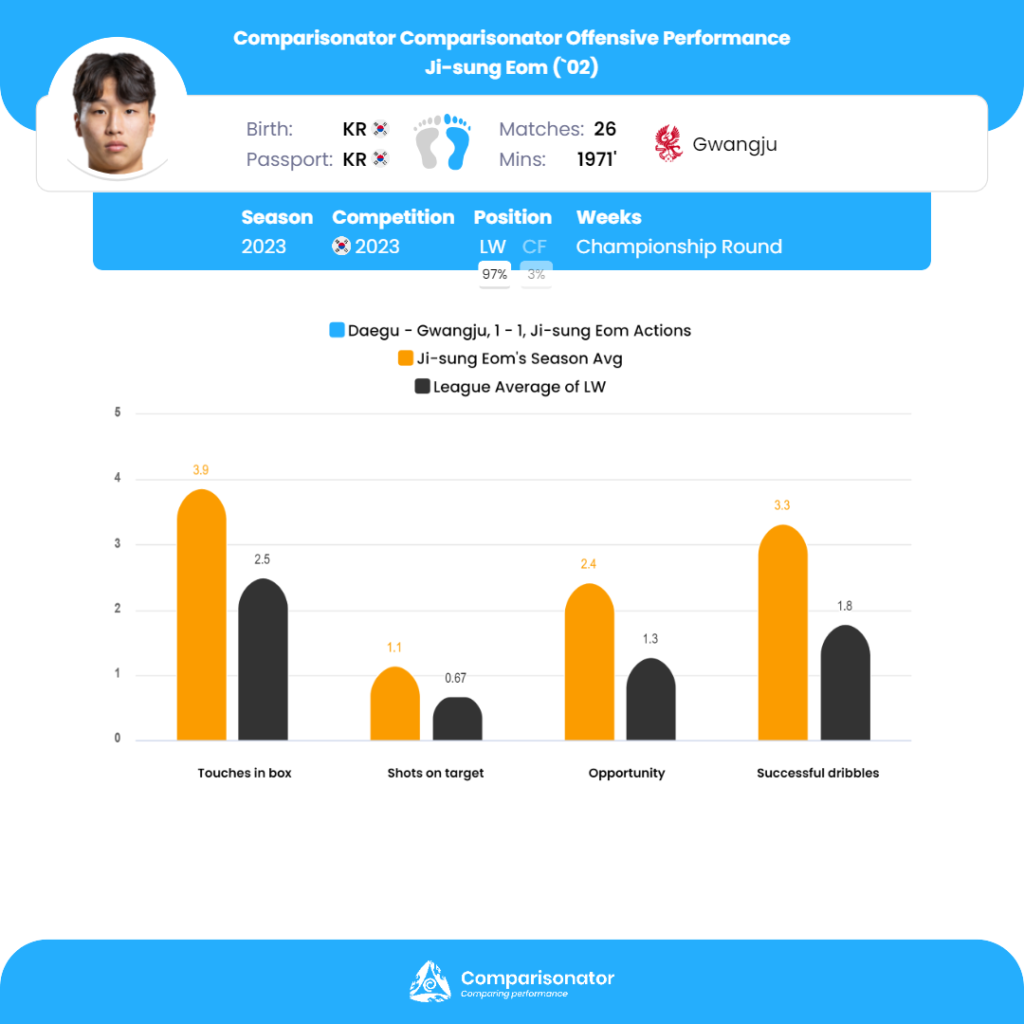 Jae-won Hwang – (RB) Daegu
In the right-back position, Daegu's Jae-Won Hwang has been a standout performer, dominating the league rankings with his exceptional skills. Hwang's proficiency in dribbling is highlighted by his top-ranking average of 3.15 dribbles per match. Additionally, he has demonstrated precision in delivering crosses, securing the 2nd position with an average of 1.67 successful crosses per match. Hwang's ability to make progressive runs, ranking 3rd in the league with an average of 1.96, showcases his well-rounded contribution to Daegu's defensive and offensive strategies.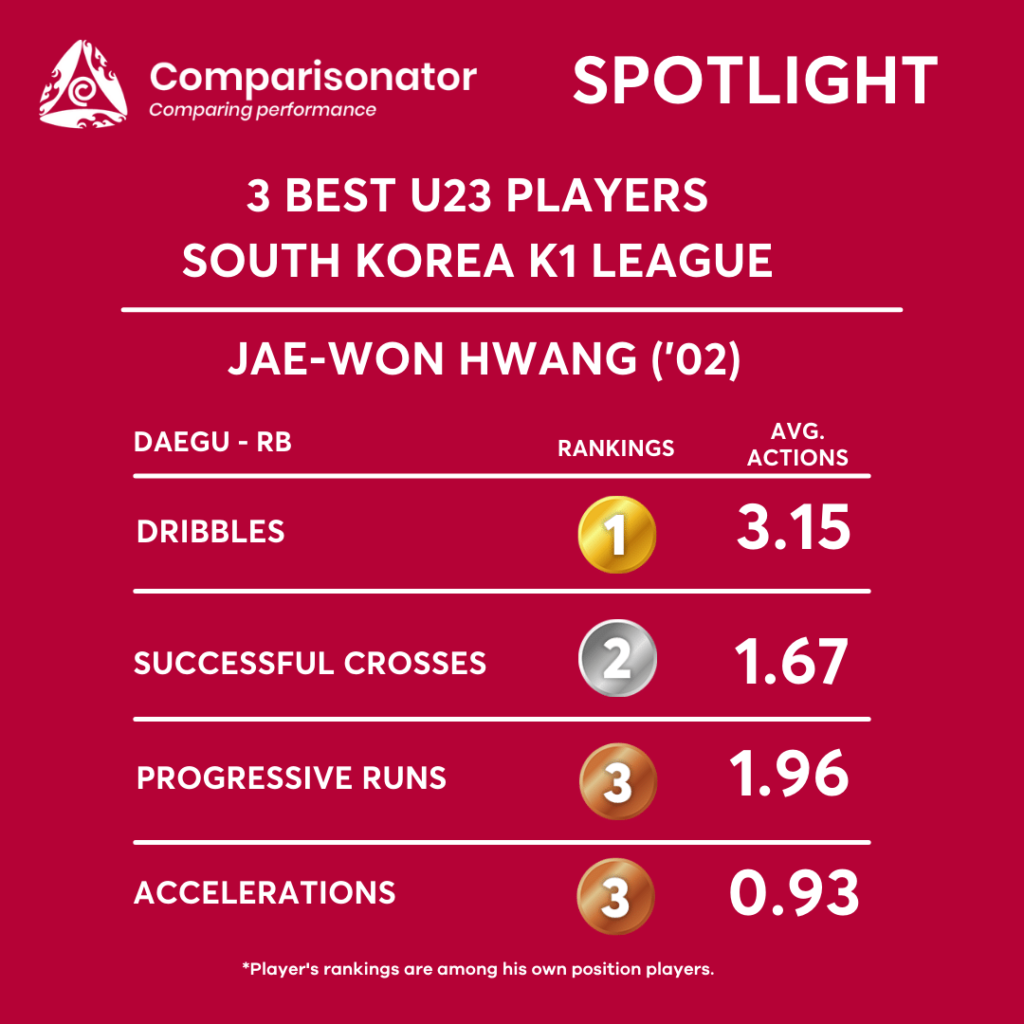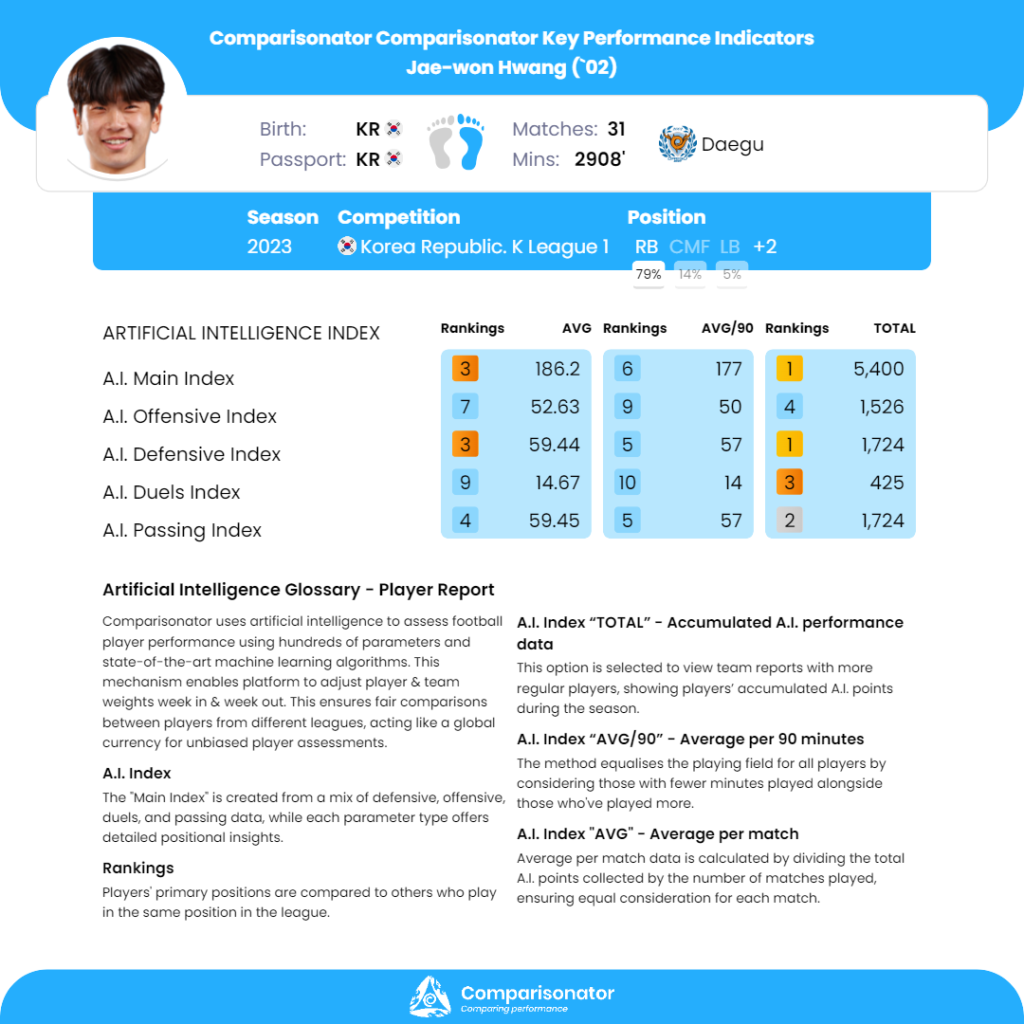 Ju-sung Kim – (CB) Seoul
Turning our attention to the center-back position, Seoul's Ju-Sung Kim has established himself as a defensive stalwart. Kim's excellence is reflected in his rankings within the center-back category, where he secures the 2nd position in successful passes with an average of 69.73 per match. Furthermore, his proficiency in offensive plays is evident, ranking 2nd with an average of 68.18 successful offensive passes per match. Kim's ability to receive passes is also noteworthy, securing the 3rd position in the league with an average of 57.73 received passes per match. His well-rounded defensive and playmaking skills make him an integral part of Seoul's strategic setup.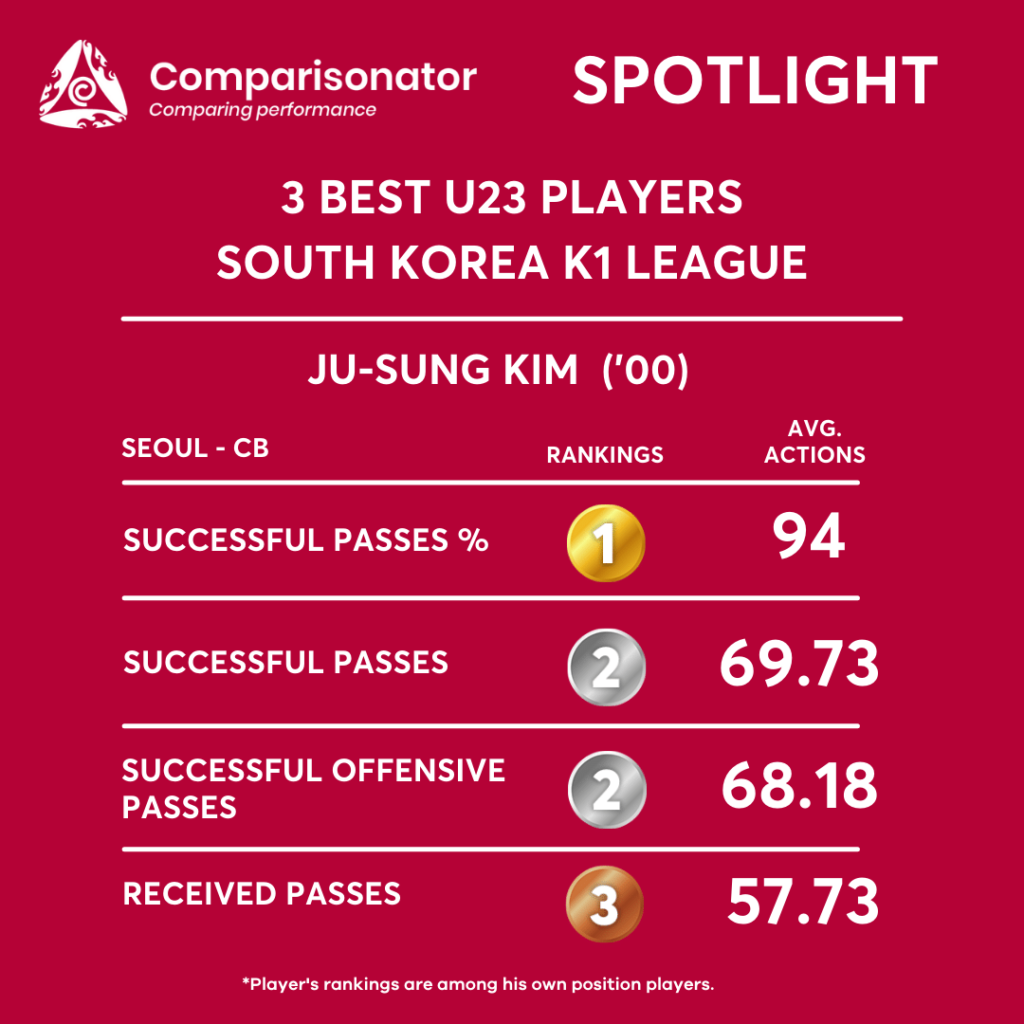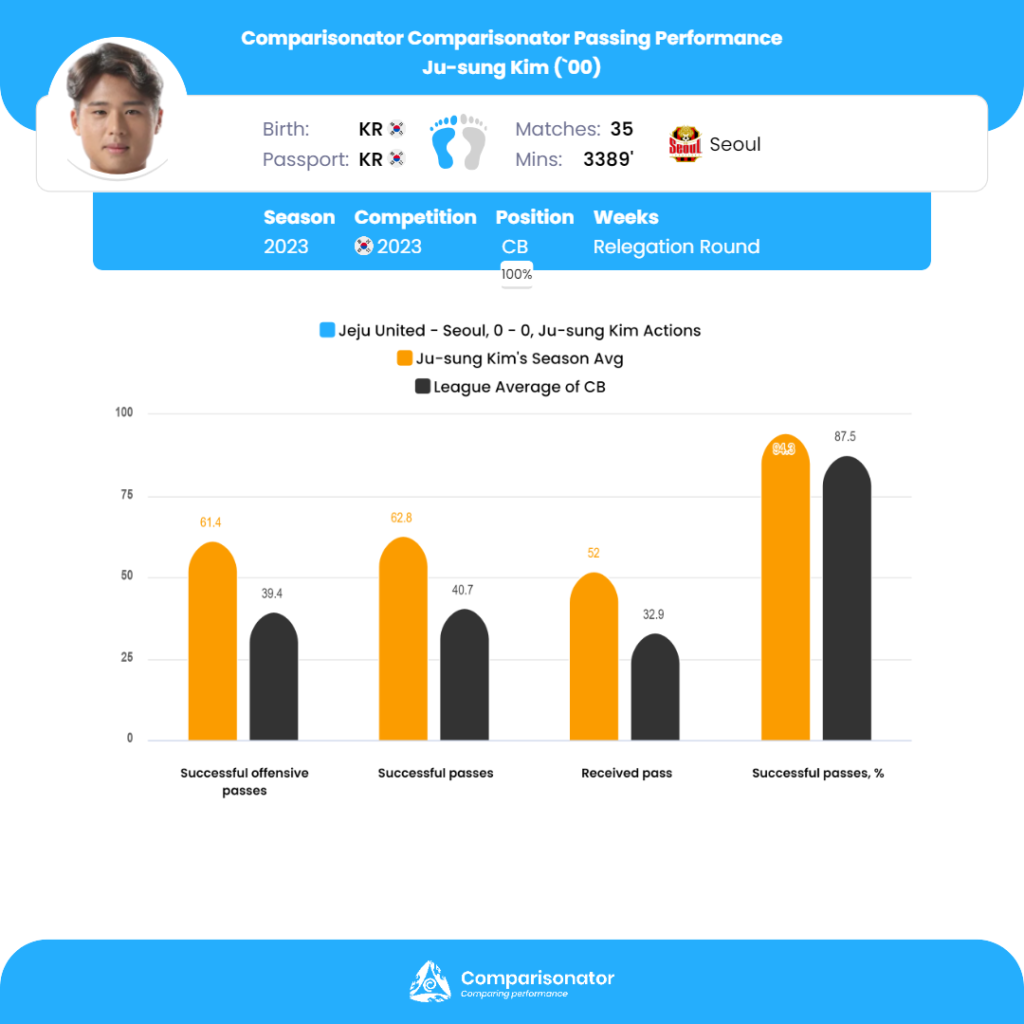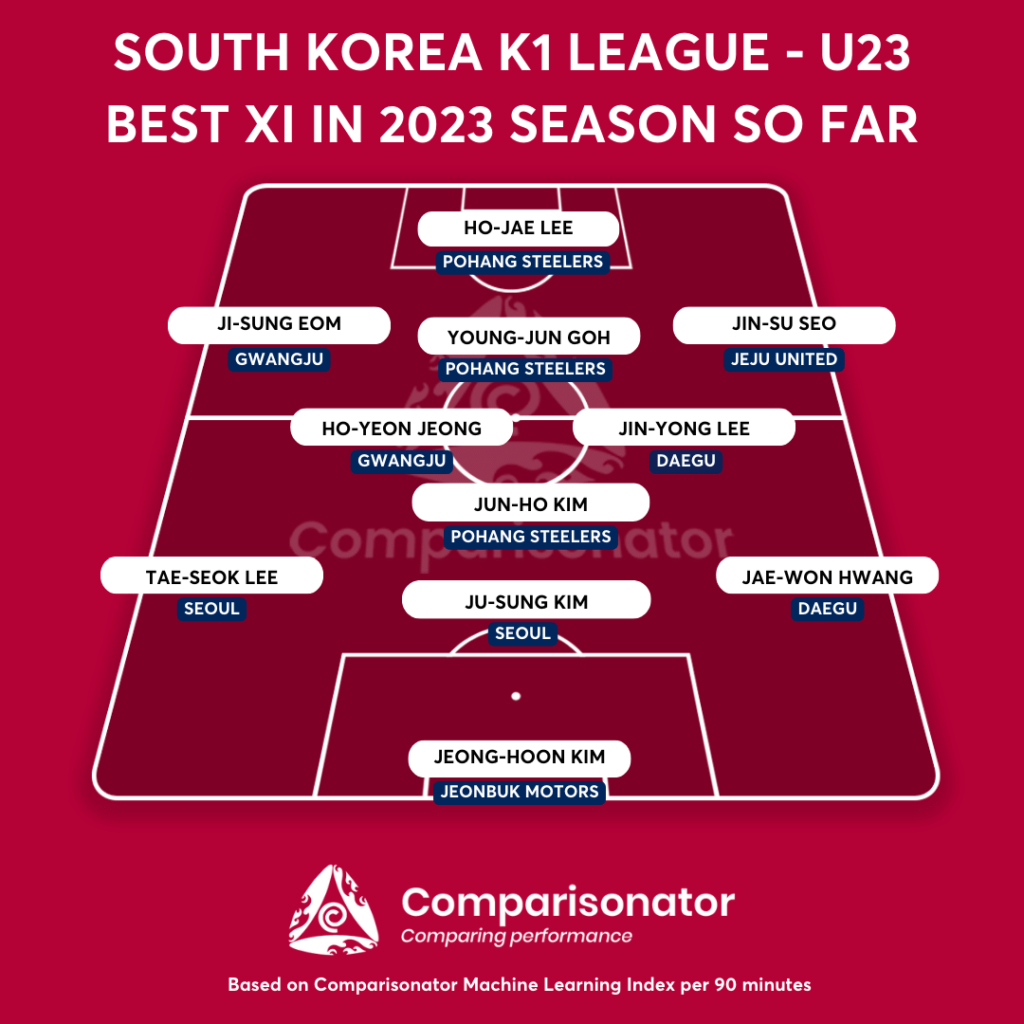 Selected via Comparisonator machine learning index.
Data Comparisons provided by Comparisonator is for educational purposes only and not intended to be monetized.