In the fiercely competitive realm of the Poland Ekstraklasa, three standout players have emerged as the best in their respective positions during the current season, as identified by Comparisonator platform. These exceptional athletes have consistently outperformed their peers in key statistical categories, leaving an indelible mark on the league. Ernest Muci, a Centre Forward from Legia Warszawa, has dazzled with his prolific presence in the box, successful dribbles, and progressive runs. Michal Rakoczy of Cracovia Kraków, a Central Midfielder, has demonstrated his mastery in dribbling and progressive runs, adding finesse to his team's midfield. Lastly, Bartlomiej Wdowik, the Left Back for Jagiellonia Białystok, has made a substantial impact with his on-target shots, shot assists, and opportunities created. In this article, we delve into the performances of these three remarkable players and their significant contributions to the Poland Ekstraklasa.
3 Best U23 Players in Poland Ekstraklasa – 2023/24 Season So Far
Ernest Muci – (CF) Legia Warszawa
Ernest Muci, leading the line for Legia Warszawa as a Centre Forward, has been a force to reckon with in the Poland Ekstraklasa. His statistics reflect his dominance in the box, with a league-leading 5.22 touches in the box and an equal number of successful dribbles. Muci's ability to create opportunities through progressive runs (3.48) showcases his versatility and contribution beyond scoring goals. His performances have undoubtedly played a pivotal role in Legia Warszawa's campaign this season.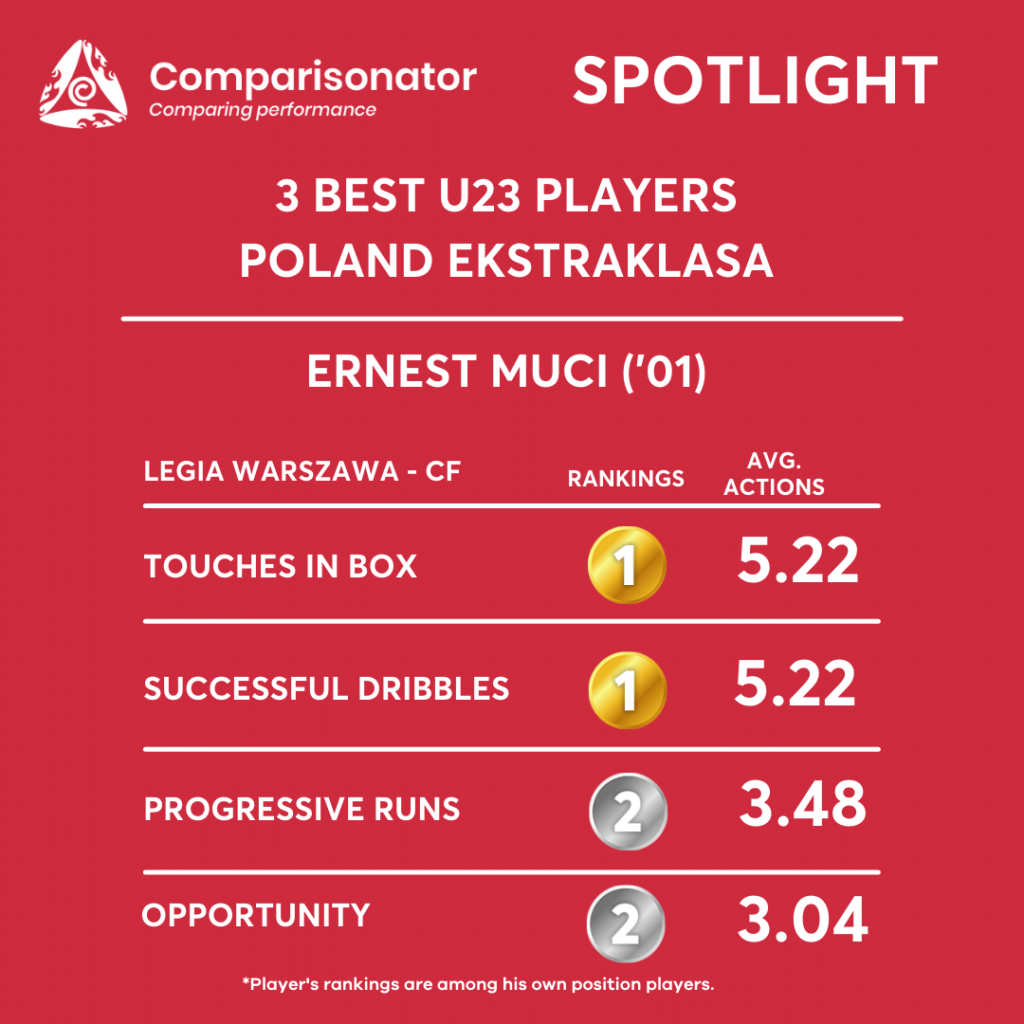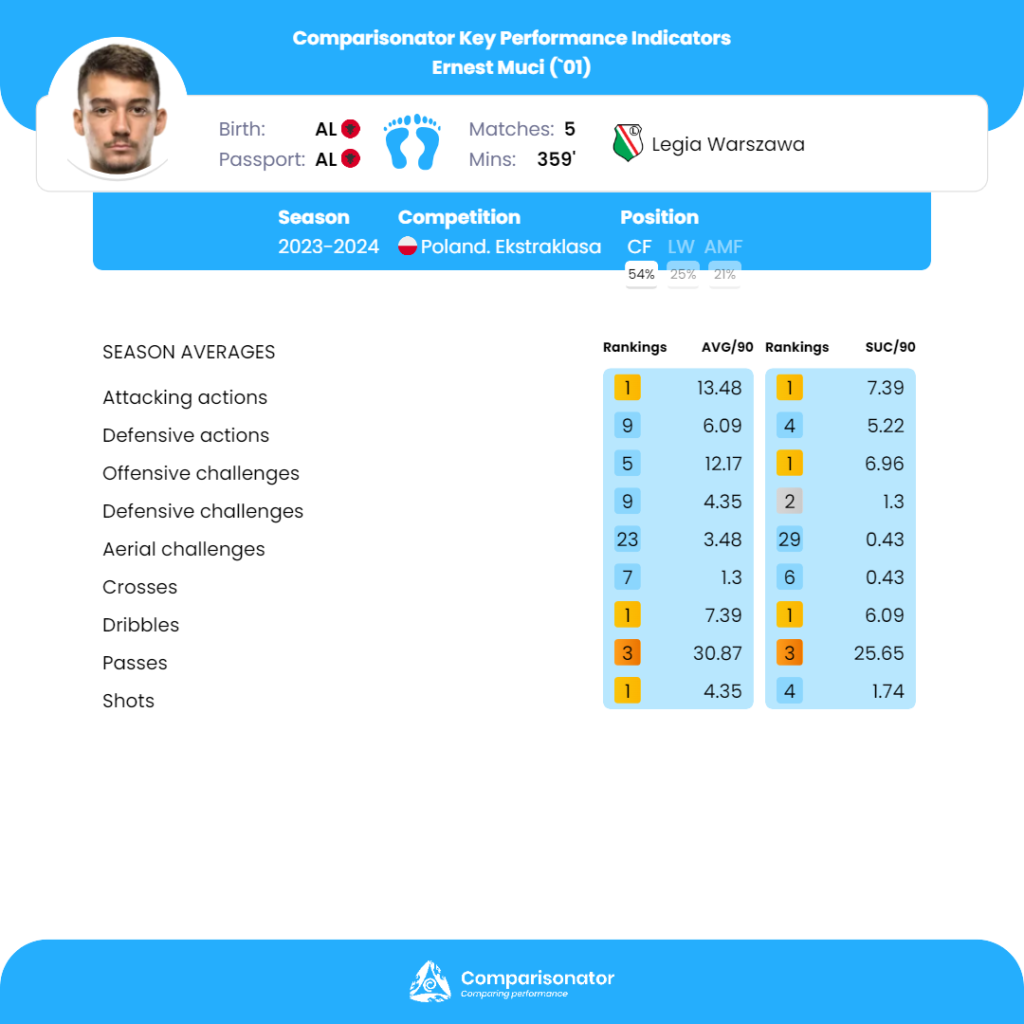 Michal Rakoczy – (CMF) Cracovia Kraków
Cracovia Kraków's Central Midfielder, Michal Rakoczy, has been the midfield engine powering his team. His ranking at the top for successful dribbles (2.54) and successful dribbling in the final third (1.06) highlights his ability to navigate tight spaces and create attacking opportunities. Rakoczy's contribution extends beyond ball control, as he ranks third in the league for progressive runs (3.8), showcasing his ability to drive his team forward. His presence in the midfield has undoubtedly been a game-changer for Cracovia Kraków.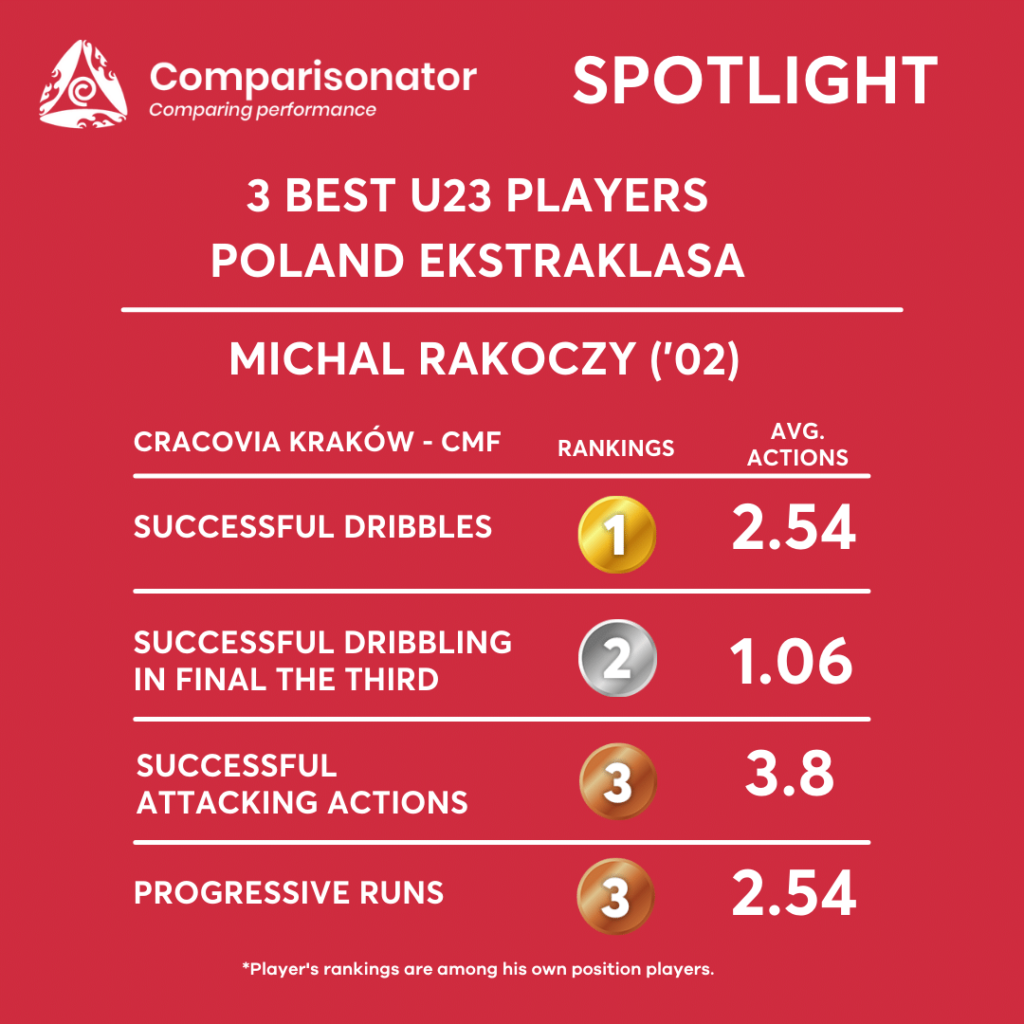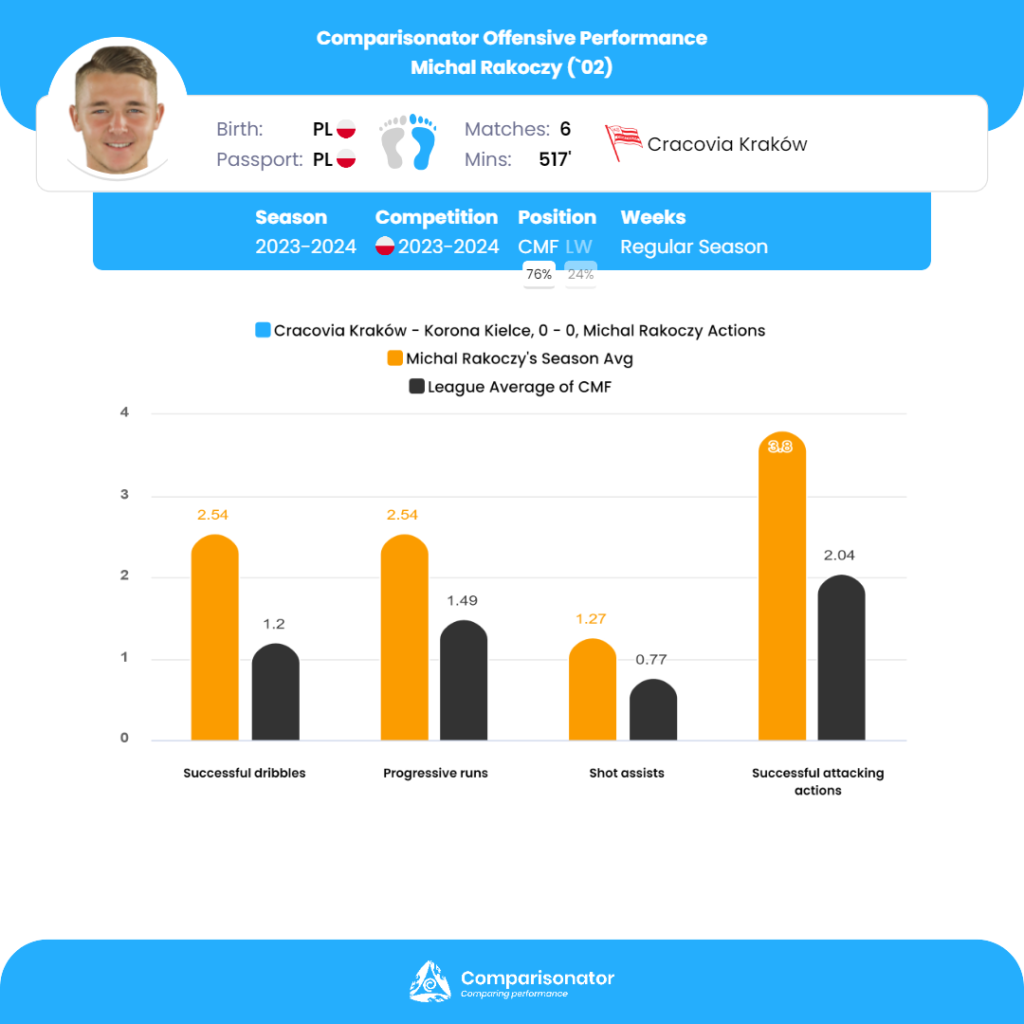 Bartlomiej Wdowik – (LB) Jagiellonia Białystok
Jagiellonia Białystok's Left Back, Bartlomiej Wdowik, has been a revelation this season, making his mark in the Poland Ekstraklasa. He leads in shots on target (0.63), proving his ability to contribute offensively from a defensive position. Additionally, Wdowik ranks second in shot assists (1.41), underlining his role in creating scoring opportunities for his team. His overall contribution, reflected in his third-place ranking for opportunities created (0.78), showcases the well-rounded skill set of this attacking full-back.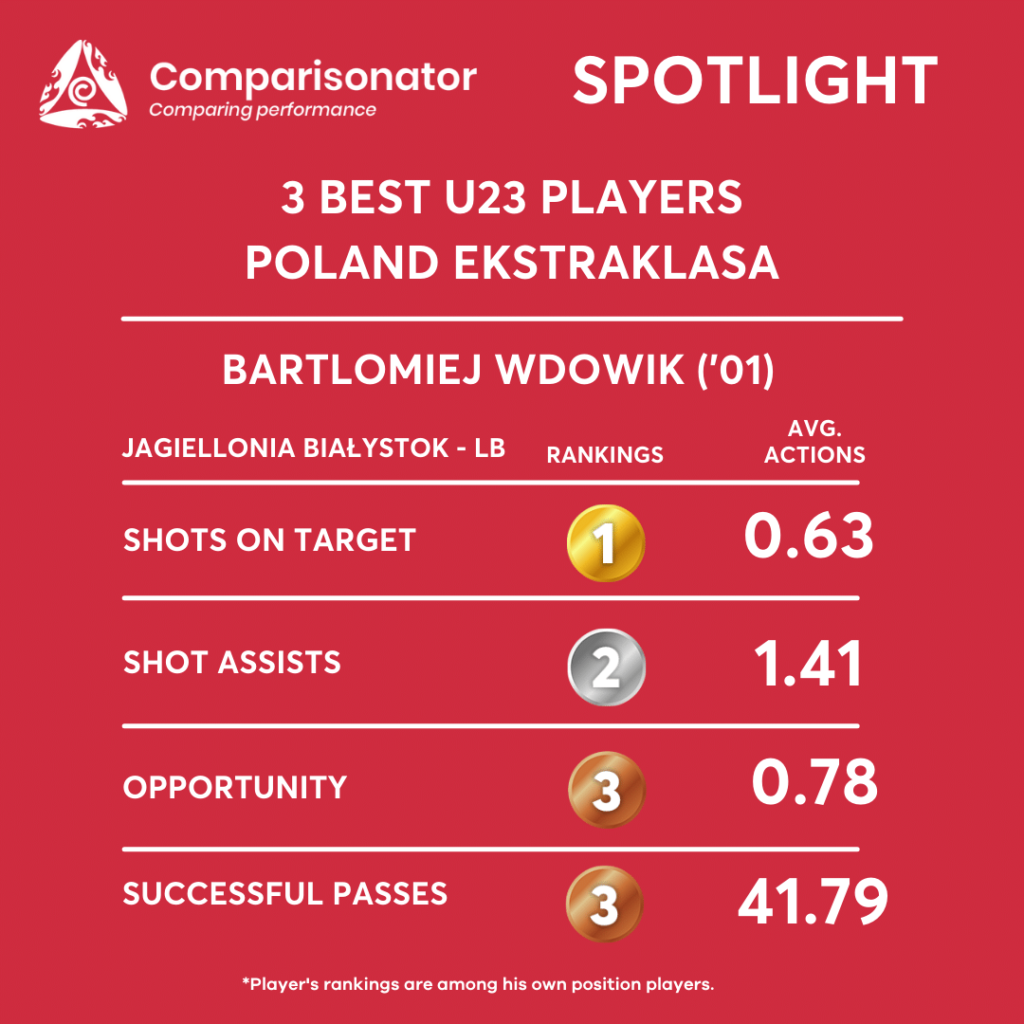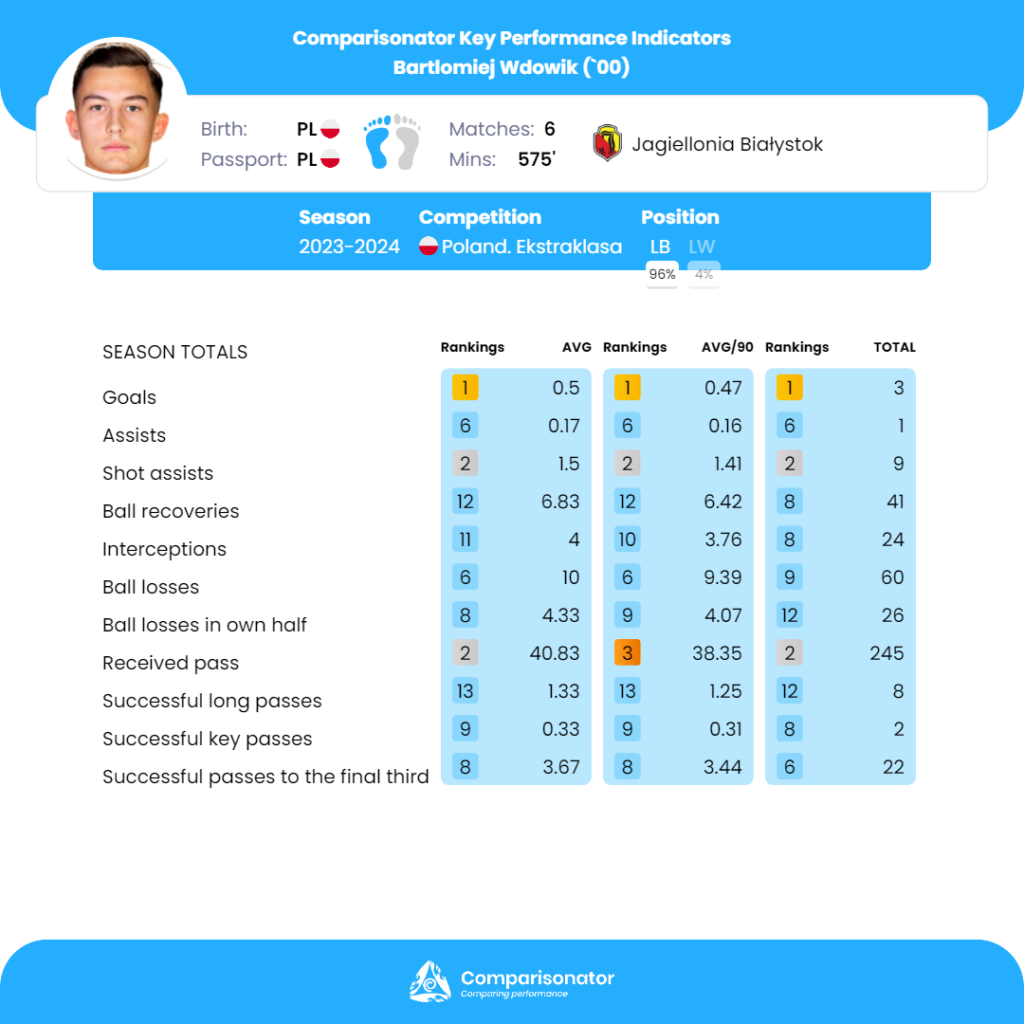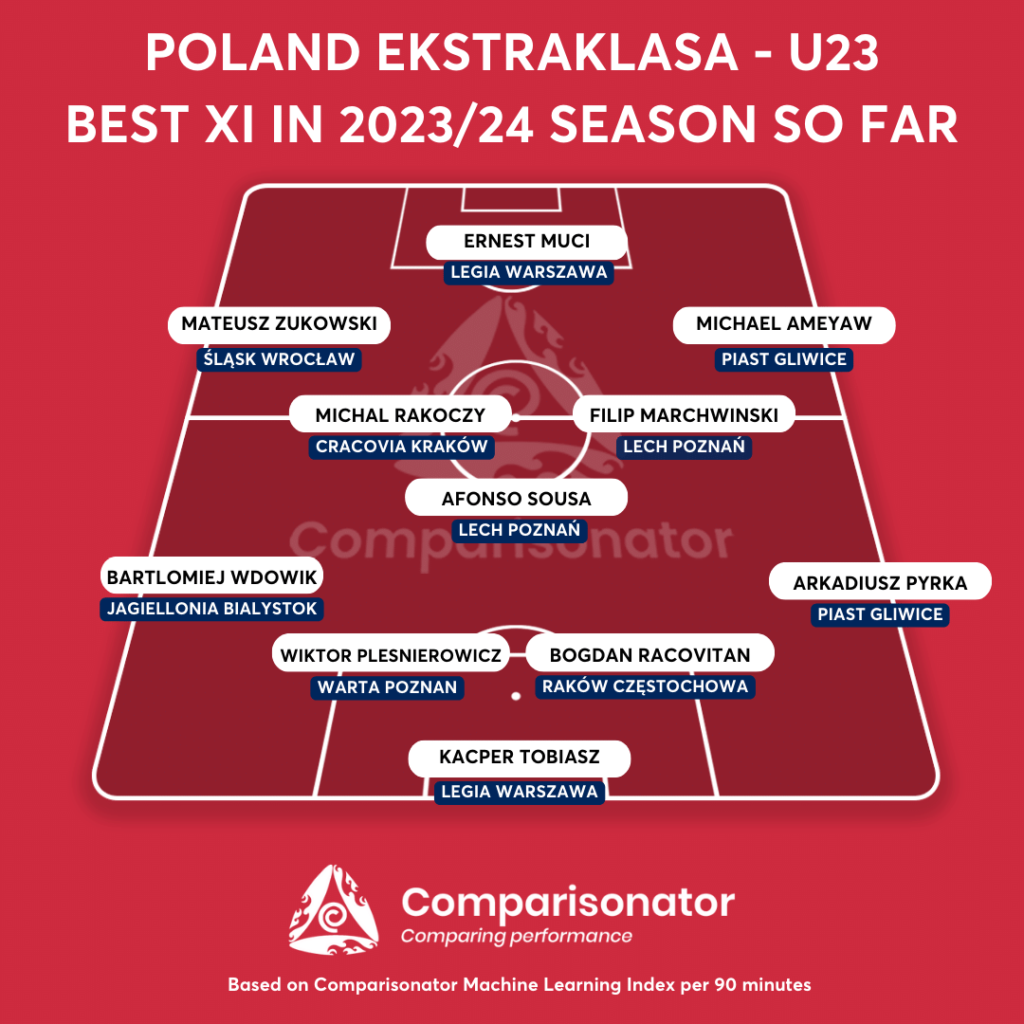 Selected via Comparisonator machine learning index.
Data Comparisons provided by Comparisonator is for educational purposes only and not intended to be monetized.