I'd like to share the story of how Zorya centre forward "Shahab Zahedi" made to Iranian National Team. From hardship to glorious days of possible "World Cup" appearance is on the horizon. Shahabs' current stats indeed shining within the Ukrainian Premier League:
Stats Comparison between Centre Forwards in the Ukranian PL (per 90 min avg)
Number 1 in Goals – 0.87
Number 1 in Successful Long Passes – 1.11
Number 2 Successful Shots – 1.66
Number 2 in Comparisonator Offensive Index – 366
Number 3 in Comparisonator Main Index – 406
I personally interviewed his agent Mohsen Salimi Tari to understand how his agency found him, being without a club for several months to take him to trial, then to see him a suitable team where he could cement himself, then to bring him to Zorya, also using Comparisonator to prove a point to his player of his own progress, then to prove a point to Iranian National Team to be selected to World Cup squad.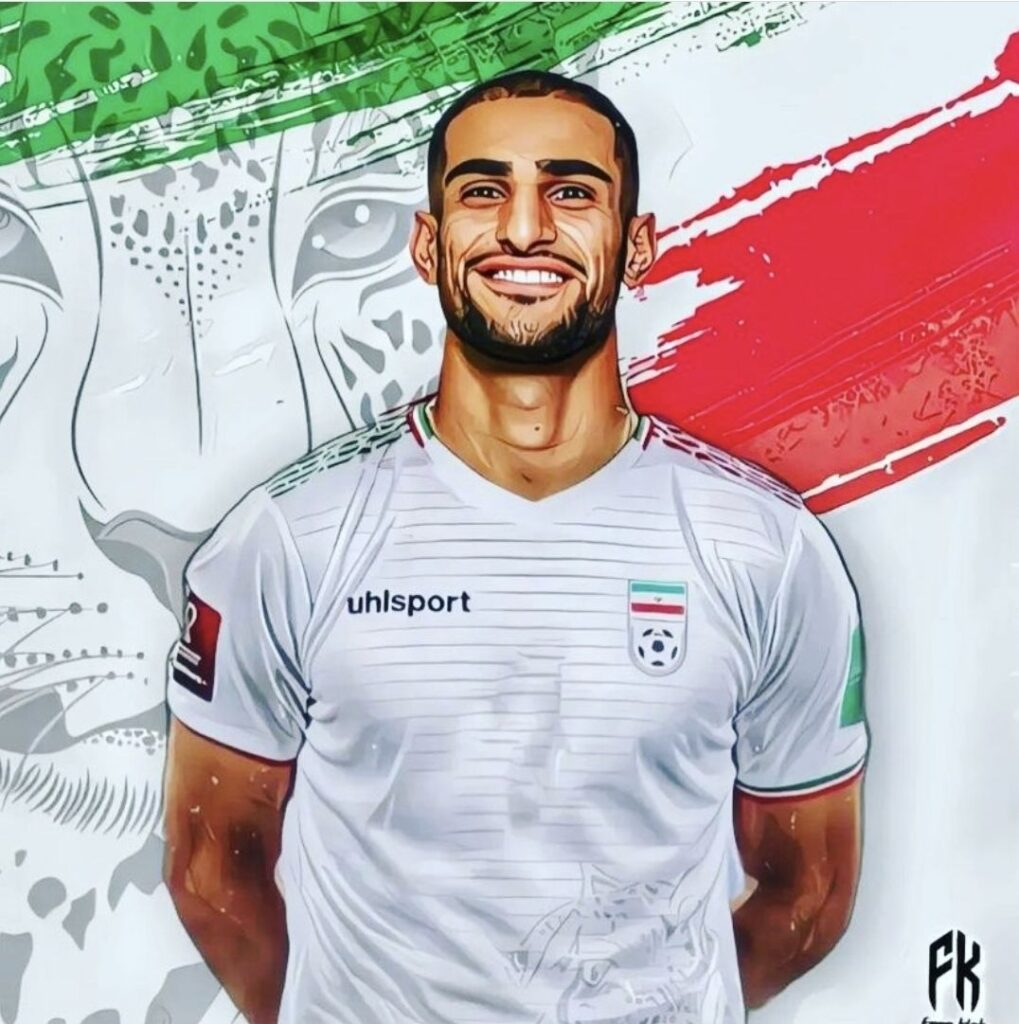 Let's hear about this great story from Mohsen Salimi Tari from Sport Stars Consulting:
POSITIONING THE POTENTIAL
How did your relationship was born with Shahab in the first place?
"We started to work with Shahab in 2019. Our chief scout Shahrooz Katoozian introduced him to our agency. Shahrooz highlighted the strengths and potential that Shahab has. After all, Shahab came through as a young player in the Iranian Premier League playing for Persepolis before leaving for a couple of years in Iceland and IBV."
How did you prove a point to decision makers as Shahab did not take much of field minutes back that time?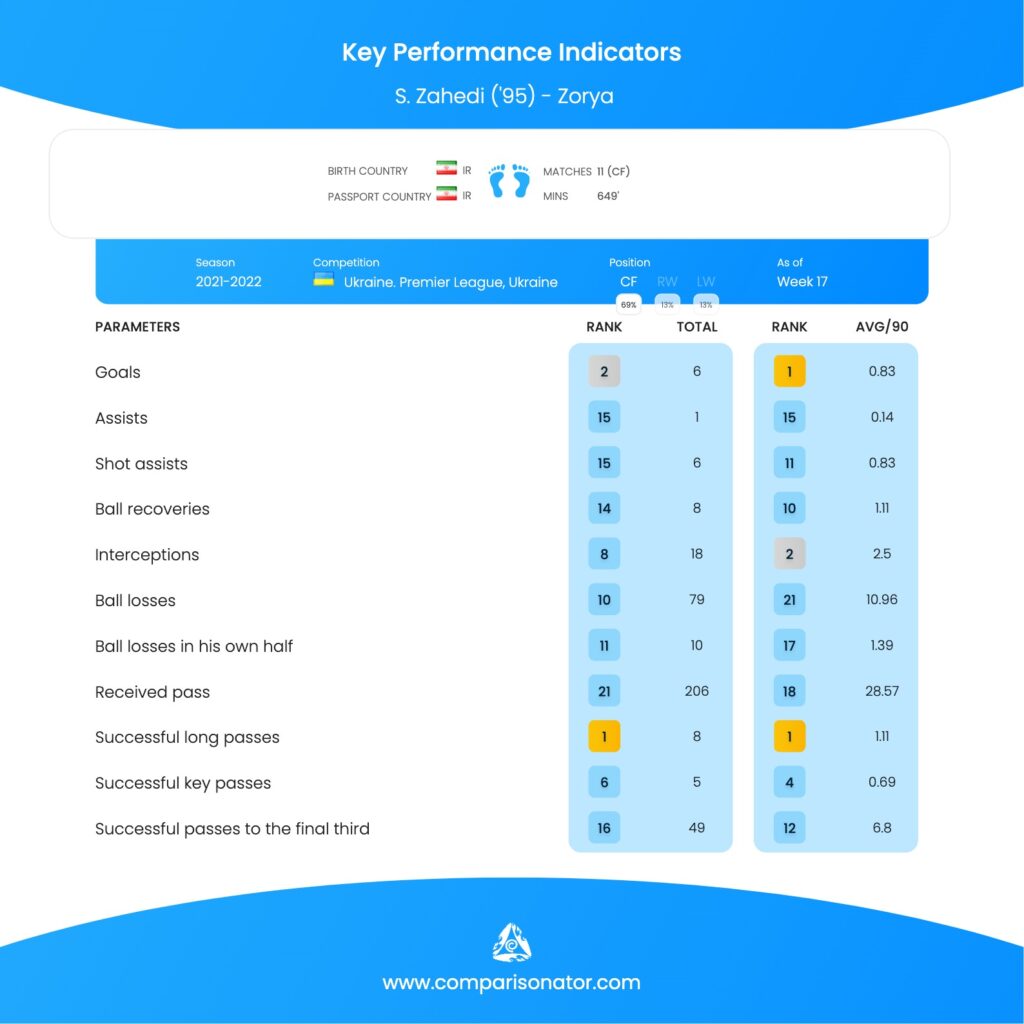 Positioning Shahab to teams in Scandinavia in countries like Sweden, Denmark, Finland, and other countries like Austria, Slovakia, Portugal, etc. However, eventually, our chief scout Shahrooz connected with Olimpik Donetsk in the Ukrainian Premier League, and they wanted to invite Shahab for a week trial. Shahab went there and did well enough to get himself a two-year contract. Before he signed with Olimpik Donetsk, we had a plan clear with Shahab, and that was to get him back into professional football. A platform where he can be allowed to continue developing as a player and from there take the step to a bigger club."
How did you support Shahab as he did not play for many months?
"The head coach Vicente Gomez gave Shahab a chance, and Shahab took it and scored his first goal against Karpaty at the end of November 2019, which he followed up with scoring again in the game after against Dinamo Kyiv. His first season in Olimpik Donetsk ended with 24 games and 6 goals in the League."
COMPARISONATOR DATA REPORTS SHOWS THE TALENT
How did you expose Shahabs' improvement to other clubs?
"During his first season, we had started already to invest in analysis time to Shahab by exposing him to decision-makers via the data reports & graphics delivered by Comparisonator. Shahab is an incredibly talented player but what stands out with him is his eagerness always to want to learn. He is a true spokesperson for education, and during my 10 years in the business, I have not come across someone who absorbs and learn things so fast. This gave Shahab the platform he needed as the season 2020/2021 kicked off, with Shahab scoring 8 goals in 11 games until the winter transfer window. We could now see that all of that hard work was paying off, and clubs were calling from several different leagues to ask about Shahab."
How did the transfer to Zorya happen? How did he overcome the adaptation process quickly?
"The choice eventually fell on Zorya Luhansk as Shahab expressed he wanted to stay in Ukraine and build on his success before taking the step out. Zorya offered Shahab precisely the challenge he was looking for by being part of a team that competes with Shakhtar Donetsk and Dinamo Kyiv about winning the title. The ambition was clear – to try and win the league and qualify for Europé. During the second half of that season, Shahab played 12 games and scored 2 goals. Shahab helped Zorya finish 3rd in the league and qualified for Europa League Qualifications.
Zorya managed eventually to get to the Europa League Conference and in a group with AS Roma, Bodö Glimt and CSKA Sofia."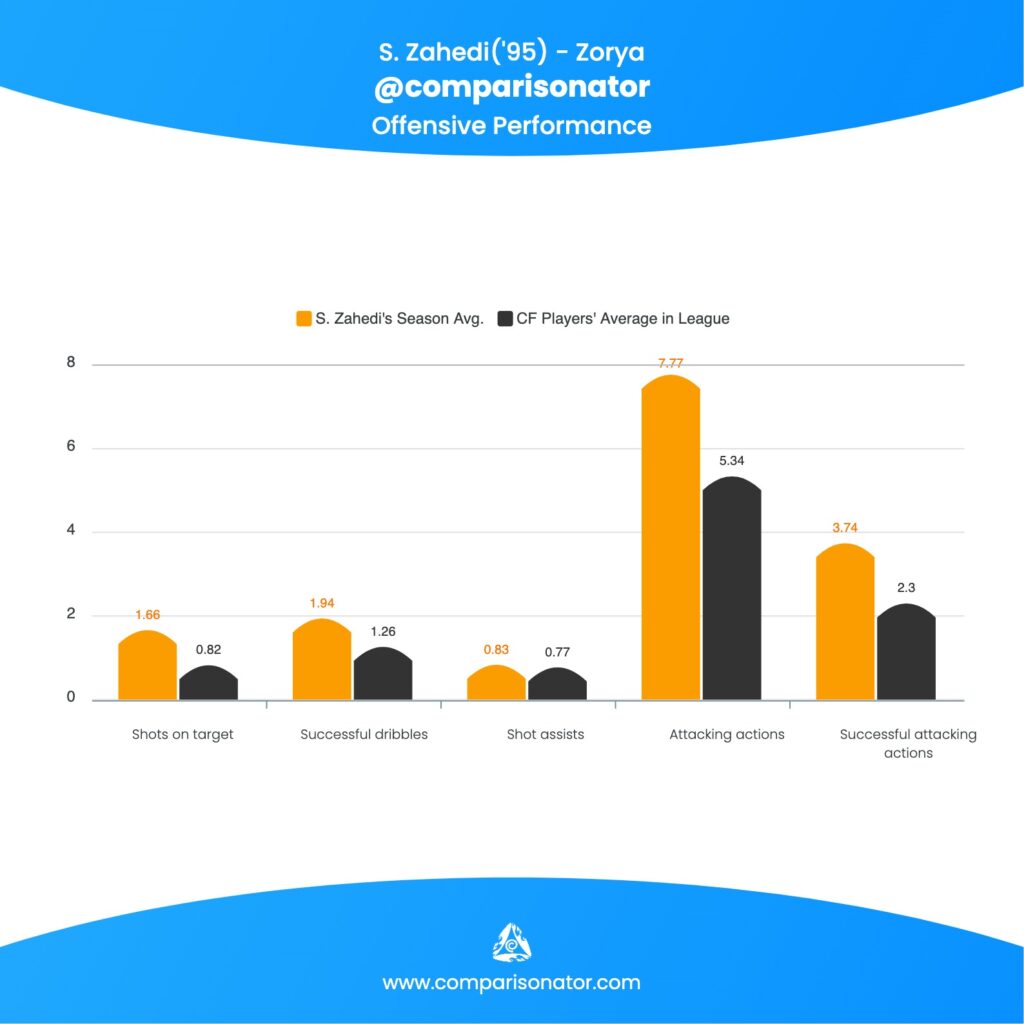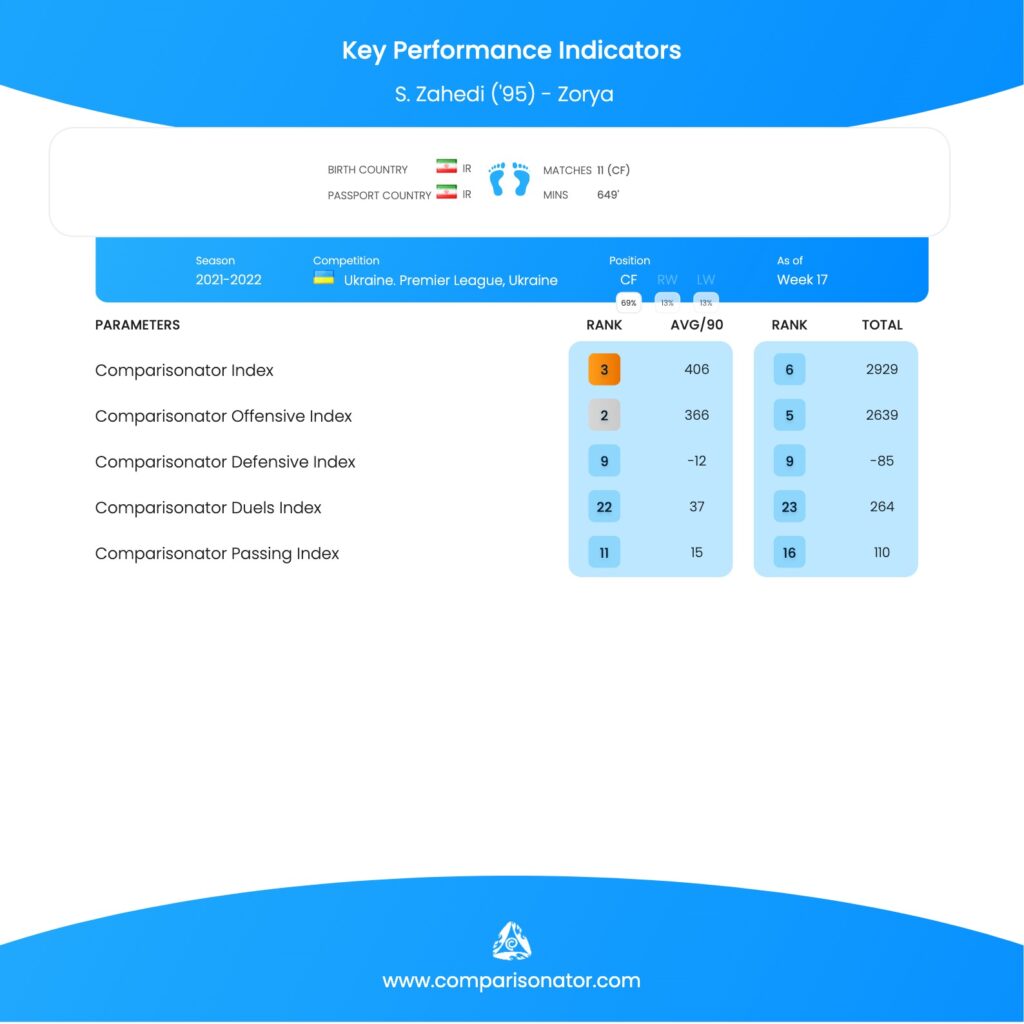 ROAD TO NATIONAL TEAM
Fantastic start to 21/22 season?
"The season 2021/2022 is currently on break and soon to re-start as we enter into the second phase. Shahab has so far done a great job scoring 6 goals in the league, 2 goals in the Ukrainian Cup and 2 goals in the European competitions (against Rapid Vienna and CSKA Sofia). He has his goal clear: to help Zorya finish as high up as possible and become the best goalscorer in the Ukrainian Premier League. I don't doubt that for one second as he is one of the most professional and hard-working players I have come across".
Cream on the cake and being selected for the Iranian National Team.
What has impressed me the most is that he has achieved every goal we have put together with Shahab. Recently he got the call up to the Iranian National Team, and I remember that we spoke about it already in the days when he signed for Olimpik Donetsk. As we say, the Iranian National Team has qualified for the World Cup, and I have no single hesitation that Shahab will be part of that squad helping the country with many more victories.
Many thanks to Mohsen for this interview. It was great to also play a small part as Comparisonator Team in Shahabs glorious story..