Comparisonator indicated 4 Best U21 Players Norway Eliteserien 2023 season so far. Player's rankings are among his own position players.
The Norway Eliteserien Football League continues to be a breeding ground for emerging talents, and the Comparisonator platform has unveiled four exceptional U21 players who are making a significant impact within their respective positions. These players have consistently demonstrated outstanding skills and contributions on the field, setting them apart as the league's top prospects. Their remarkable performances, as highlighted by the platform's data-driven analysis, underscore their importance to their teams and their potential to become future stars in the world of football. Let's delve into the profiles of these four standout players who have caught the attention of both fans and experts alike.
ARTIFICIALLY INTELLIGENT COMPARISONATOR INDEX FORMATION
After 2 years of developing the platform using Machine Learning, this has enabled us to implement artificial weights in order to define player and team levels. This system allows apple to apple comparison of any players and teams from around the world. The variable weights applied to the platform include:
– League quality
– Team quality
– Player performance
Click here to read the full whitepaper of A.I. Index.
4 Best U21 Players Norway Eliteserien – 2023 Season So Far
Vetle Walle Egeli – (LB) Sandefjord
Vetle Walle Egeli shines as Sandefjord's Left Back, topping the charts with 6.67 interceptions and 9.67 ball recoveries. His 1.67 shot assists and 0.22 expected assists showcase his defensive and offensive contributions.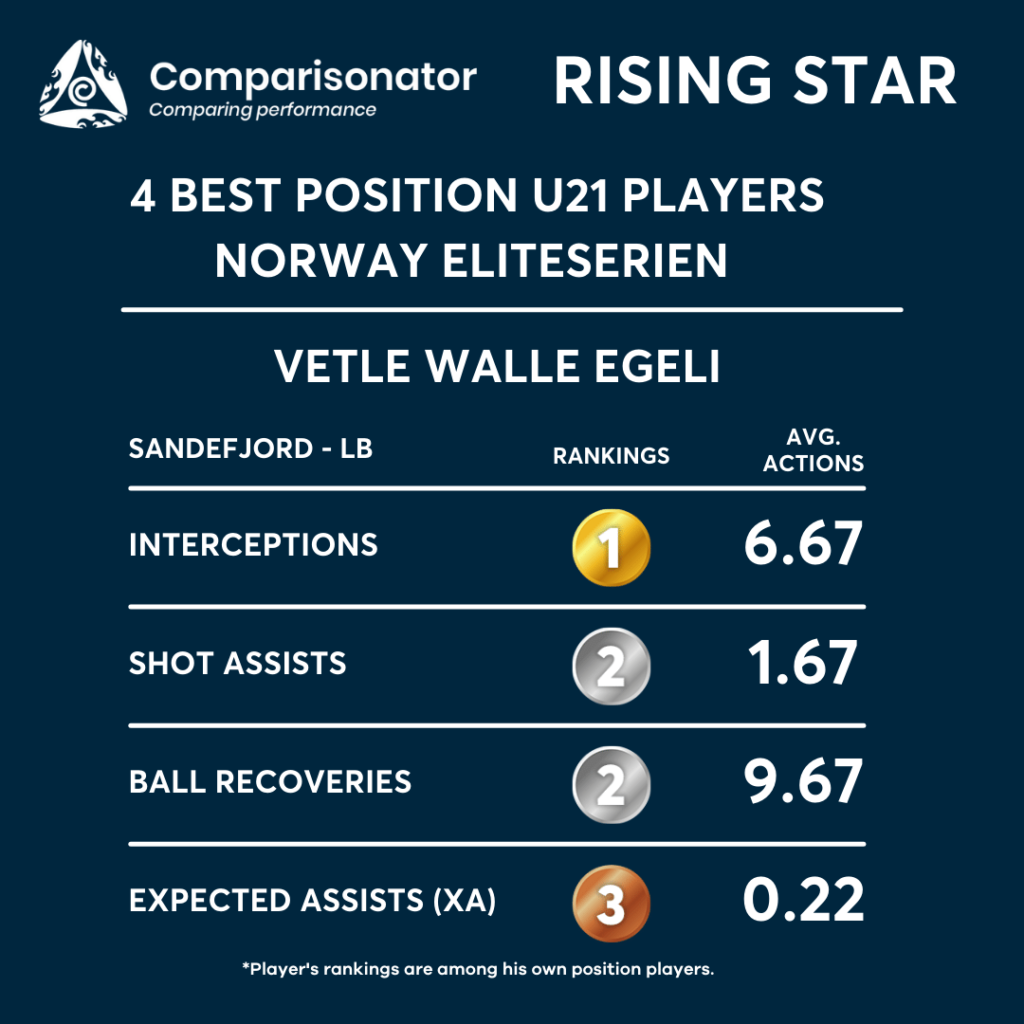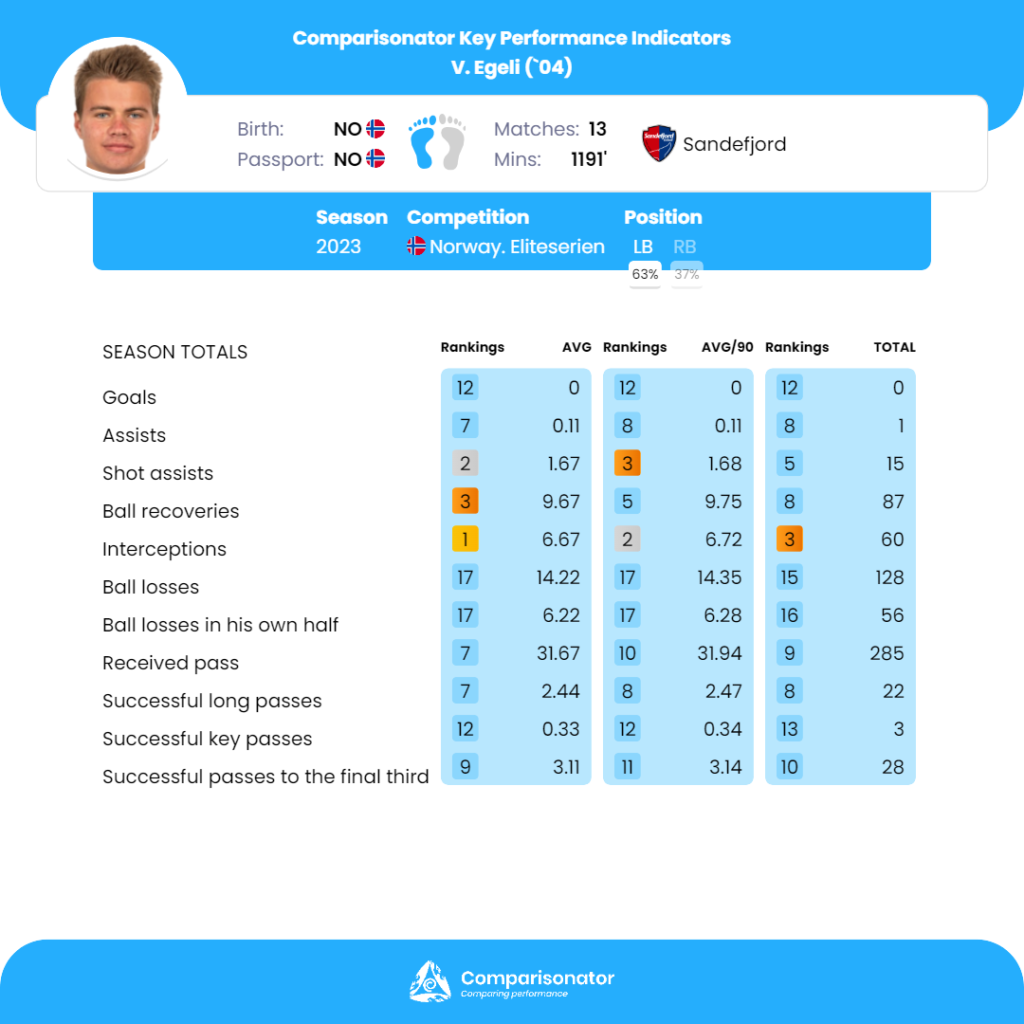 Sivert Mannsverk – (DMF) Molde
Sivert Mannsverk stands out as Molde's Defensive Midfielder, securing top ranks within his position. With 1.64 successful dribbles per match and 2.5 progressive runs, he's a skillful ball carrier and an effective playmaker. His 1 smart pass per match demonstrates his strategic passing ability, while winning 3.36 offensive duels showcases his versatility in both attack and defense.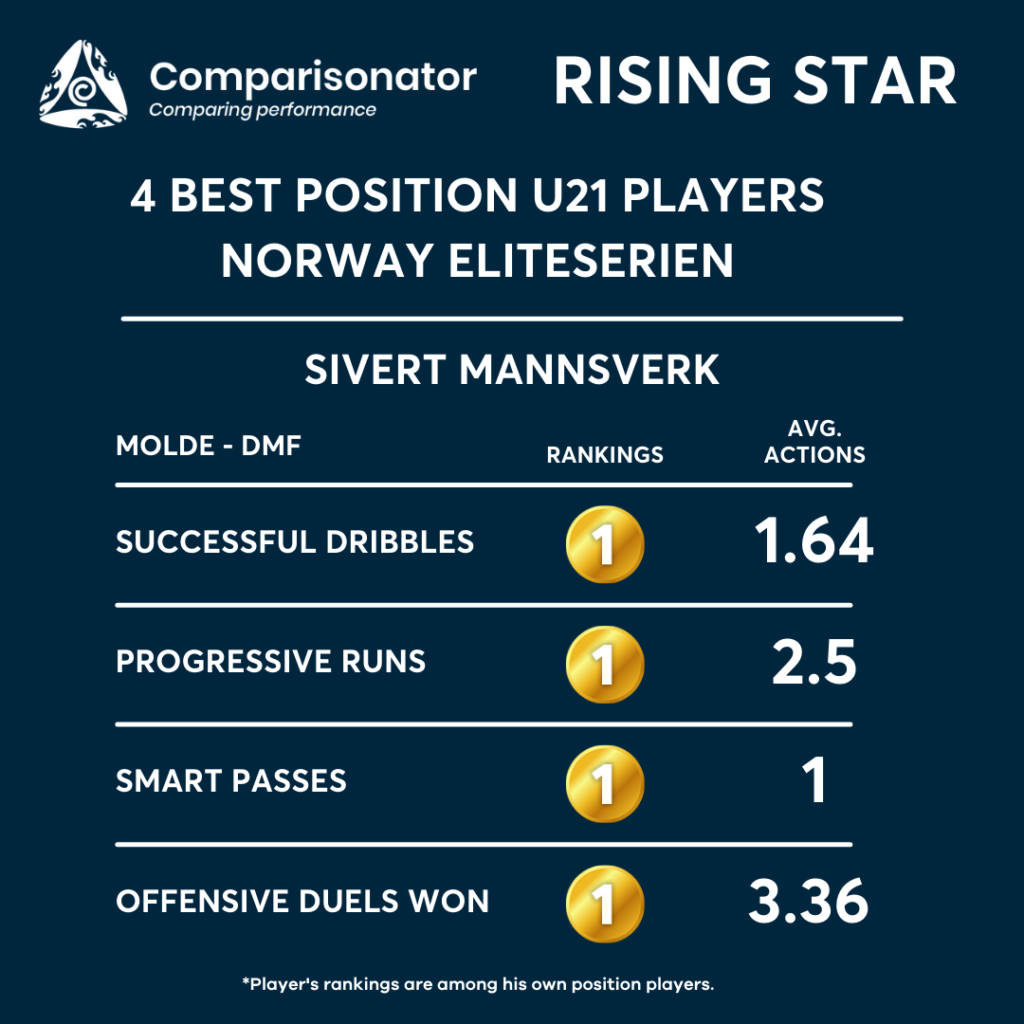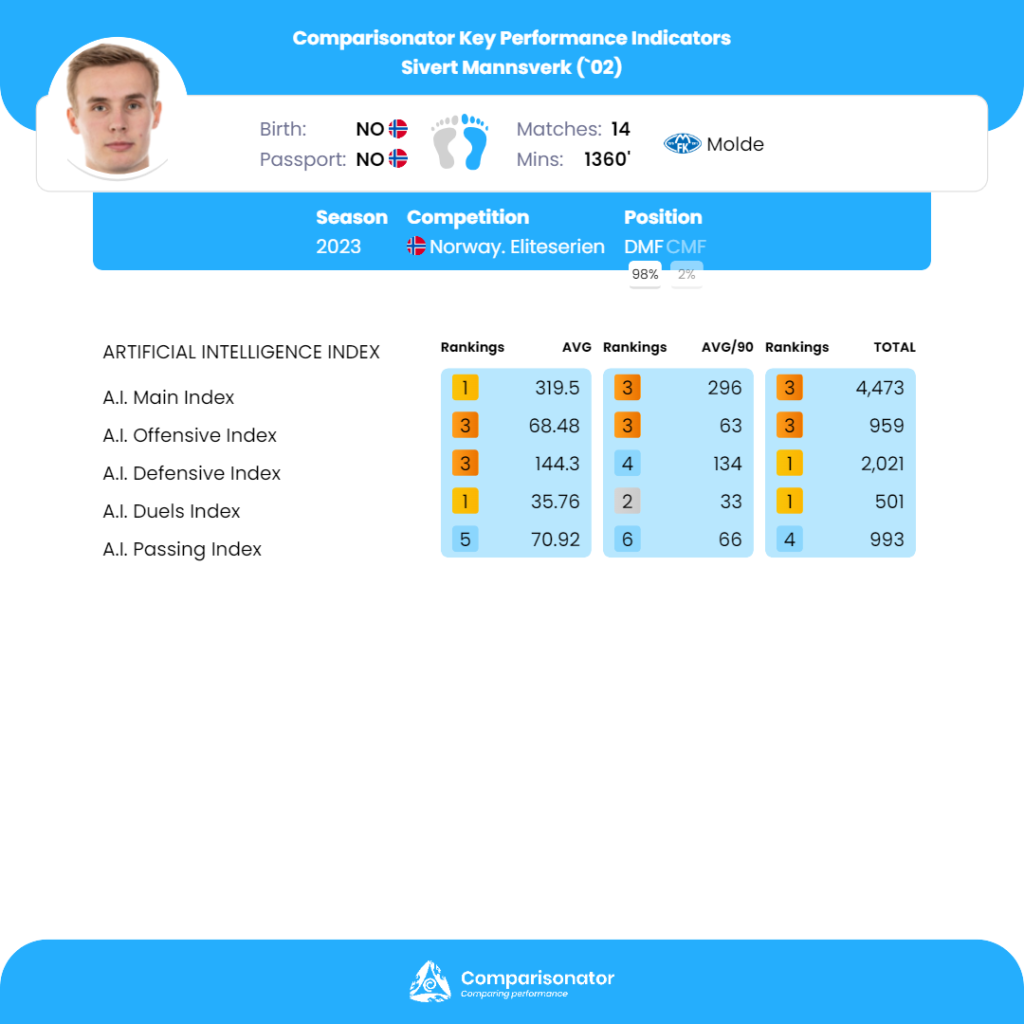 Tobias Gulliksen – (LW) Bodo/Glimt
Tobias Gulliksen shines as Bodo Glimt's Left Winger, dominating with 12 duels won and 4.1 defensive duels won per match. His 5.8 ball recoveries underline his defensive contribution, while 3 successful dribbles highlight his confident attacking style.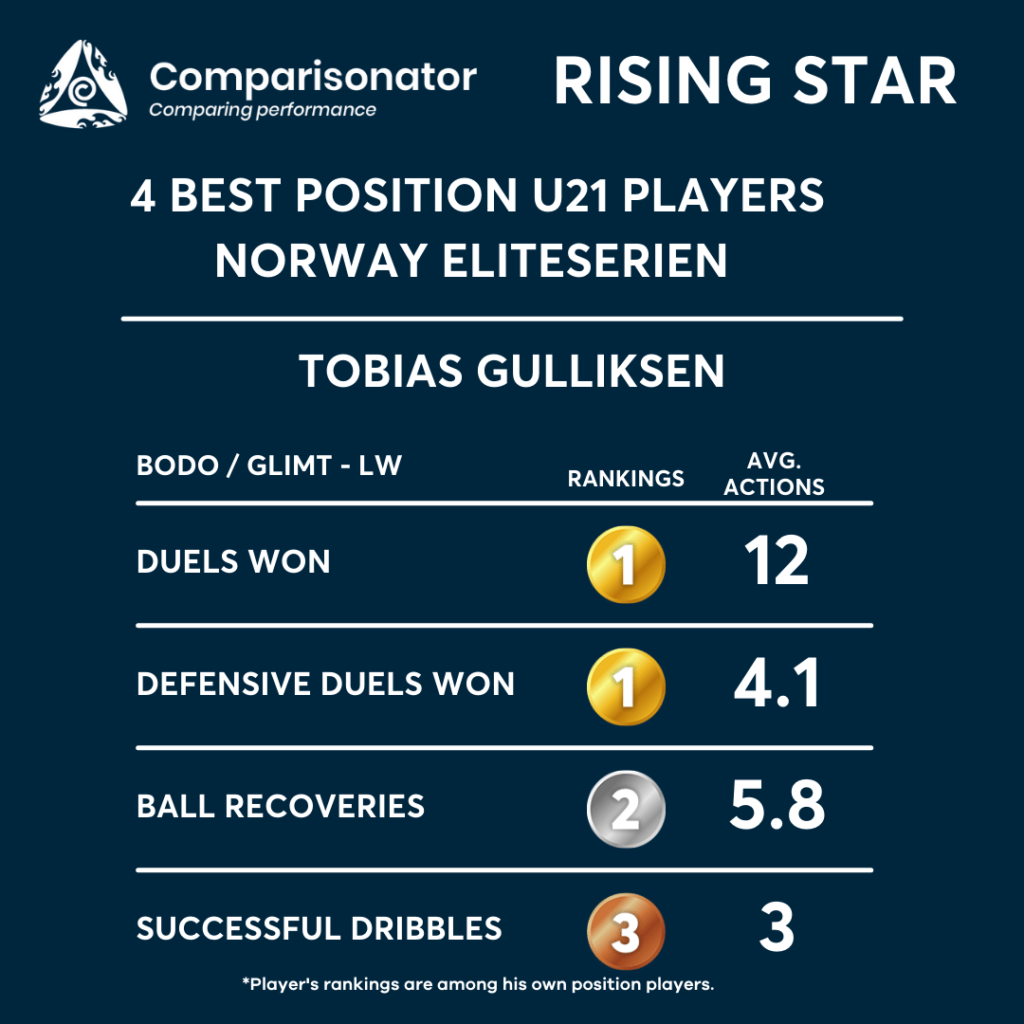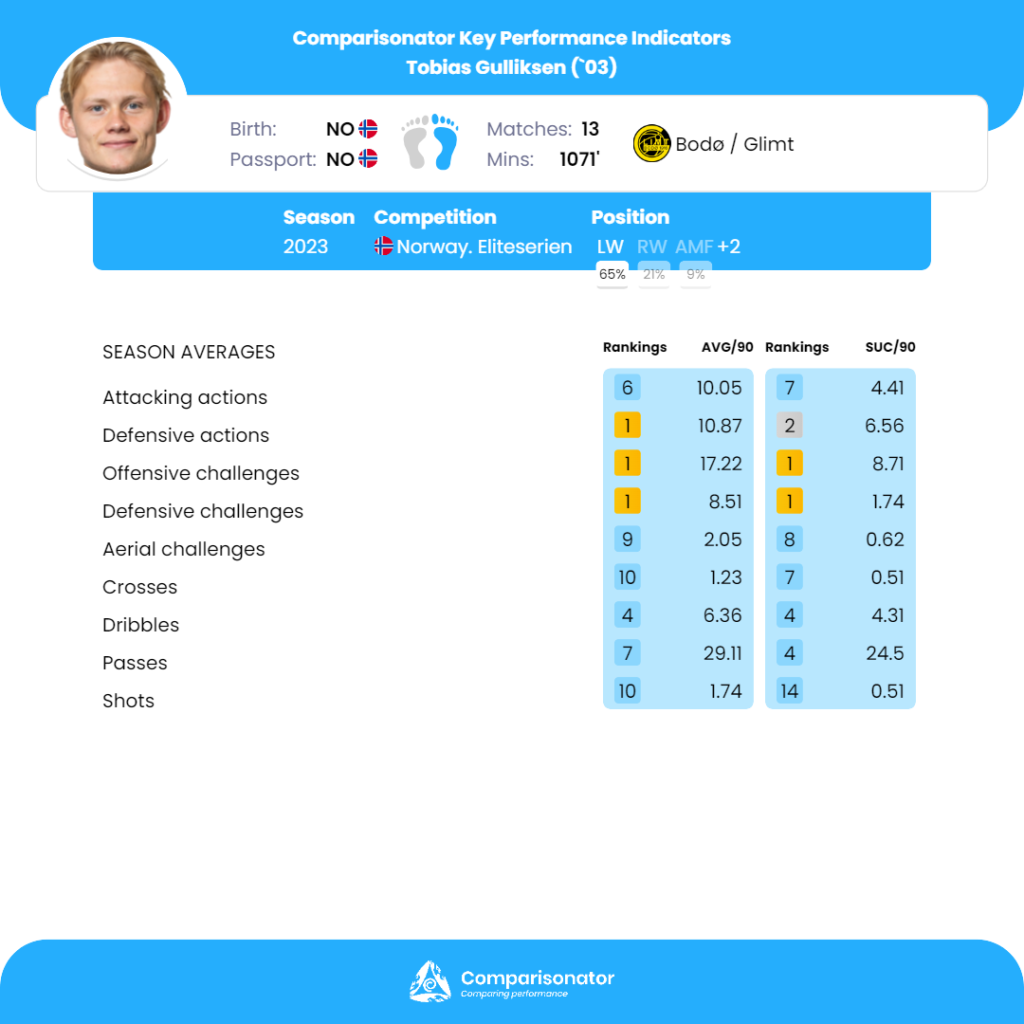 Björn Martin Kristiensen – (CF) Aalesunds
Björn Martin Kristensen excels as Aalesunds' Centre Forward, leading with 2.15 progressive runs and 2.28 successful dribbles. His 3.92 offensive duels won and 2.53 defensive duels won underscore his all-around impact.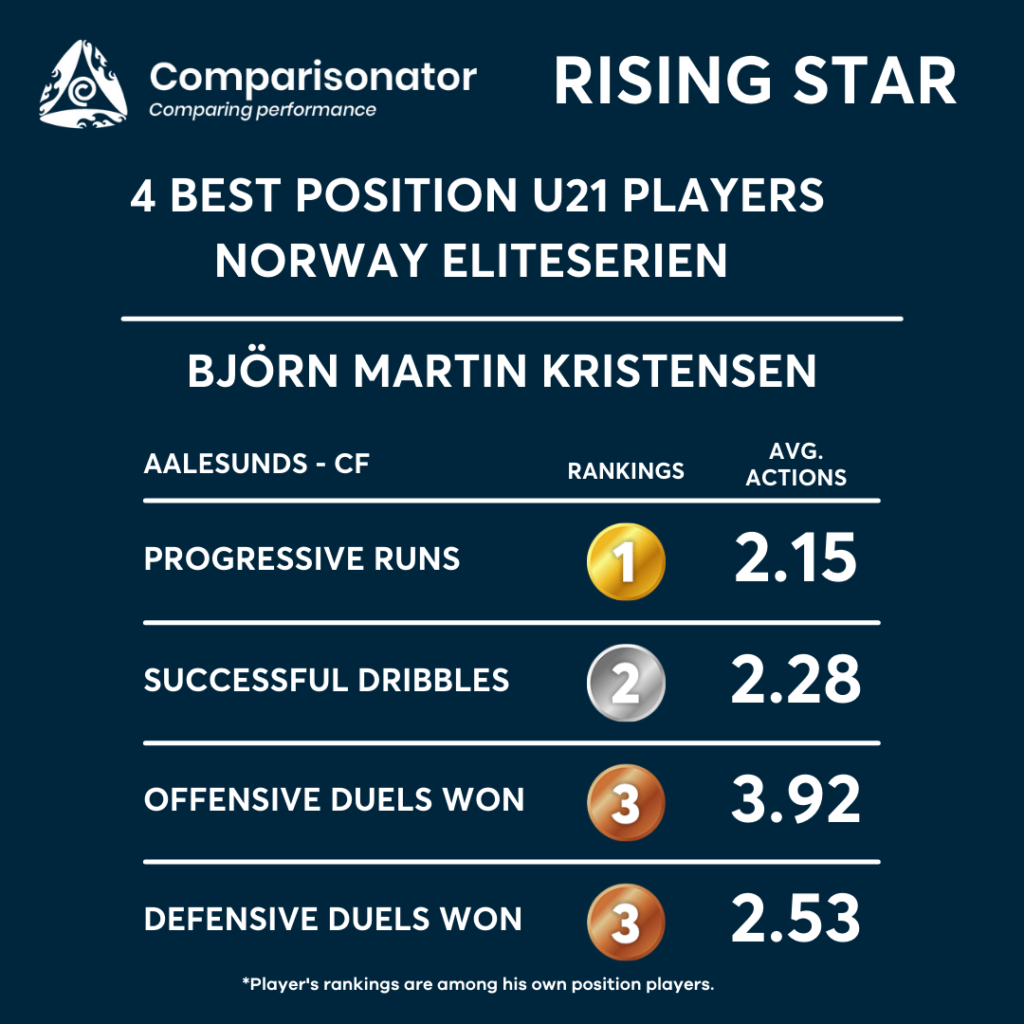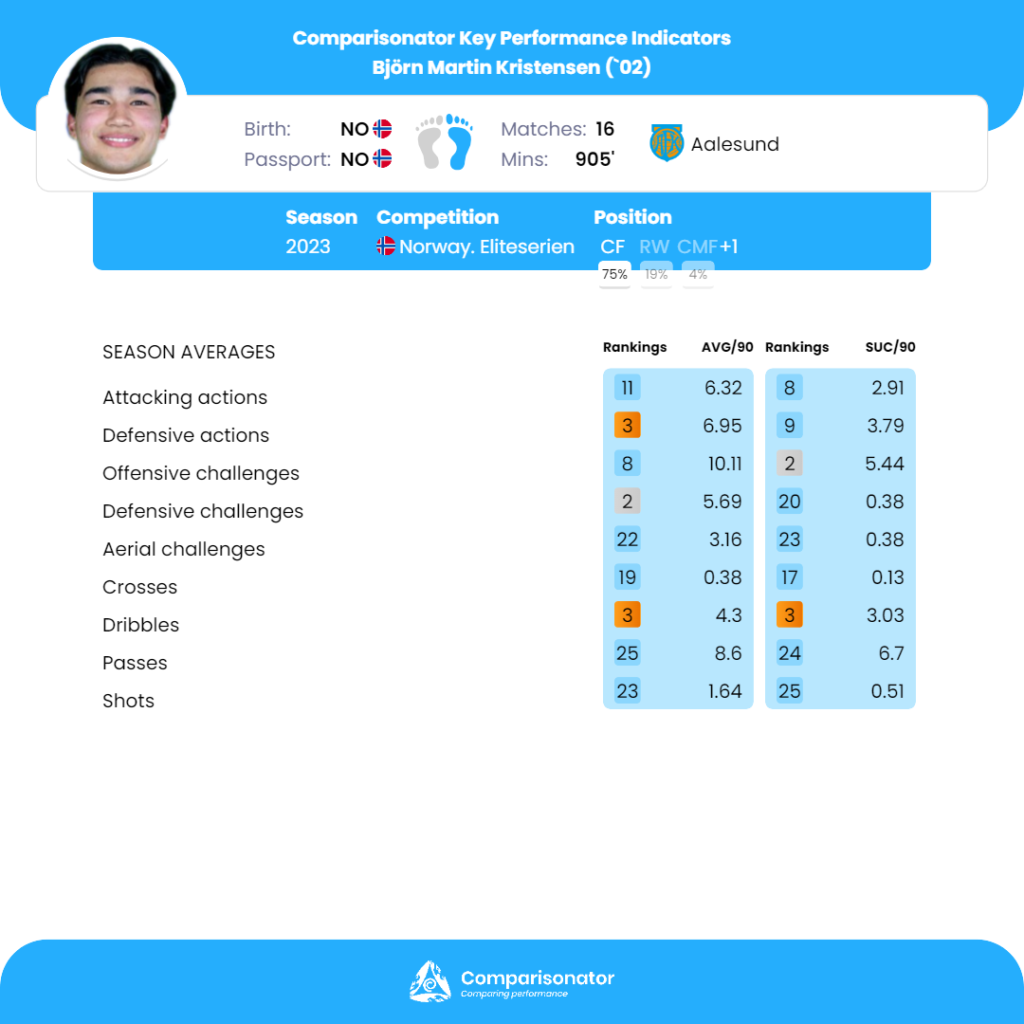 Selected via Comparisonator machine learning index.
Data Comparisons provided by Comparisonator is for educational purposes only and not intended to be monetized.