In the vibrant and fiercely competitive Belgium Challenger Pro Football League, Comparisonator platform has unearthed a quartet of remarkable U21 talents who are carving their names into the annals of football history. These four exceptional players have been identified as the "4 BEST POSITION U21 PLAYERS" in the league, and their performances on the pitch are nothing short of spectacular. Allow us to introduce you to these rising stars who promise a bright future for Belgian football.
These four young stars are not only the future of Belgian football but also the present, as they continue to make significant contributions to their respective teams. As their journeys unfold, we eagerly await the heights they will reach and the impact they will have on the sport.
For more in-depth insights, analyses, and updates on these burgeoning talents and more, please feel free to reach out. The Belgium Challenger Pro Football League is teeming with promise, and these players are at the forefront of its evolution.
4 Best U21 Players Belgium Challenger Pro League – 2023/24 Season So Far
Simion Michez – (RB) Beerschot
Representing Beerschot, Simon Michez has firmly established himself as the top-ranked Right Back (RB) in the league. His unmatched statistics in successful dribbles, progressive runs, interceptions in the opponent's half, and duels won within the RB category highlight his exceptional skills and versatility on the field.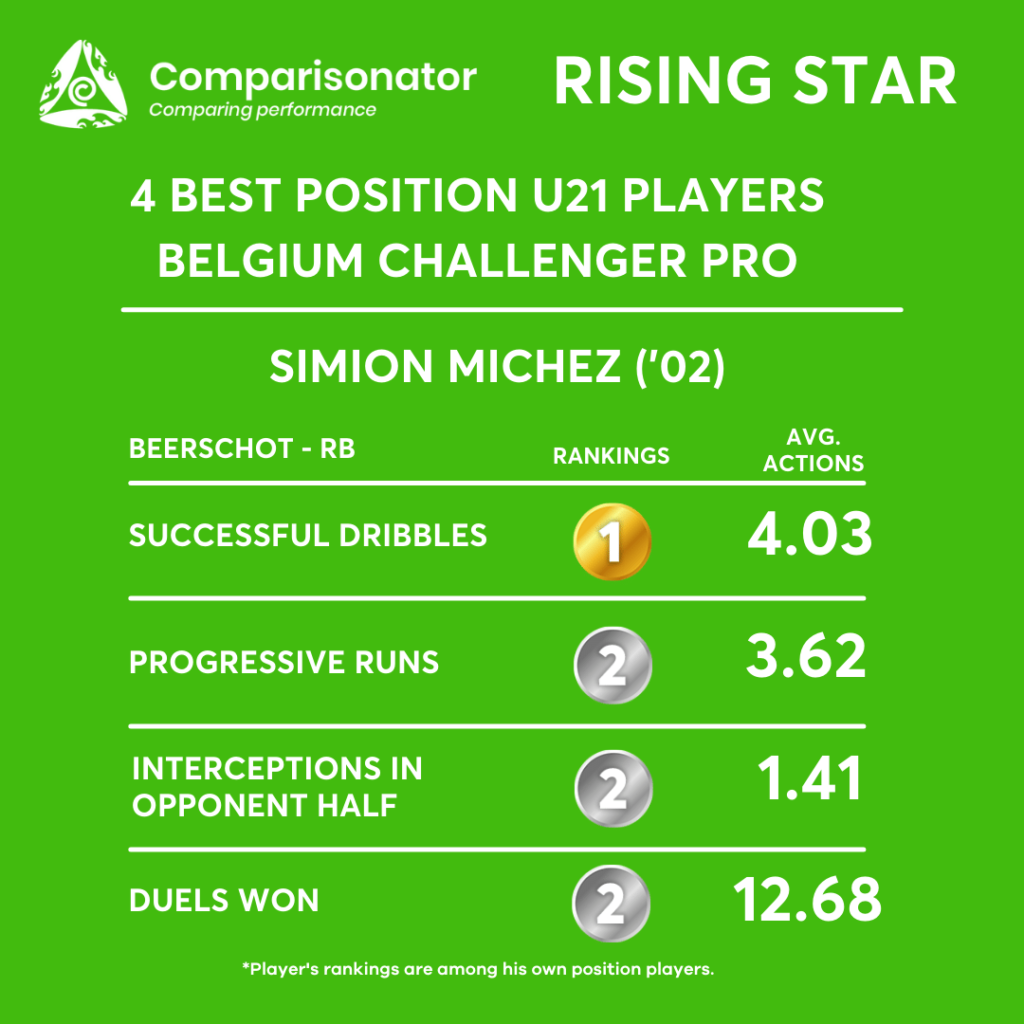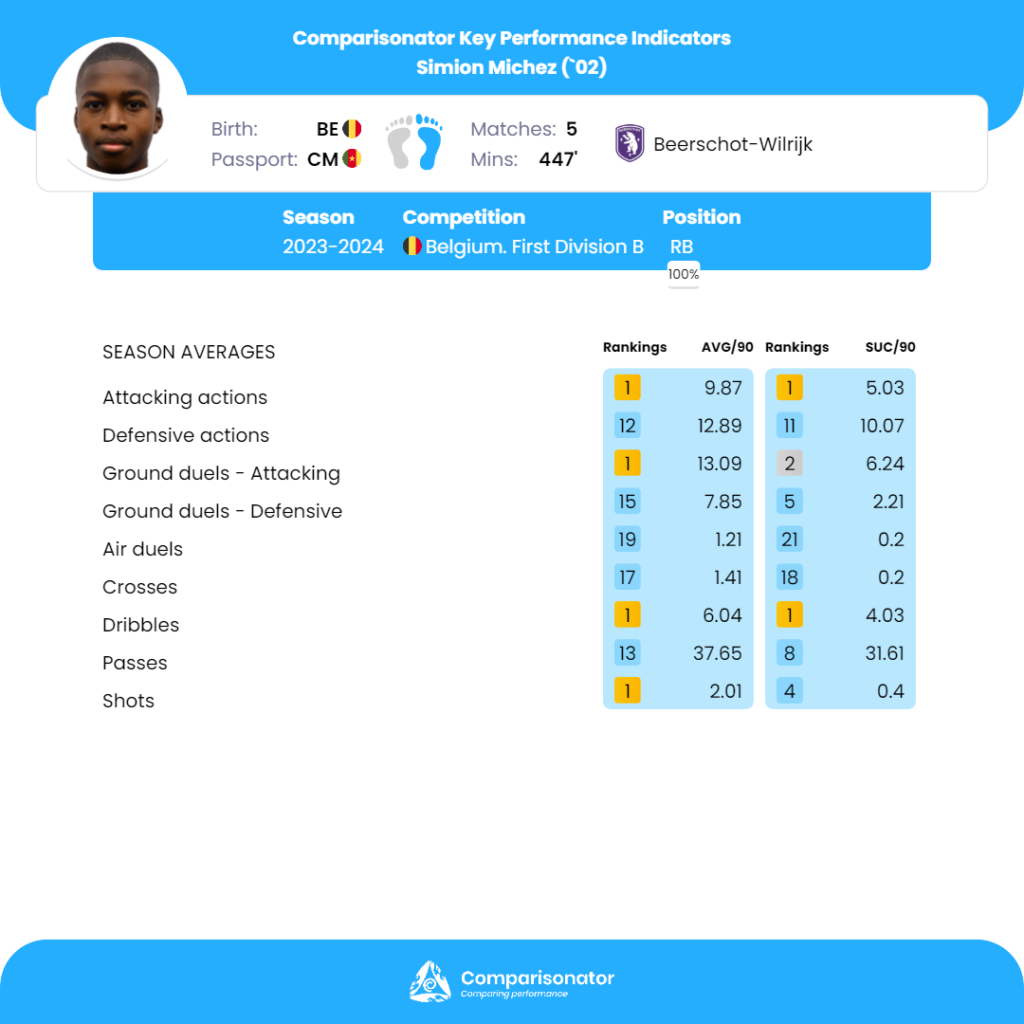 Kamiel Van De Perre – (DMF) Genk II
Genk II's Kamiel Van de Perre has taken the Defensive Midfielder (DMF) position by storm. His precision in successful progressive passes and long passes ranks him first and second, respectively, within his position. Additionally, Van de Perre is a force to be reckoned with in successful defensive actions and shot assists.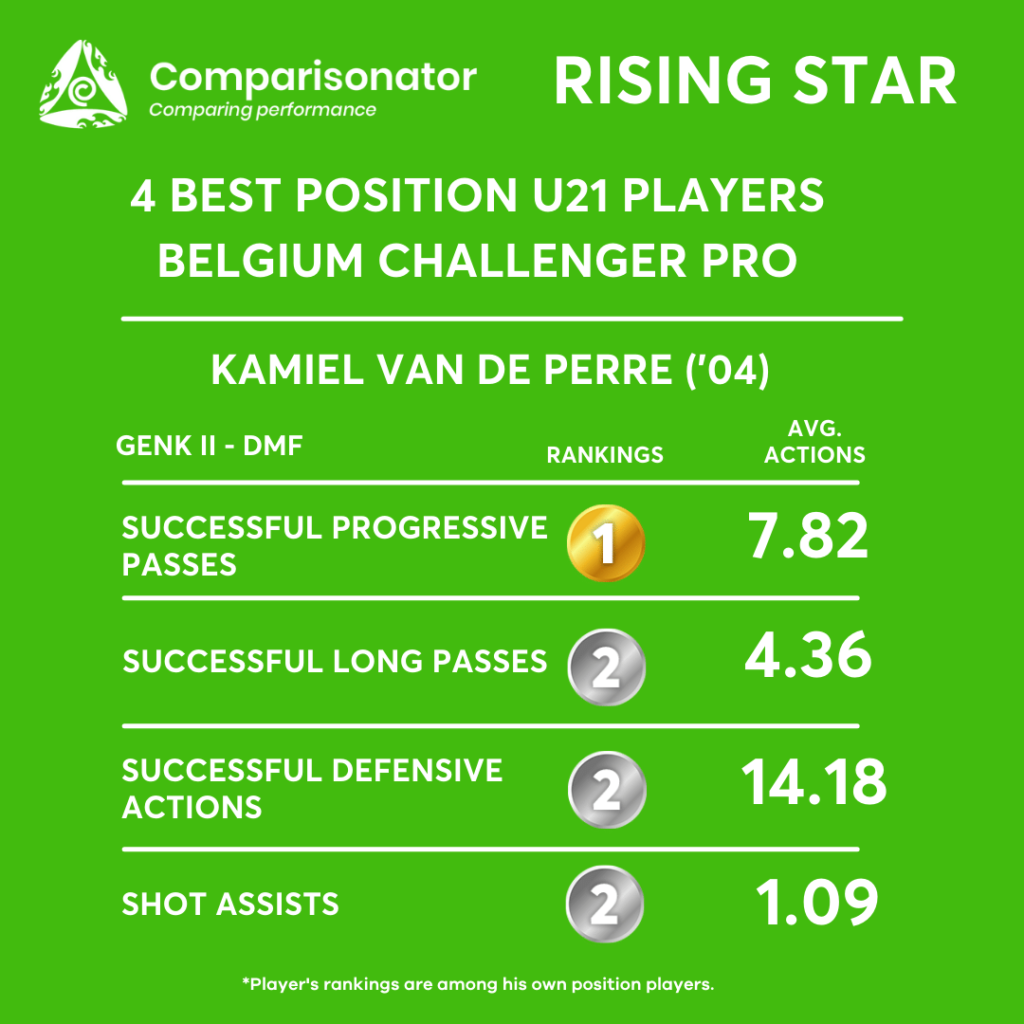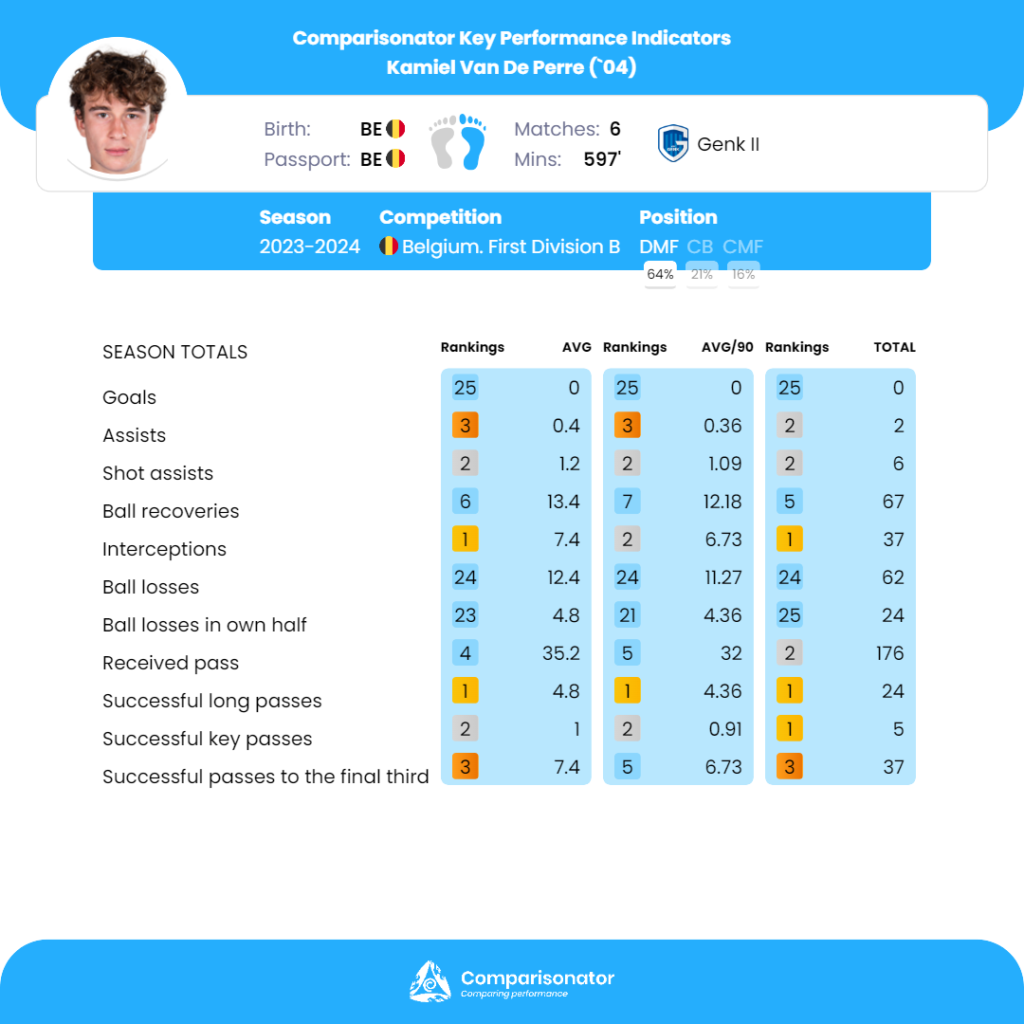 Abdoulaye Traore – (LW) Zulte Waregem
Zulte Waregem boasts the electrifying talent of Abdoulaye Traore, who has emerged as the top Left Winger (LW) in the league. Traore's exceptional dribbling skills, his ability to find the box, and his prowess in progressive runs and duels won make him an invaluable asset to his team.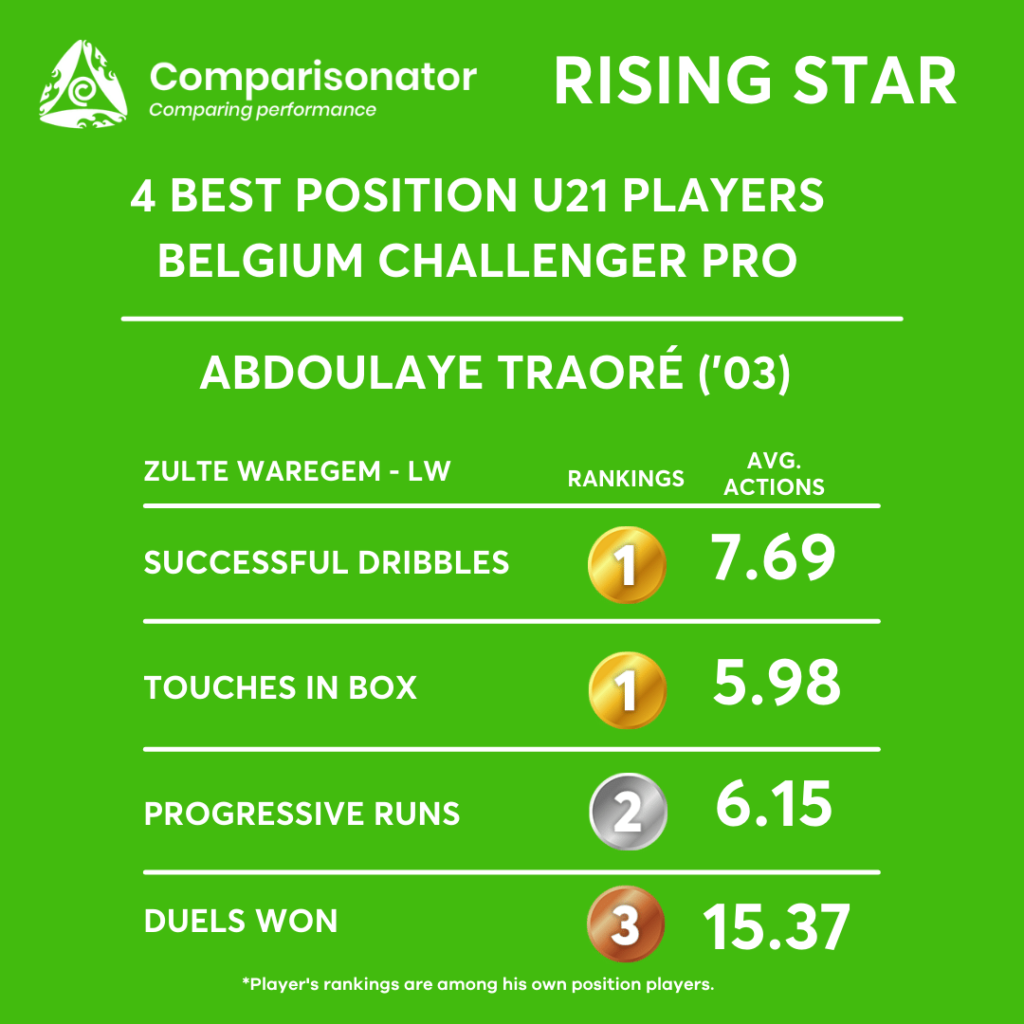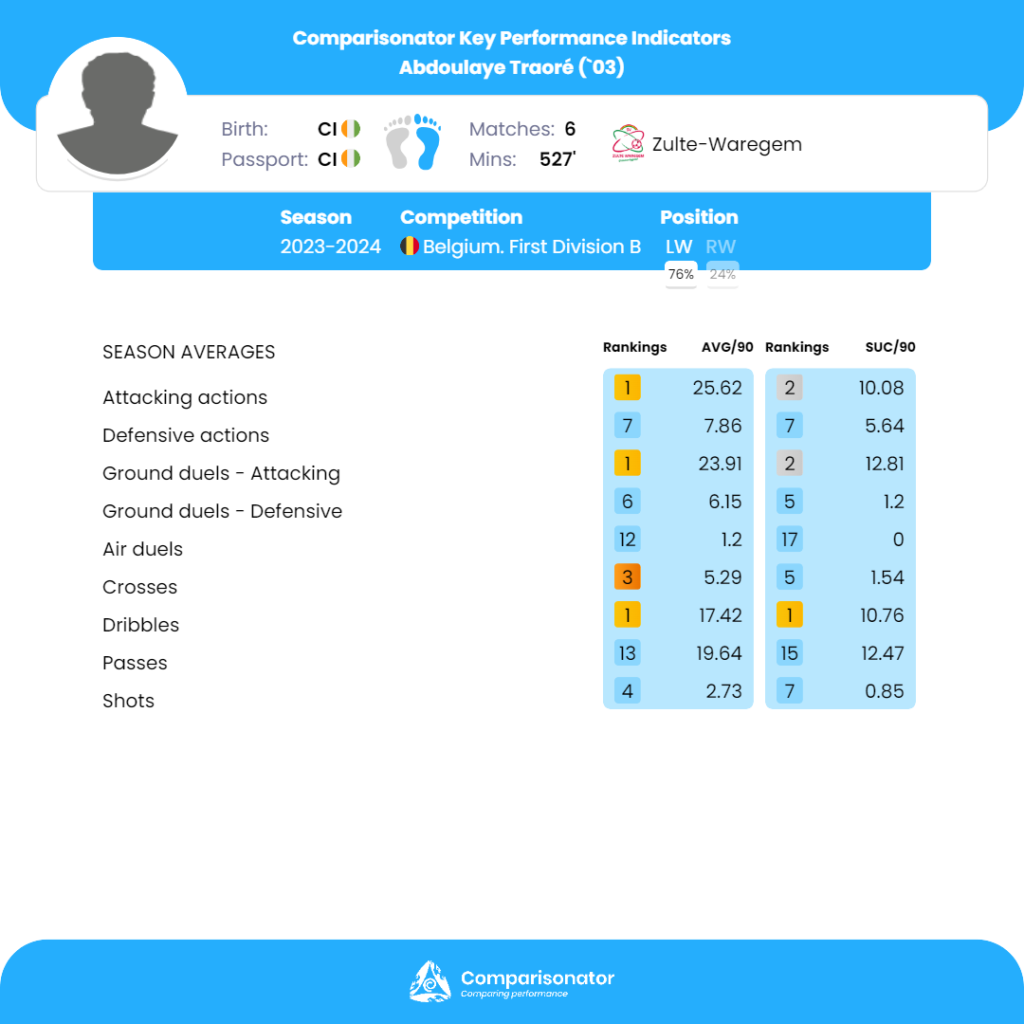 Romeo Vermant – (CF) Club Brugge II
Club Brugge II's Romeo Vermant is captivating fans as a Centre Forward (CF). Vermant's proficiency in interceptions, pass interceptions, successful defensive actions, and duels won within the CF category showcase his prowess in both offensive and defensive aspects of the game.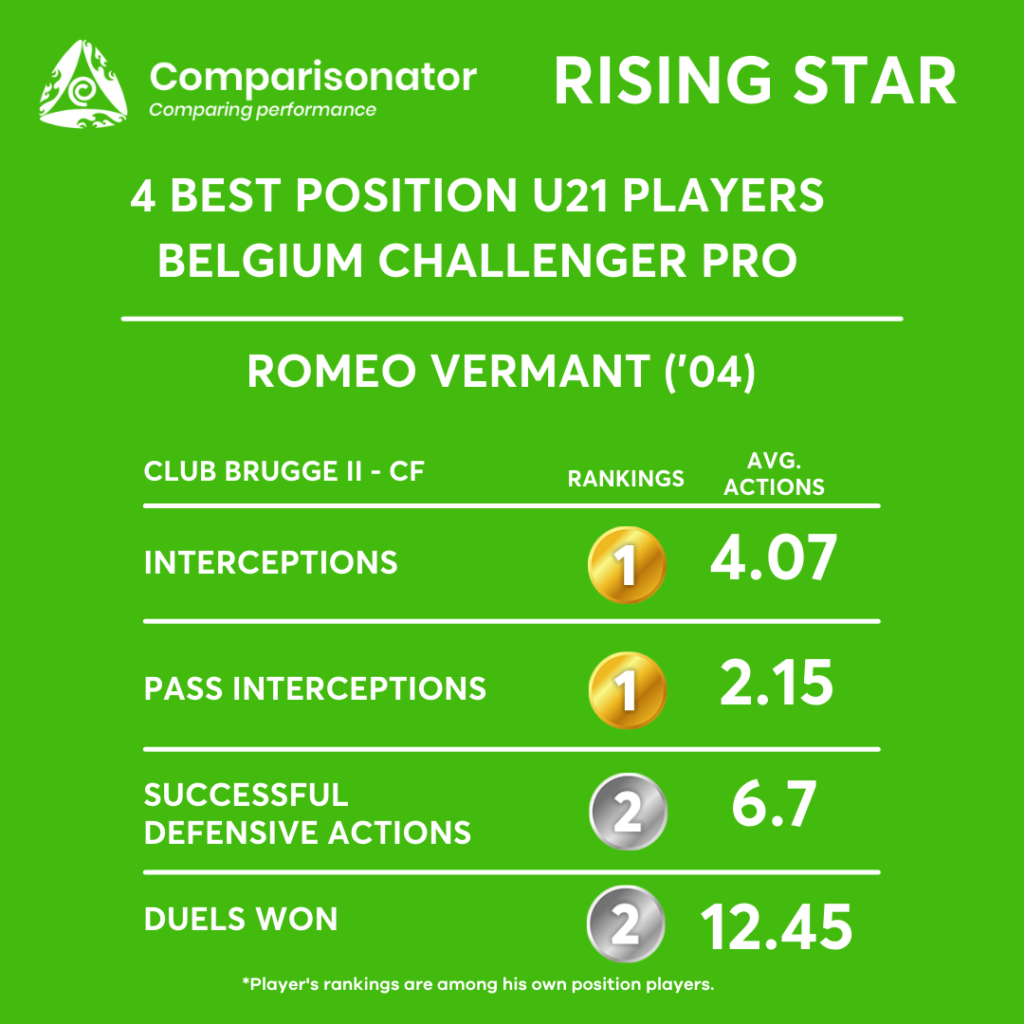 Selected via Comparisonator machine learning index.
Data Comparisons provided by Comparisonator is for educational purposes only and not intended to be monetized.