In the heart of the Austria Bundesliga, where football fervor knows no bounds, Comparisonator platform has unveiled a quartet of exceptionally talented U21 players who are taking the league by storm. These young maestros have set the pitch ablaze with their extraordinary performances, earning themselves the coveted title of the "4 BEST POSITION U21 PLAYERS." Each player's remarkable journey unfolds below, showcasing their prowess, dedication, and impact on the field.
These four emerging talents are a testament to the Austria Bundesliga's commitment to nurturing and showcasing young footballing brilliance. They represent the future of the sport, and as their journeys continue to unfold, we eagerly anticipate the heights they will reach.
For in-depth insights, analyses, and updates on these prodigies and more, please do not hesitate to reach out to us. Football aficionados, prepare to be enthralled by the rising stars of Austria Bundesliga.
4 Best U21 Players Austria Bundesliga – 2023/24 Season So Far
Amar Dedic – (RB) Salzburg
At the Salzburg fortress, Amar Dedic has cemented his position as the top-ranked Right Back (RB). His mesmerizing style of play boasts an impressive array of statistics within his position. Dedic's unparalleled agility and vision on the field have propelled him to the zenith of his game. Leading the pack in successful dribbles, progressive runs, shot assists, and offensive duels won, he is undeniably a player to watch closely.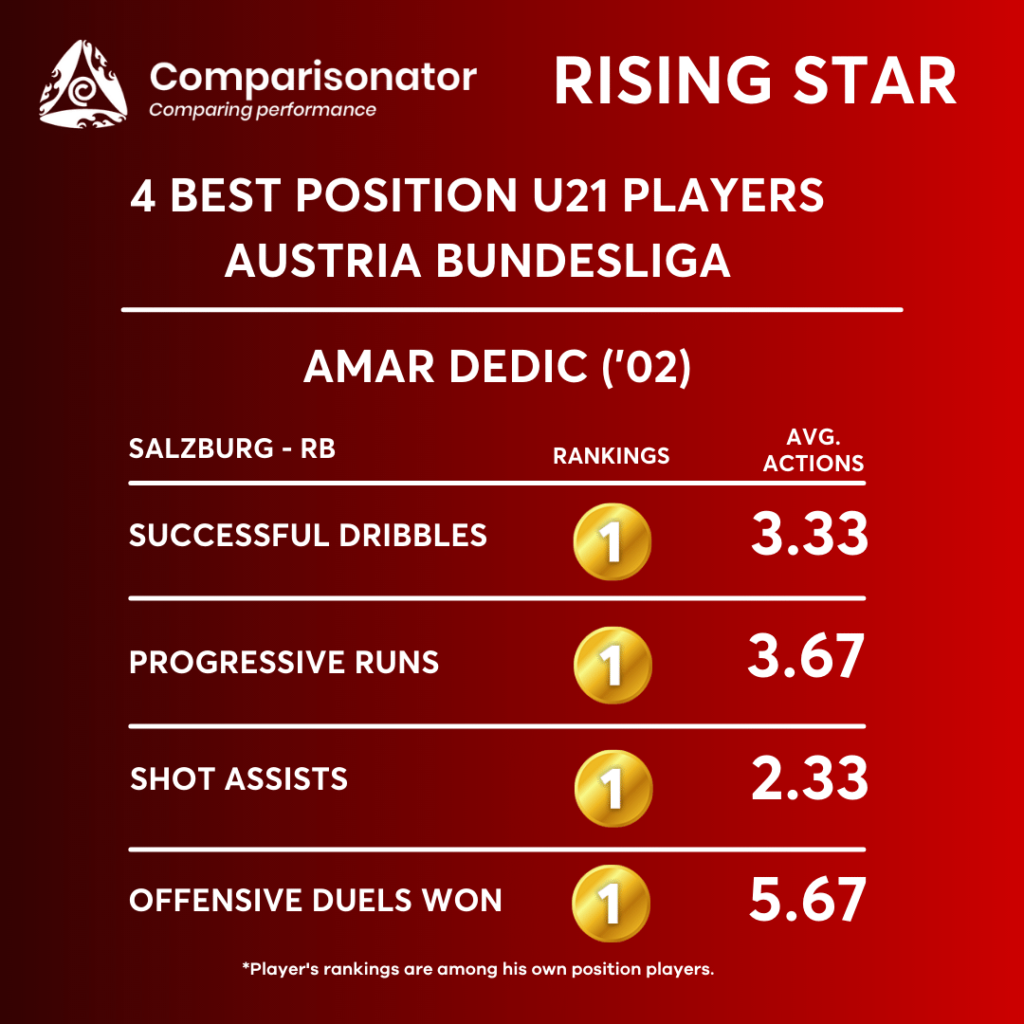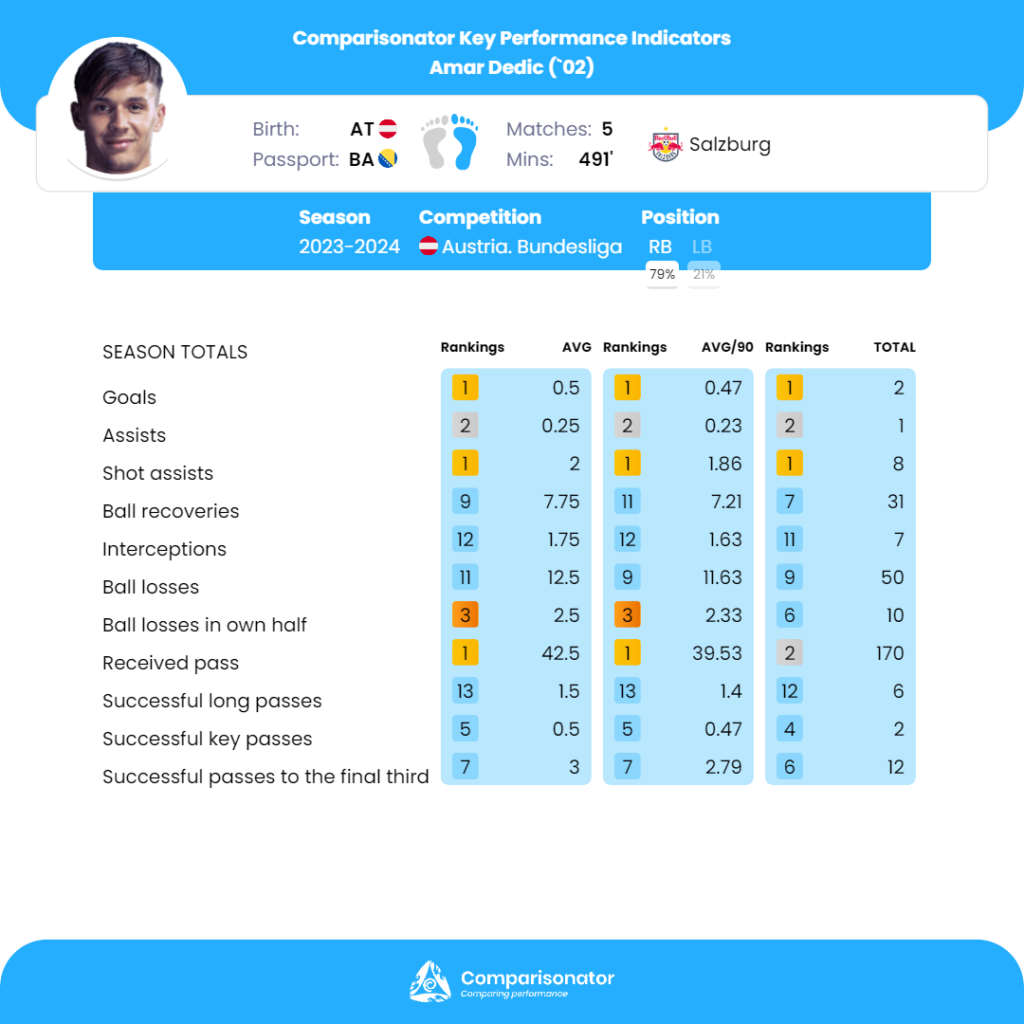 Lucas Gourna-Douath – (DMF) Salzburg
Lucas Gourna-Douath, a Salzburg prodigy, has taken the Defensive Midfield (DMF) role by storm. His unrivaled control of the midfield is evident in his statistics, with the highest successful pass rate and long passes within his position. Furthermore, his tenacity is showcased in his rankings for defensive duels won and ball recoveries. Gourna-Douath is the epitome of midfield excellence.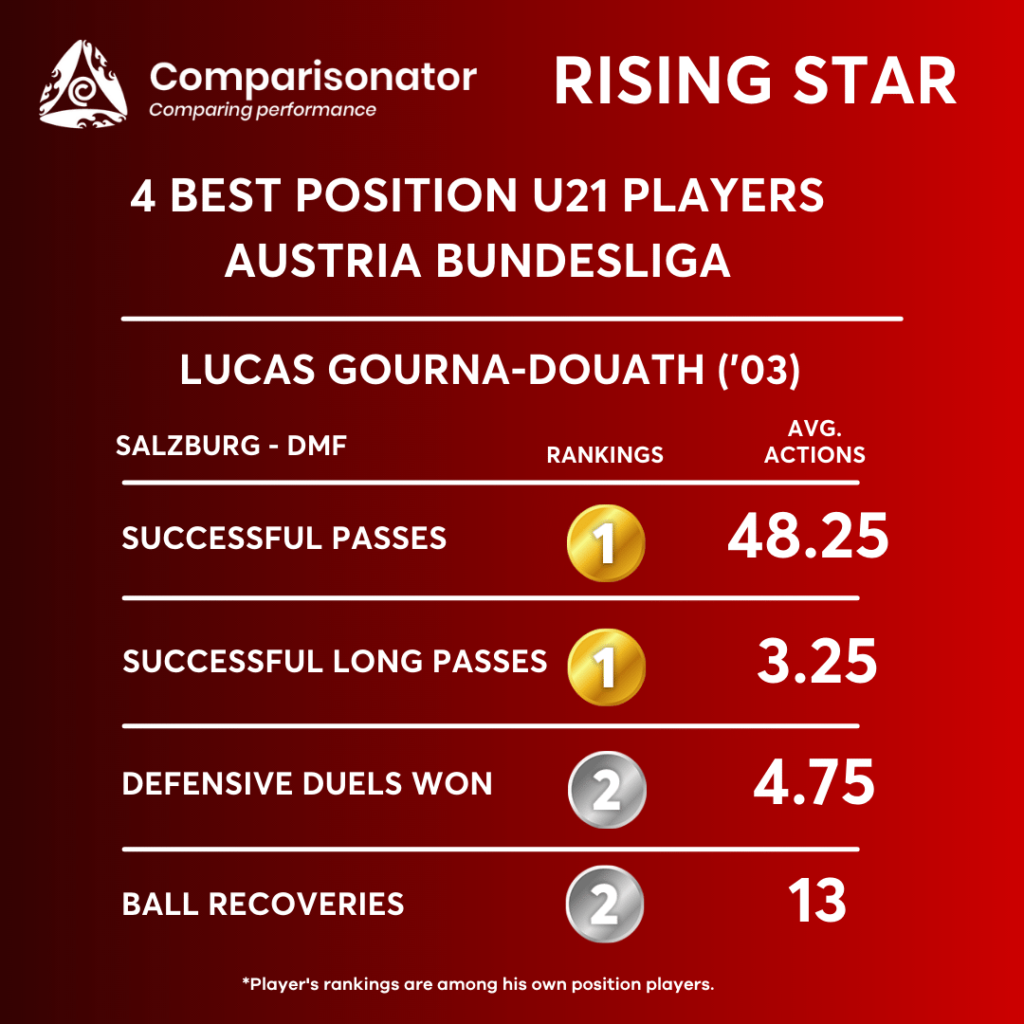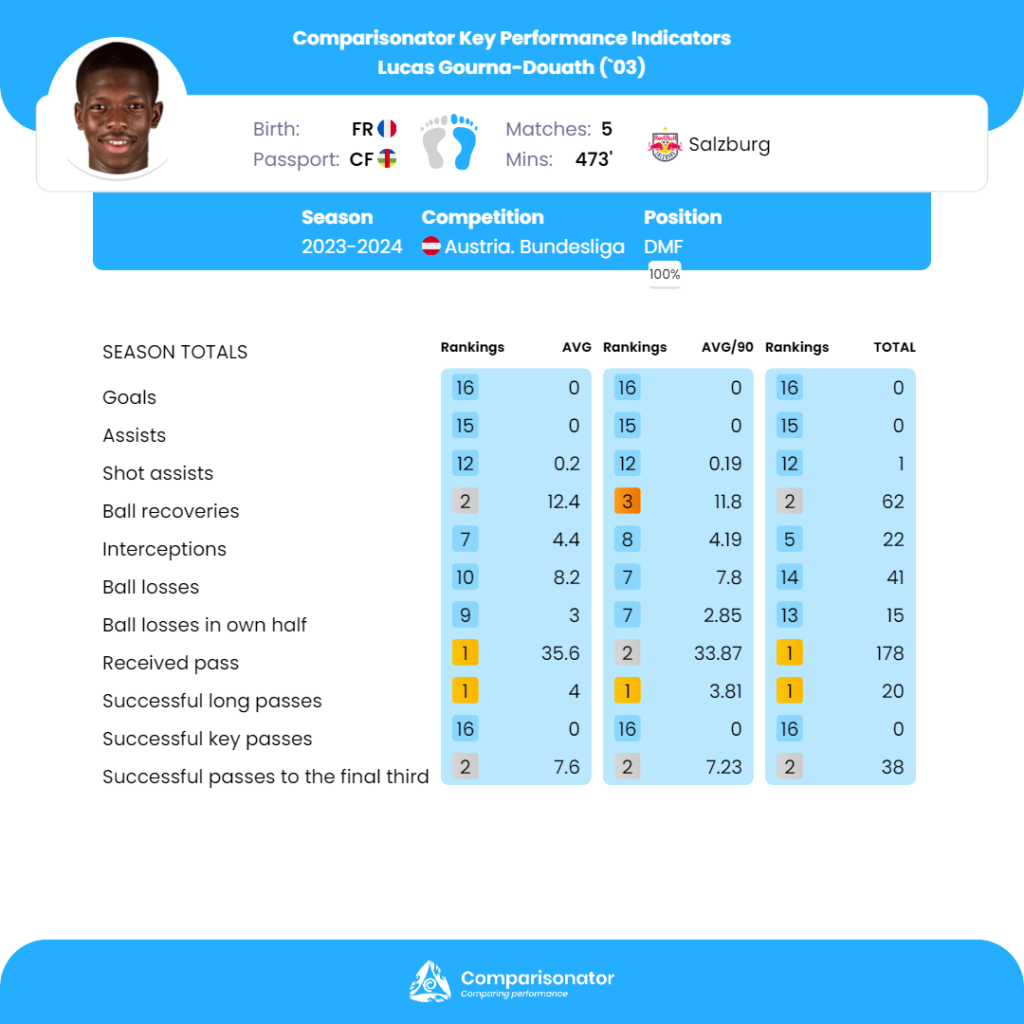 Moses Usor – (RW) LASK Linz
LASK Linz's Moses Usor is lighting up the league as a Right Winger (RW). His electrifying presence on the field is highlighted by leading the charts in successful dribbles and duels won within the RW category. Usor's flair for creating opportunities is evident in his successful attacking actions and smart passes. His performances have made him an invaluable asset for his team.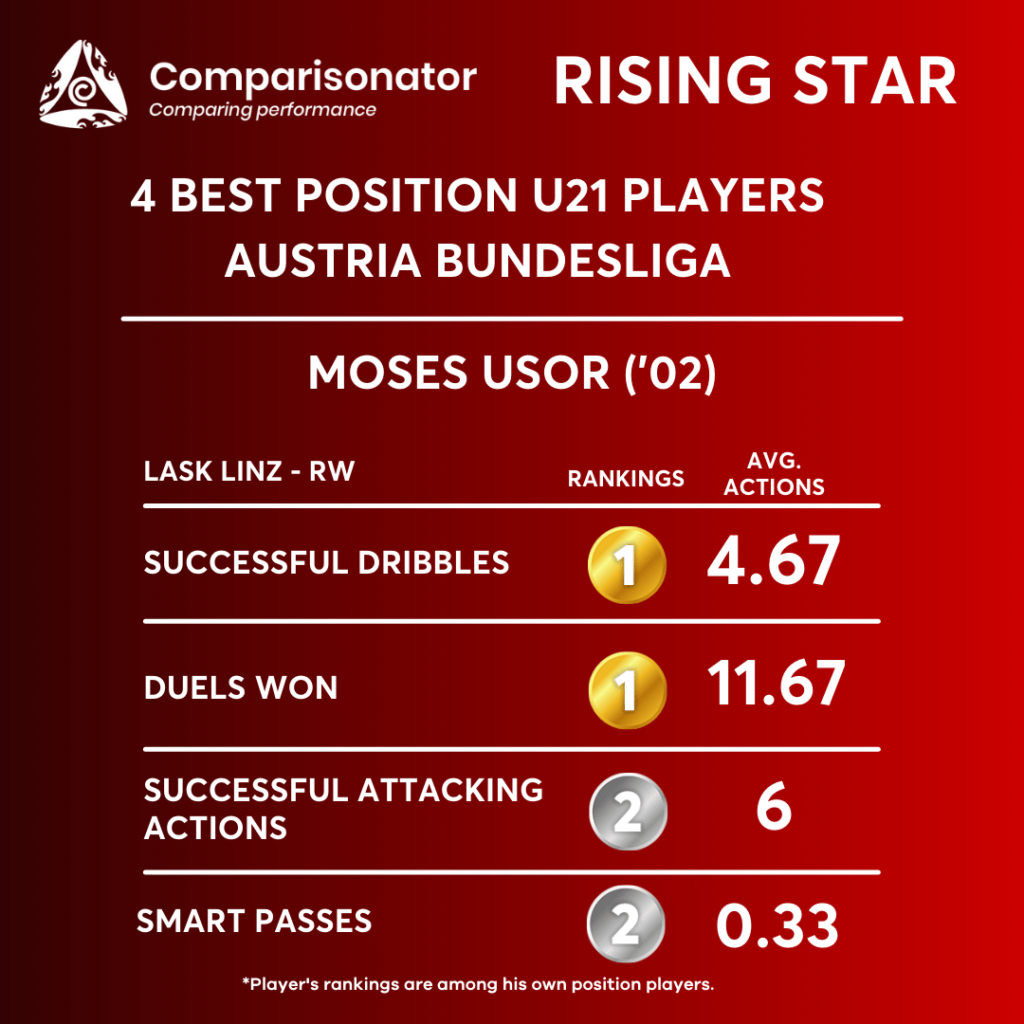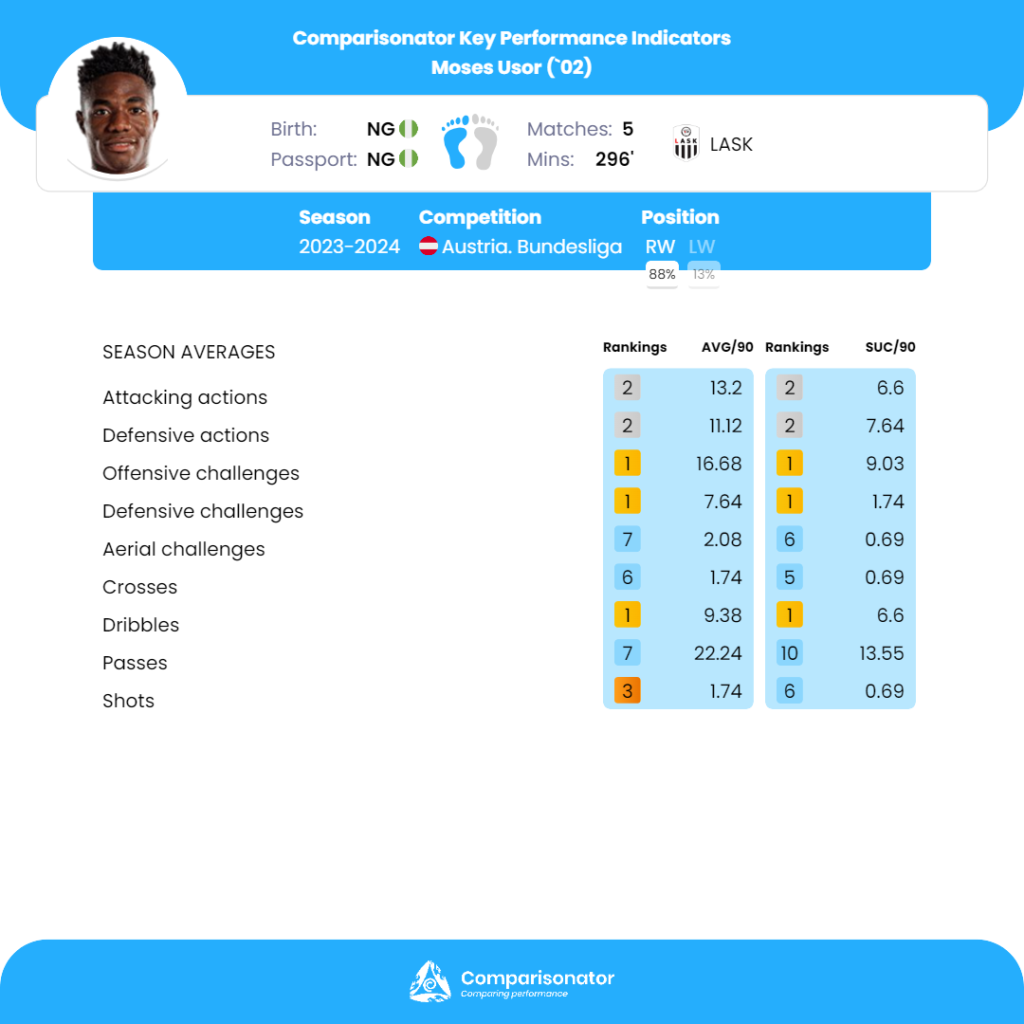 Karim Konate – (CF) Salzburg
Salzburg's Karim Konate is captivating fans as a Centre Forward (CF). His dynamic style of play includes progressive runs and shot assists, placing him at the summit of his position rankings. Konate's ability to find space in the box and seize opportunities make him a formidable force on the field. With touches in the box and opportunity rankings among the top two in his category, he is poised for a bright future.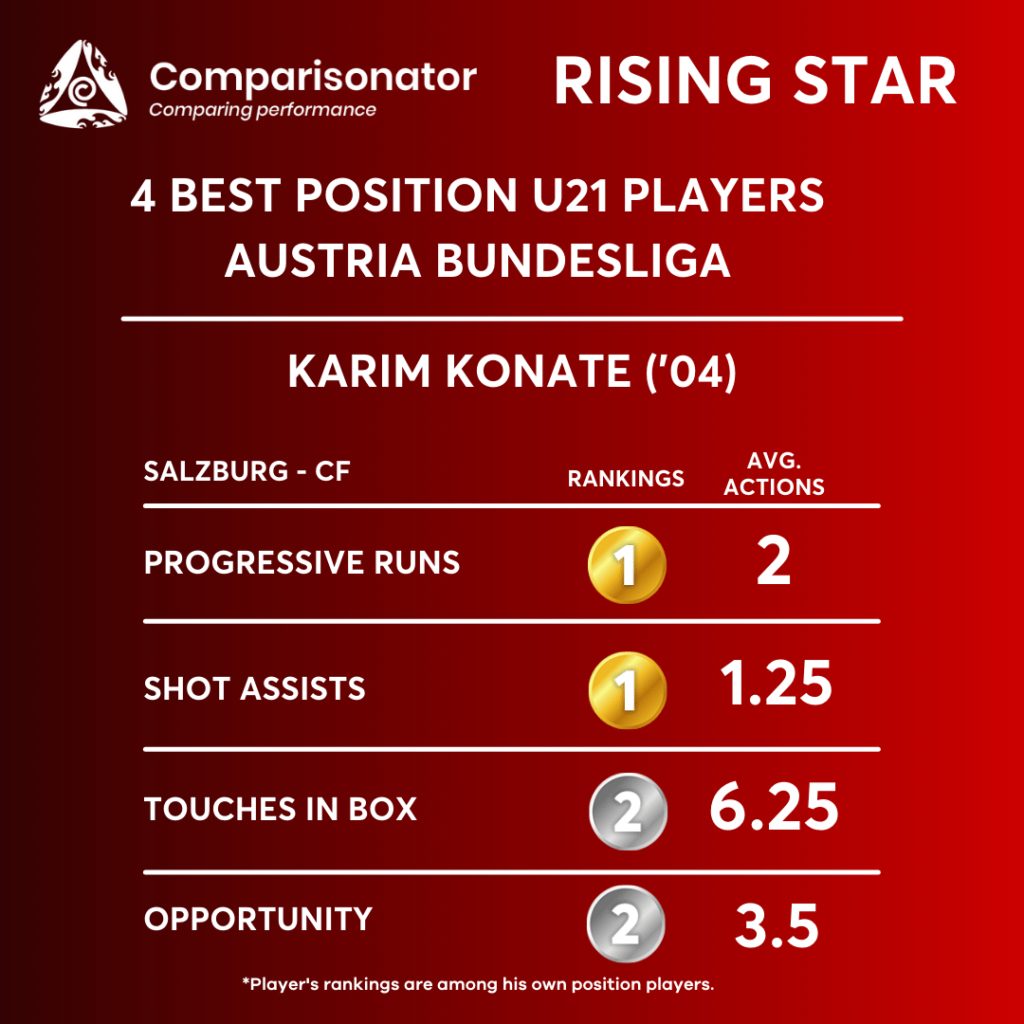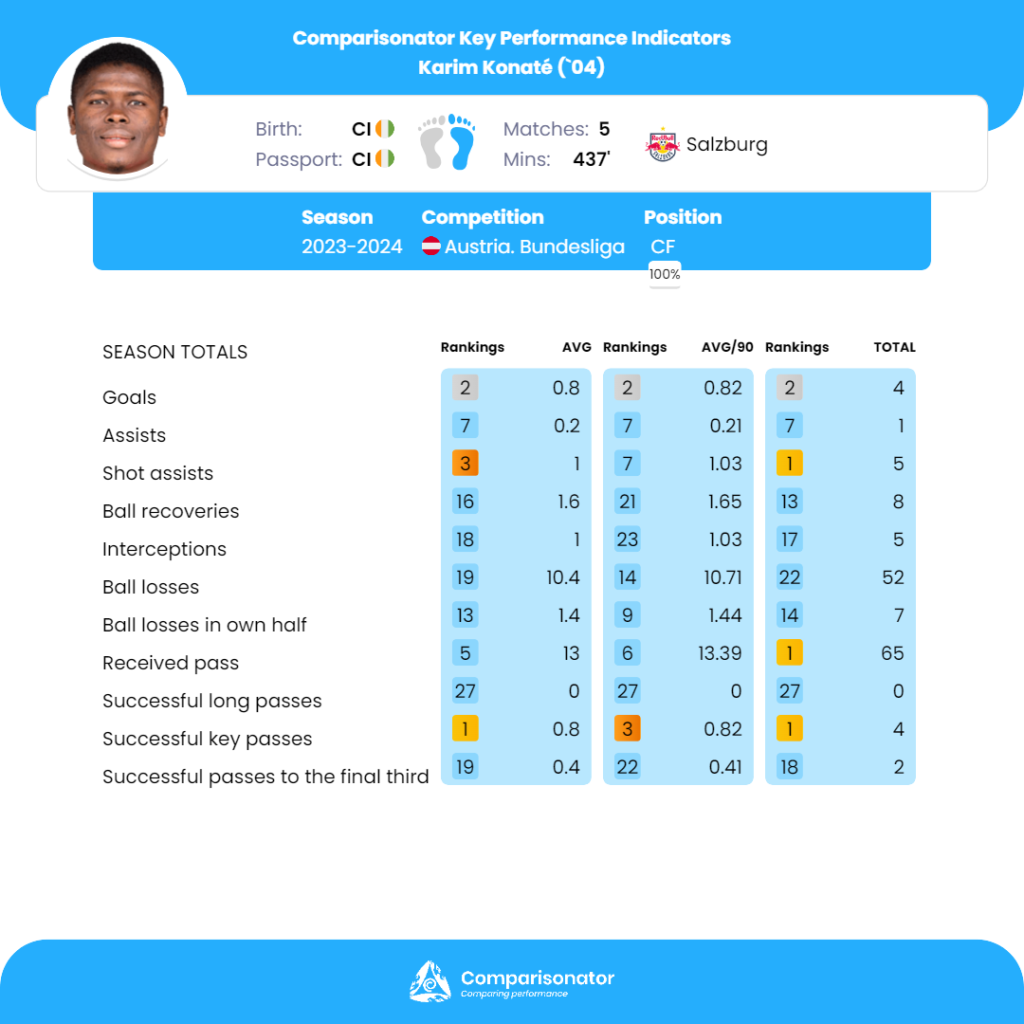 Selected via Comparisonator machine learning index.
Data Comparisons provided by Comparisonator is for educational purposes only and not intended to be monetized.