Comparisonator team analysed European leagues' in different parameters & different positions. As a start of "EUROPEAN LEAGUE COMPARISONS SERIES", CMF players' successful key passes parameter is investigated.
CMF players' Successful Key Passes – Average Per 90 Minutes
In this study, our scouting analysts used Comparisonator Viewpoint feature to investigate league averages. 8 European football leagues' CMF players are compared in "Successful Key Passes".
Belgium Jupiler League is leader in this study with 0.51 average successful key passes per 90 minutes. Croatian 1. HNL is second with 0.39 per 90 min and German Bundesliga is third with 0.38 average.
Portugal Liga and English Premier League are very close to top 3, while Italy Serie A is 5th
THE PROCESS OF THE STUDY:
Comparisonator Viewpoint feature illustrates last played game vs players' own league average vs leagues' average in a selected parameter with a particular position.
In this context, black column represents selected leagues' central-midfielders average. This average point has been taken out as a reference point to define the level in successful key passes for CMF's.
After this process, each average has been compared with all leagues.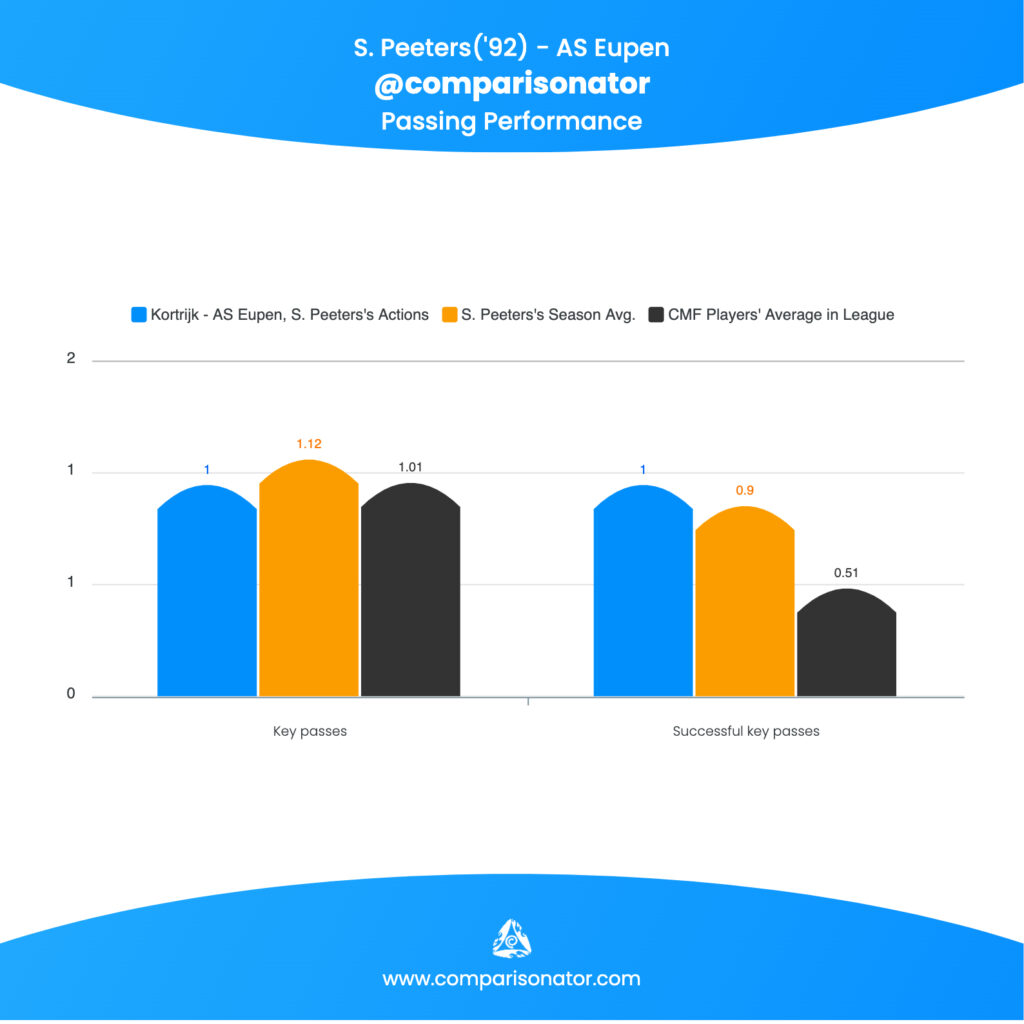 In order to idetify player levels in different parameters on a weekly basis, the platform allows immidiate comparisons.
In order to explain the process better, we selected Stef Peeters from AS Eupen who is the leader of successful key passes parameter in Belgium Jupiler League.
First (blue) column, illustrates Peeters' last match actions, while second (orange) column shows league Peeters' seasonal averages and last (black) column shows same position players' average in the league.
Comparisonator Viewpoint feature helps users to easily understand players' performance fluctuations week-in week-out in diagrams and allows comparisons of selected players' averages to league averages of the same position players.
Successful Key Passes by Central Midfielders
European Leagues' Comparison
Selected European football leagues are investigated in this study of CMF players' average of successful key passes.:
1- Belgium Jupiler League – 0.51
2- Croatia 1. HNL – 0.39
3- Germany Bundesliga – 0.38
4- Portugal Liga – 0.37
5- England Premier League – 0.35
6- Italy Serie A – 0.3
7- Spain LaLiga – 0.28
8- Netherlands Eredivisie – 0.27
What is Comparisonator Viewpoint?
Comparisonator Viewpoint feature allows users to analyse selected players'/teams' weekly performance against their own average performance vs others.
Players' & teams' performance flactuations are seen in seconds. Reports can be shared instantly.
Comparisonator Viewpoint indicates players' last match performance vs players' vs own league average vs league's average in a particular position for Offensive, Defensive, Duels, and Passing parameters.