The League One in England has long been a breeding ground for young football talent, and the U23 players competing in this division continue to make their mark on the pitch. Through a comprehensive analysis provided by the Comparisonator platform, five key parameters have been identified to assess the performance of these rising stars. These parameters include interceptions in the opponent's half by midfielders, shot assists by wingers, duels won by fullbacks, shots on target by strikers, and successful long passes by center-backs. By evaluating the top performers in each of these categories, we gain insights into the emerging talents who are shaping the game's future at this level.
Best U23 Players in the England League One in 5 Parameters
The best 5 players ranked in the selected parameters based on the matches played so far this season. These players ranked according to their per 90 min averages. In this analysis, the Comparisonator team used the Recruitment Shop feature of the Platform.
Interceptions in Opponent Half by Midfielders
Shot Assists by Wingers
Duels Won by Fullbacks
Shots on Target by Strikers
Successful Long Passes by Centre-Backs
Please note that all numbers are per 90 min data from the 2023-24 Season So Far.
Interceptions in Opp. Half
In the realm of midfield prowess, Karoy Anderson takes the lead with an impressive average of 3.16 interceptions in the opponent's half per 90 minutes of play. Hot on his heels is Ollie Arblaster, securing the second spot with an average of 2.98 interceptions. Marc Leonard solidifies the third position with 2.81 interceptions, while Callum Styles follows closely with 1.69 interceptions. Sonny Carey rounds off the top five with a noteworthy average of 1.53 interceptions. These midfield dynamos not only showcase their defensive acumen but also their ability to disrupt opponents' attacking plays, underscoring their significance on the field.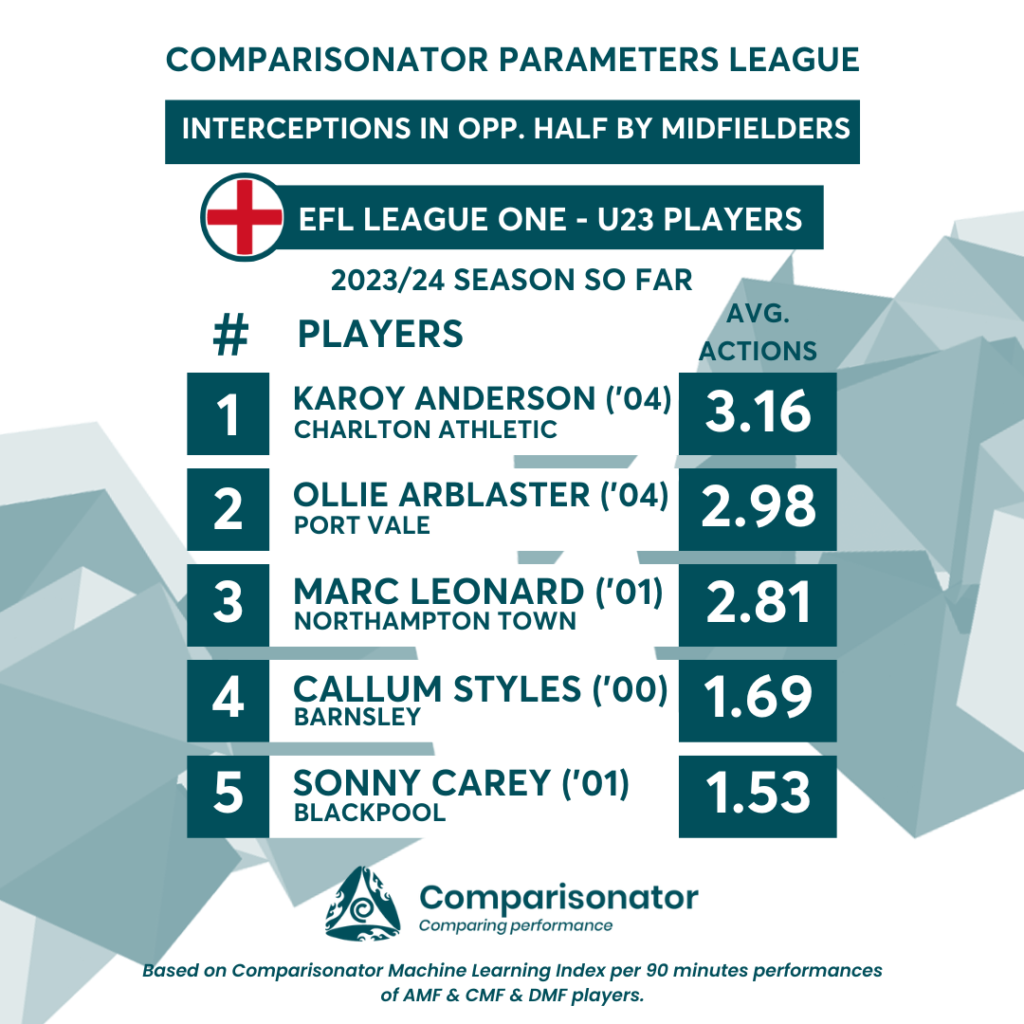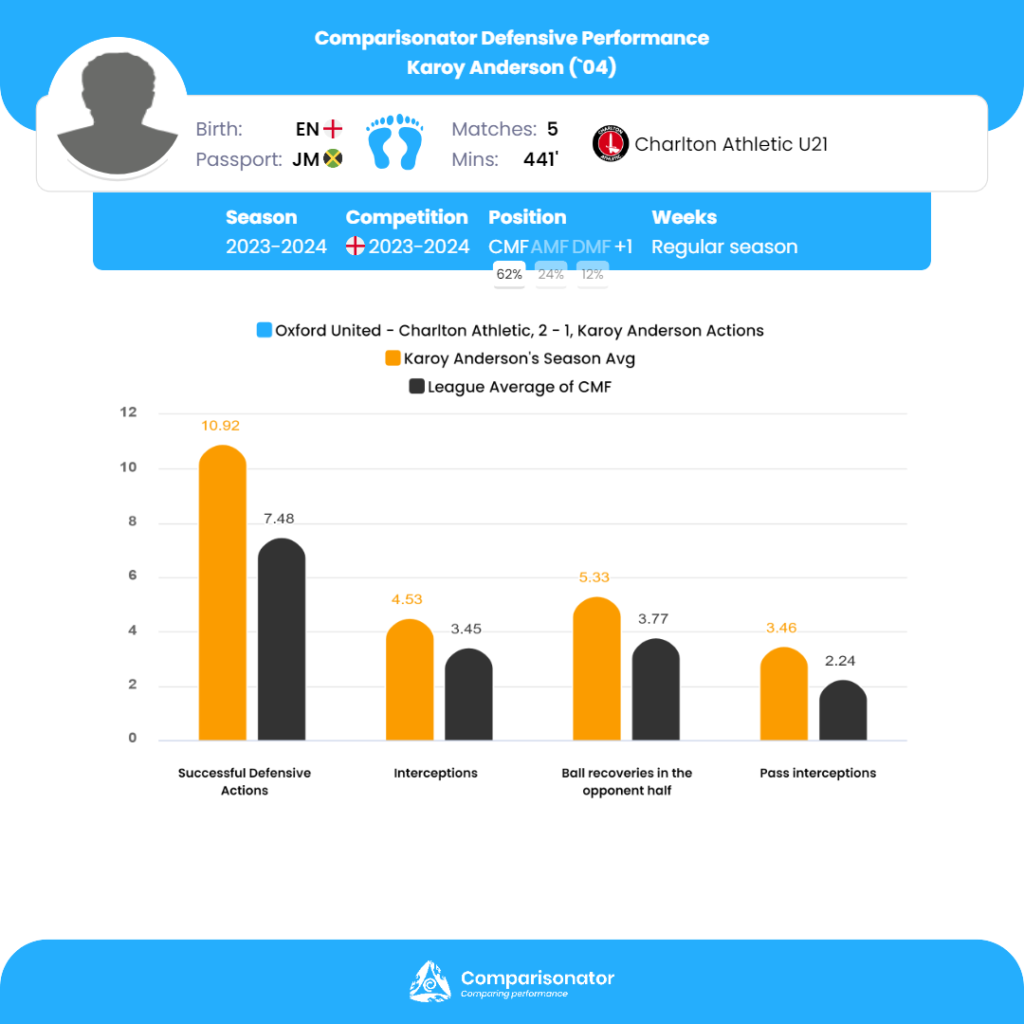 Shot Assists
In the wide corridors of the pitch, it's the wingers who often hold the key to unlocking defenses with their incisive passes. Kieron Bowie claims the top spot in this category, averaging 1.26 shot assists per 90 minutes of play. Kwame Poku secures the second rank with 1.21 shot assists, while Femi Azeez exhibits his creative prowess at third place with 1.02 shot assists. Tyler Goodrham follows closely with 0.96 shot assists, while Mamadi Camara completes the top five with 0.4 shot assists. These wingers not only demonstrate their ability to take on defenders but also their keen eye for setting up goal-scoring opportunities.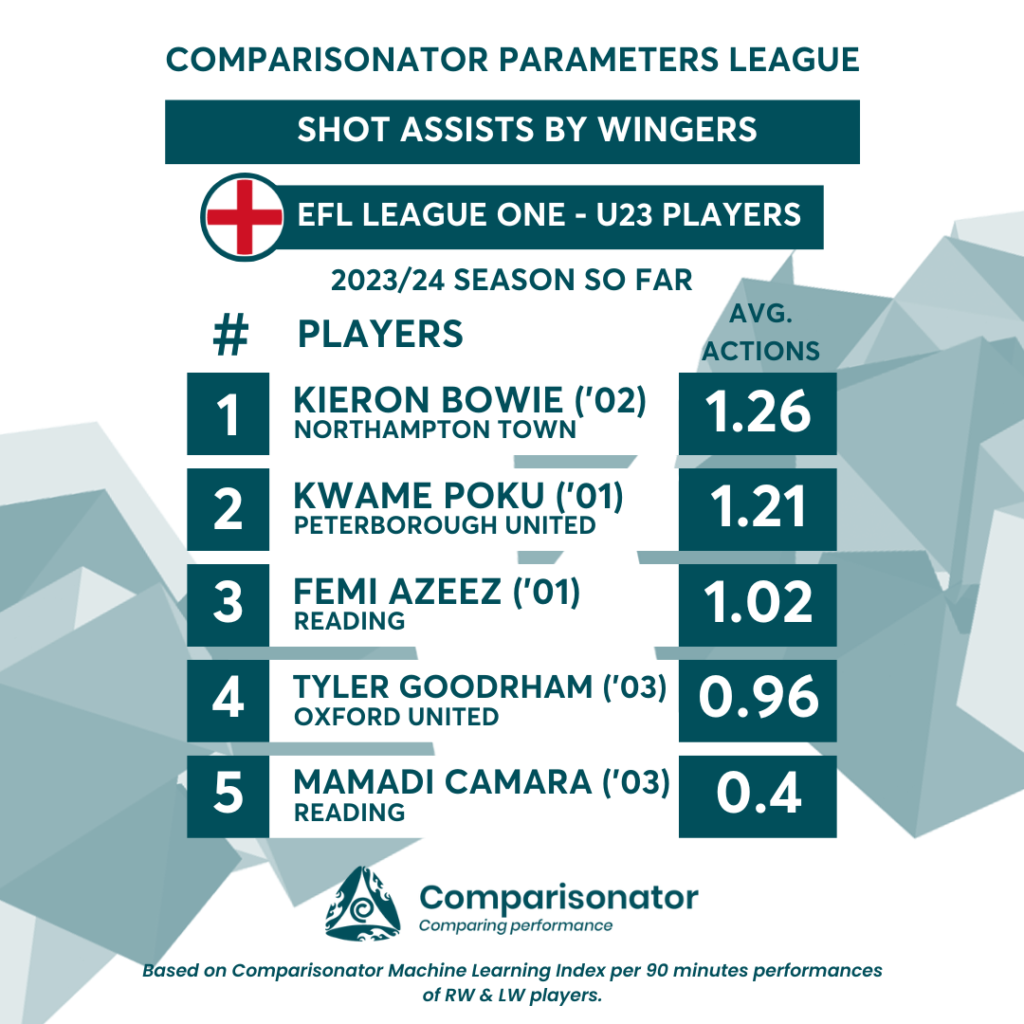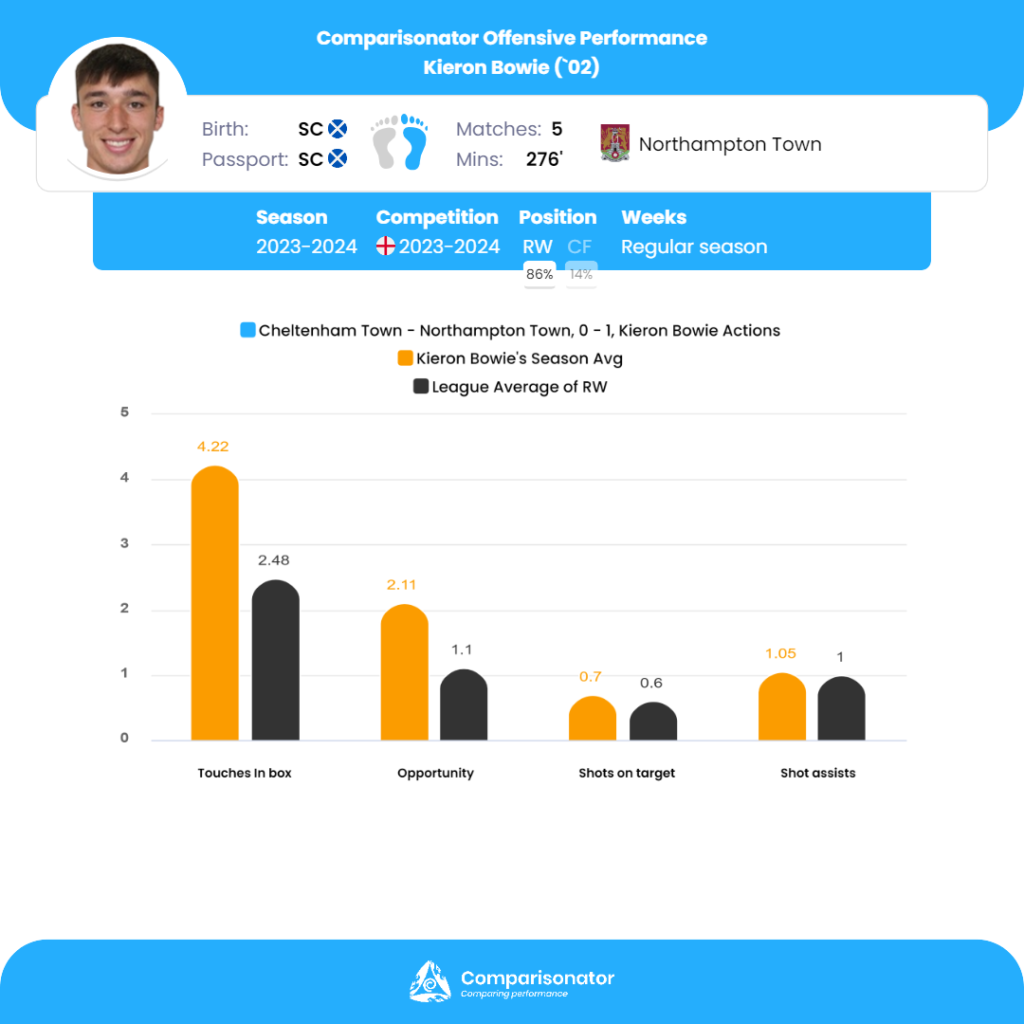 Duels Won
The modern game places a premium on fullbacks who can contribute both in defense and attack. In this context, Harry Boyes stands out as a commanding force, winning an average of 9.59 duels per 90 minutes of play. Nathan Asiimwe isn't far behind, securing the second position with 9.4 duels won. Finley Back asserts his presence in the third rank with an average of 8.74 duels won, closely pursued by Amadou S. Mbengue, who claims fourth place with 8.23 duels won. Andy Lyons wraps up the top five with an average of 7.3 duels won, exemplifying the significance of fullbacks who can excel in one-on-one situations.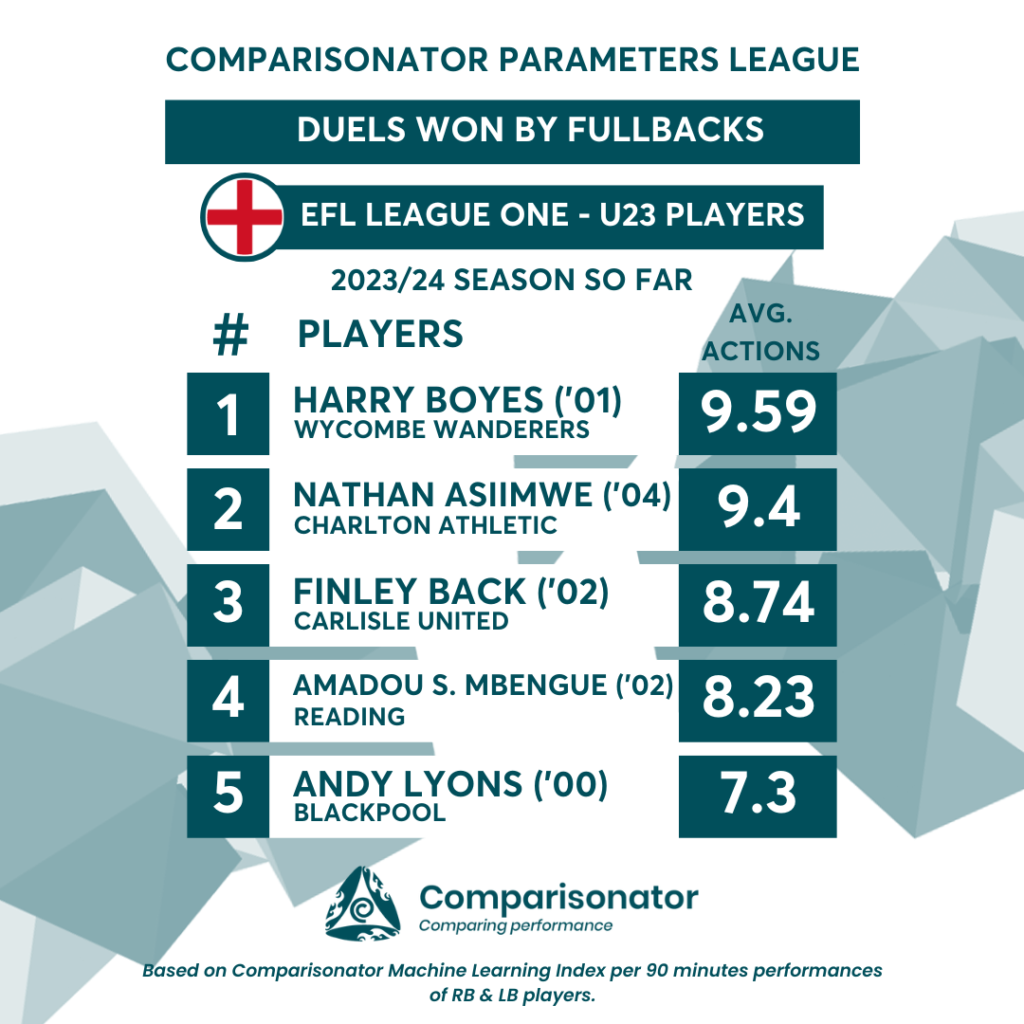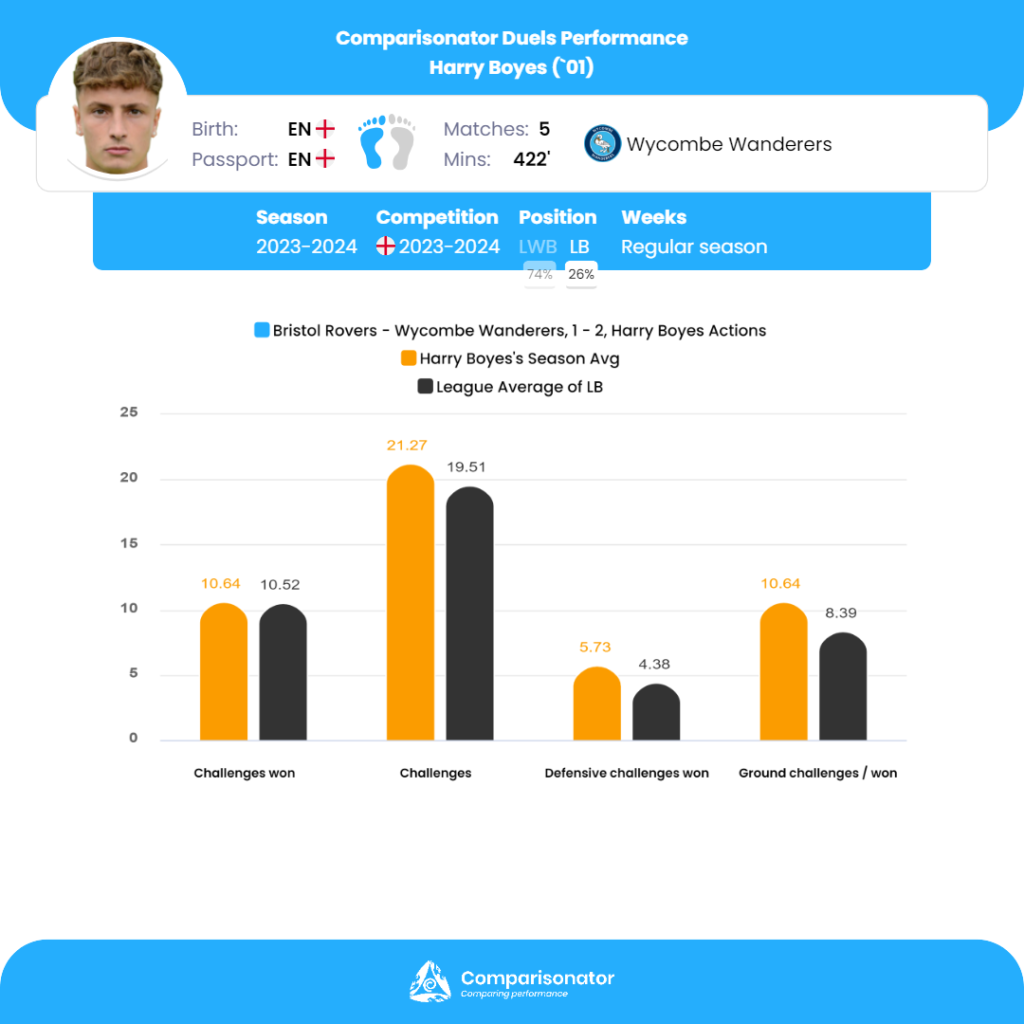 Shots on Target
Upfront, the strikers take center stage as they aim to find the back of the net. Kelvin Ehibhatiomhan leads the pack with an average of 1.14 shots on target per 90 minutes of play. Promise Omochere secures the second position with 0.83 shots on target, while Gassan Ahadme showcases his striking finesse at third place with 0.75 shots on target. Aaron Pressley isn't far behind, claiming the fourth spot with 0.73 shots on target, followed by Josh Thomas in fifth place with 0.47 shots on target. These strikers exhibit their ability to test opposing goalkeepers and maintain a consistent threat in the attacking third.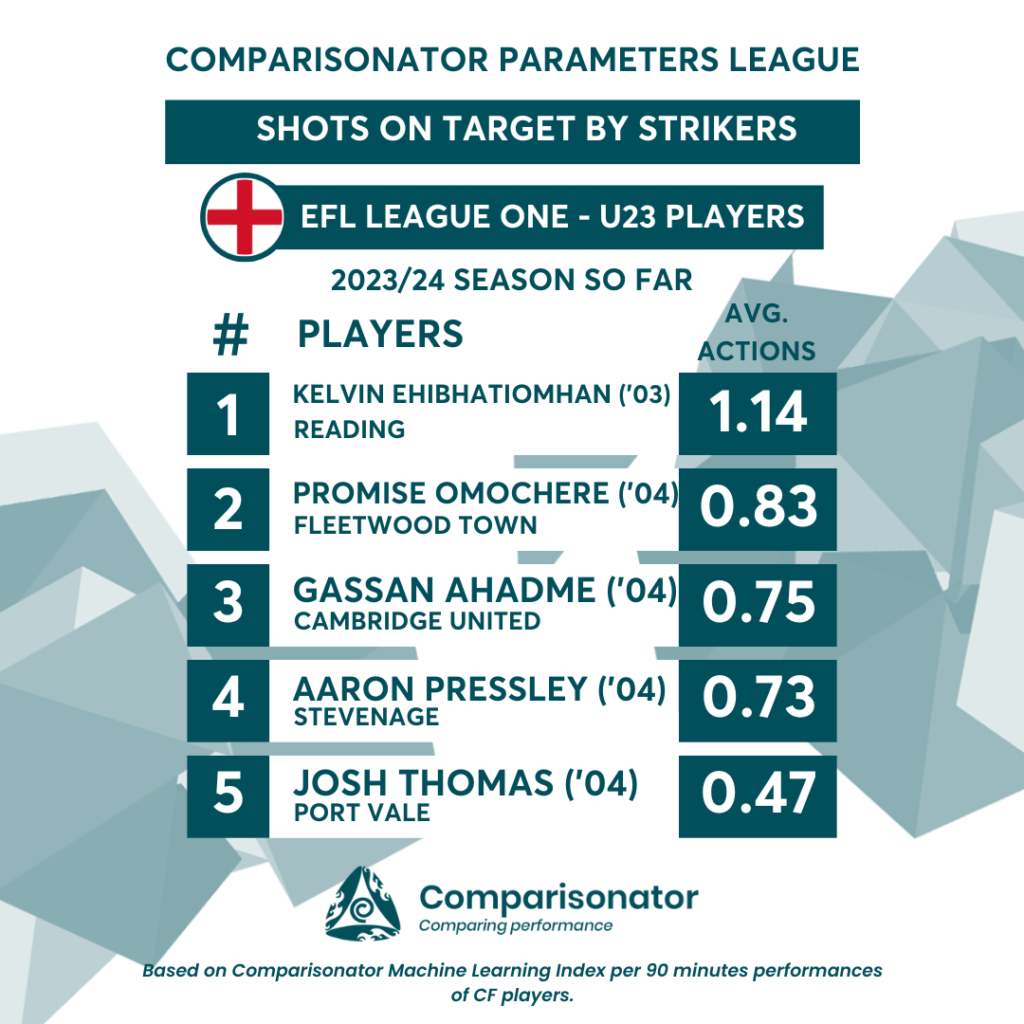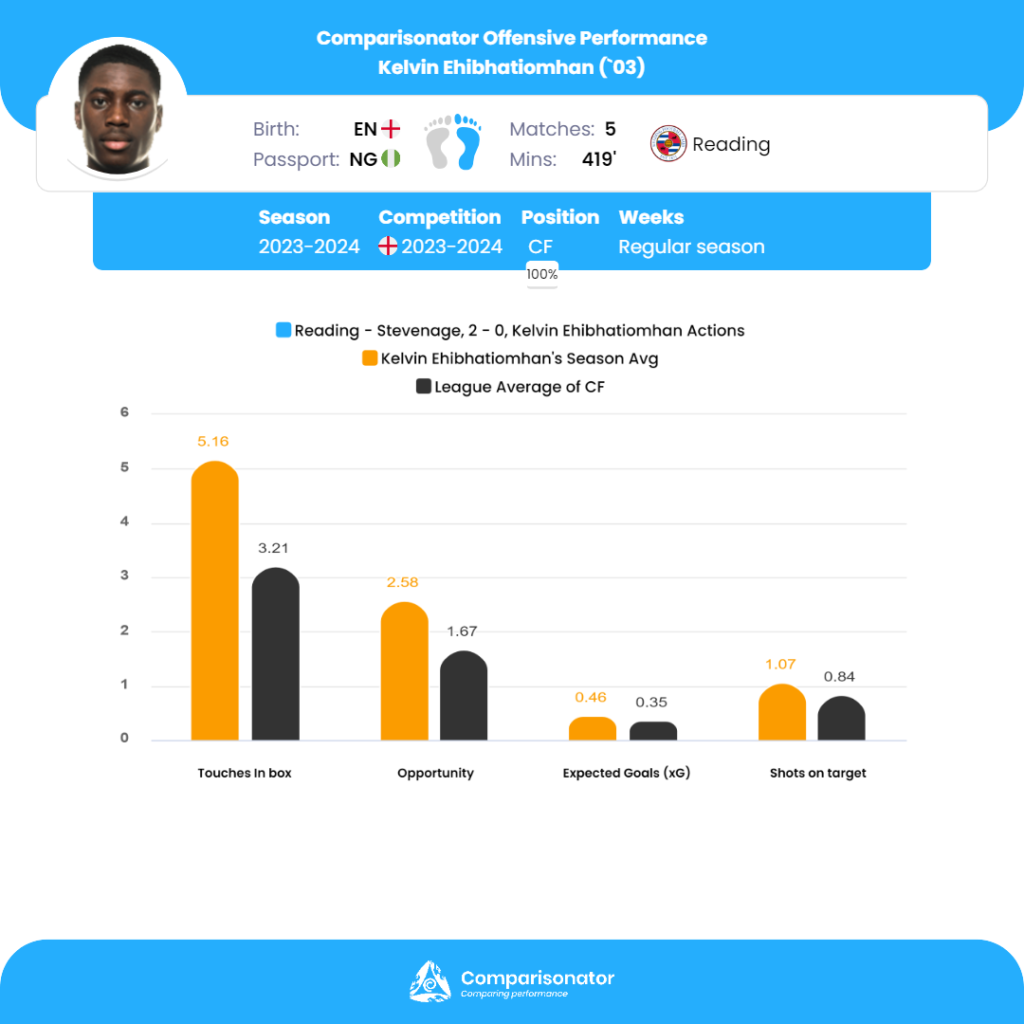 Successful Long Passes
Defense is an art form, and center-backs who can launch successful long passes contribute significantly to a team's tactical play. Sean Roughan leads the charge with an average of 7.52 successful long passes per 90 minutes of play. Joe Low secures the second position with 6.03 successful long passes, while Tristan Crama exhibits his distribution skills in the third rank with 5.1 successful long passes. Joe Anderson maintains a strong presence at fourth place with 4.81 successful long passes, and Jasper Moon rounds off the top five with 4.71 successful long passes. These center-backs not only secure their defensive lines but also initiate attacks with their precise long-range passing abilities.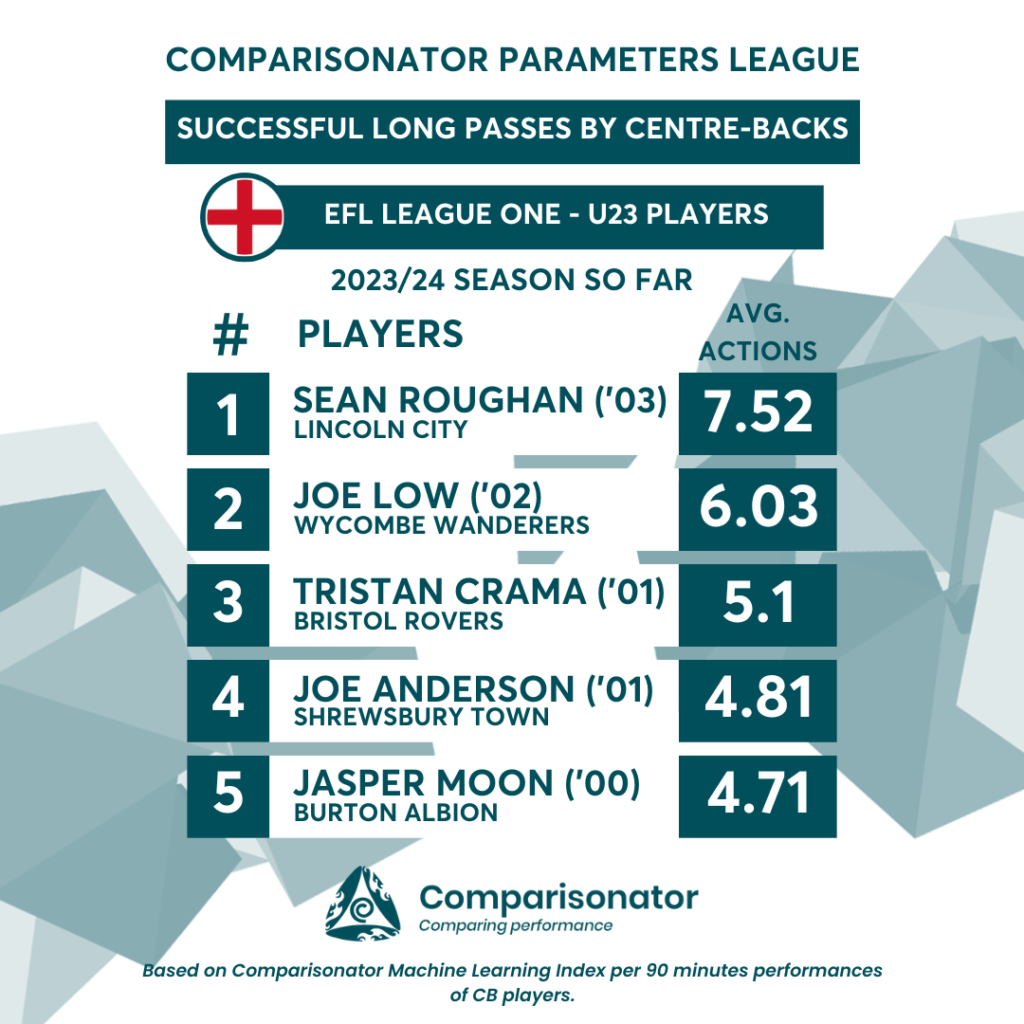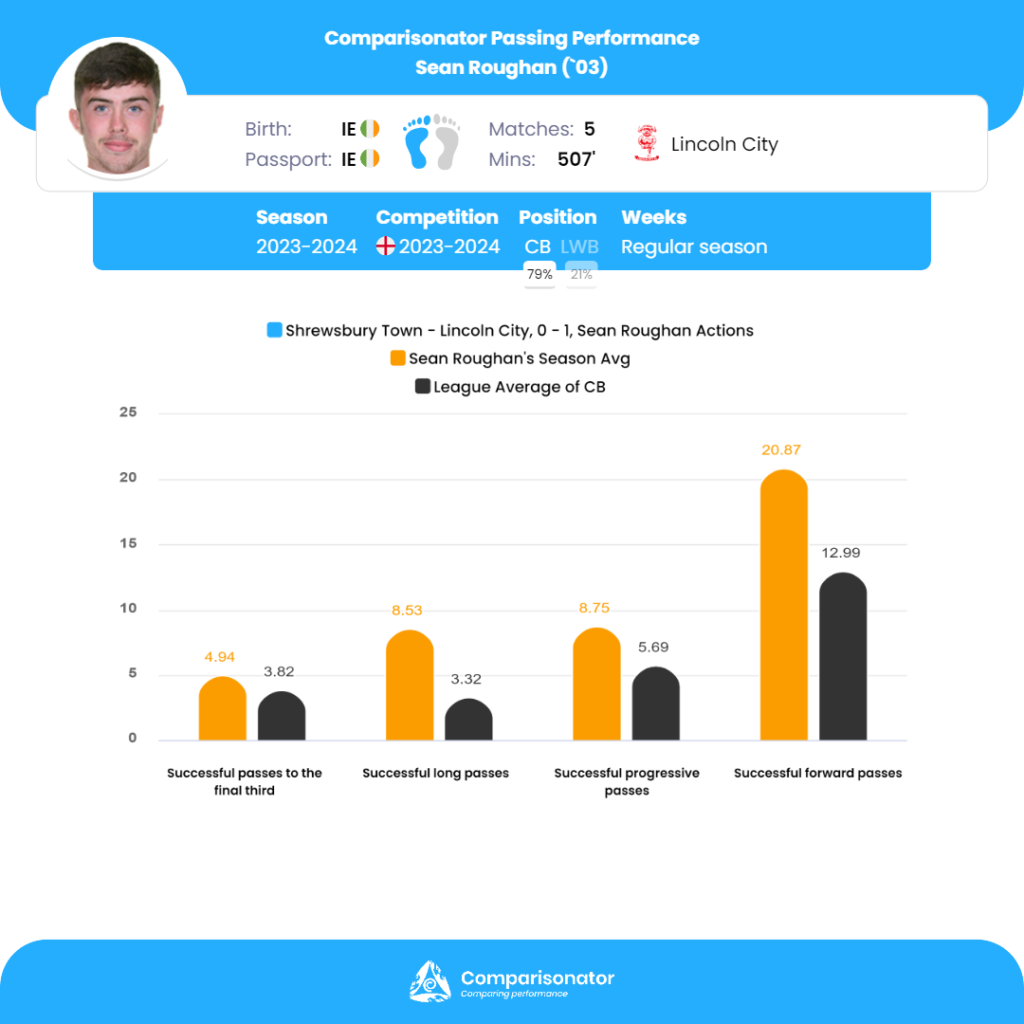 HOW DOES COMPARISONATOR's RECRUITMENT FEATURE WORKS?
"Recruitment Shop" allows recruiters & scouts to search/list players with one click from any league and any position according to their performance (using artificially intelligent Comparisonator Performance index), height, age, passport country. Player actions can be filtered towards qualities searched for. Out of contract players can be found from more than 300.000 players within the database.
For example decision makers will can list all U21 best centre forwards (or any positions) in Croatia & Serbia (or from 275 competitions), add amount of goals, aerial duels won if looking for a target man from the filter section, or dribbles made if looking for forwards. Very simply detail the position to search to find suitable players.
These U23 players signal a bright future for English football. As the season progresses, their impact will continue to shape League One and beyond.
Selected via Comparisonator machine learning index.
Data Comparisons provided by Comparisonator is for educational purposes only and not intended to be monetized.