The EFL Championship serves as a hotbed for burgeoning football talent, and Comparisonator platform unveils the standout U23 players who are making waves in key performance metrics. From shot assists by midfielders to successful long passes by centre-backs, these rising stars are not only leaving their mark on the league but also showcasing their potential to influence the landscape of English football. In this analysis, we delve into five critical parameters, shedding light on the exceptional individuals who are driving their teams forward and embodying the future of the Championship.
Best U23 Players in the EFL Championship in 5 Parameters
The best 5 players ranked in the selected parameters based on the matches played so far this season. These players ranked according to their per 90 min averages. In this analysis, Comparisonator team used the Recruitment Shop feature of the Platform.
Shot Assists by Midfielders
Progressive Runs by Wingers
Duels Won by Fullbacks
Shots on Target by Strikers
Successful Long Passes by Centre-Backs
Please note that all numbers are per 90 min data from the 2023-24 Season So Far.
Shot Assists
Finn Azaz leads the U23 midfielders with an impressive average of 2 shot assists per 90 minutes, demonstrating his playmaking prowess. Yasin Ayari, Luke Cundle, Will Smallbone, and Josh Eccles follow closely, illustrating their significant contributions in creating goal-scoring opportunities from the heart of the pitch.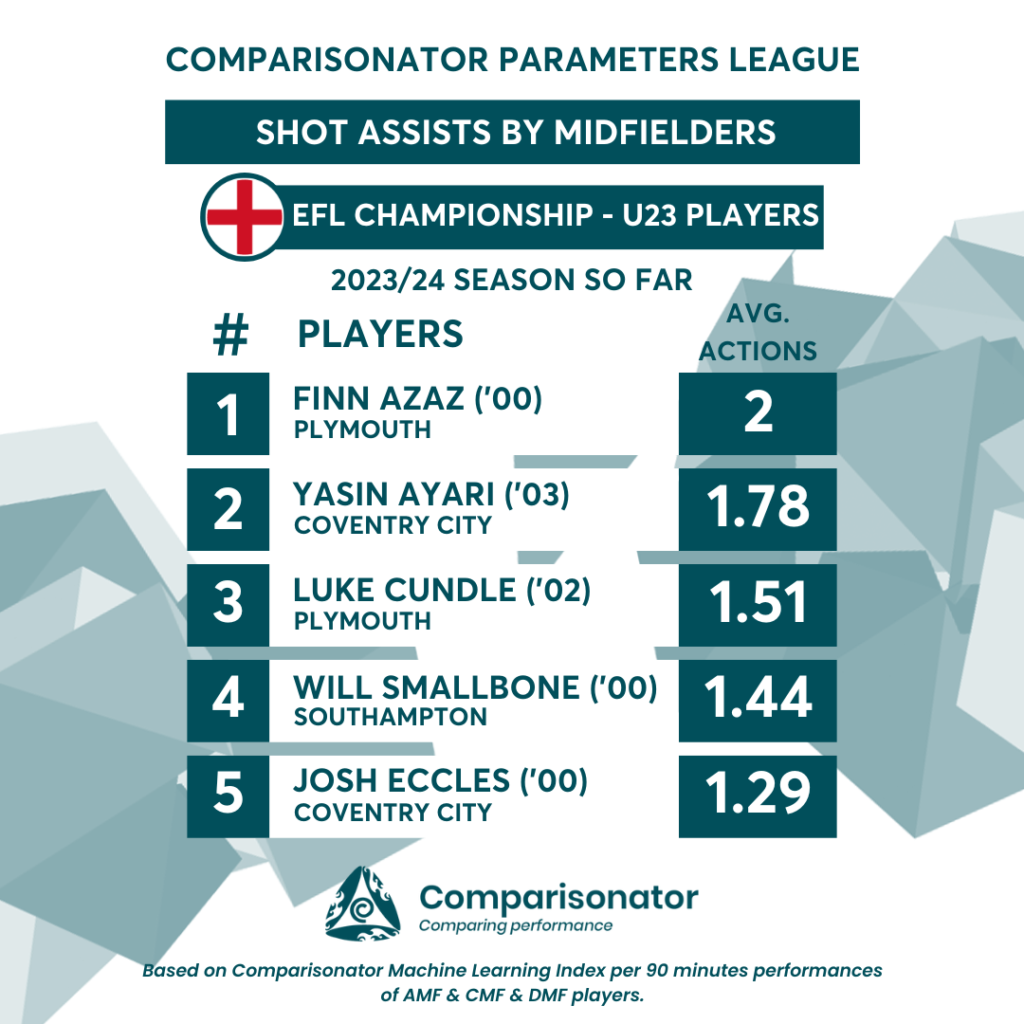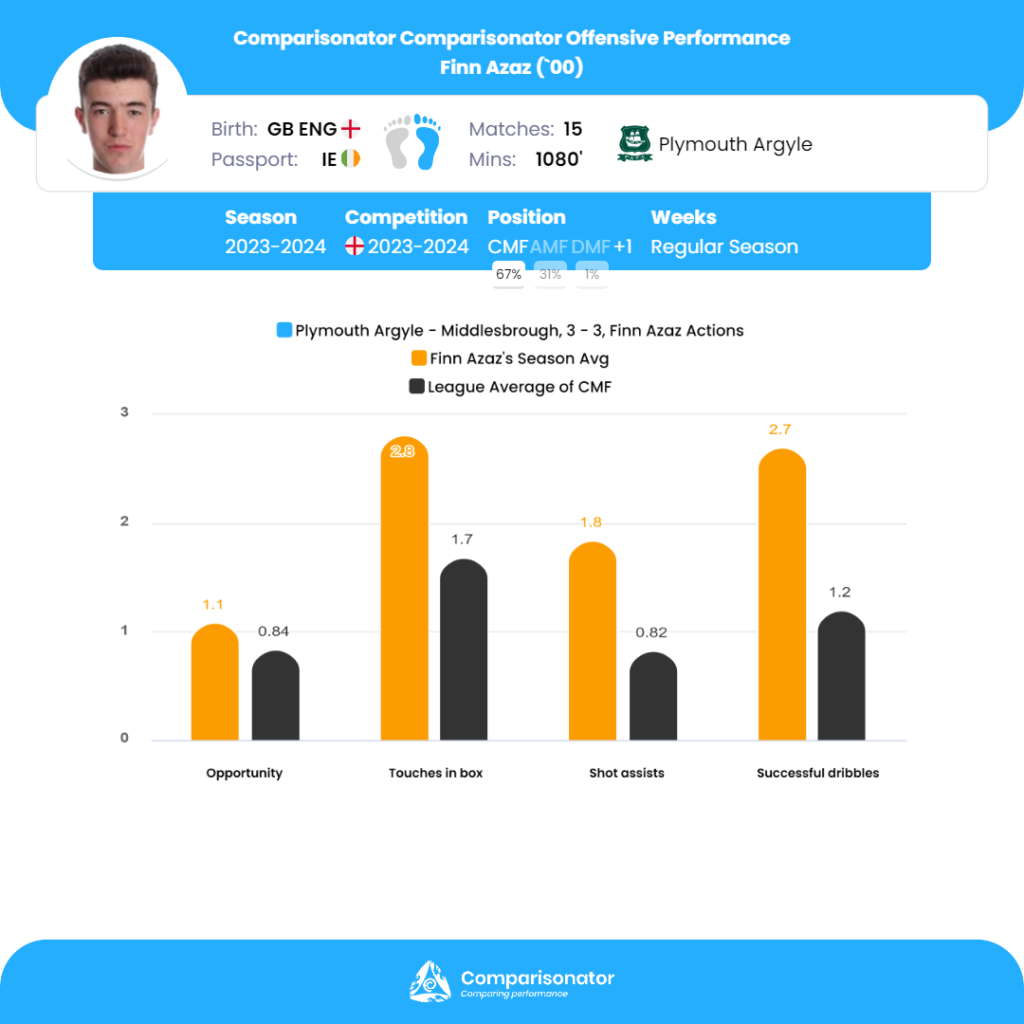 Progressive Runs
Jack Clarke stands out among U23 wingers with an outstanding average of 8 progressive runs per 90 minutes, showcasing his ability to drive the play forward. Crysencio Summerville, Jaden Philogene, Kamaldeen Sulemana, and Abdoullah Ba trail closely, each bringing their flair and dynamism to the wide areas.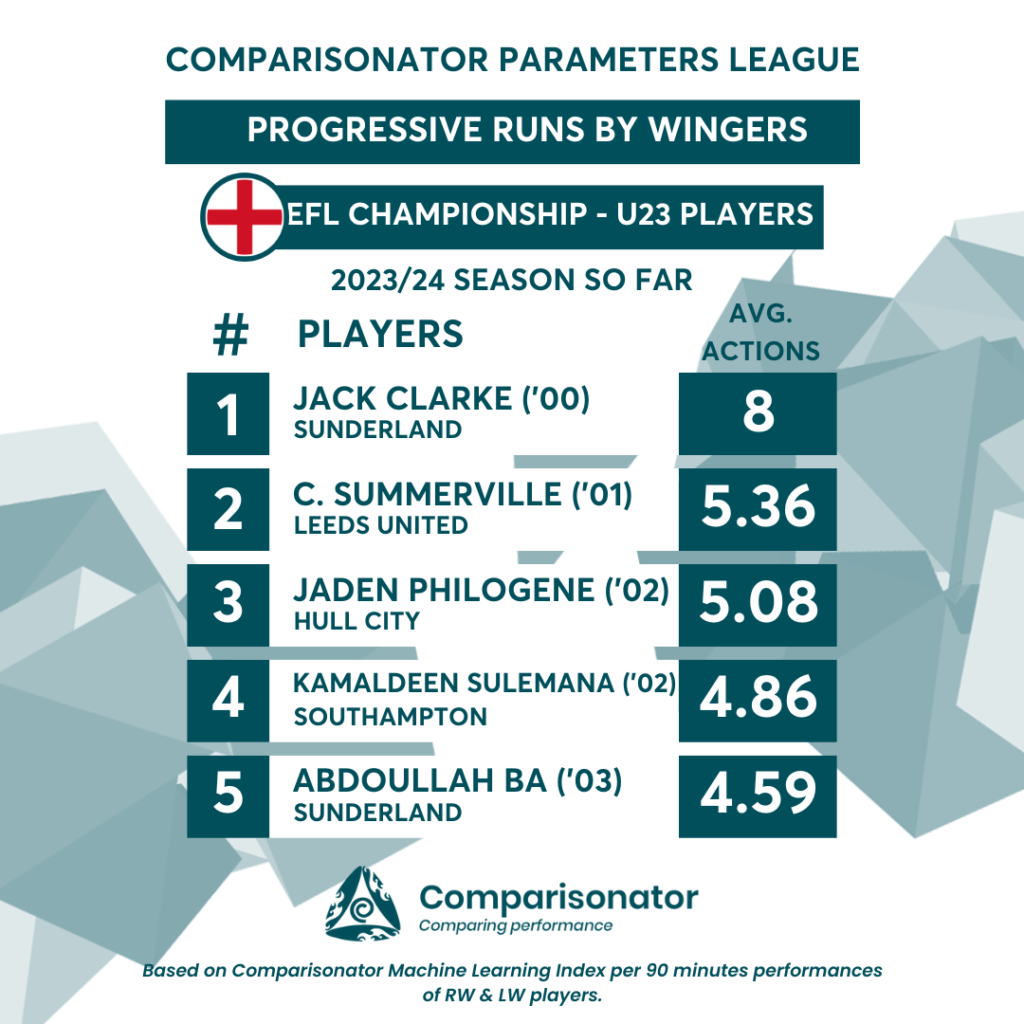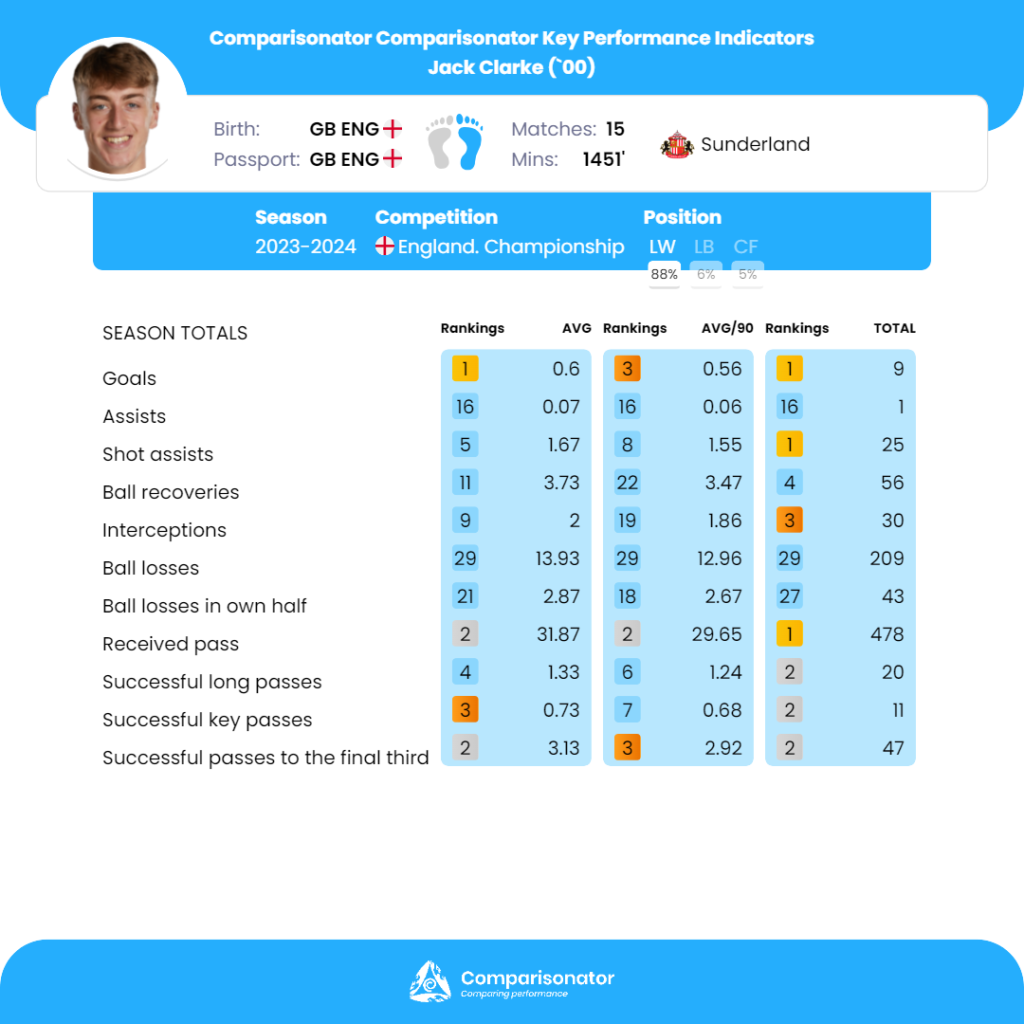 Duels Won
In the domain of duels won, Brooke-Norton Cuffy leads U23 fullbacks with an impressive average of 11.8 per 90 minutes. Jacob Greaves, Cody Drameh, Brandon Williams, and Jeremy Ngakia also feature prominently, underlining their defensive solidity and ability to win crucial battles on the flanks.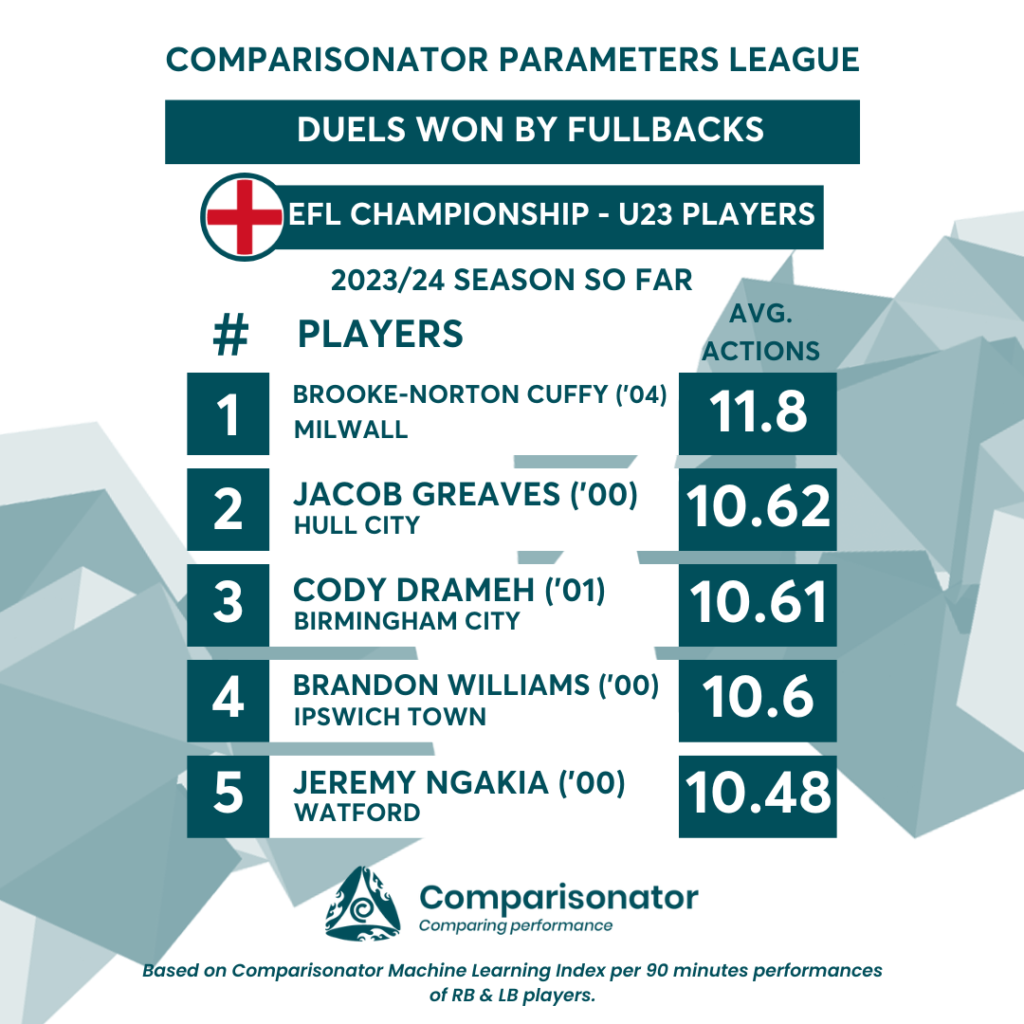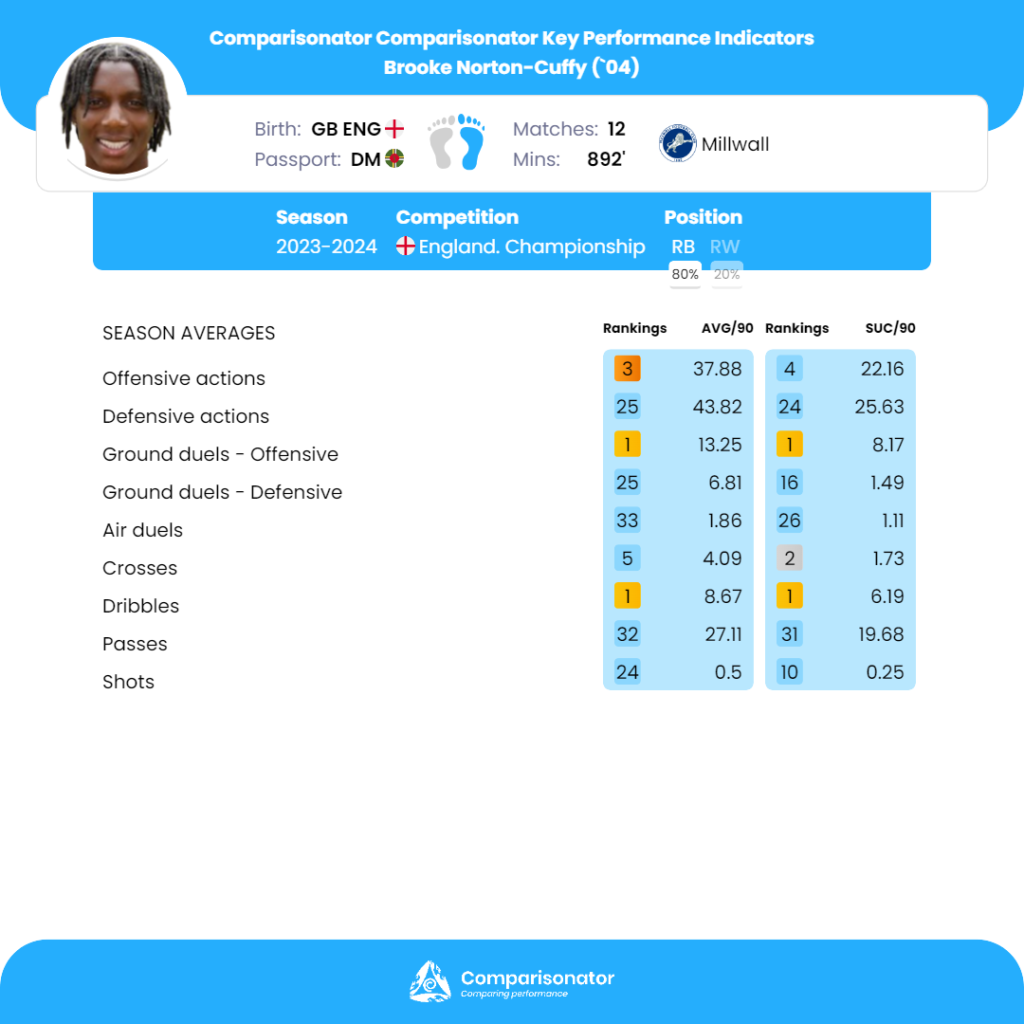 Shots on Target
U23 strikers exhibit their goal-scoring prowess, with Adam Idah leading the charts with an average of 1.28 shots on target per 90 minutes. Aaron Connolly, Ellis Simms, Georginio Rutter, and Josh Coburn follow suit, highlighting their potency in front of goal.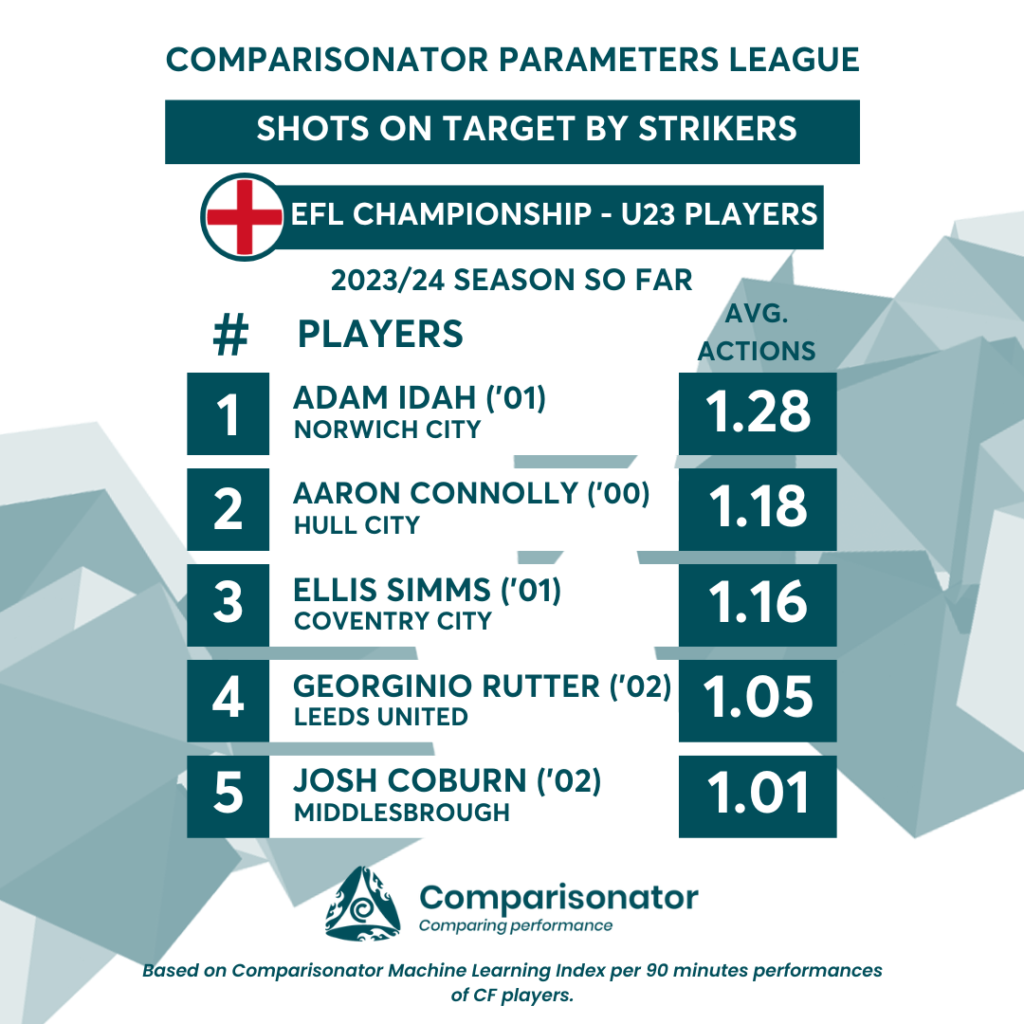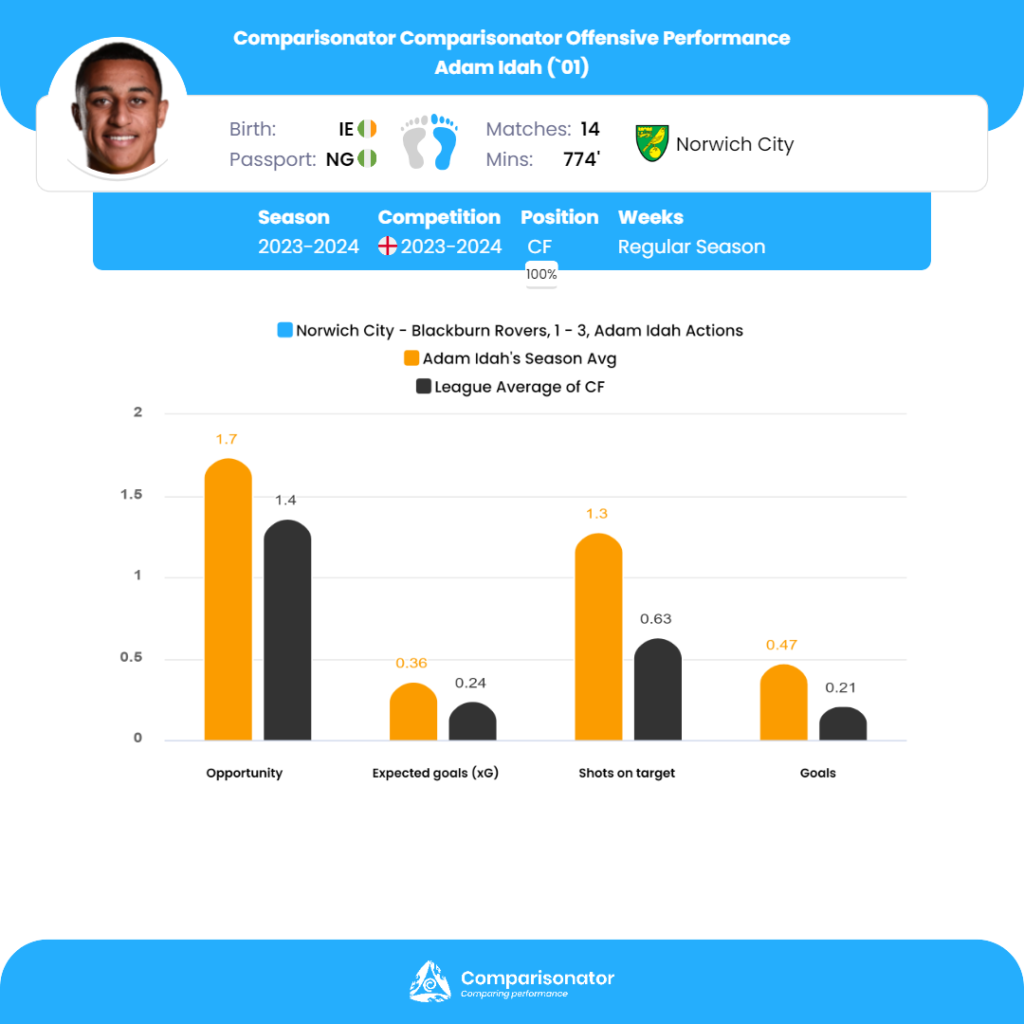 Successful Long Passes
Luis Binks tops U23 centre-backs with an impressive average of 4.07 successful long passes per 90 minutes, showcasing his ability to distribute the ball effectively from the back. Mark McGuinness, Bashir Humphreys, Ben Cabango, and Taylor Harwood-Bellis round out the top five, emphasizing their role in initiating plays from the defensive line.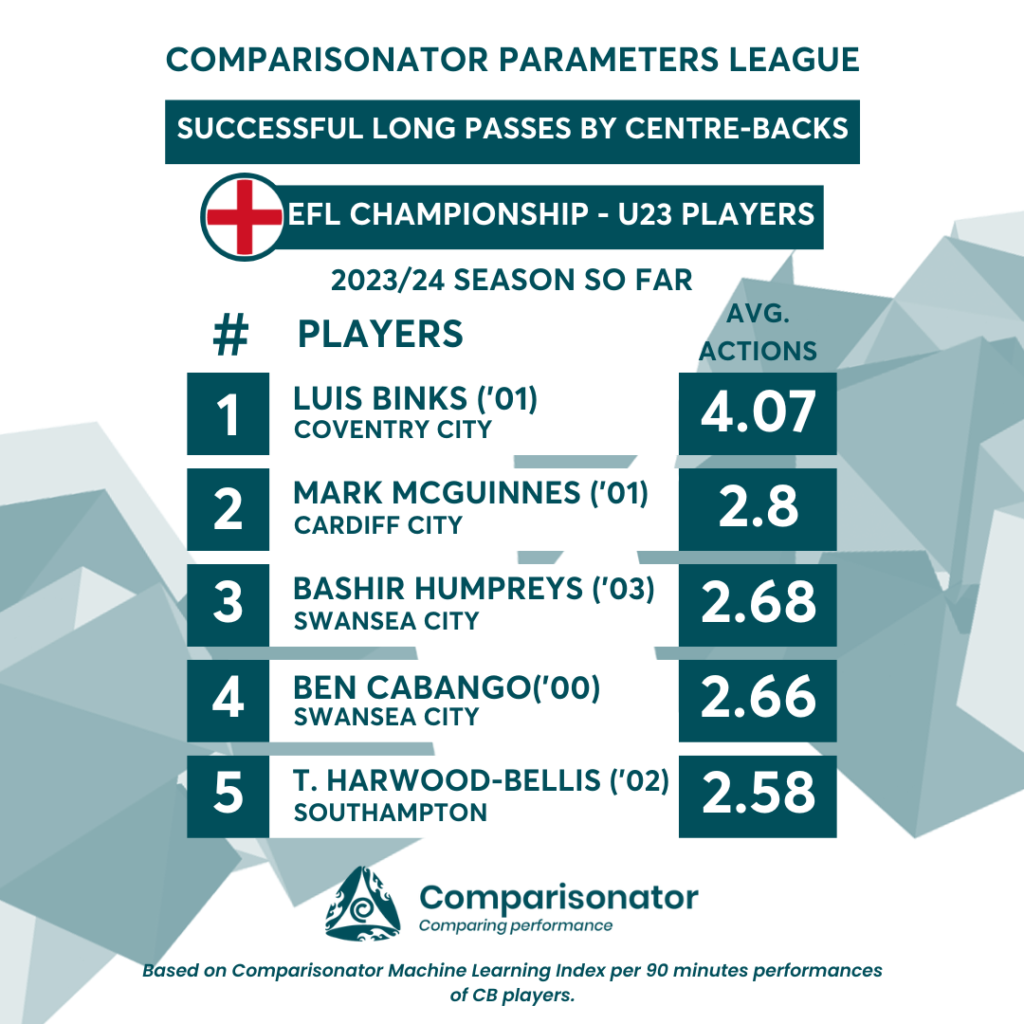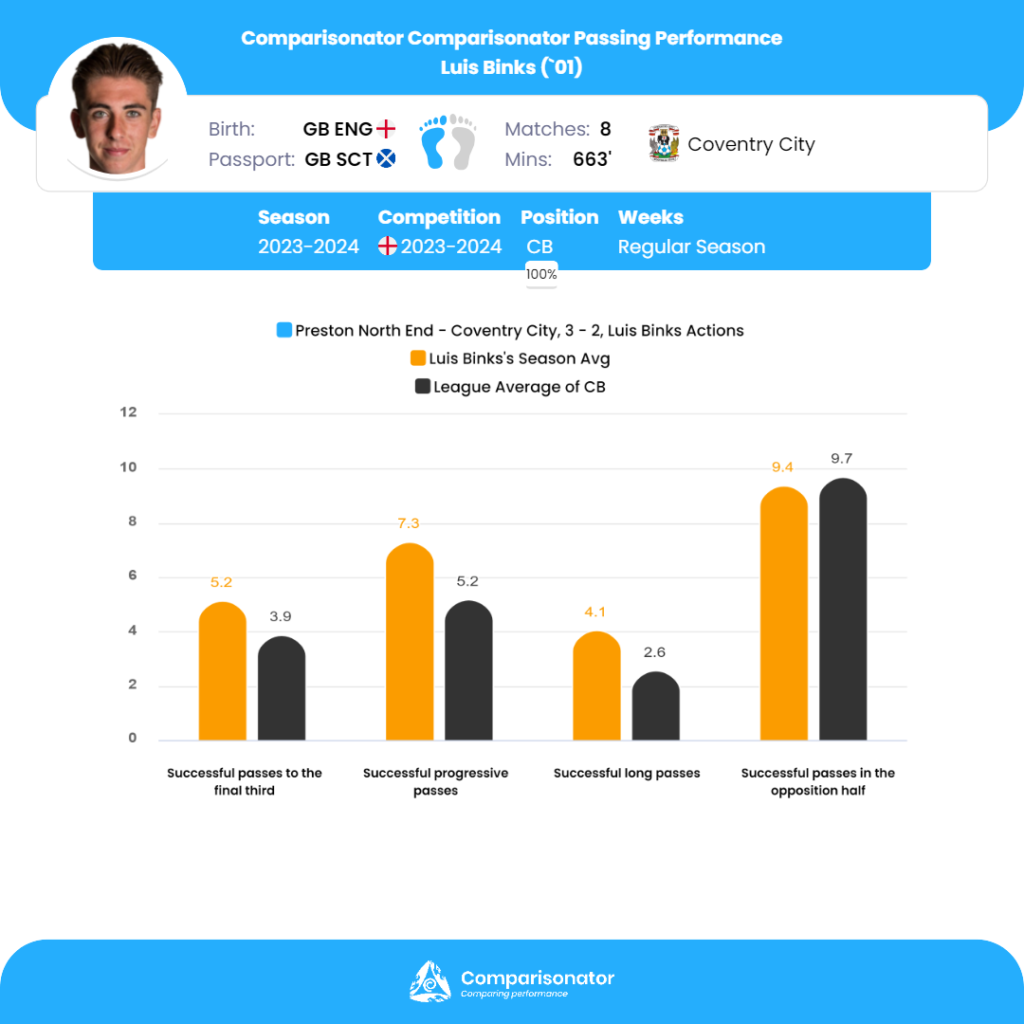 HOW DOES COMPARISONATOR's RECRUITMENT FEATURE WORKS?
"Recruitment Shop" allows recruiters & scouts to search/list players with one click from any league and any position according to their performance (using artificially intelligent Comparisonator Performance index), height, age, passport country. Player actions can be filtered towards qualities searched for. Out of contract players can be found from more than 300.000 players within the database.
For example decision makers will can list all U21 best centre forwards (or any positions) in Croatia & Serbia (or from 275 competitions), add amount of goals, aerial duels won if looking for a target man from the filter section, or dribbles made if looking for forwards. Very simply detail the position to search to find suitable players.
Selected via Comparisonator machine learning index.
Data Comparisons provided by Comparisonator is for educational purposes only and not intended to be monetized.