In the Denmark Superliga, the quest for excellence among U23 talents is a defining aspect of the league's landscape. Comparisonator platform has diligently analyzed player performance across five vital parameters: successful dribbles by midfielders, key passes by wingers, pass interceptions by fullbacks, touches in the box by strikers, and duels won by center-backs. In this comprehensive assessment, we delve into these categories and spotlight the emerging stars who are shaping the future of Danish football within the Superliga.
Our team of recruitment analysts dived into Denmark Superliga current season, and listed top 5 leaders in each parameter category:
Successful Dribbles by Midfielders
Key Passes by Wingers
Pass Interceptions by Fullbacks
Touches in Box by Strikers
Duels Won by Centre-Backs
Best U23 Players in the Denmark Superliga in 5 Parameters
The best 5 players ranked in the selected parameters based on the matches played so far this season. These players ranked according to their per 90 min averages. In this analysis, the Comparisonator team used the Recruitment Shop feature of the Platform.

Please note that all numbers are per 90 min data from the 2023/24 Season So Far.
HOW DOES COMPARISONATOR's RECRUITMENT FEATURE WORKS?
"Recruitment Shop" allows recruiters & scouts to search/list players with one click from any league and any position according to their performance (using artificially intelligent Comparisonator Performance index), height, age, passport country. Player actions can be filtered towards qualities searched for. Out of contract players can be found from more than 300.000 players within the database.
For example decision makers will can list all U21 best centre forwards (or any positions) in Croatia & Serbia (or from 275 competitions), add amount of goals, aerial duels won if looking for a target man from the filter section, or dribbles made if looking for forwards. Very simply detail the position to search to find suitable players.
In summary, the Denmark Superliga is witnessing the rise of remarkable U23 talents who excel in these five crucial parameters. These emerging stars promise a bright future for Danish football, both domestically and on the international stage.
Successful Dribbles
At the heart of the action, midfielders are pivotal in controlling the game, and Sören Tengstedt leads the way with an impressive average of 2.6 successful dribbles per 90 minutes. Tochi Chukwuani closely follows with 2.57 successful dribbles, securing the second spot. Romi Al-Hajj demonstrates his dribbling prowess in third place with 2.35 successful dribbles, while Mohamed Diomande and Pelle Mattson complete the top five with 1.74 and 1.24 successful dribbles respectively. These midfielders not only orchestrate play but also navigate past opposition defenses effectively.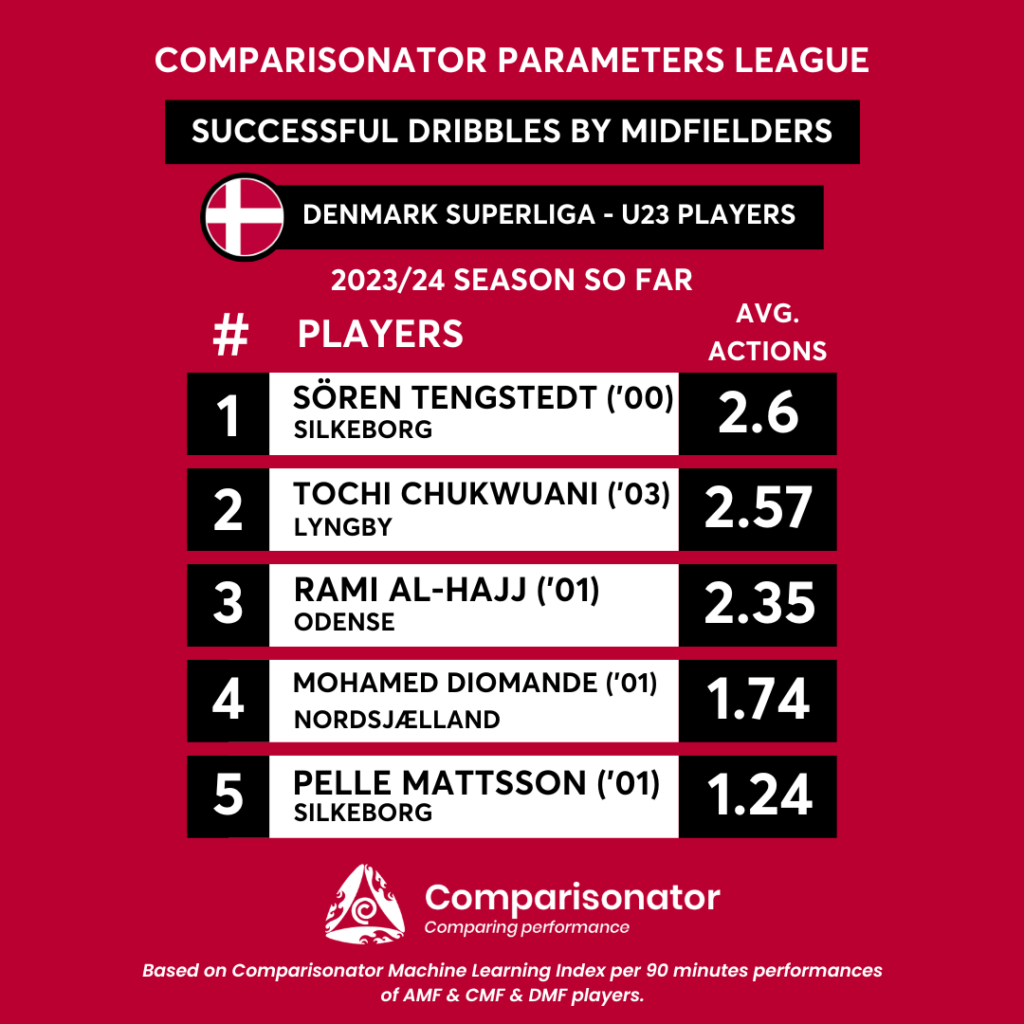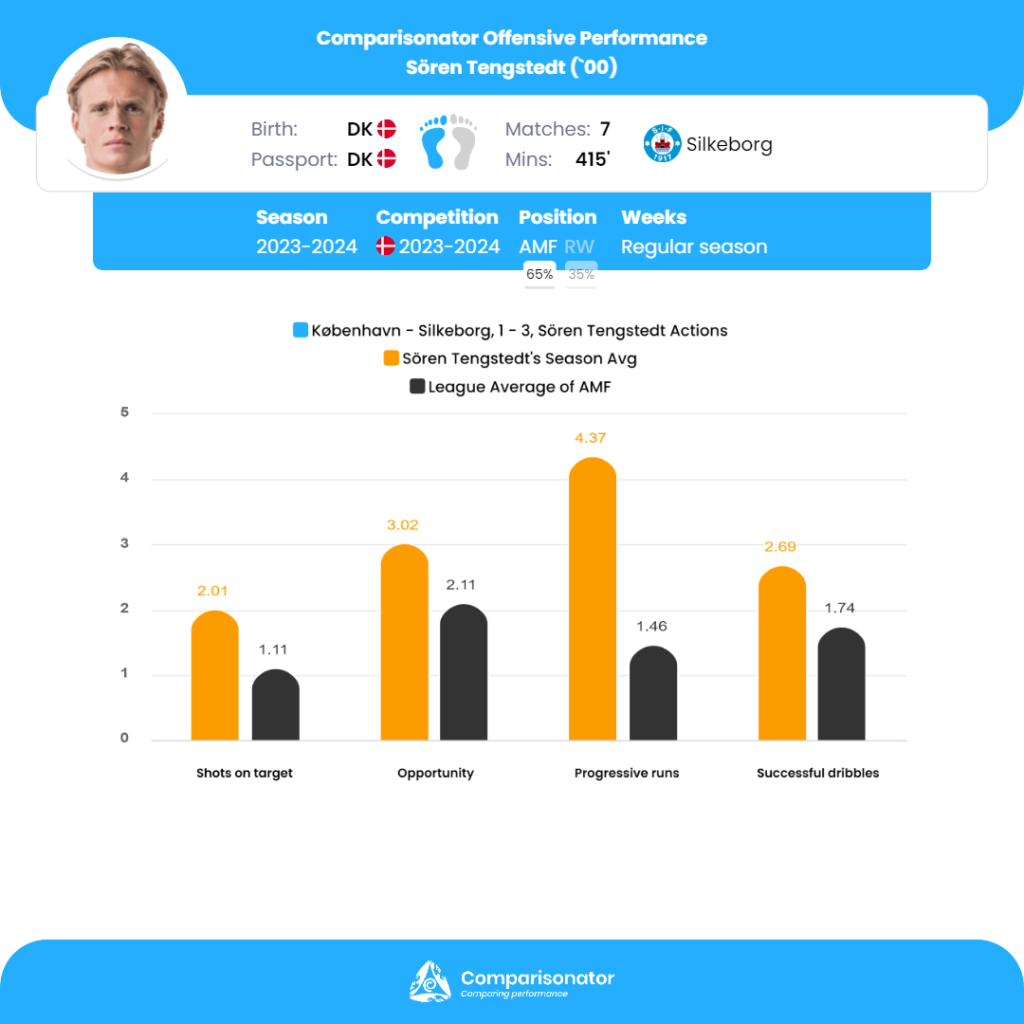 Key Passes
Wingers bring flair to the game, and Roony Bardghjii stands out with an average of 1.01 key passes per 90 minutes. Serginho is not far behind, securing the second spot with 0.84 key passes, while Tobias Bech displays his creative abilities in third place with 0.77 key passes. Ibrahim Osman and Musa Jawara follow closely with 0.75 and 0.68 key passes respectively. These wingers are instrumental in creating goal-scoring opportunities.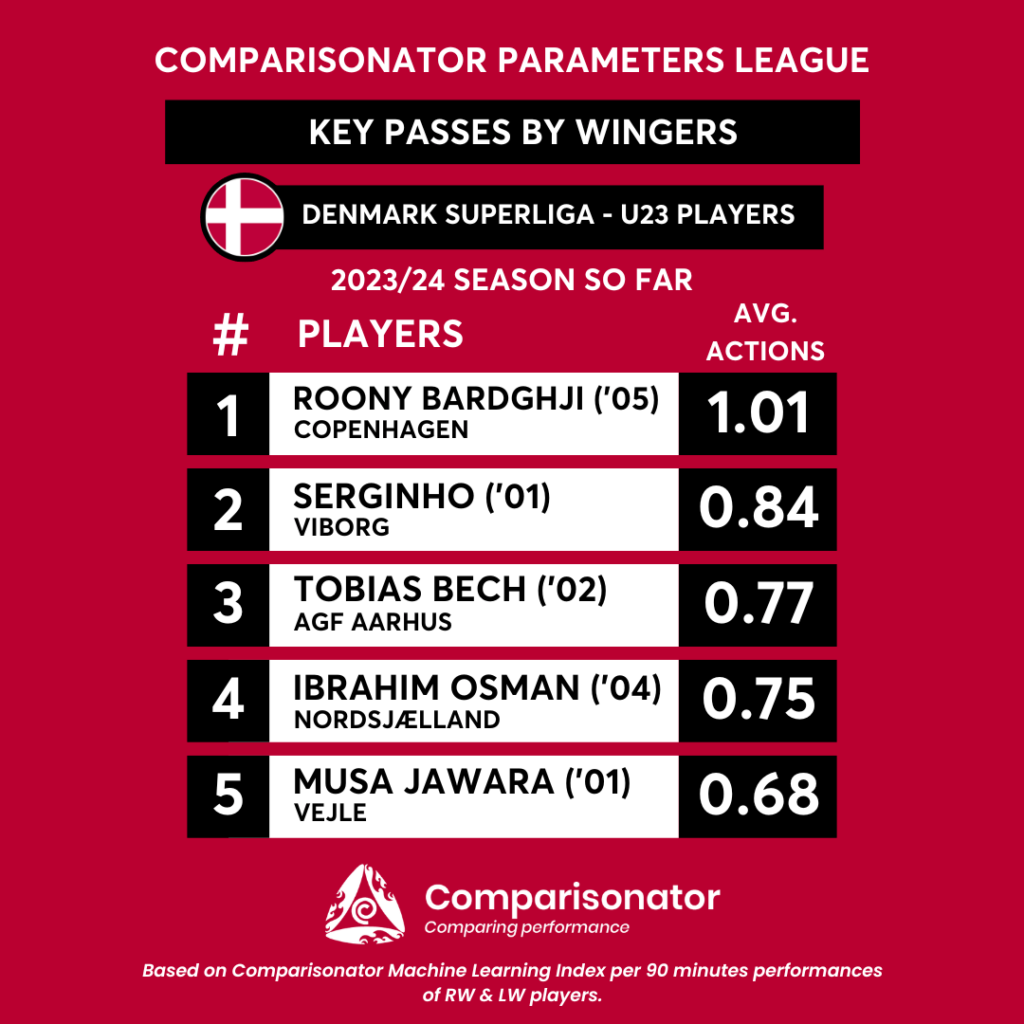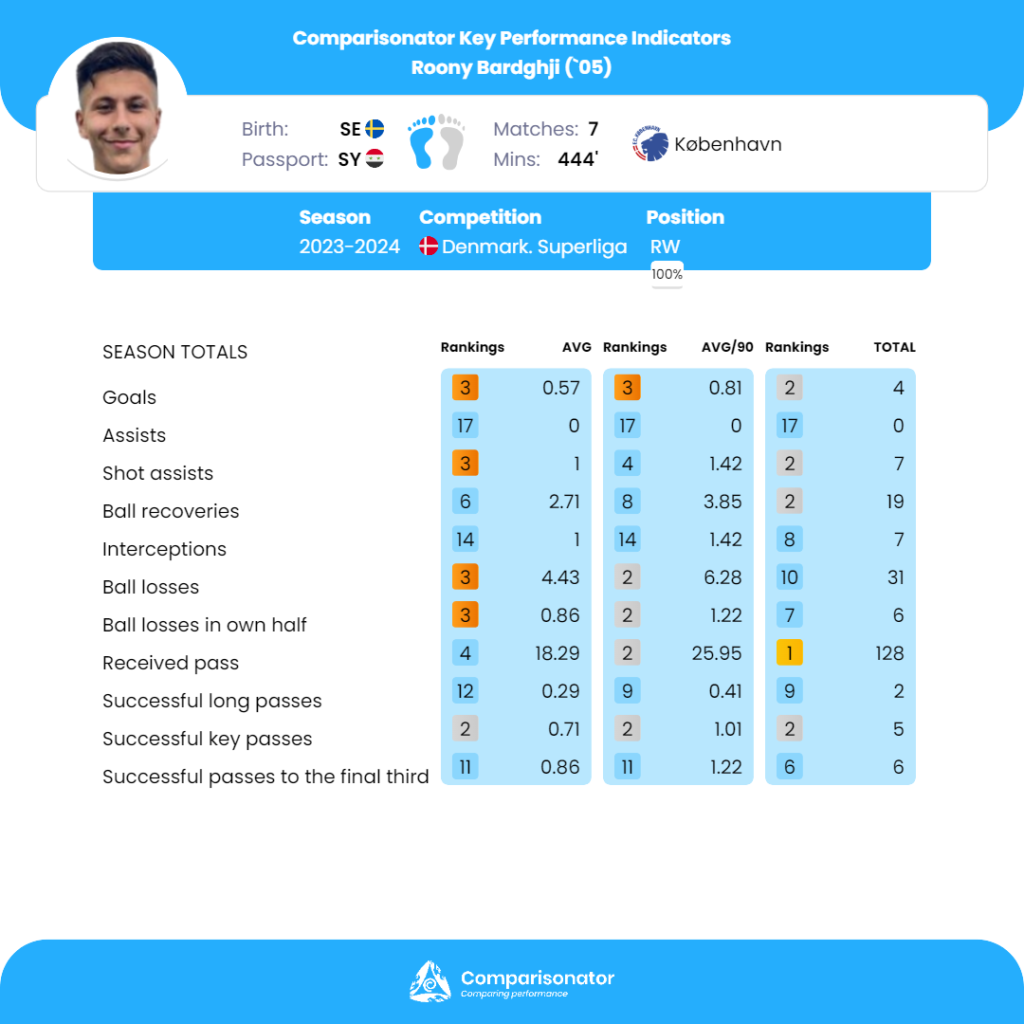 Pass Interceptions
Fullbacks contribute to both attack and defense, and Oliver Sonne leads in pass interceptions with an impressive 4.85 per 90 minutes. Wiliam Kaastrup secures the second position with 3.79 pass interceptions, while Willy Cumado and Magnus Lysholm follow with 3.41 and 3.4 pass interceptions respectively. Oliver Villadsen completes the top five with 3.08 pass interceptions. These fullbacks not only defend resolutely but also disrupt opponents' passing lanes effectively.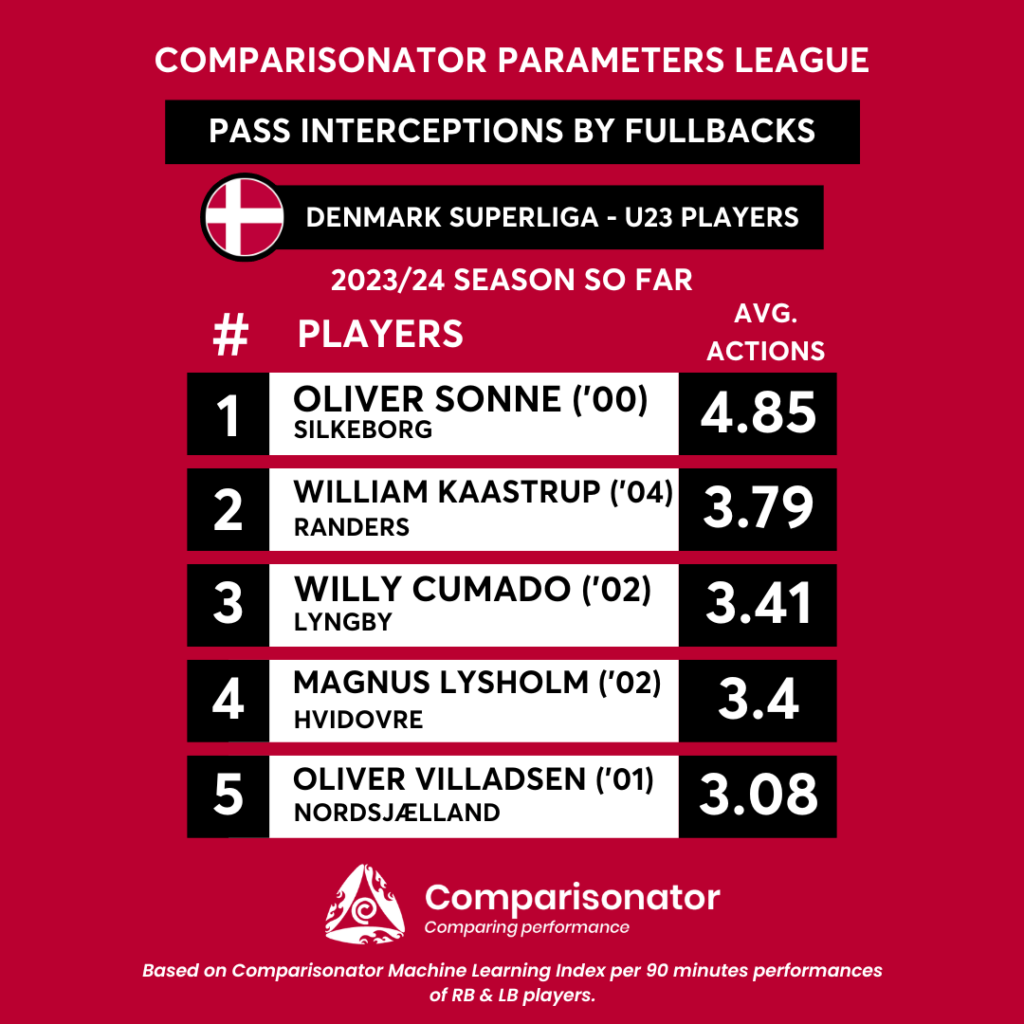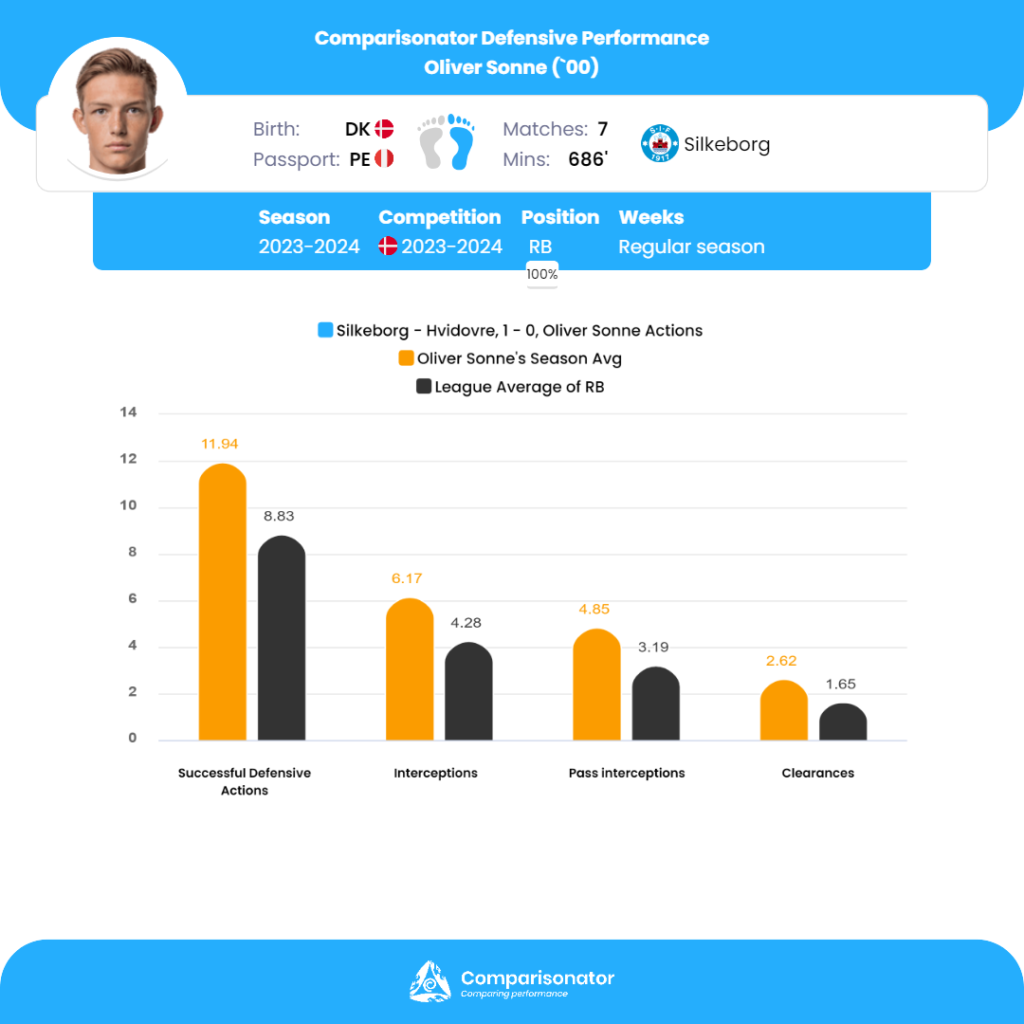 Touches in Box
Strikers are the goal-scorers, and Mathias Kvistgaarden leads with an average of 5.65 touches in the box per 90 minutes. Orri Óskarsson secures the second spot with 4.13 touches, while Anosike Ementa and Filip Bundgaard share the third position with 2.95 touches. Alexander Lind follows closely. These strikers are constantly involved in goal-scoring positions, posing a constant threat to opposition defenses.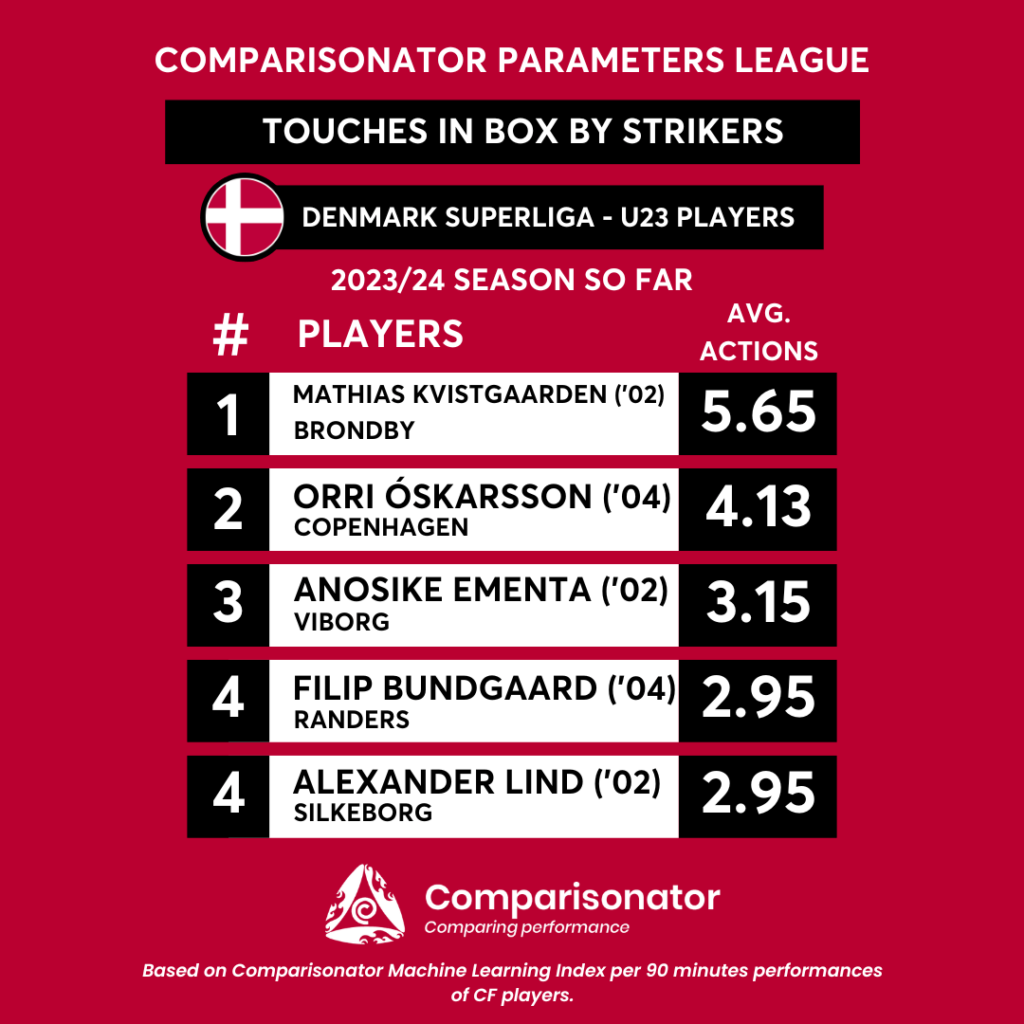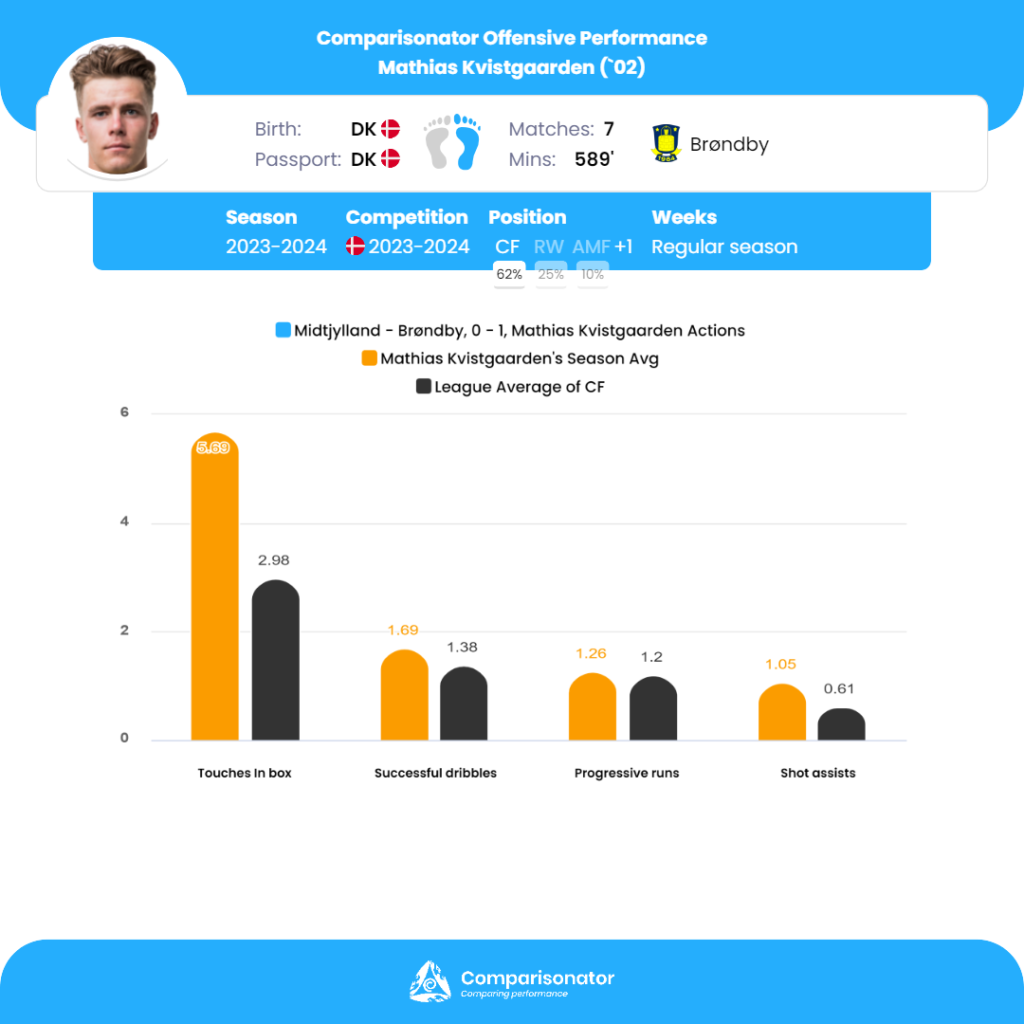 Duels Won
In the heart of the defense, center-backs are pivotal in maintaining a solid backline, and Lucas Hey leads the way with an impressive average of 11.75 duels won per 90 minutes. Oliver Provstgaard secures the second position with 10.21 duels won, while Valdemar Lund and Henrik Heggheim follow with 10 and 9.76 duels won respectively. Alexander Busch completes the top five with 9.05 duels won. These center-backs not only provide resolute defending but also actively engage in battles for possession.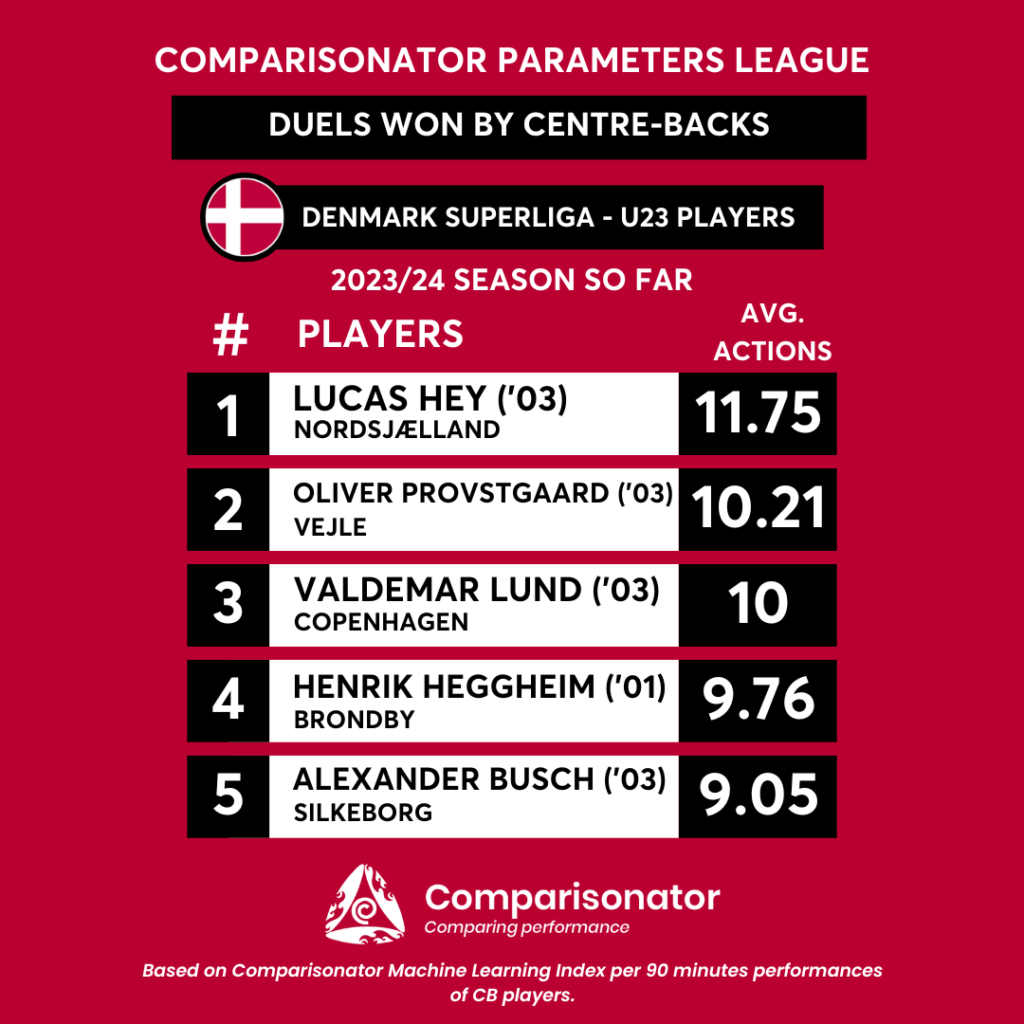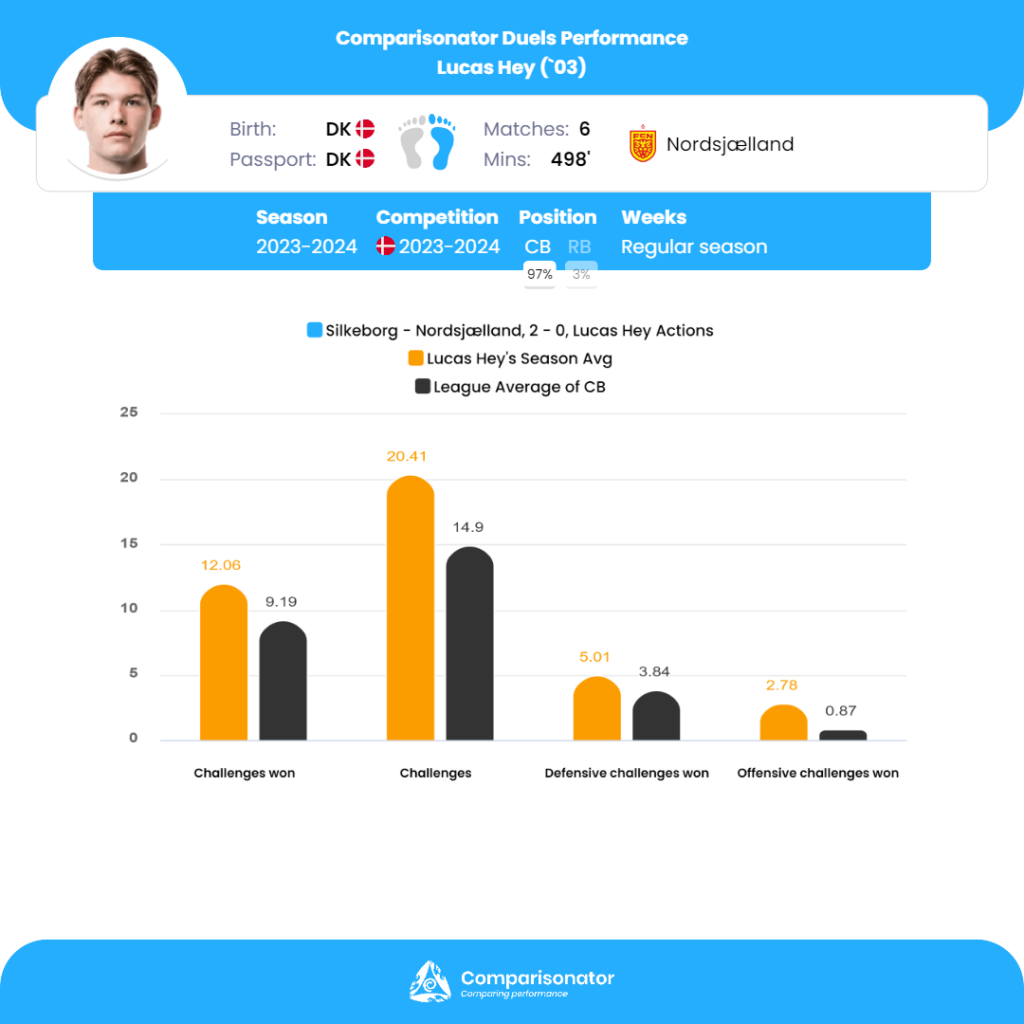 Selected via Comparisonator machine learning index.
Data Comparisons provided by Comparisonator is for educational purposes only and not intended to be monetized.