In the UEFA Conference League Play Off Round, three standout players have emerged as the best in their respective positions, as identified by the Comparisonator platform. These players have not only showcased their exceptional skills but have also consistently outperformed their peers in key statistical categories.
Cadu, the left-back from Viktoria Plzeň, has demonstrated his prowess in defense and attack with impressive statistics such as shots on target, expected goals (XG), and successful dribbles. Meanwhile, Bartosz Slisz of Legia Warszawa has proven to be a formidable force in the central midfielder position, excelling in interceptions in the opponent's half and ball recoveries. Lastly, Ollie Watkins, the centre forward for Aston Villa, has showcased his scoring ability with remarkable statistics in shots on target and touches in the box. In this article, we delve into the performances of these three exceptional players and how their contributions have made a significant impact on their respective teams' journeys in the UEFA Conference League. Our platform calculated total performances based on 2 play off games:
Best XI
Best Defender
Best Midfielder
Best Forward
Best Player Performances of UEFA Europa Conference League –
2023-24 Season Play Off Round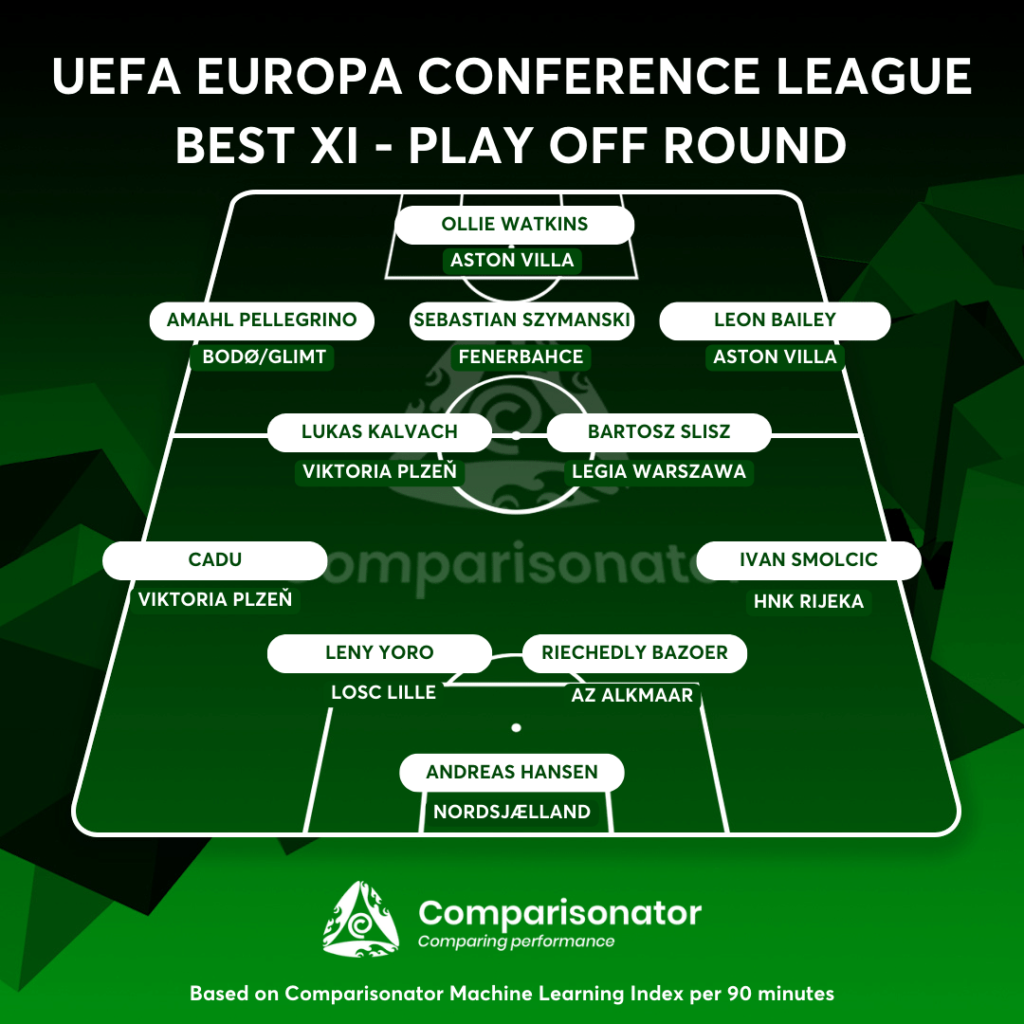 Cadu – (LB) Viktoria Plzeň
Cadu, who occupies the left-back position for Viktoria Plzeň, has been a revelation in the UEFA Conference League Play Off Round. His statistics speak volumes about his versatility and effectiveness on the pitch. Cadu has managed to find the target with his shots, boasting an impressive one shot on target. Furthermore, his expected goals (XG) of 0.69 showcases his ability to create goal-scoring opportunities from his position in defense. Cadu's dribbling prowess is equally remarkable, as he has successfully completed nine dribbles, leaving opponents in his wake. These impressive numbers not only highlight his offensive capabilities but also his defensive solidity, making him a crucial asset for his team.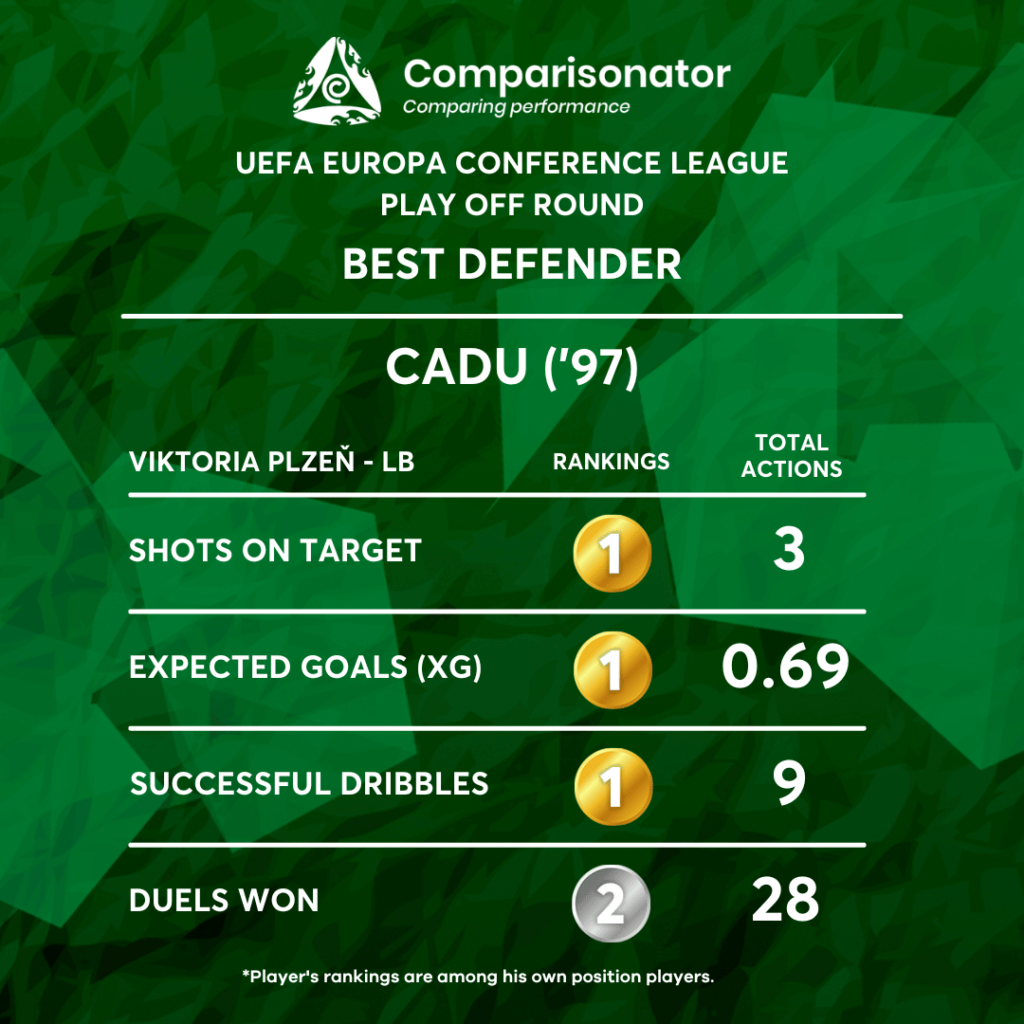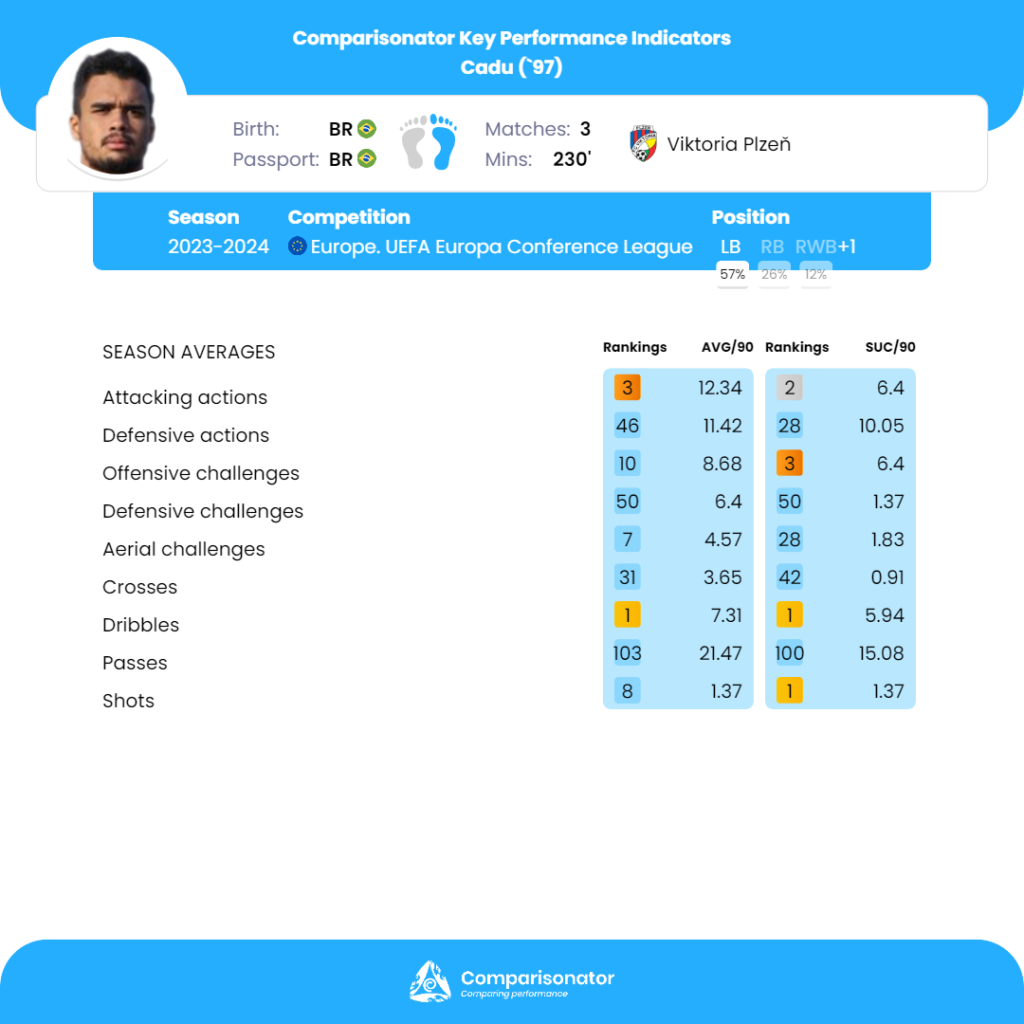 Bartosz Slisz – (CMF) Legia Warszawa
Legia Warszawa's central midfielder, Bartosz Slisz, has taken the UEFA Conference League by storm. He has displayed incredible composure and vision in the heart of the midfield. The Comparisonator platform has ranked him as the top central midfielder in the tournament, with an astonishing score of 996. Slisz's ability to read the game and intercept opponents' plays in their half has been a game-changer, with a league-leading eight interceptions in the opponent's half. Moreover, his ball recoveries, totaling 34, demonstrate his work rate and tenacity in regaining possession for his team. Slisz's presence in the midfield has undoubtedly been a key factor in Legia Warszawa's success in the competition.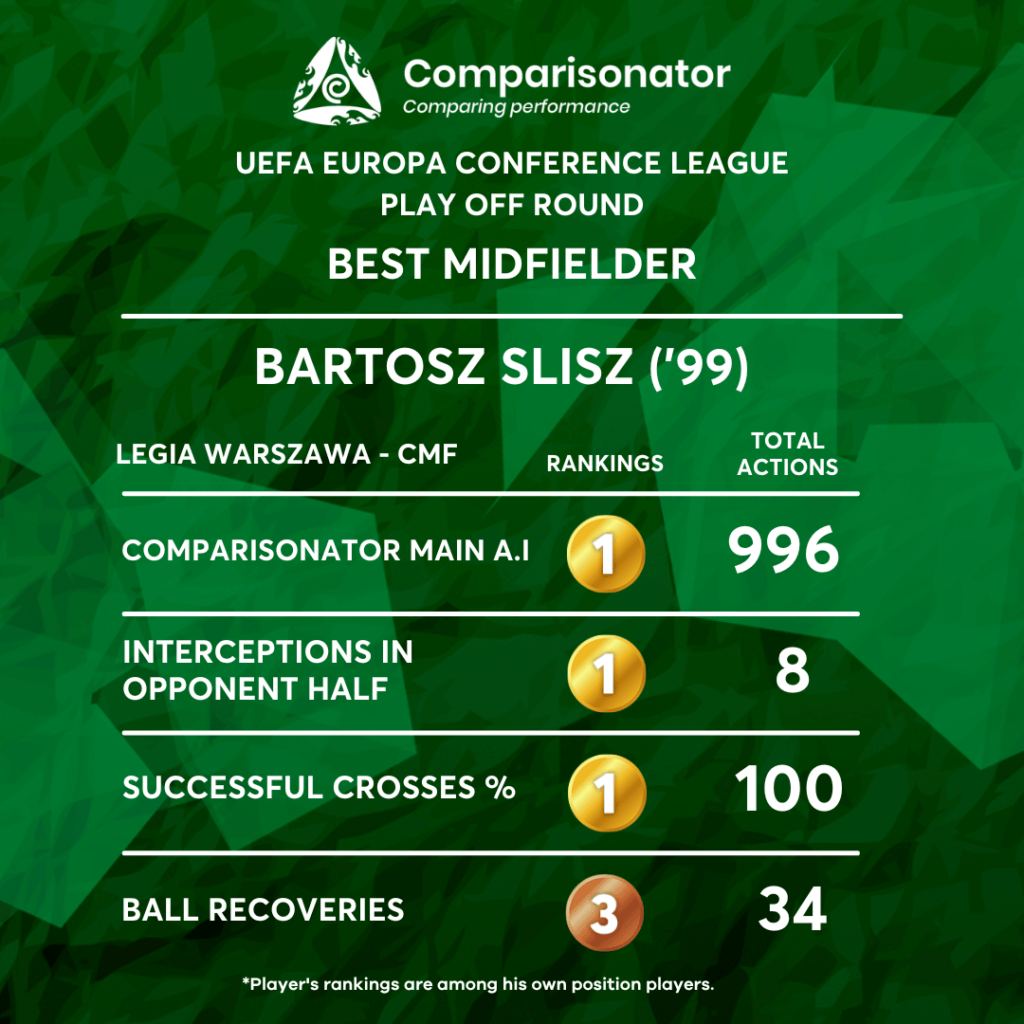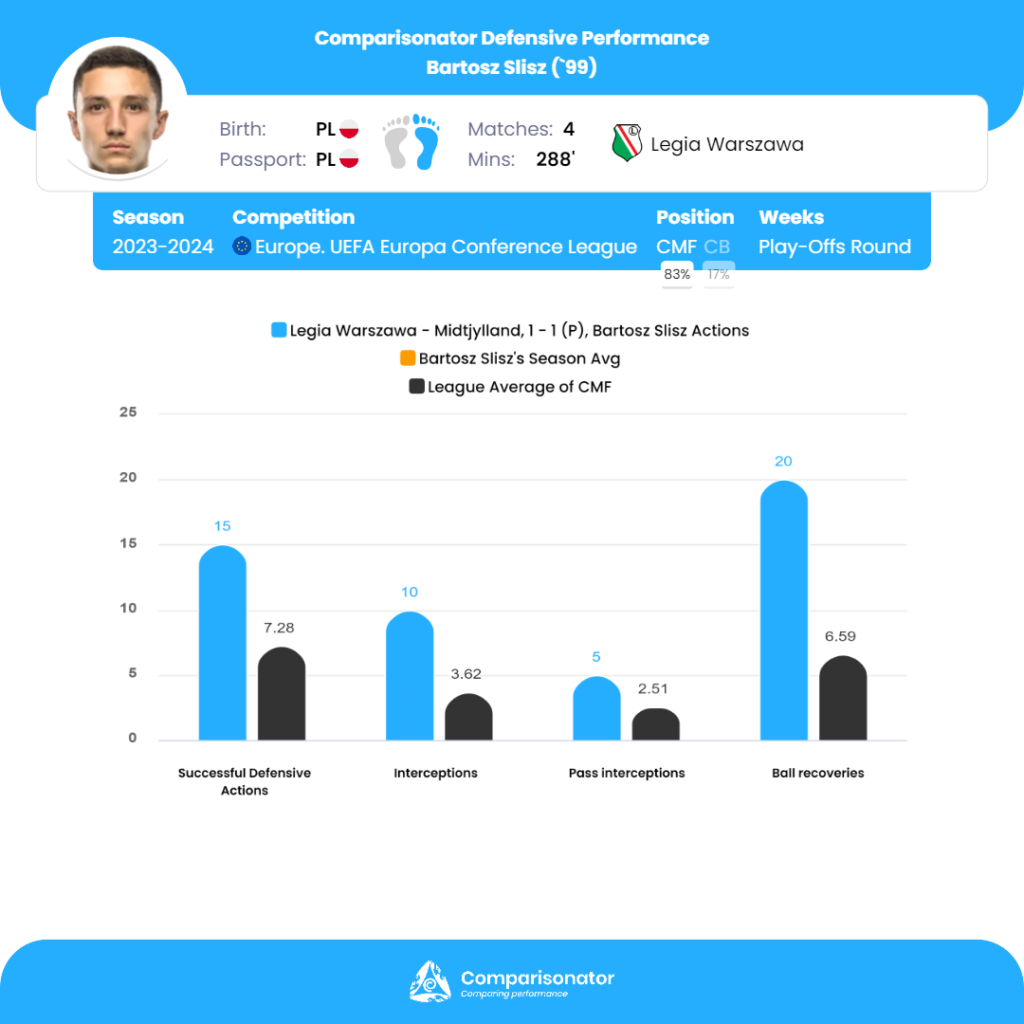 Ollie Watkins – (CF) Aston Villa
Aston Villa's centre forward, Ollie Watkins, has been a constant threat in the UEFA Conference League Play Off Round. His remarkable statistics have earned him the title of the best centre forward by Comparisonator's main AI, with a score of 1053. Watkins has demonstrated his finishing ability with two shots on target, putting immense pressure on opposing goalkeepers. Additionally, his ability to operate in the opponent's penalty area is evident through his 12 touches in the box, showcasing his positioning and movement off the ball. Watkins' contributions in front of goal have been invaluable to Aston Villa's success in the tournament, as he continues to find the back of the net with consistency.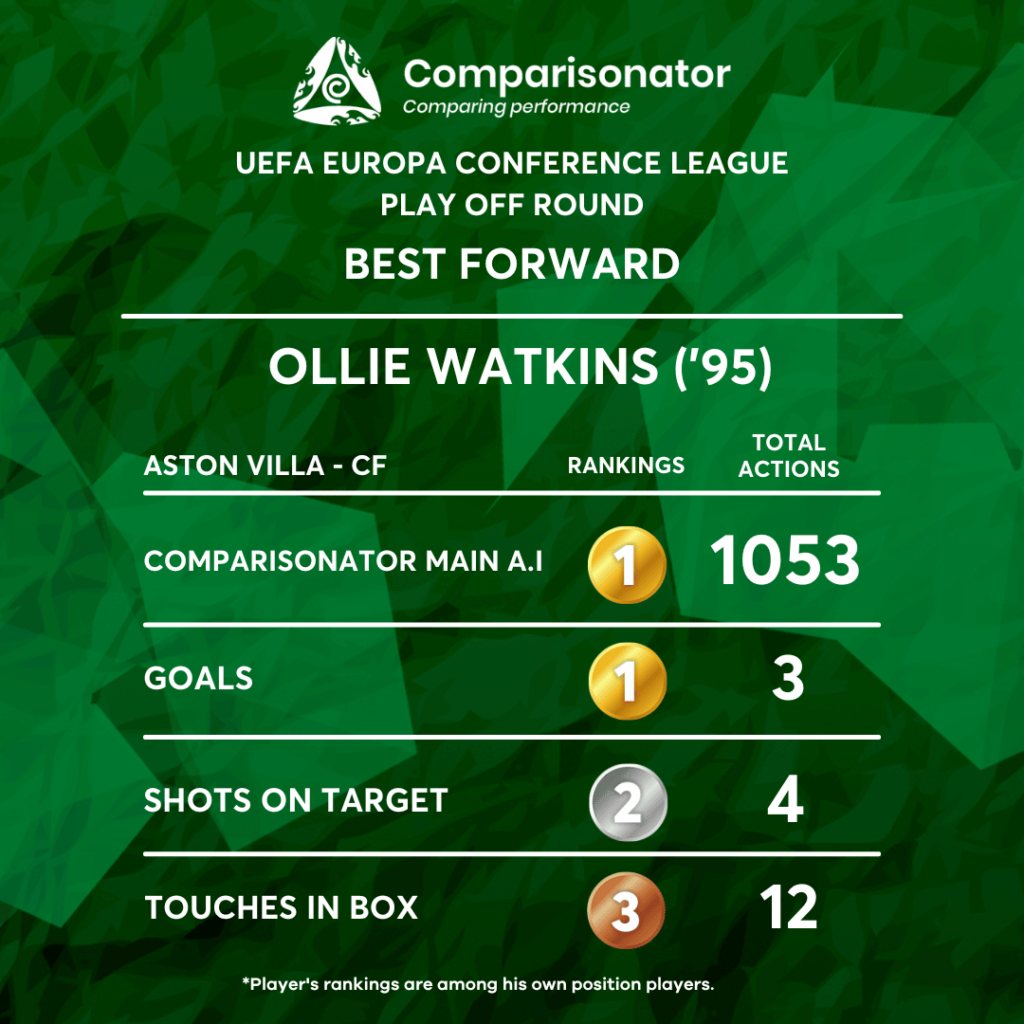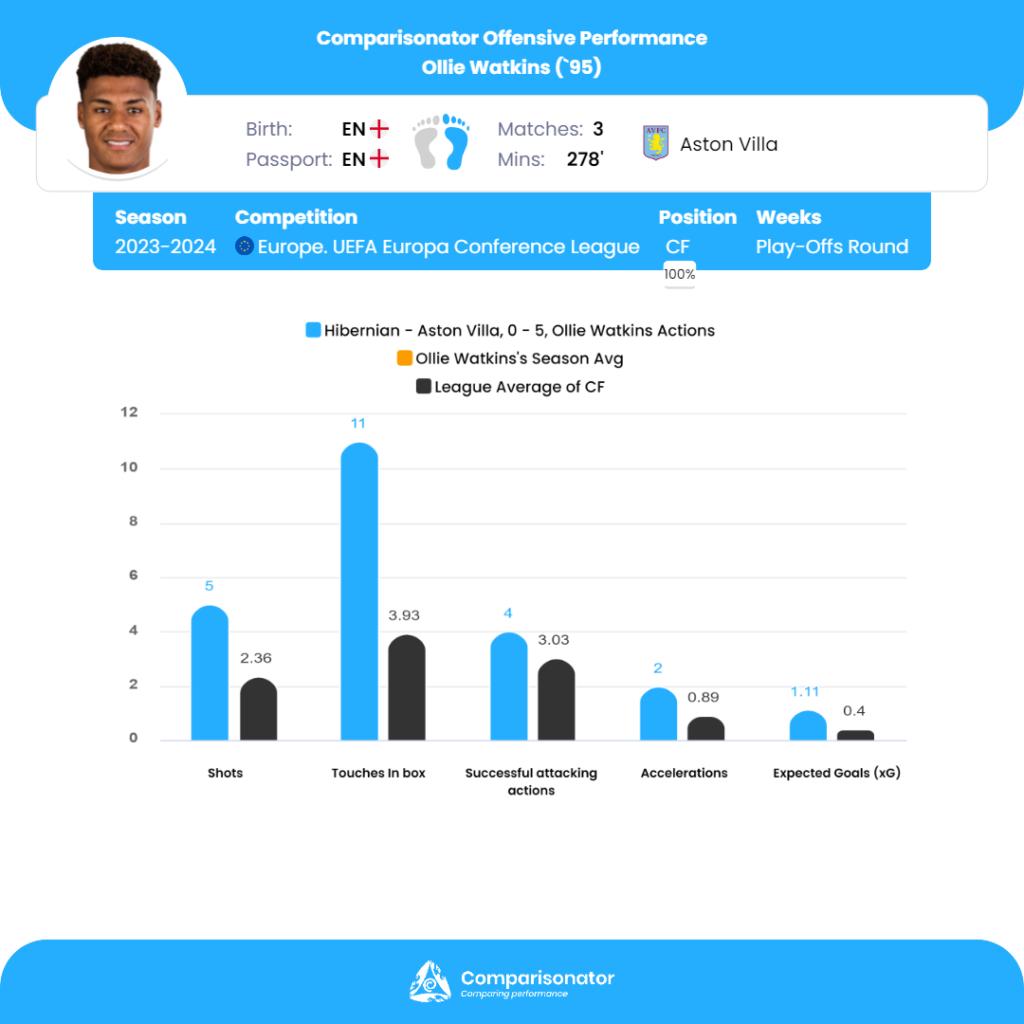 Selected via Comparisonator machine learning index.
Data Comparisons provided by Comparisonator is for educational purposes only and not intended to be monetized.