UEFA Conference League Group Stage kicked off with a bang, and three standout players emerged as the best in the opening week, according to Comparisonator platform. These exceptional athletes not only showcased their skills but also topped the charts in key statistical categories, leaving a lasting impression on the tournament. Luca Ranieri, the rock-solid centre-back from Fiorentina, displayed his scoring prowess and attacking contributions. Jakub Piotrowski, the central midfielder from Ludogorets, excelled in creating opportunities and finding the target. Finally, Andreas Skov Olsen, the dynamic right-winger for Club Brugge, impressed with his ability to influence the game in the final third. In this article, we delve into the performances of these three remarkable players and their significant impact on the UEFA Conference League's first week.
Best XI
Best Defender
Best Midfielder
Best Forward
Best Player Performances of UEFA Europa Conference League –
2023-24 Season Group Stage First Week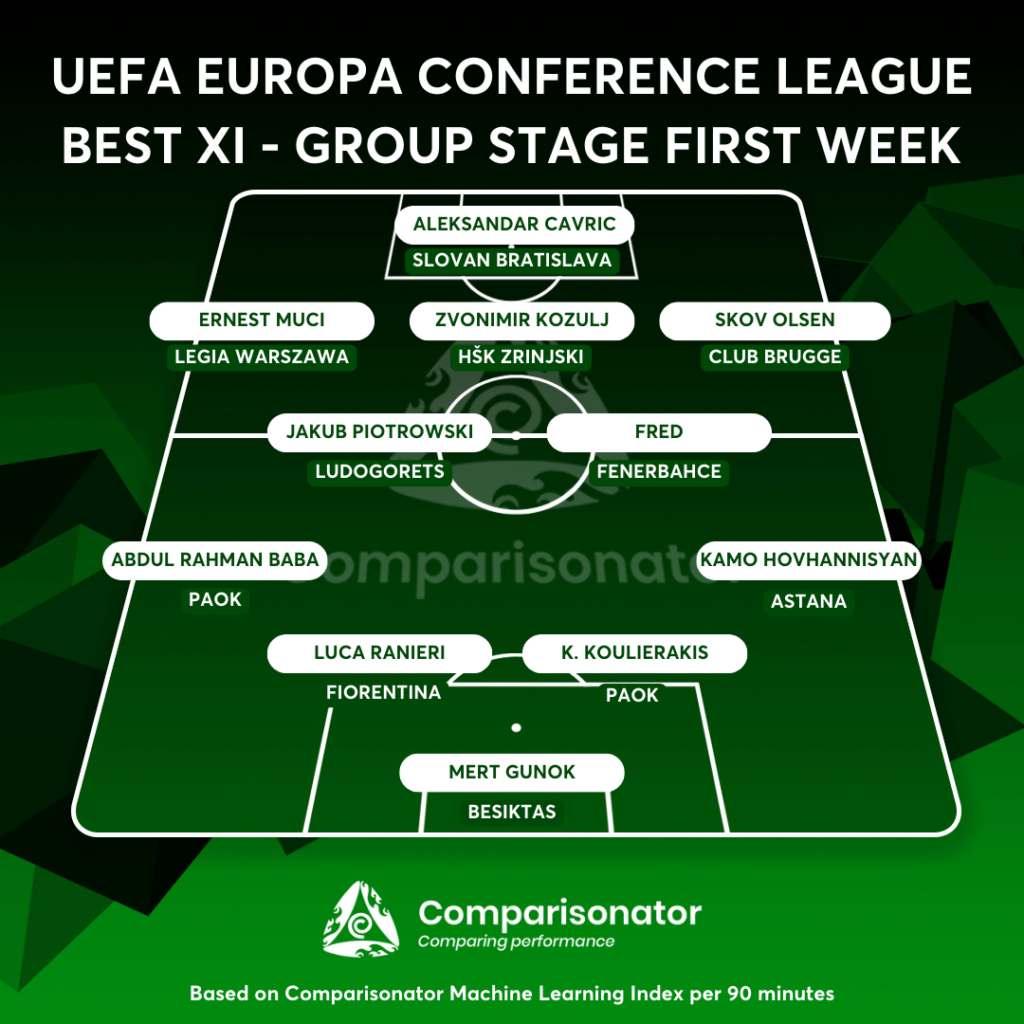 Luca Ranieri – (CB) Fiorentina
Luca Ranieri, patrolling the centre-back position for Fiorentina, stood out as a commanding presence in defense. His remarkable score of 850 from Comparisonator's main AI speaks volumes about his overall performance. Ranieri also showcased his scoring ability with two goals in the first week, a rare feat for a defender. Furthermore, his role in the attack was evident, as he registered the highest number of successful attacking actions (3). Ranieri's contributions in both ends of the pitch make him an invaluable asset for Fiorentina.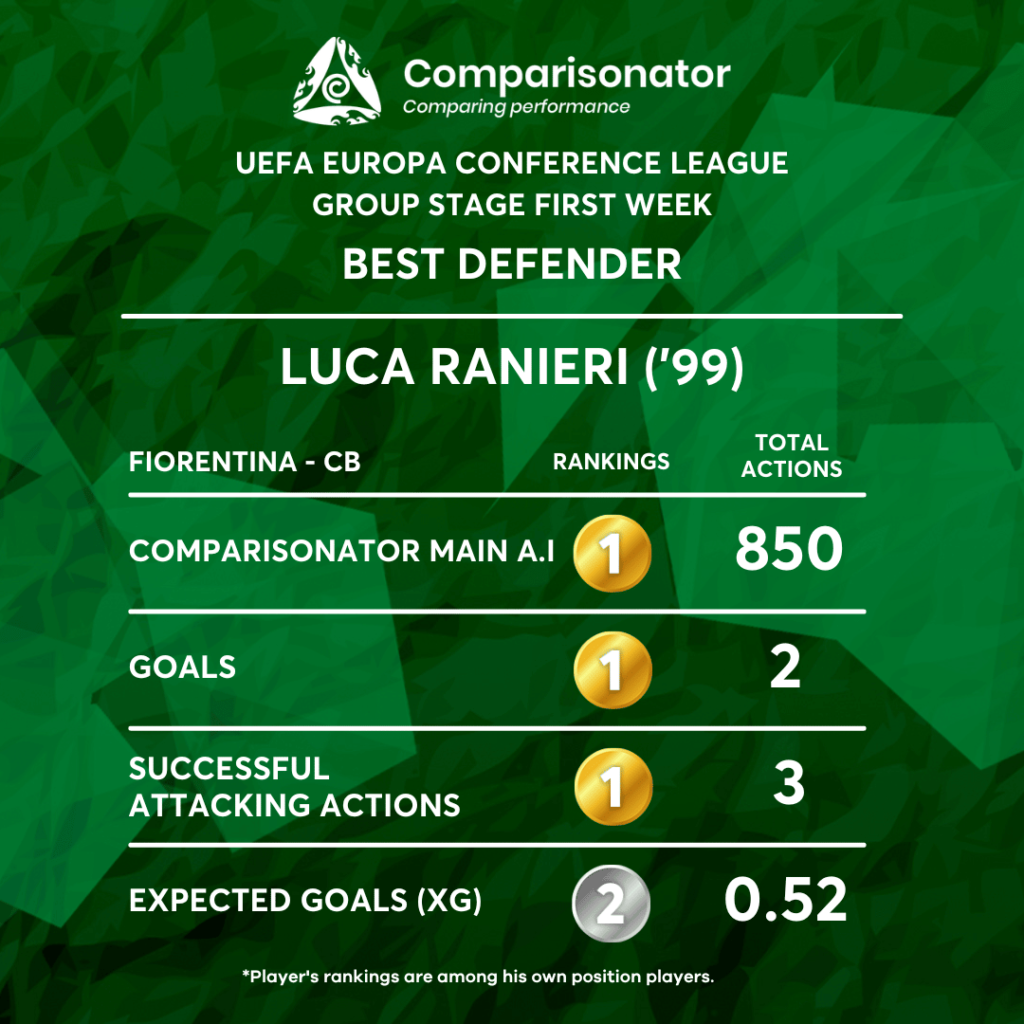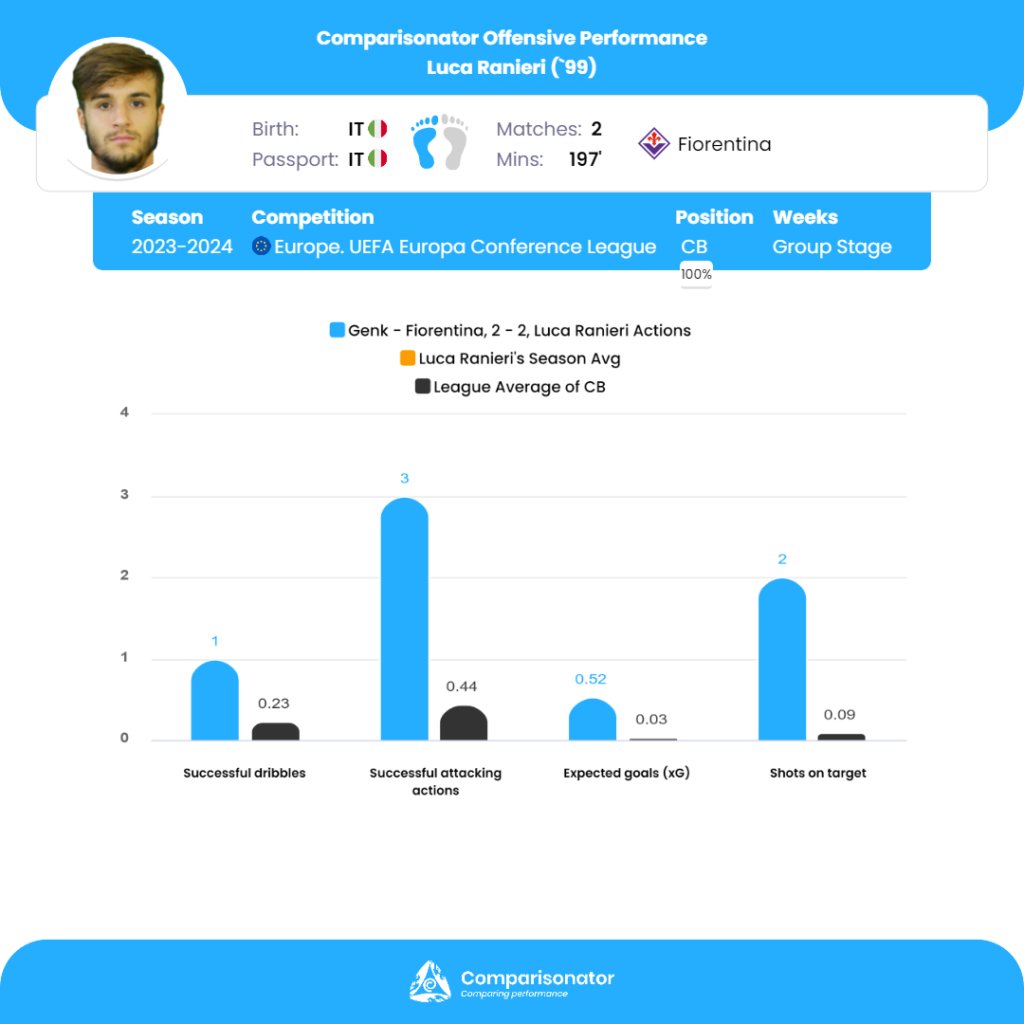 Jakub Piotrowski – (CMF) Ludogorets
Ludogorets' central midfielder, Jakub Piotrowski, proved to be the orchestrator in midfield. With an impressive ranking of 848 from Comparisonator's main AI, Piotrowski displayed his ability to create opportunities for his team. He led the league in this aspect with four opportunities created. Additionally, his three shots on target showcased his attacking intent and accuracy. Piotrowski's presence in midfield played a pivotal role in Ludogorets' success in the opening week.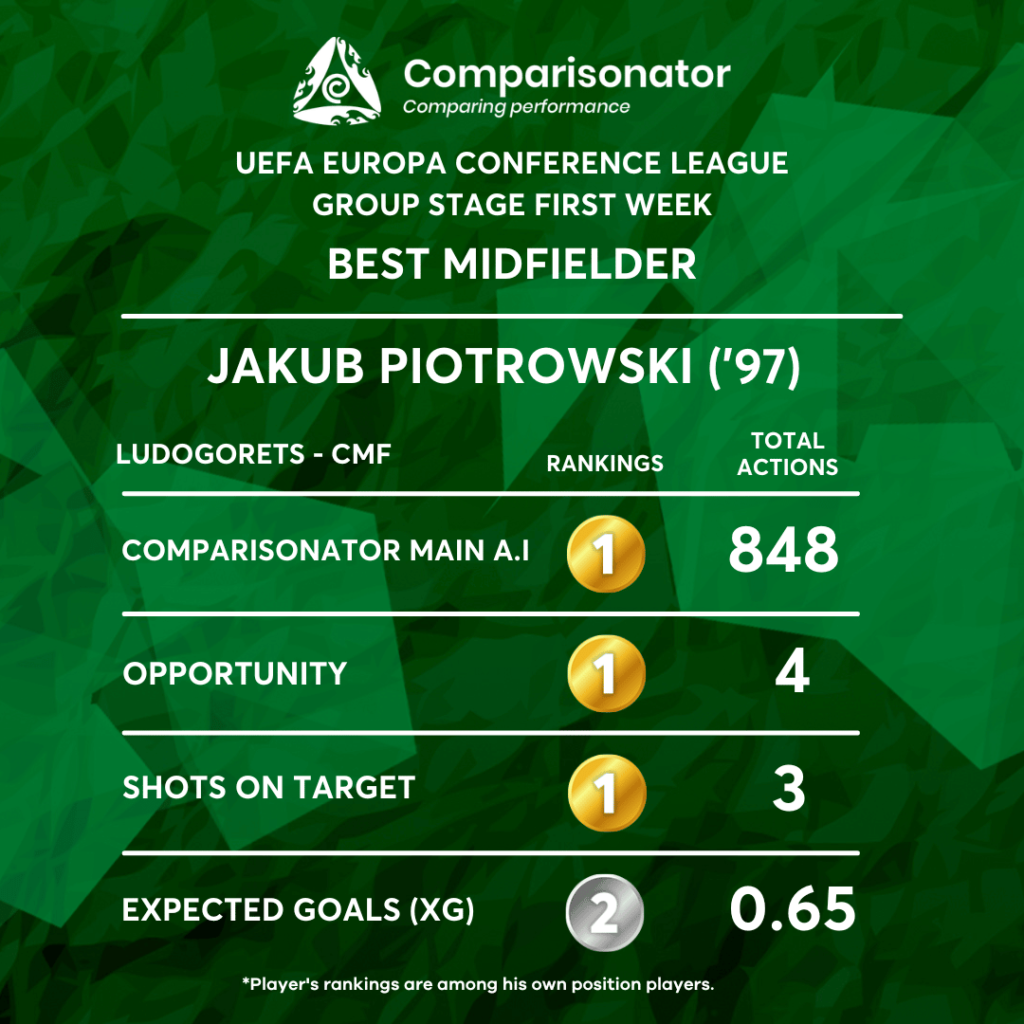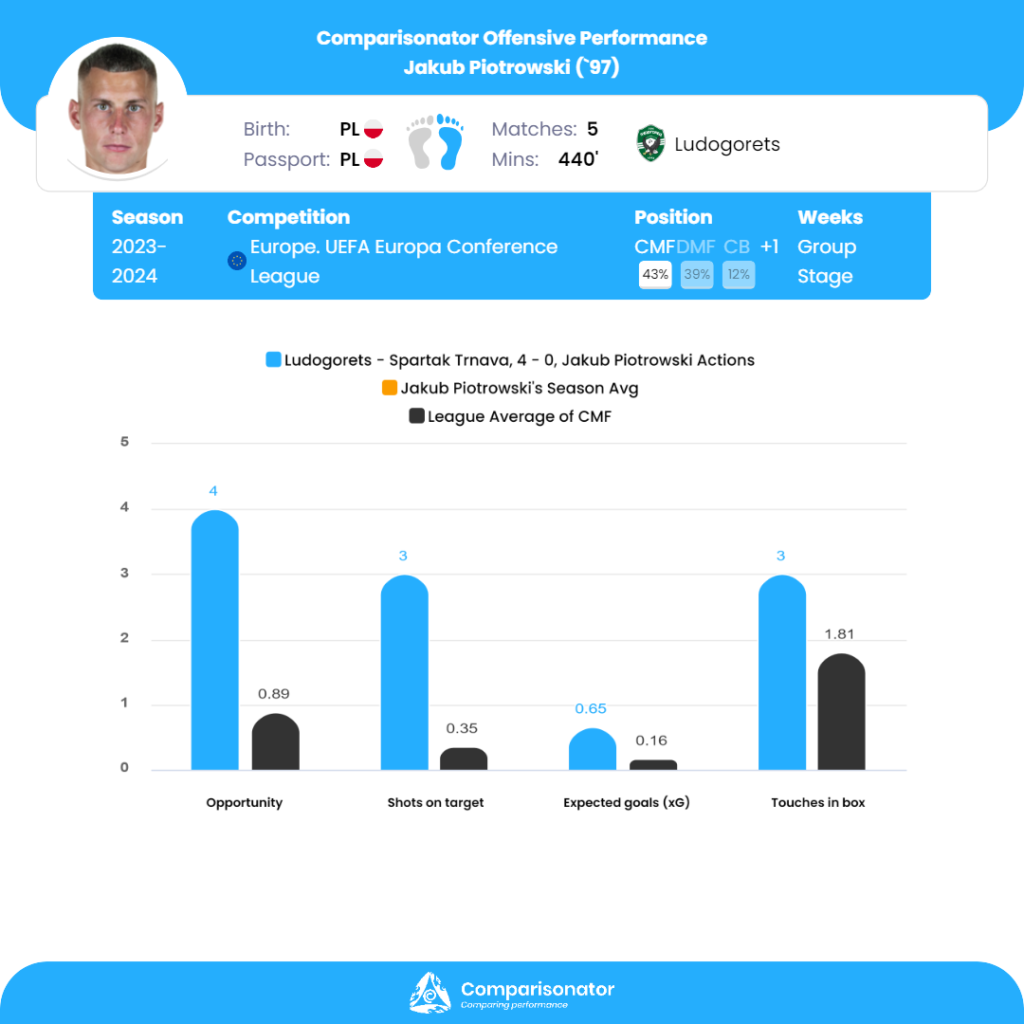 Andreas Skov Olsen – (RW) Club Brugge
Club Brugge's right-winger, Andreas Skov Olsen, brought a spark to the tournament with his dynamic performances. His top-ranking score of 717 from Comparisonator's main AI highlights his influence on the game. Skov Olsen created numerous opportunities for his team, topping the chart with four opportunities in the opening week. Furthermore, his seven touches in the box showcased his ability to get into scoring positions. Skov Olsen's energy and creativity on the right flank were instrumental in Club Brugge's strong start.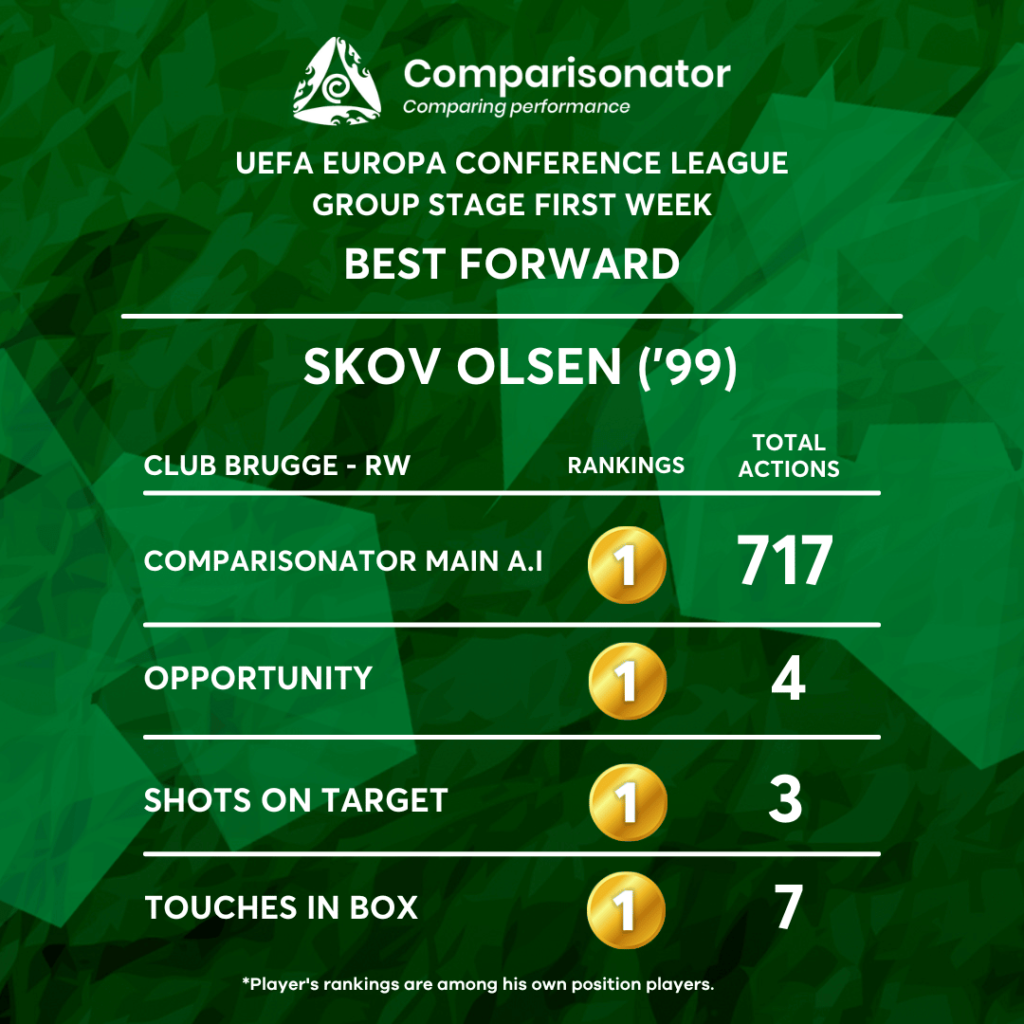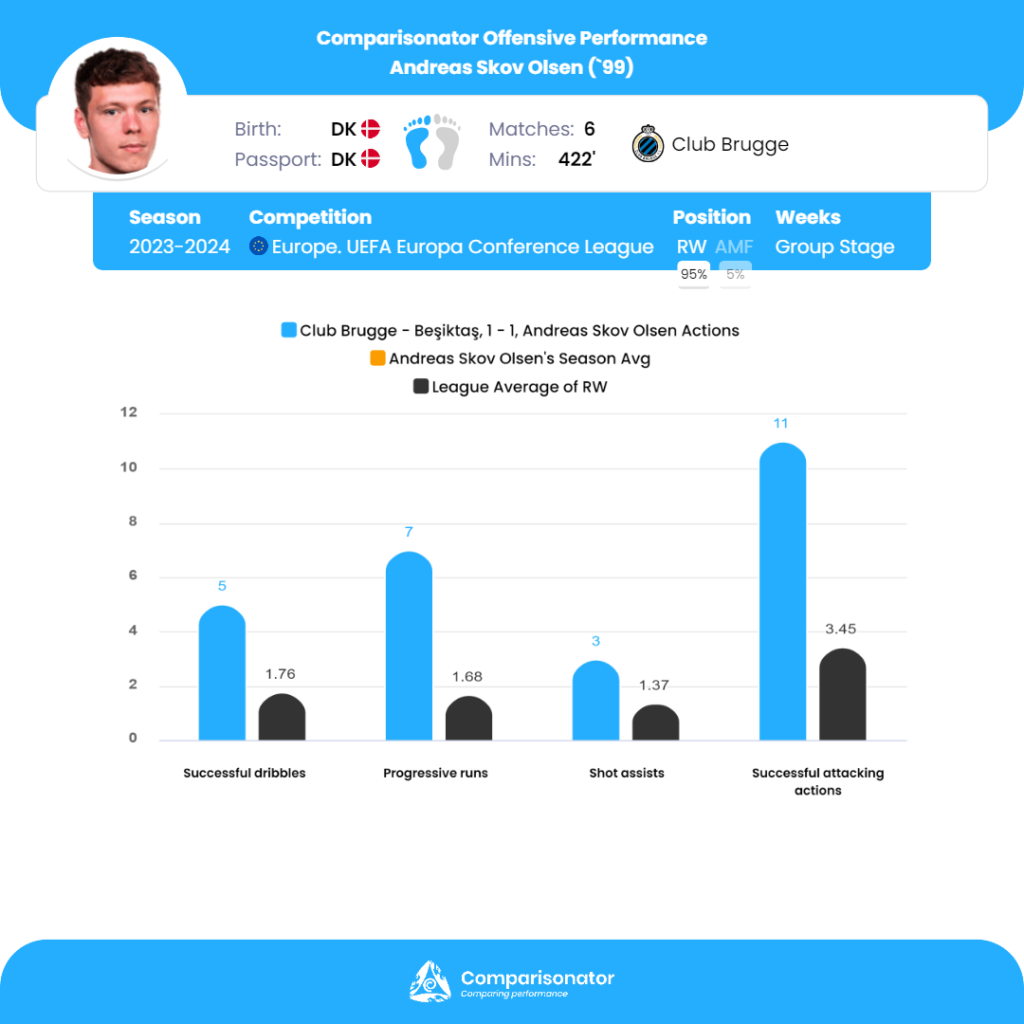 Selected via Comparisonator machine learning index.
Data Comparisons provided by Comparisonator is for educational purposes only and not intended to be monetized.