Prepare to embark on an analytical expedition through the intricate landscape of the UEFA Conference League Play Off Round's inaugural match. Guided by the meticulous Comparisonator platform, we're poised to dissect the data and uncover the top-performing protagonists who illuminated the pitch. Buckle up as we navigate through comprehensive player profiles, meticulously crafted to shed light on the intricate nuances that set these exceptional players apart in this exhilarating chapter of European football.
In summation, the debut match of the UEFA Conference League Play Off Round showcased an ensemble of standout performances. Lucas Digne's versatility, Matias Galarza's midfield dynamism, and Ollie Watkins' attacking mastery symbolize the vanguard of excellence within this enthralling chapter of European football.
Best XI
Best Forward
Best Midfielder
Best Defender
Best Player Performances of UEFA Europa Conference League –
2023-24 Season Play Off Round First Match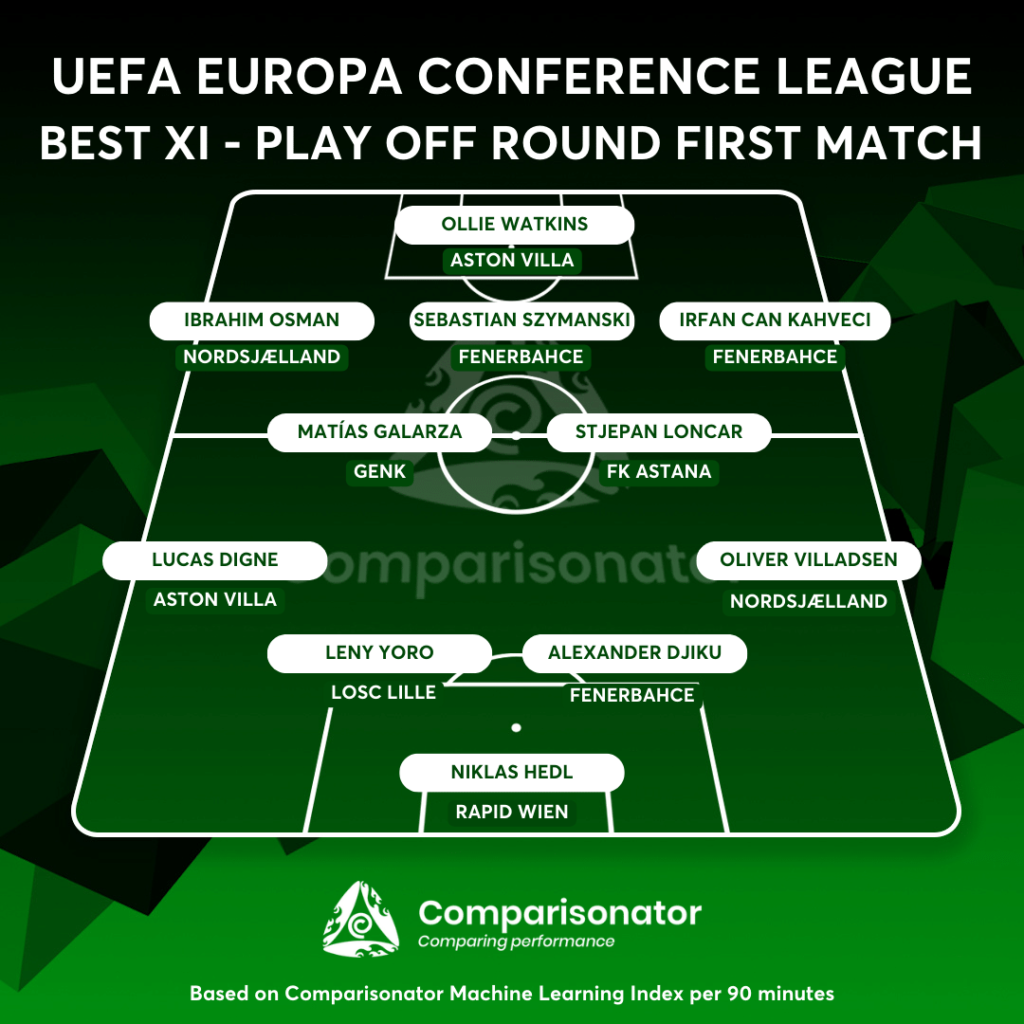 Lucas Digne – (LB) Aston Villa
Our odyssey commences with Lucas Digne, an integral cog in Aston Villa's tactical machinery. Amid the Play Off Round's debut match, Digne surfaces as the unequivocal pacesetter in the left-back role. Exhibiting profound playmaking acumen, he boasts a notable Expected Assists rating of 1.06. This figure aligns with his commanding presence in the Shot Assists category, where he emerges with a commendable count of 4. Further accentuating his influence, Digne dominates the Key Passes metric with an impressive tally of 3, underscoring his role in orchestrating offensive transitions. Evidently, Digne's proficiency extends well beyond defensive duties, culminating in a multidimensional impact.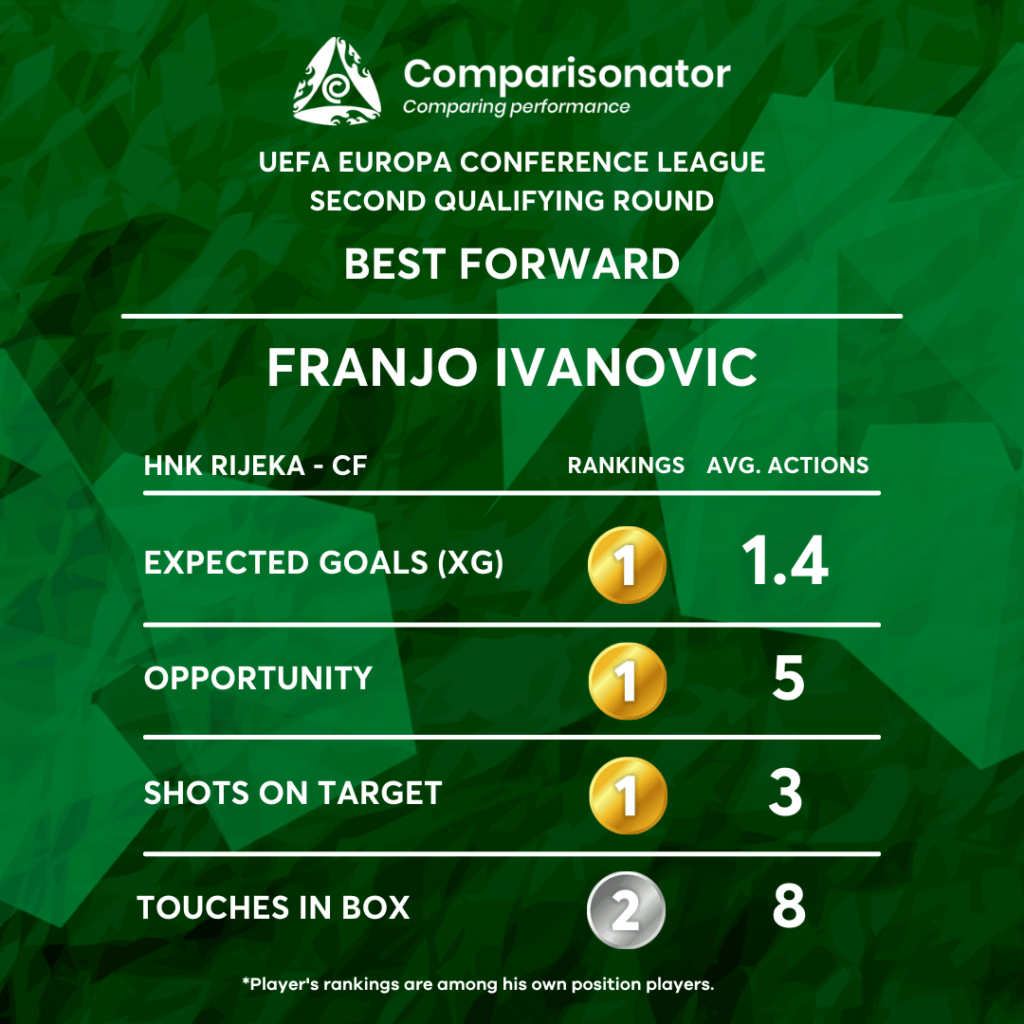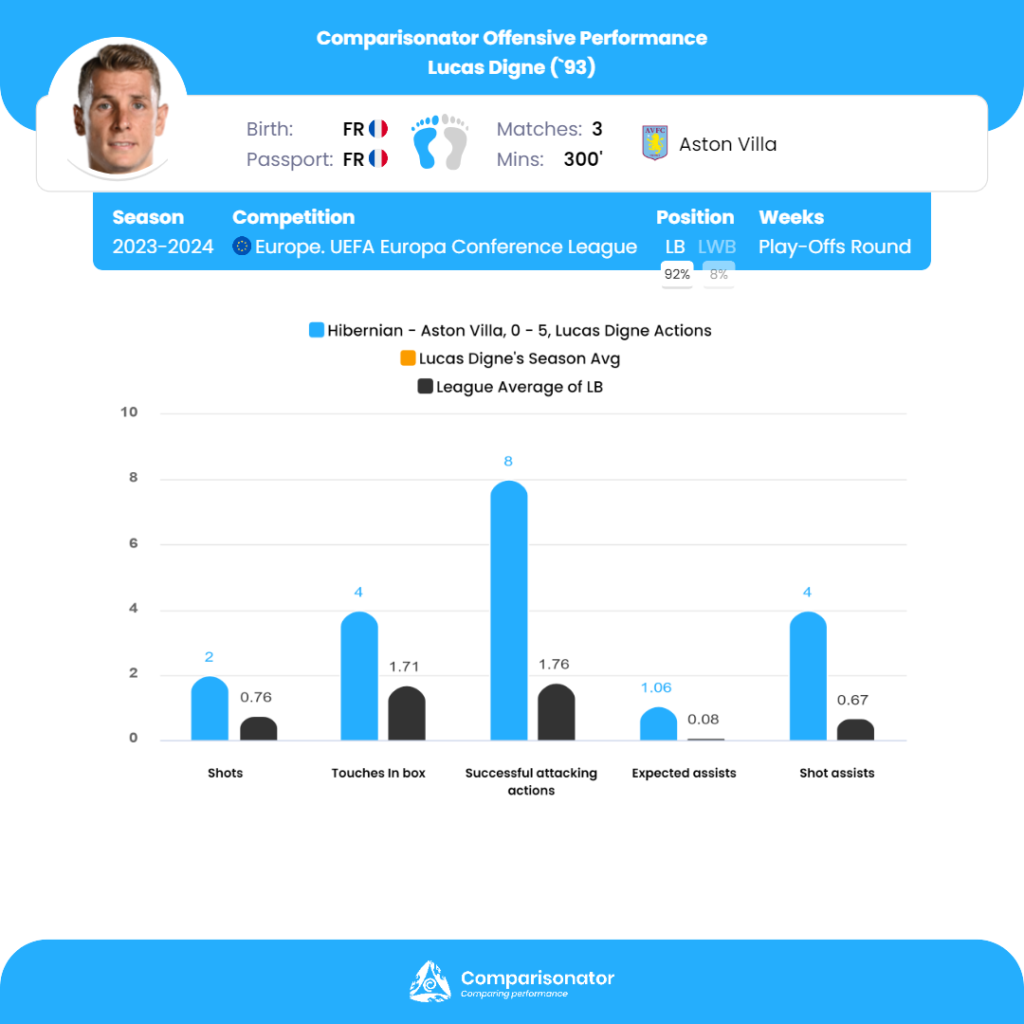 Matias Galarza – (DMF) Genk
Shifting focus to the midfield sector, we encounter Matias Galarza, a quintessential engine within Genk's lineup. Operating as a Defensive Midfielder, Galarza's exploits during the Play Off Round's inaugural encounter thrust him into the limelight. His Artificial Index of 693 attests to his comprehensive influence across the tactical spectrum. Diving into the finer details, Galarza's adept ball control and navigation prowess manifest through his 5 Successful Dribbles, attesting to his ability to advance play adeptly. Simultaneously, his defensive attributes shine in the Interceptions department, where he claims the third spot with a substantial total of 9. Galarza's multifaceted midfield performance paints him as a maestro of both offensive and defensive dimensions.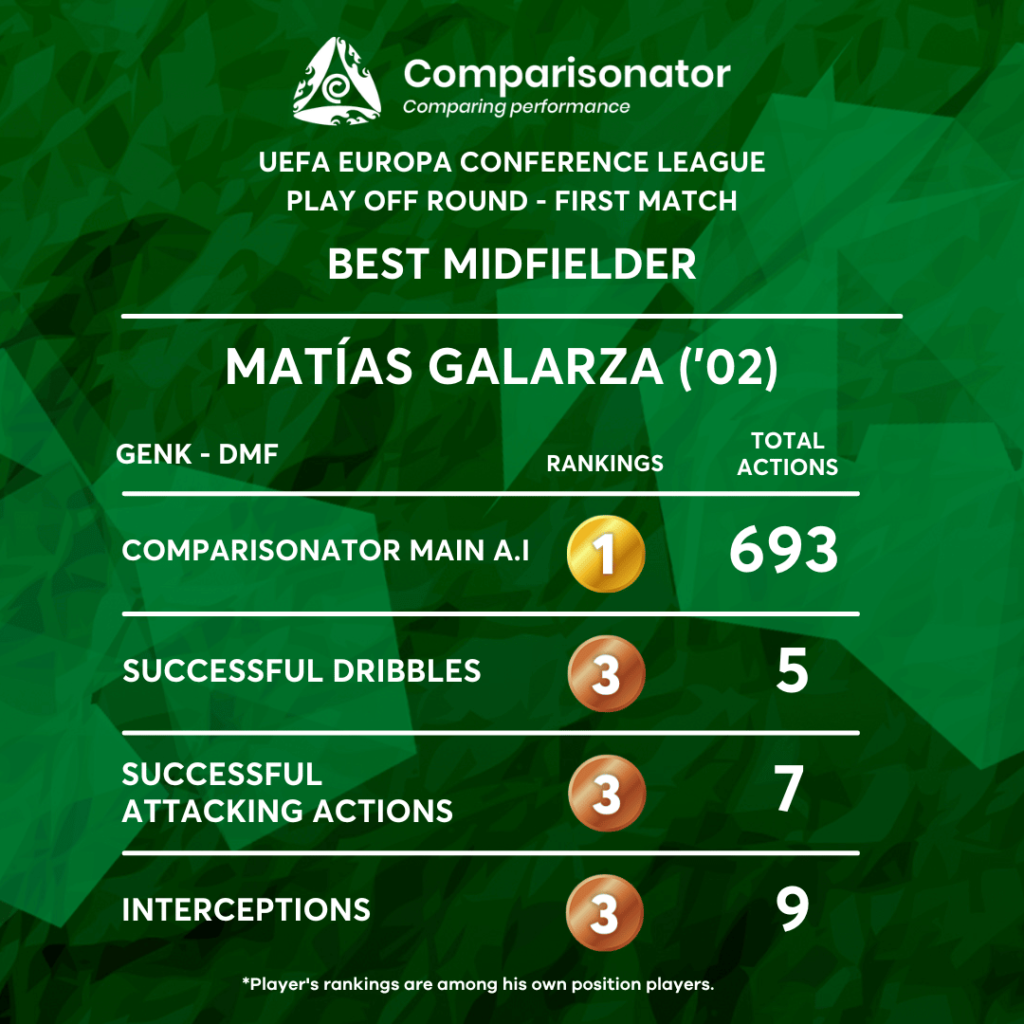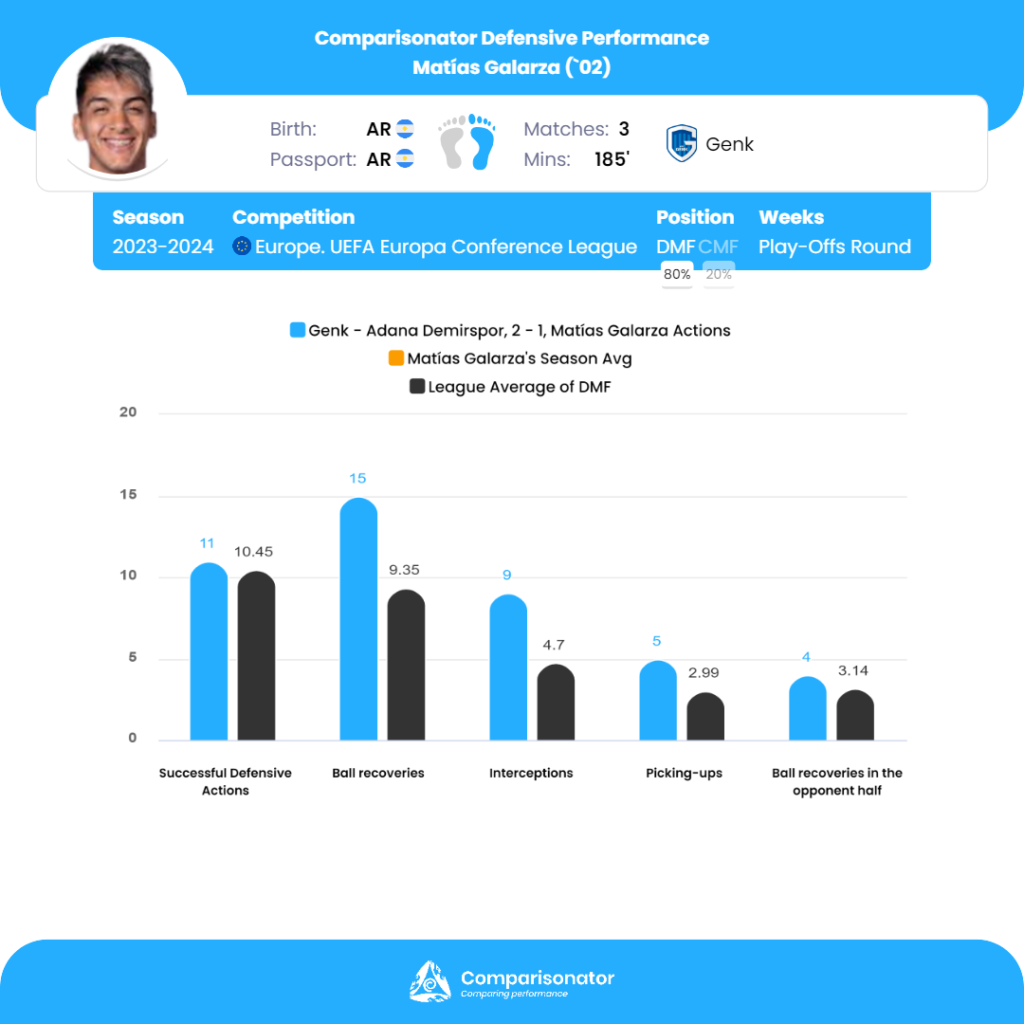 Ollie Watkins – (CF) Aston Villa
Progressing to the attacking realm, Ollie Watkins from Aston Villa emerges as a paramount figurehead. As a Centre Forward, Watkins assumes a central role in dictating his team's offensive orchestration. Remarkably, he ascends to the zenith of the Comparisonator MAIN Artificial Index, boasting an impressive 1012 points that epitomize his far-reaching impact. Intriguingly, within the Play Off Round's inaugural match, Watkins dominates the Touches in Box metric, tallying a commendable 11 touches that underscore his effective positioning within the danger zone. His finesse in front of goal materializes in the Shots on Target category, where he clinches the second position with an impressive 3 shots. Watkins' astute positioning and precision encapsulate the essence of an attack-minded virtuoso.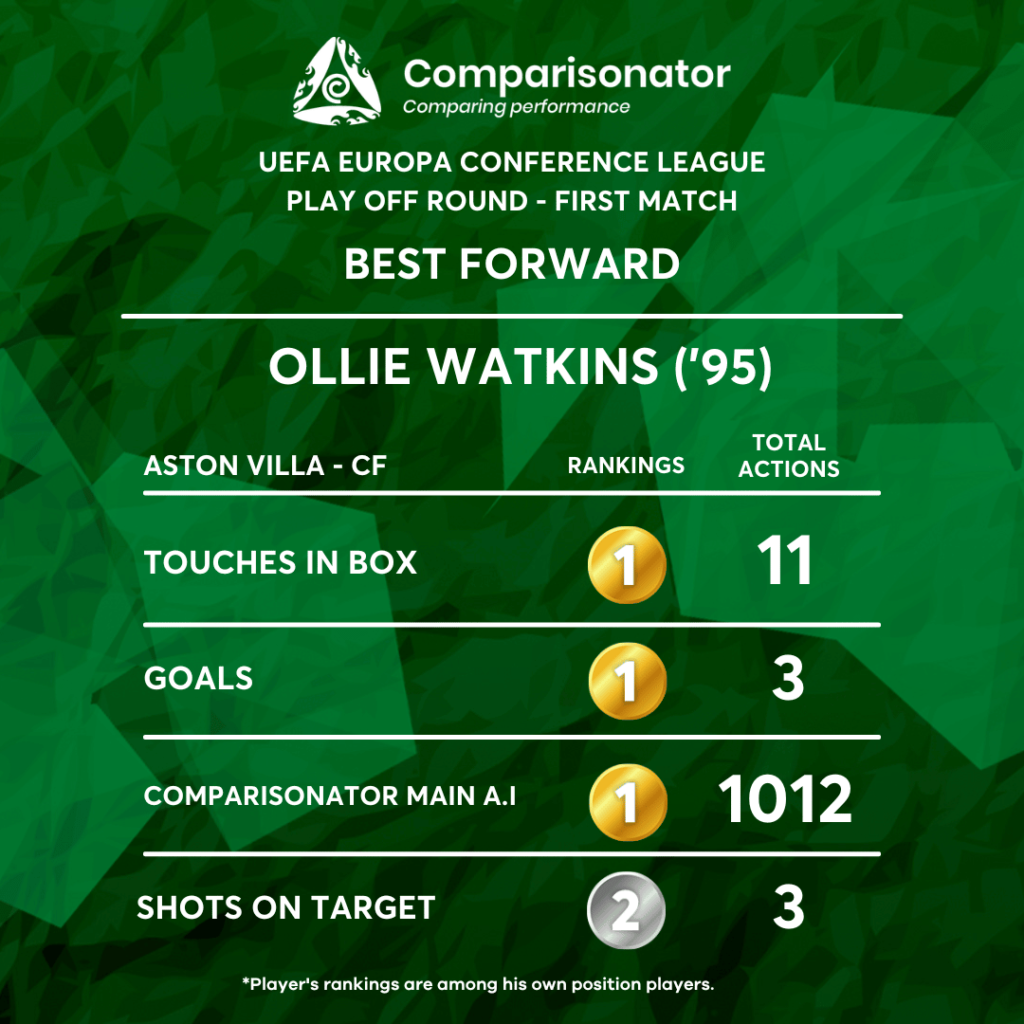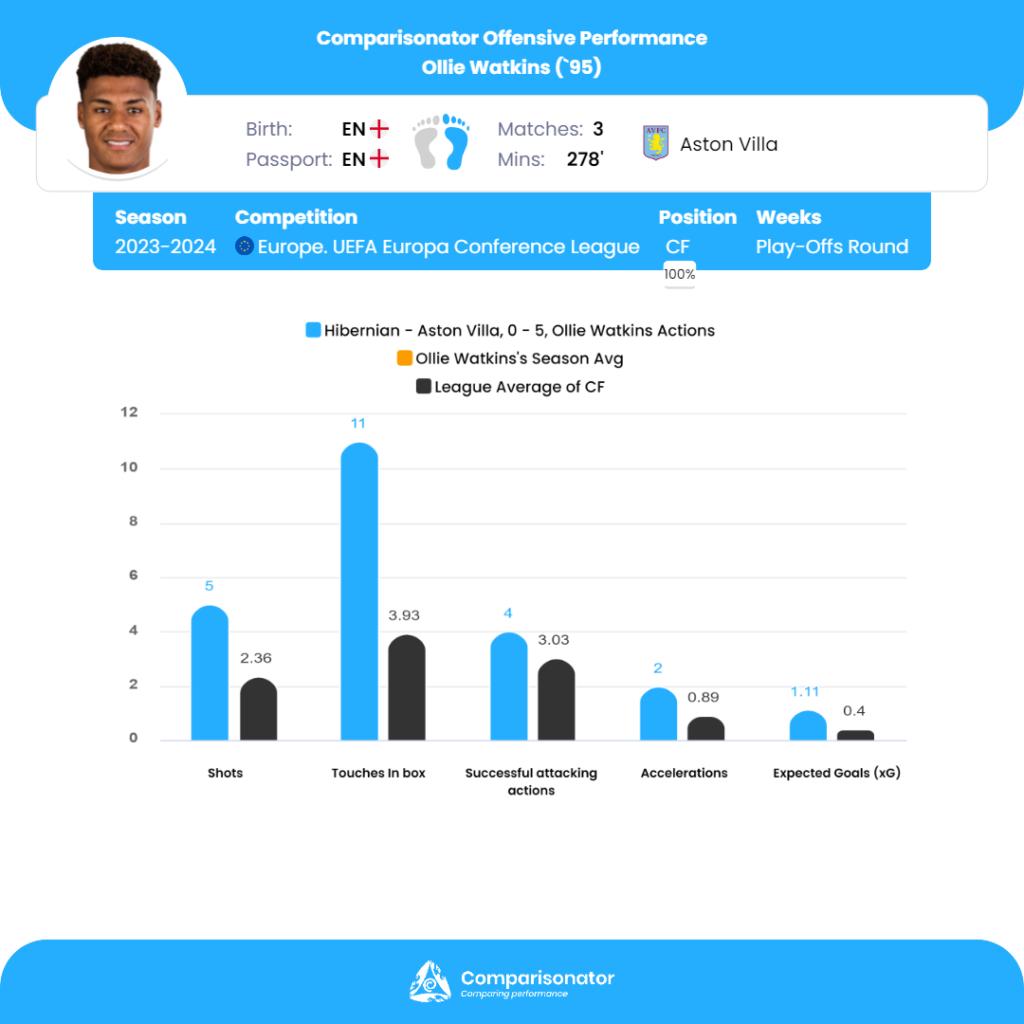 Selected via Comparisonator machine learning index.
Data Comparisons provided by Comparisonator is for educational purposes only and not intended to be monetized.