Scotland Premiership stands witness to the burgeoning talent of promising U23 players who are leaving an indelible mark in key performance parameters. Comparisonator platform has shed light on these standout athletes, analyzing their statistics in five crucial categories: key passes by midfielders, progressive runs by wingers, pass interceptions by fullbacks, touches in the box by strikers, and duels won by center-backs. These young talents are not only shaping the landscape of Scottish football but also embody the future stars set to make a significant impact in the sport.
Best Players of Scotland Premiership in Selected Parameters
The best 5 players ranked in the selected parameters based on the matches played so far this season. These players ranked according to their per 90 min averages. In this analysis, Comparisonator team used the Recruitment Shop feature of the Platform.
Please note that all numbers are per 90 min data from the 2023/24 Season So Far.
Key Passes by Midfielders
Progressive Runs by Wingers
Pass Interceptions by Fullbacks
Touches in Box by Strikers
Duels Won by Centre-Back
Key Passes
David Watson spearheads the U23 midfielders with an impressive average of 1.13 key passes per 90 minutes, showcasing his vision and ability to unlock defenses. Following closely is Matt O'Riley, exhibiting creativity and playmaking with an average of 0.64 key passes. Players like Lyall Cameron, Connor Barron, and Nicolas Raskin also feature in the top five, displaying their contributions to ball distribution and attacking plays.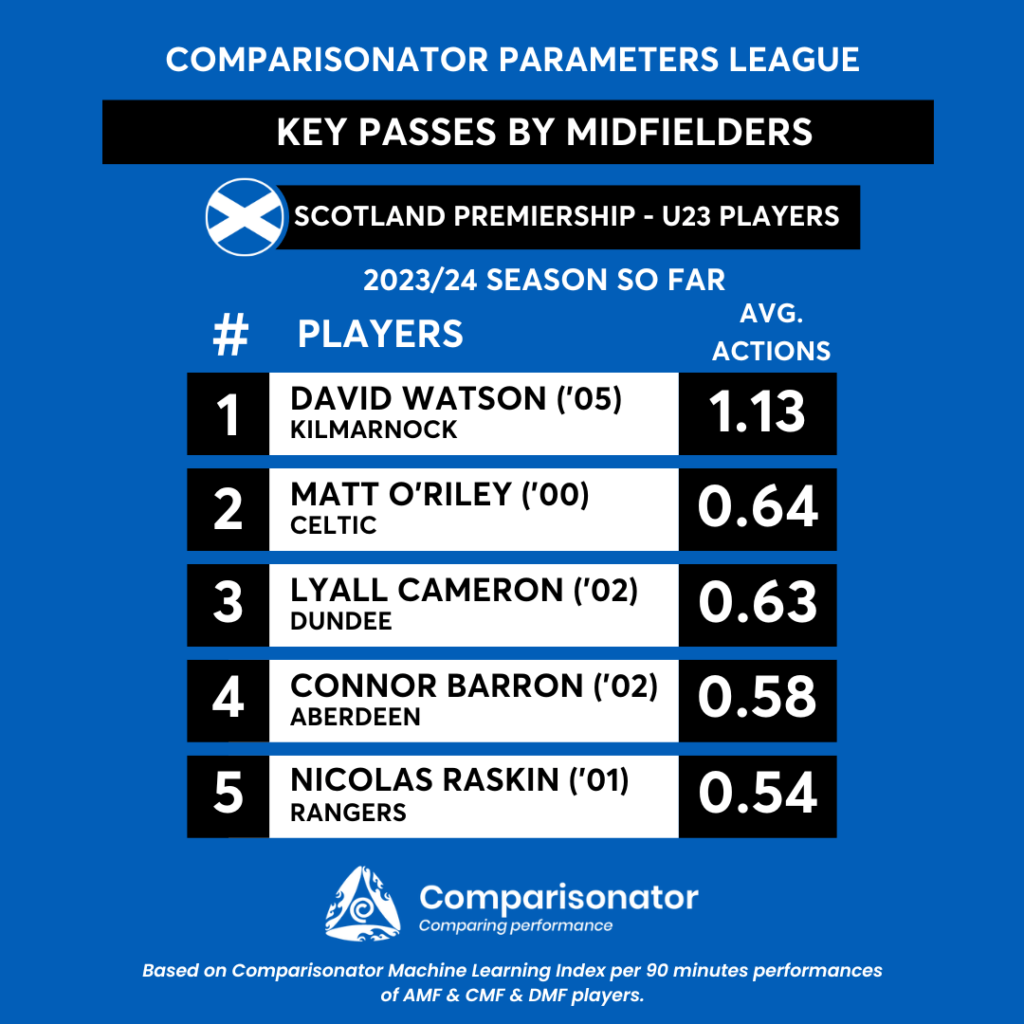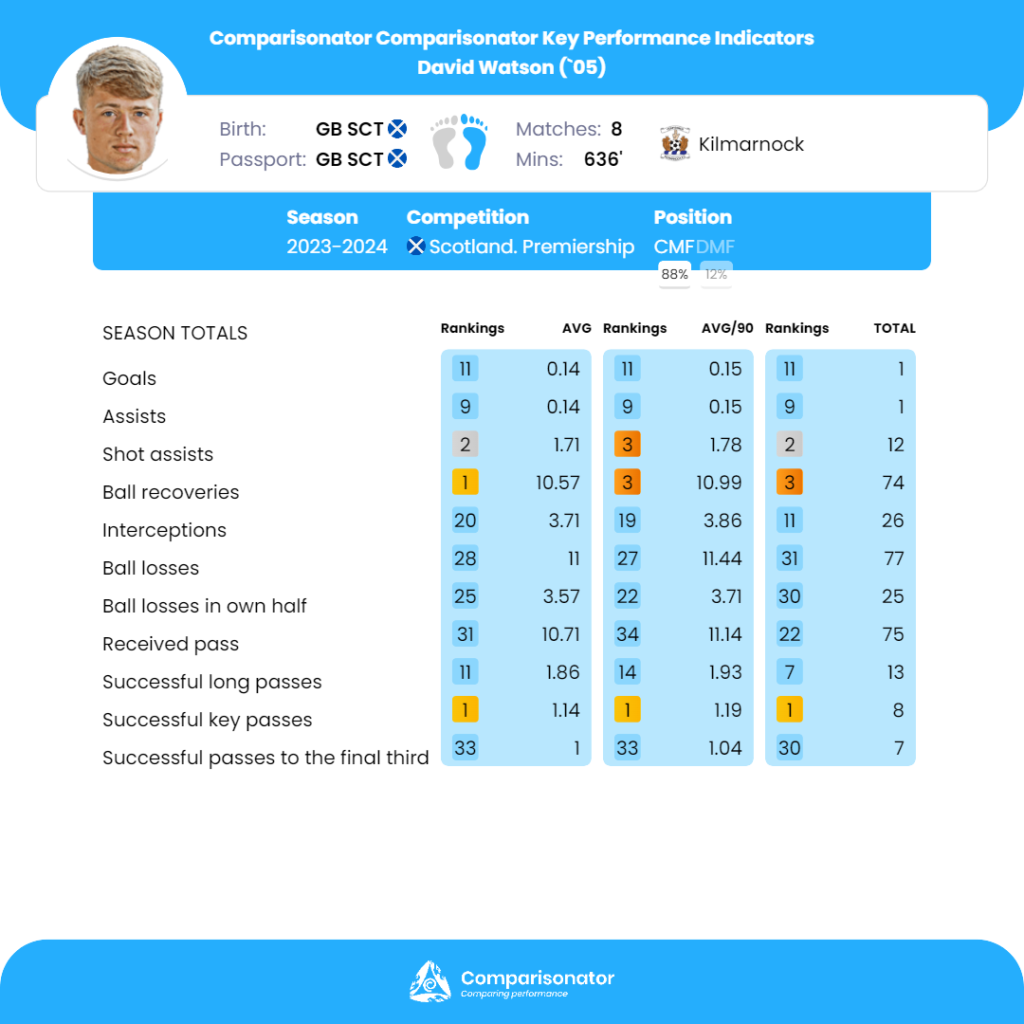 Progressive Runs
In the realm of progressive runs, Hyun-Jun Yang leads the U23 wingers with a remarkable average of 5.07 runs per 90 minutes, emphasizing his dynamic style and ability to drive the ball forward. Liam Abada and Abdallah Sima closely trail, highlighting their ability to advance play and create goal-scoring opportunities. Yutaro Oda and Kenneth Vargas round off the top five, displaying their proficiency in initiating attacks from wide areas.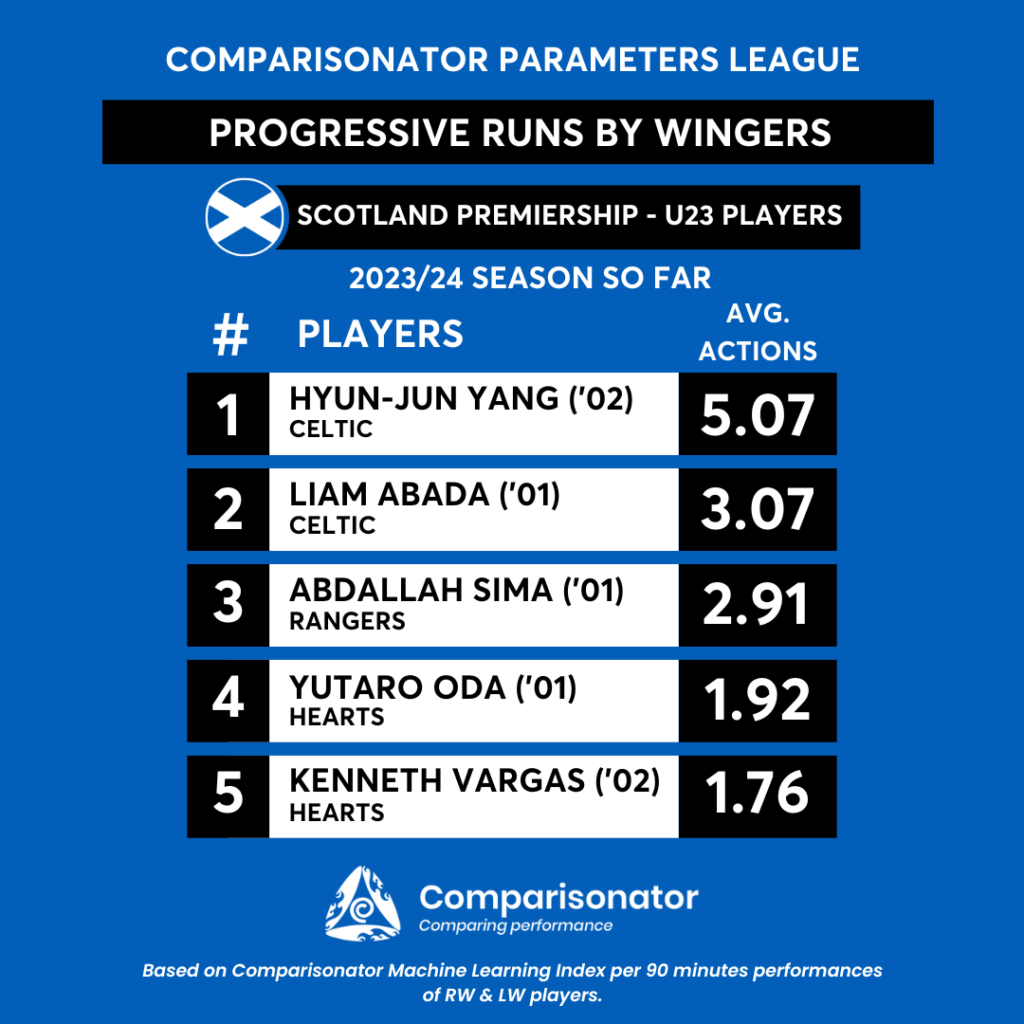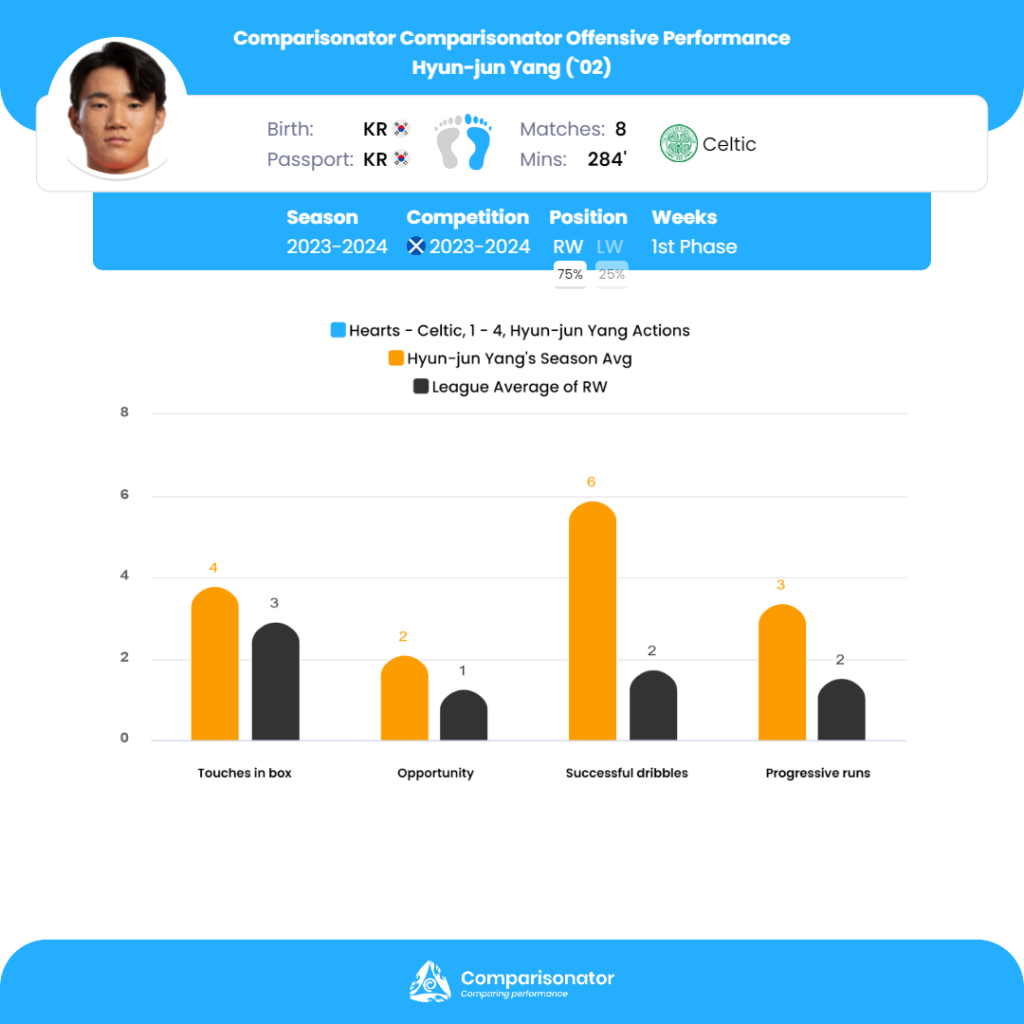 Pass Interceptions
The U23 fullbacks showcase their defensive prowess, with Owen Beck at the forefront, averaging an impressive 5.6 pass interceptions per 90 minutes. George Harmon and Luke Robinson follow suit, displaying their ability to read the game and disrupt opposition plays. Oludare Olufunwa and Josh Reid complete the top five, showcasing their defensive vigilance and ability to break down opponent moves.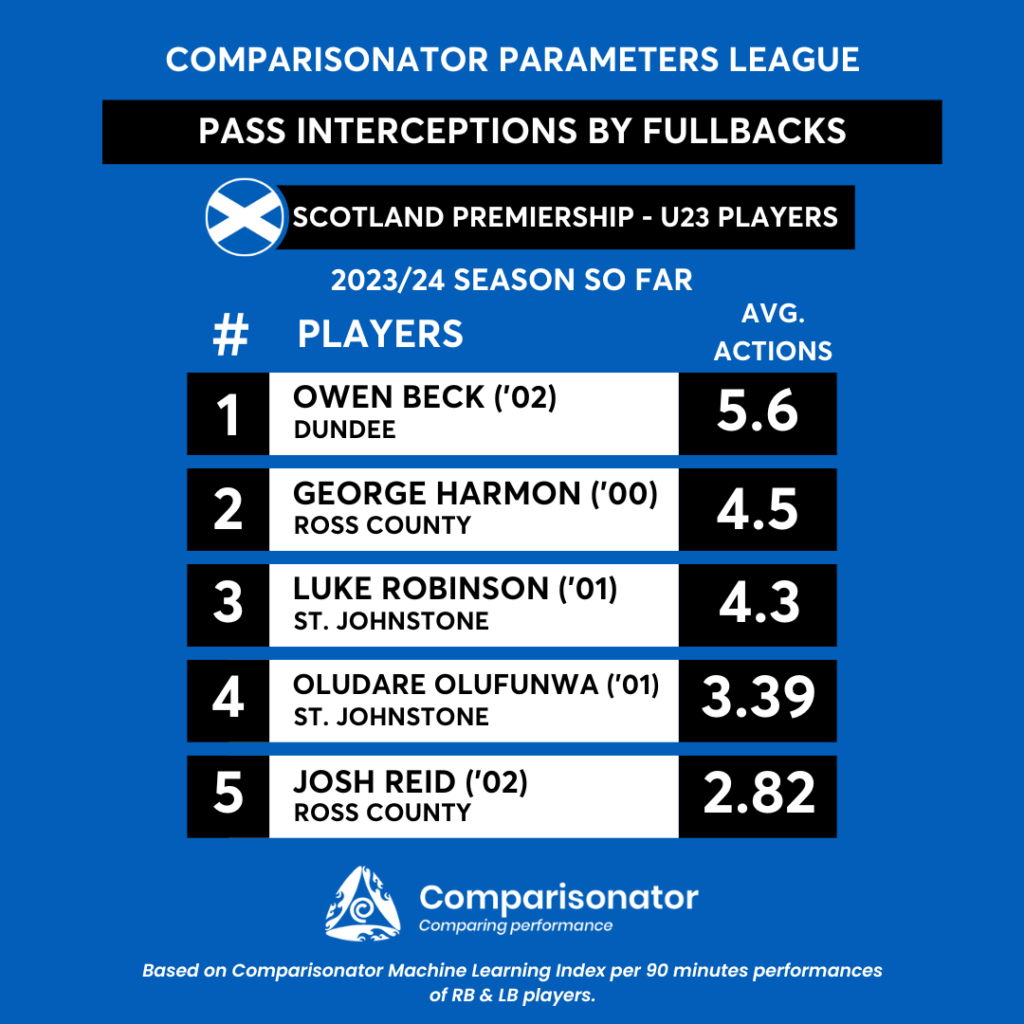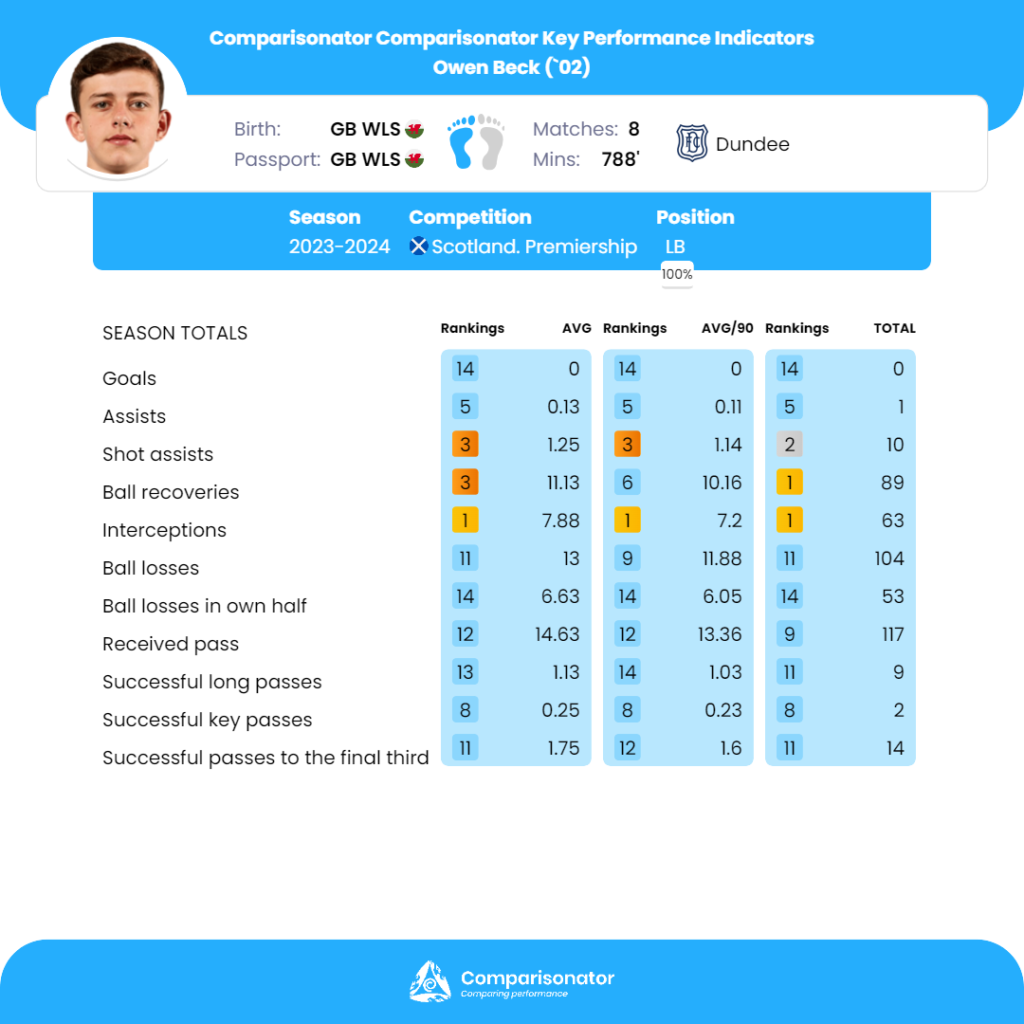 Touches in Box
In terms of attacking presence, Duk leads the U23 strikers with an average of 4.16 touches in the box per 90 minutes, emphasizing his ability to position himself effectively in goal-scoring areas. Zak Rudden closely follows with an average of 3.96 touches, displaying his knack for getting involved in attacking play. Players like Dara Costelloe, Zach Robinson, and Luke Jephcott complete the top five, each contributing their own style and impact in the opponent's danger zone.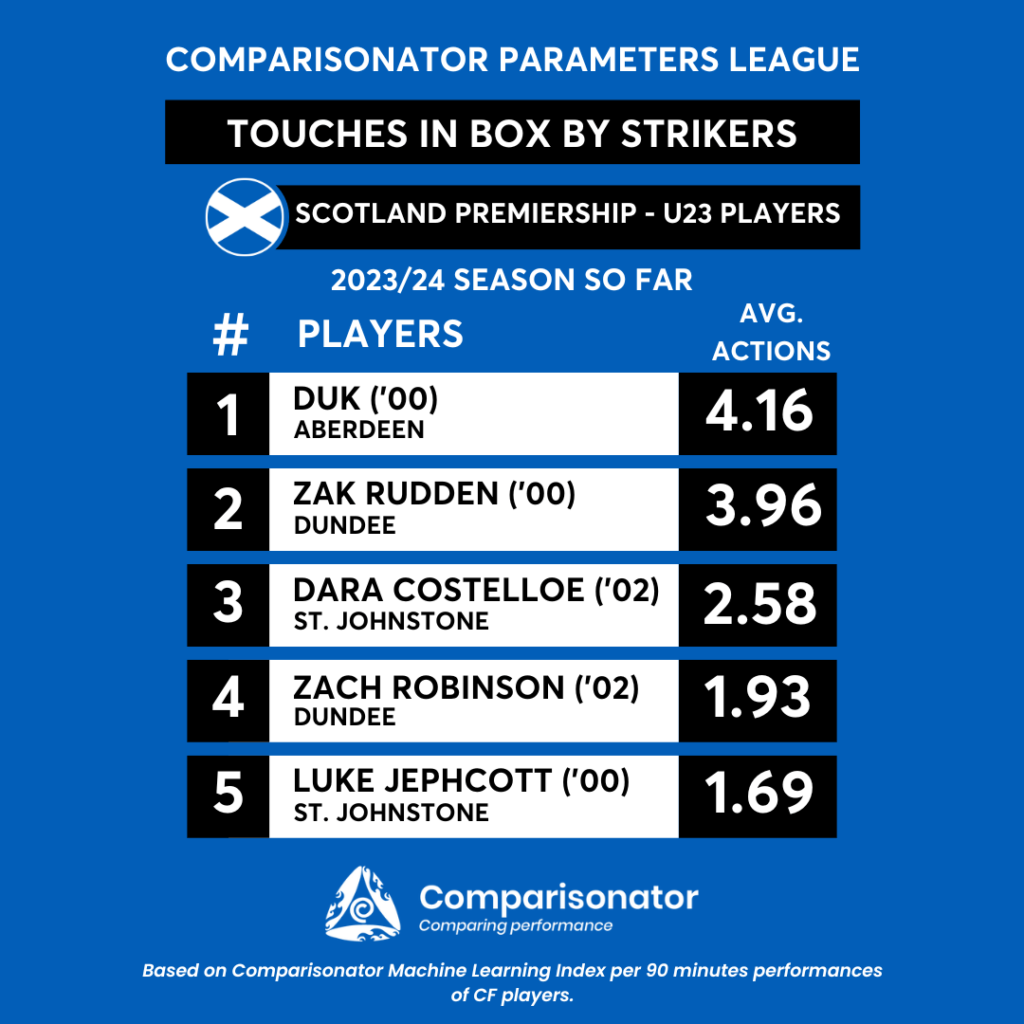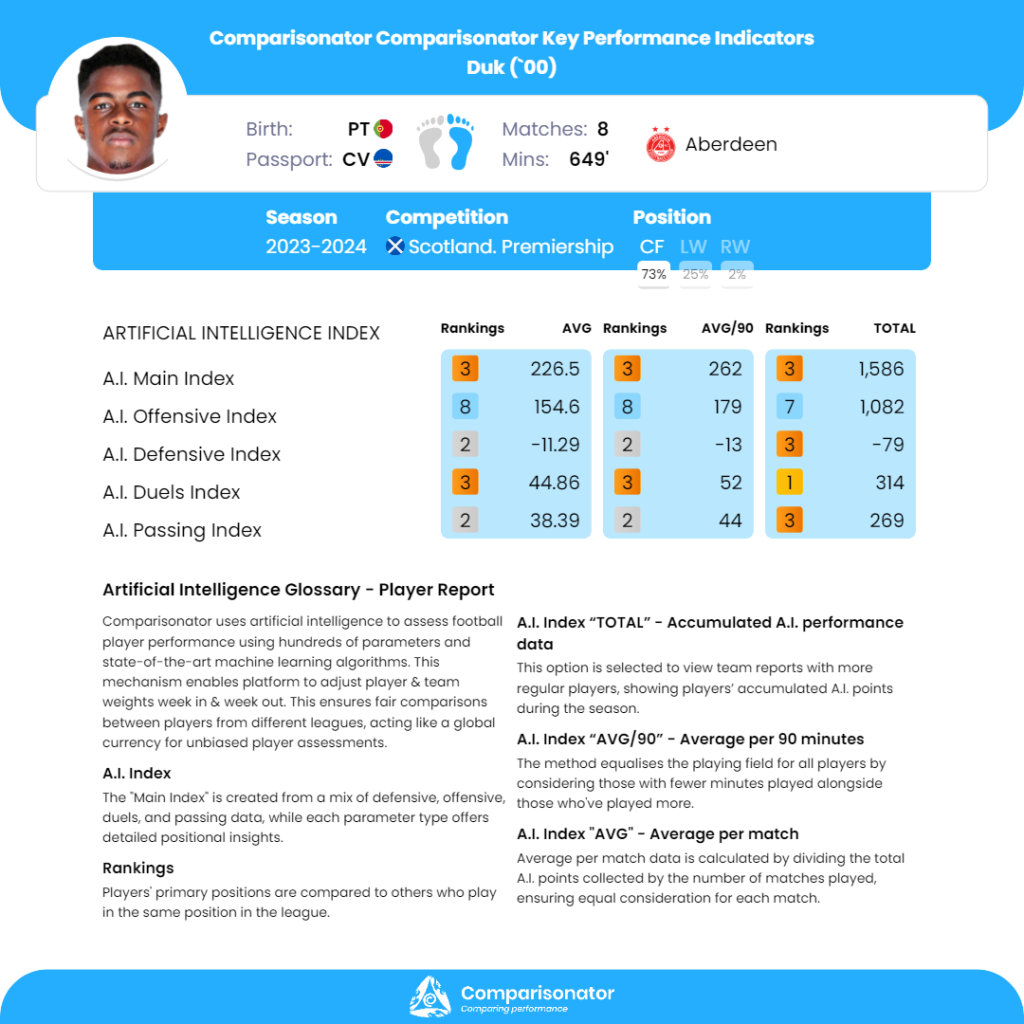 Duels Won
Slobodan Rubezic stands out among U23 center-backs, excelling with an average of 15.27 duels won per 90 minutes. His dominance in aerial and ground battles showcases his defensive strength. Gustaf Lagerbielke, Richard Taylor, Will Fish, and Robbie Deas follow suit, displaying their defensive resilience and capability to thwart opposing attacks.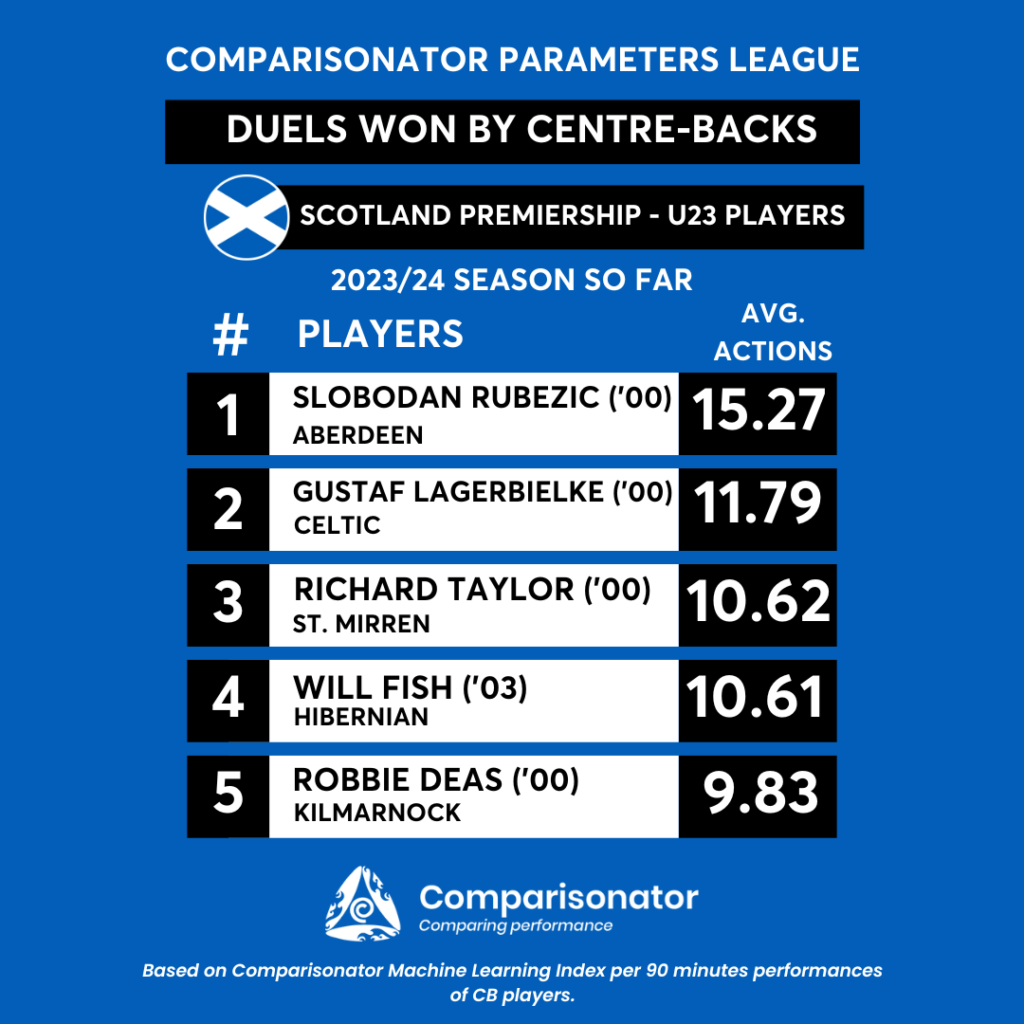 HOW DOES COMPARISONATOR's RECRUITMENT FEATURE WORKS?
"Recruitment Shop" allows recruiters & scouts to search/list players with one click from any league and any position according to their performance (using artificially intelligent Comparisonator Performance index), height, age, passport country. Player actions can be filtered towards qualities searched for. Out of contract players can be found from more than 300.000 players within the database.
For example decision makers will can list all U21 best centre forwards (or any positions) in Croatia & Serbia (or from 275 competitions), add amount of goals, aerial duels won if looking for a target man from the filter section, or dribbles made if looking for forwards. Very simply detail the position to search to find suitable players.
Selected via Comparisonator machine learning index.
Data Comparisons provided by Comparisonator is for educational purposes only and not intended to be monetized.