Italy Serie B serves as a nurturing ground for young football talents, and Comparisonator platform has meticulously evaluated the performance of U23 players across five crucial parameters. These include key passes by midfielders, progressive runs by wingers, ball recoveries in the opponent's half by fullbacks, shots on target by strikers, and duels won by center-backs. In this comprehensive analysis, we delve into these categories to unveil the exceptional emerging talents who are leaving their mark on Italian football within Serie B.
Best U23 Players in the Italy Serie B in 5 Parameters
The best 5 players ranked in the selected parameters based on the matches played so far this season. These players ranked according to their per 90 min averages. In this analysis, Comparisonator team used the Recruitment Shop feature of the Platform.
Key Passes
Progressive Runs
Ball Recoveries in Opponnent Half
Shots on Target
Duels Won
Please note that all numbers are per 90 min data from the 2023-24 Season So Far.
HOW DOES COMPARISONATOR's RECRUITMENT FEATURE WORKS?
"Recruitment Shop" allows recruiters & scouts to search/list players with one click from any league and any position according to their performance (using artificially intelligent Comparisonator Performance index), height, age, passport country. Player actions can be filtered towards qualities searched for. Out of contract players can be found from more than 300.000 players within the database.
For example decision makers will can list all U21 best centre forwards (or any positions) in Croatia & Serbia (or from 275 competitions), add amount of goals, aerial duels won if looking for a target man from the filter section, or dribbles made if looking for forwards. Very simply detail the position to search to find suitable players.
Key Passes
Midfielders are the engine of any team, and Niklas Pyyhtiä leads the midfield rankings with an impressive 0.91 key passes per 90 minutes. Gonzalo Abrego follows in second place with 0.47 key passes, while Constantino Favasuli, Simon Sohm, and Claudio Cassano complete the top five with 0.43, 0.4, and 0.39 key passes respectively. These midfielders not only dictate play but also create goal-scoring opportunities for their teams.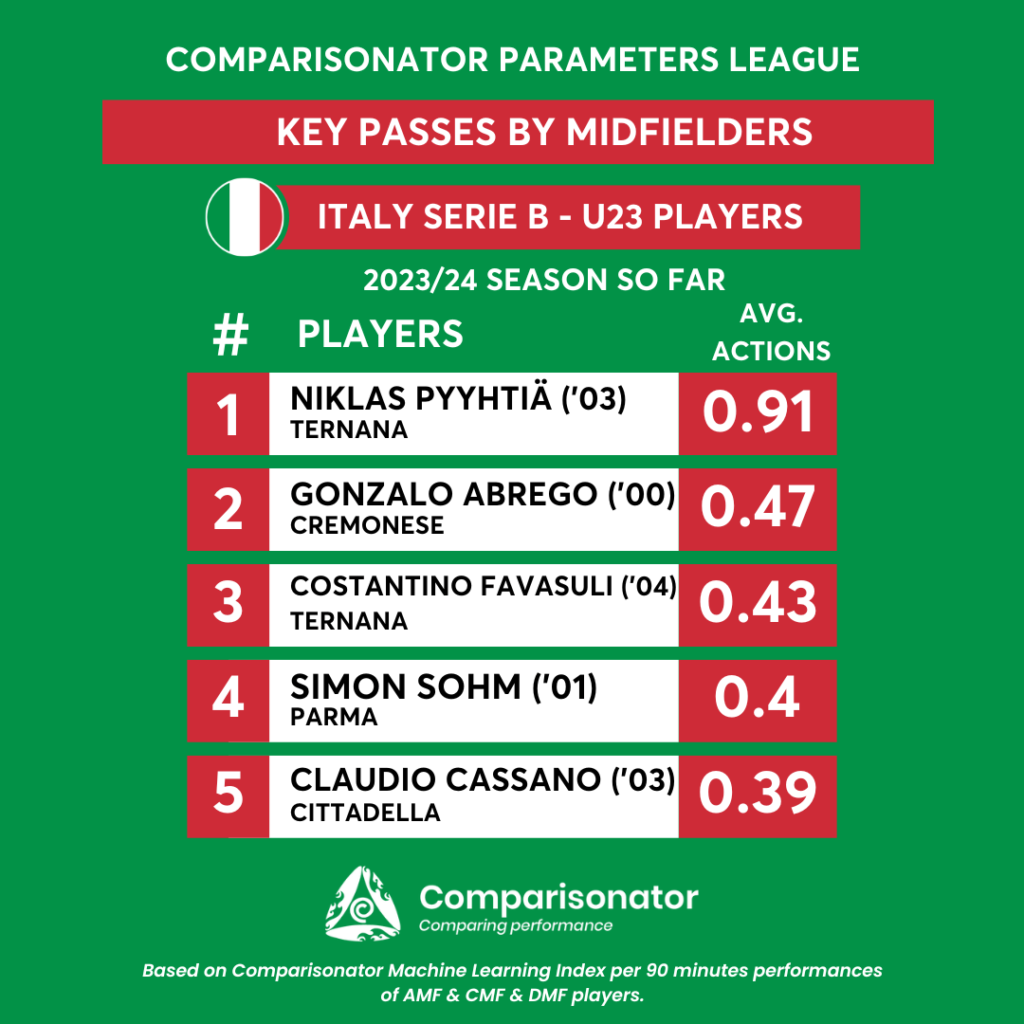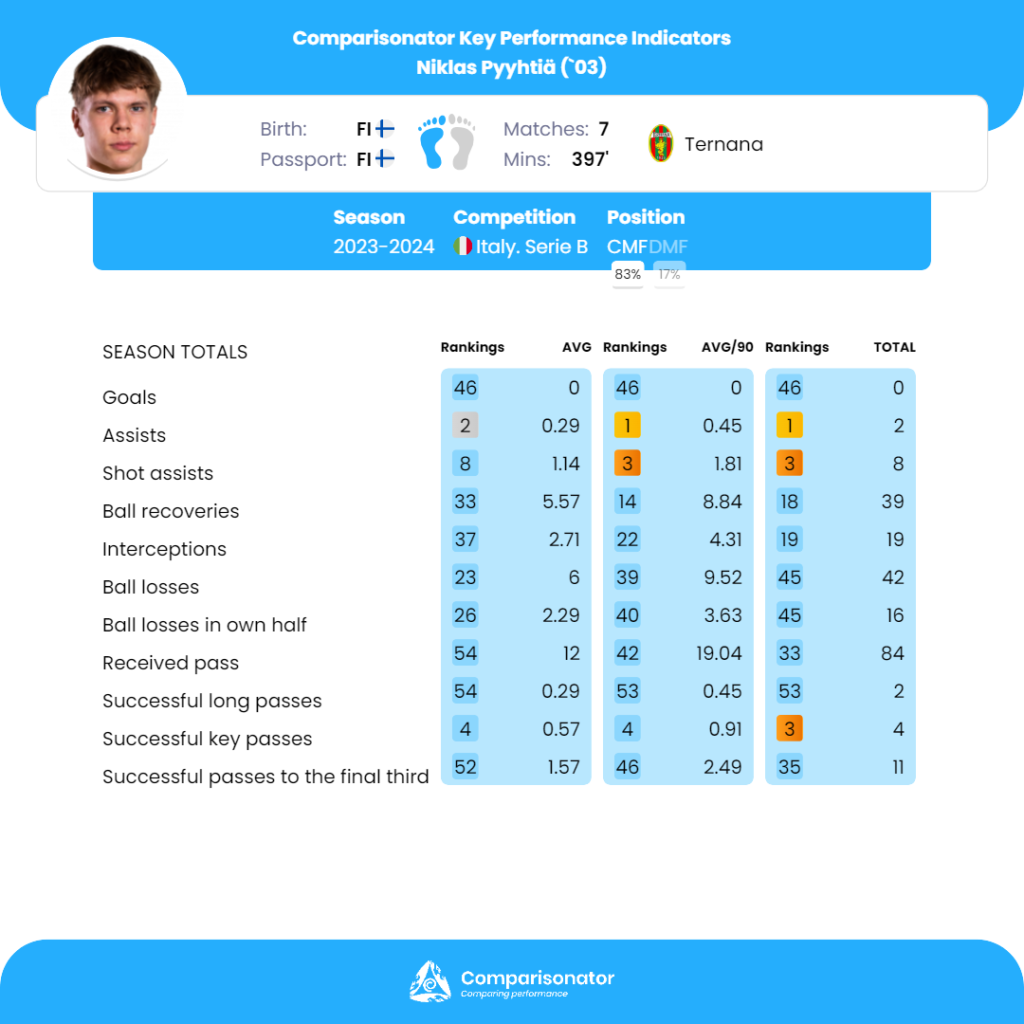 Progressive Runs
Wingers bring flair and dynamism to the game, and in this aspect, Mattia Felici shines with an average of 4.81 progressive runs per 90 minutes. Mattia Compagnon secures the second spot with 3.41, Estanis Pedrola demonstrates his dribbling prowess in third place with 3.26 progressive runs, while Riccardo Ciervo and Valentin Mihaila follow with 2.89 and 2.01 progressive runs respectively. These wingers are instrumental in driving their teams forward.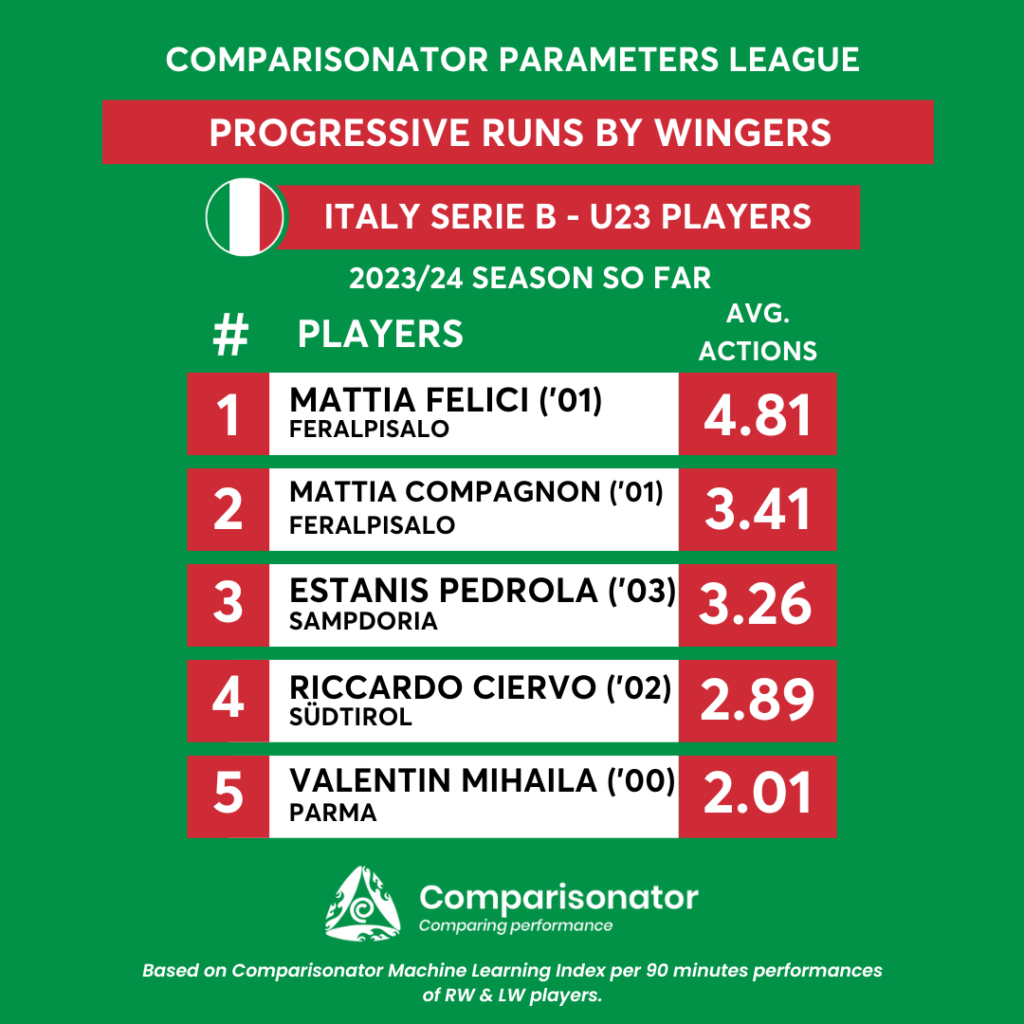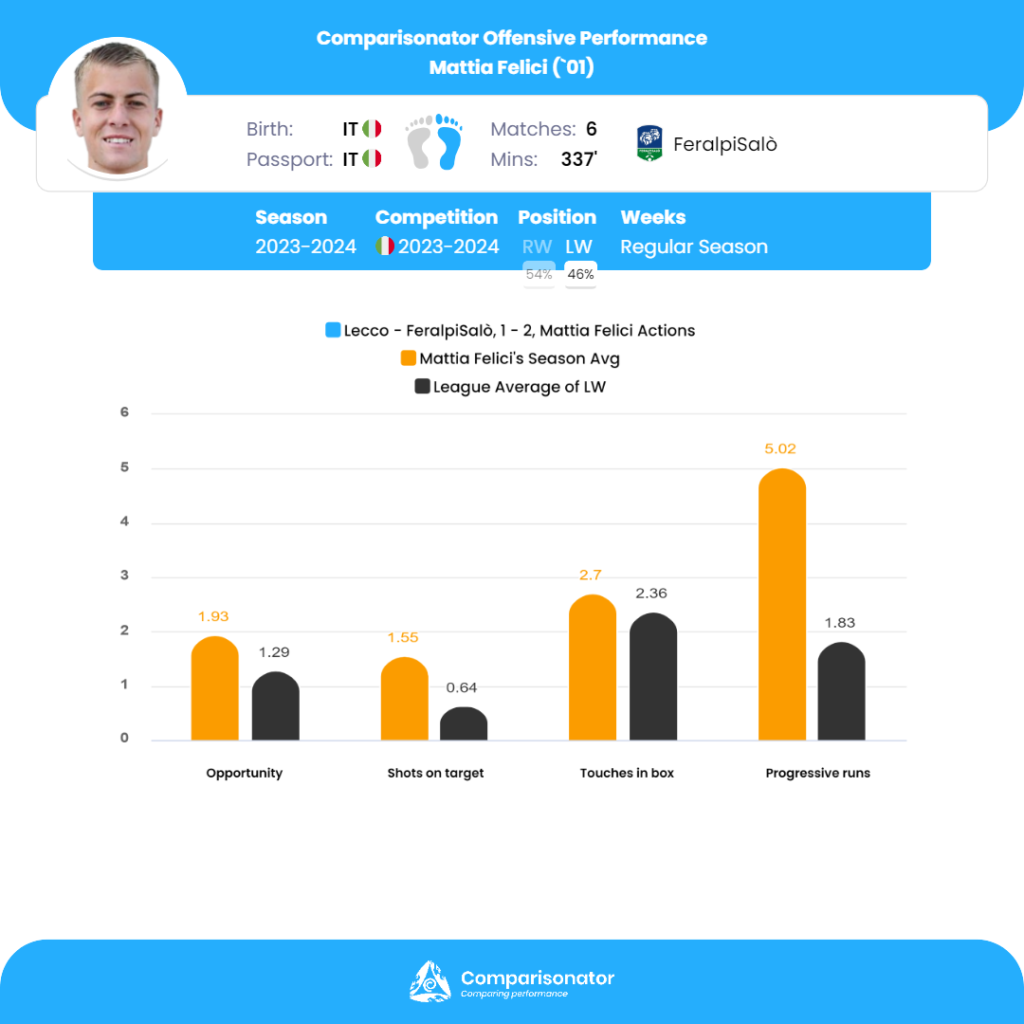 Ball Recoveries in Opp. Half
Fullbacks contribute not only defensively but also in regaining possession. Giacomo Quagliata leads with an impressive 4.12 ball recoveries in the opponent's half per 90 minutes. Tommaso Barbieri secures the second position with 3.36 ball recoveries, while Samuel Giovane, Davide Veroli, and Simone Giordano complete the top five with 2.85, 2.72, and 2.47 ball recoveries respectively. These fullbacks not only defend resolutely but also actively disrupt the opponent's play.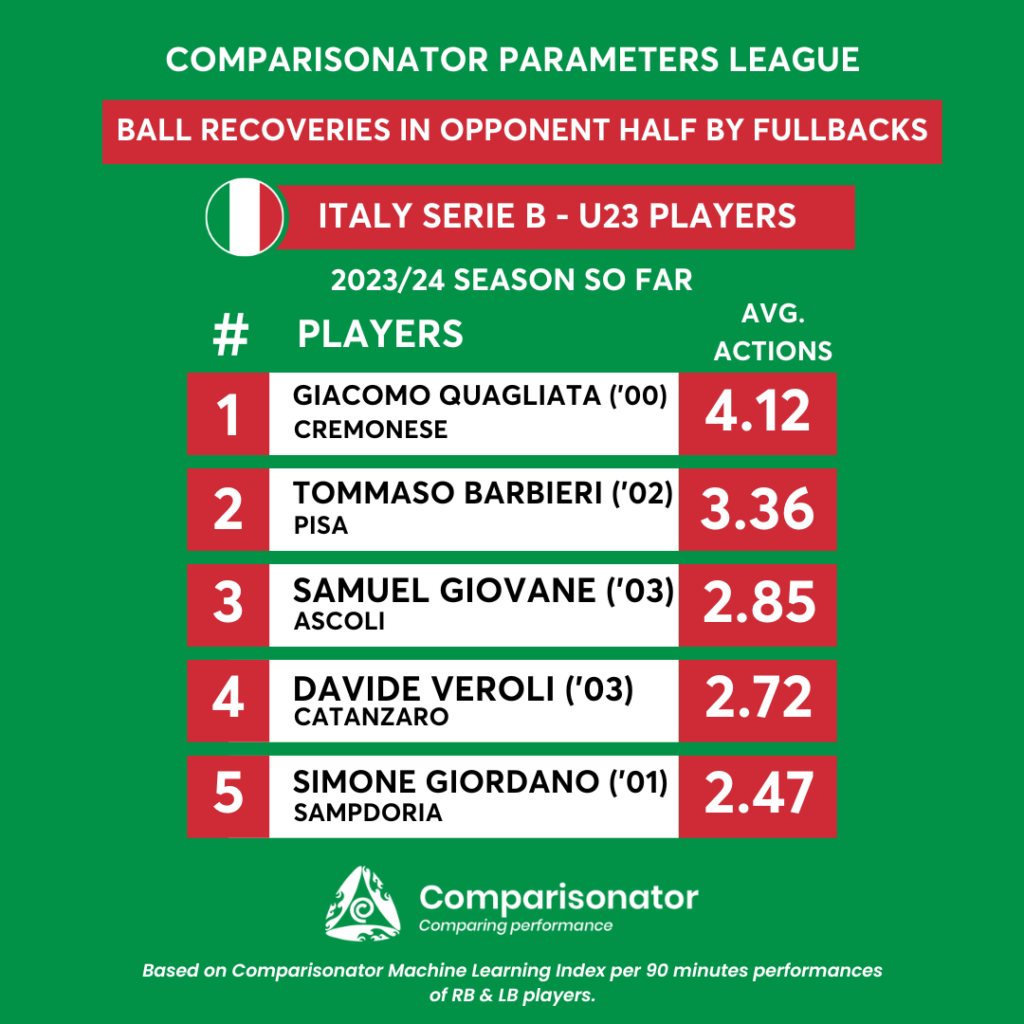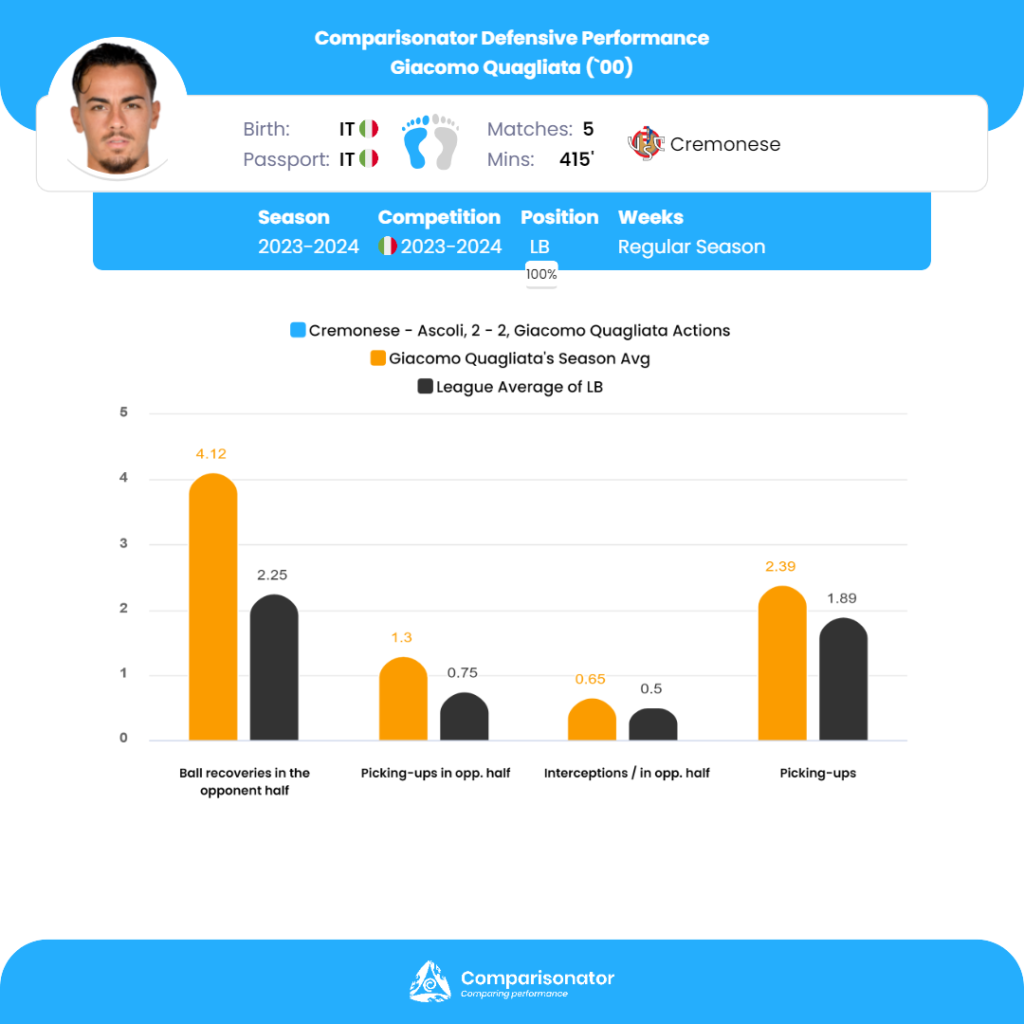 Shots on Target
Strikers are the goal-scorers, and Antonio Raimondo leads with an impressive 1.69 shots on target per 90 minutes. Lorenzo Di Stefano secures the second spot with 1.18 shots on target, while Marco Nasti, Luca Moro, and Ange-Yoan Bonny complete the top five with 0.77, 0.66, and 0.43 shots on target respectively. These strikers maintain a constant threat on goal.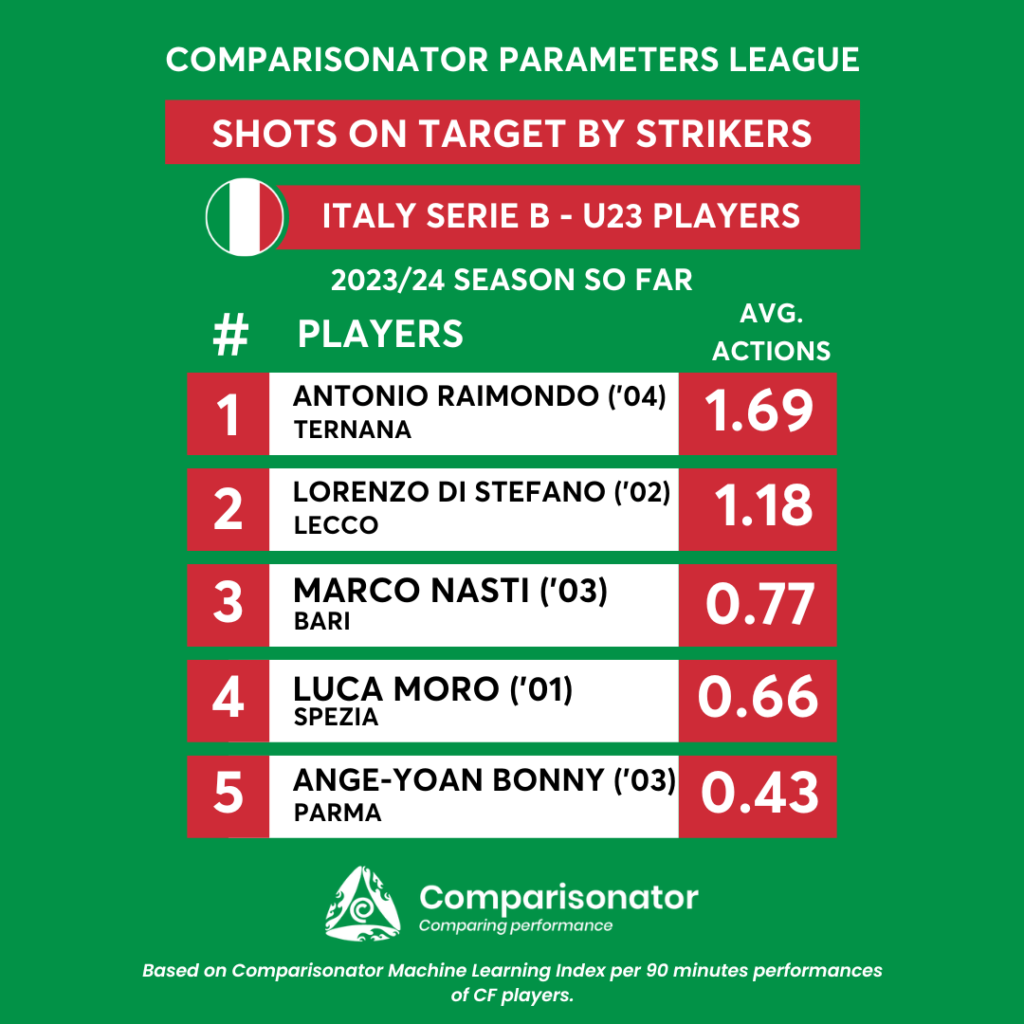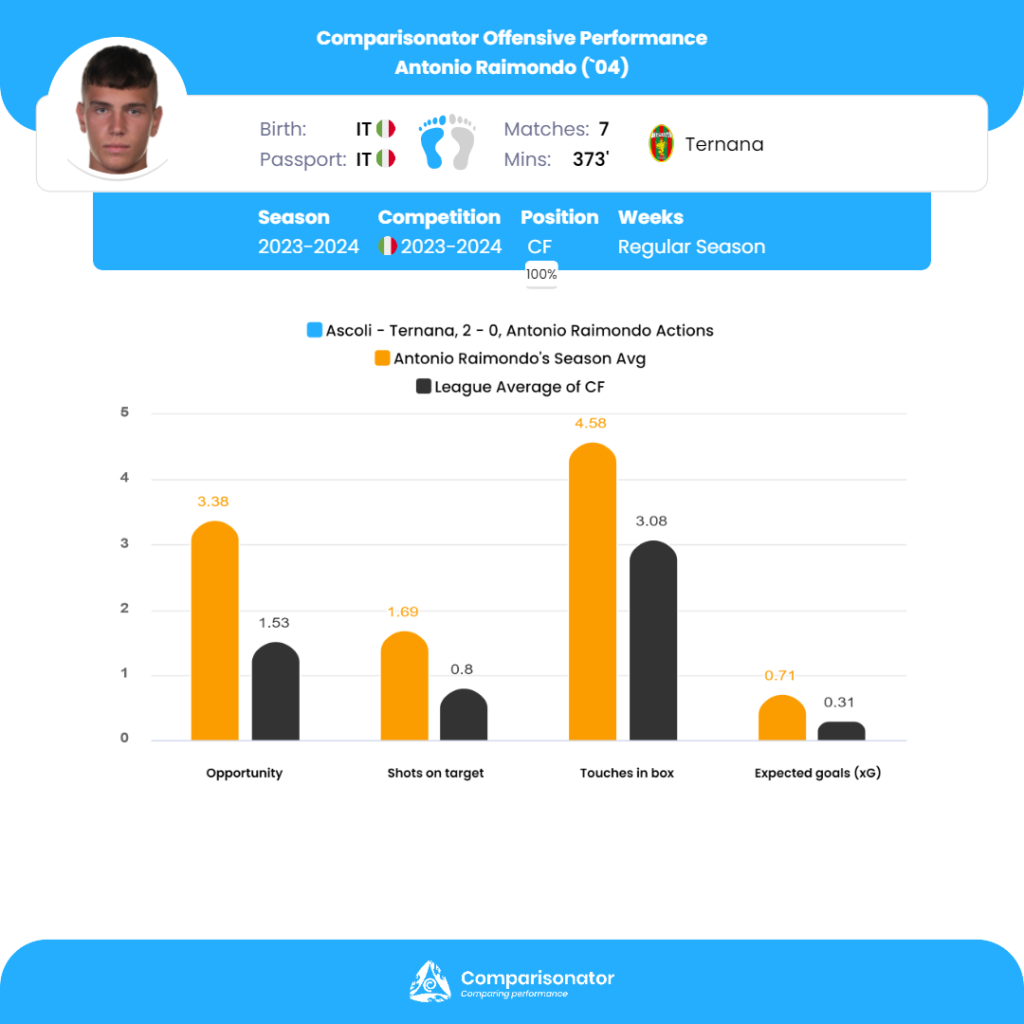 Duels Won
In the heart of the defense, center-backs provide stability, and Botond Balogh leads with an average of 11.31 duels won per 90 minutes. Salim Diakite secures the second position with 10.1 duels won, while Alessandro Pilati, Daniele Gilardi, and Alessandro Marcandalli complete the top five with 9.94, 8.73, and 8.48 duels won respectively. These center-backs not only provide a solid defense but also actively engage in battles for possession.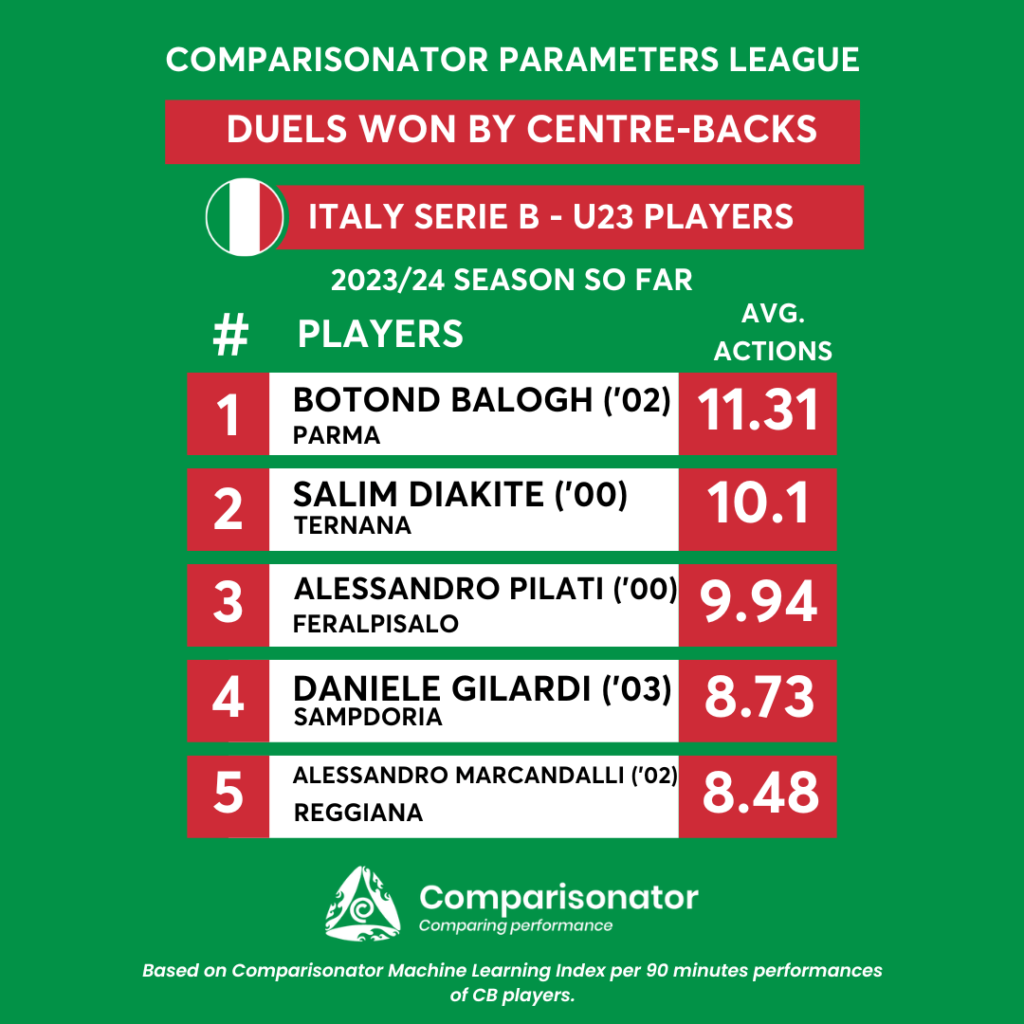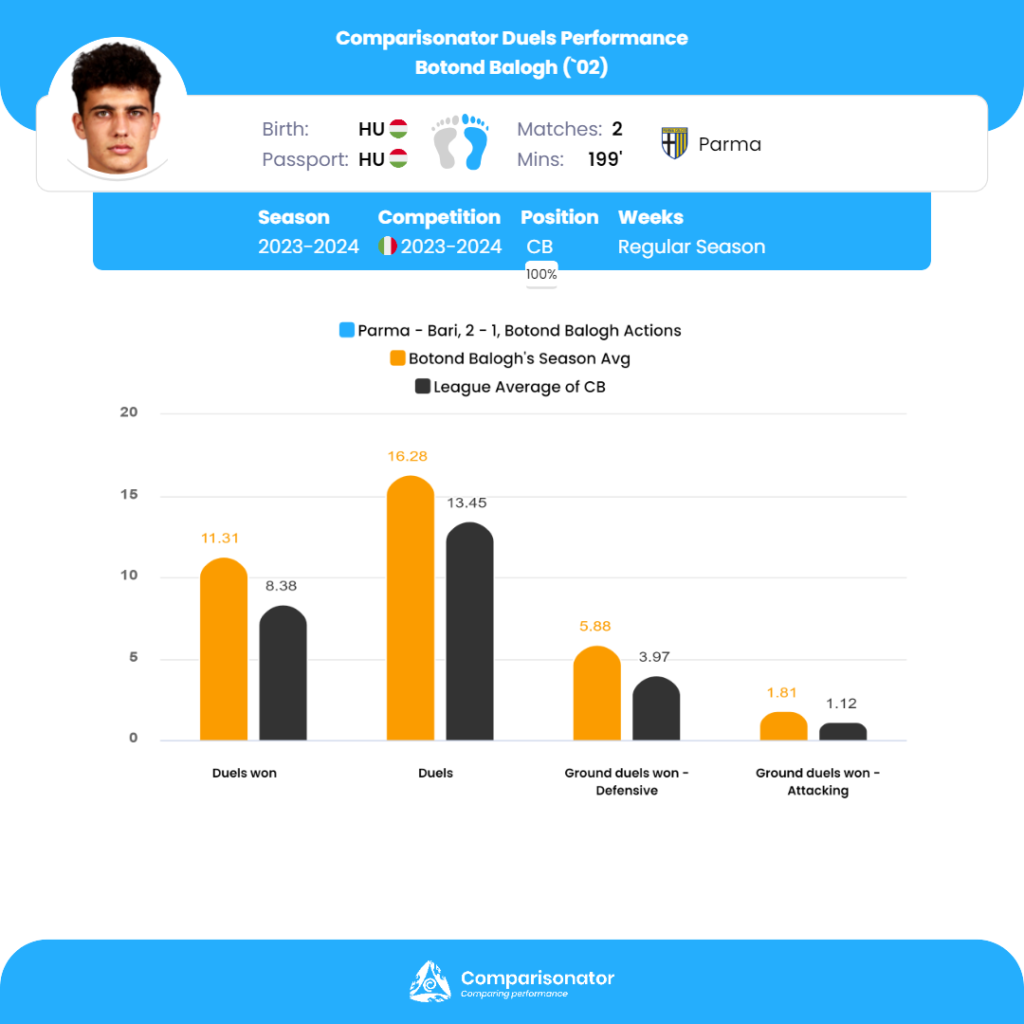 Selected via Comparisonator machine learning index.
Data Comparisons provided by Comparisonator is for educational purposes only and not intended to be monetized.