Germany 3. Liga is a breeding ground for young football talents, and Comparisonator platform has meticulously assessed the performance of U23 players in five key parameters. These include shot assists by midfielders, progressive runs by wingers, ball recoveries in the opponent's half by fullbacks, touches in the box by strikers, and clearances by center-backs. In this comprehensive analysis, we delve into these parameters to uncover the standout performers who are shaping the future of football in the third tier of German football.
Best Players of Germany 3. Liga in Selected Parameters
The best 5 players ranked in the selected parameters based on the matches played so far this season. These players ranked according to their per 90 min averages. In this analysis, Comparisonator team used the Recruitment Shop feature of the Platform.
Please note that all numbers are per 90 min data from the 2023/24 Season So Far.
Shot Assists by Midfielders
Progressive Runs by Wingers
Ball Recoveries in Opp. Half by Fullbacks
Touches in Box by Strikers
Clearances by Centre-Back
Shot Assists
In the heart of the action, midfielders are vital for creating goal-scoring opportunities, and Donny Bogicevic leads the charge with an impressive 1.69 shot assists per 90 minutes. Livan Burcu closely follows with 1.68, securing the second spot. Tim Civeja displays his creative abilities in third place with 1.34 shot assists, while Ole Pohlmann and Per Lockl complete the top five with 1.29 and 1.1 shot assists respectively. These midfield maestros not only control the game but also provide crucial chances for their teams.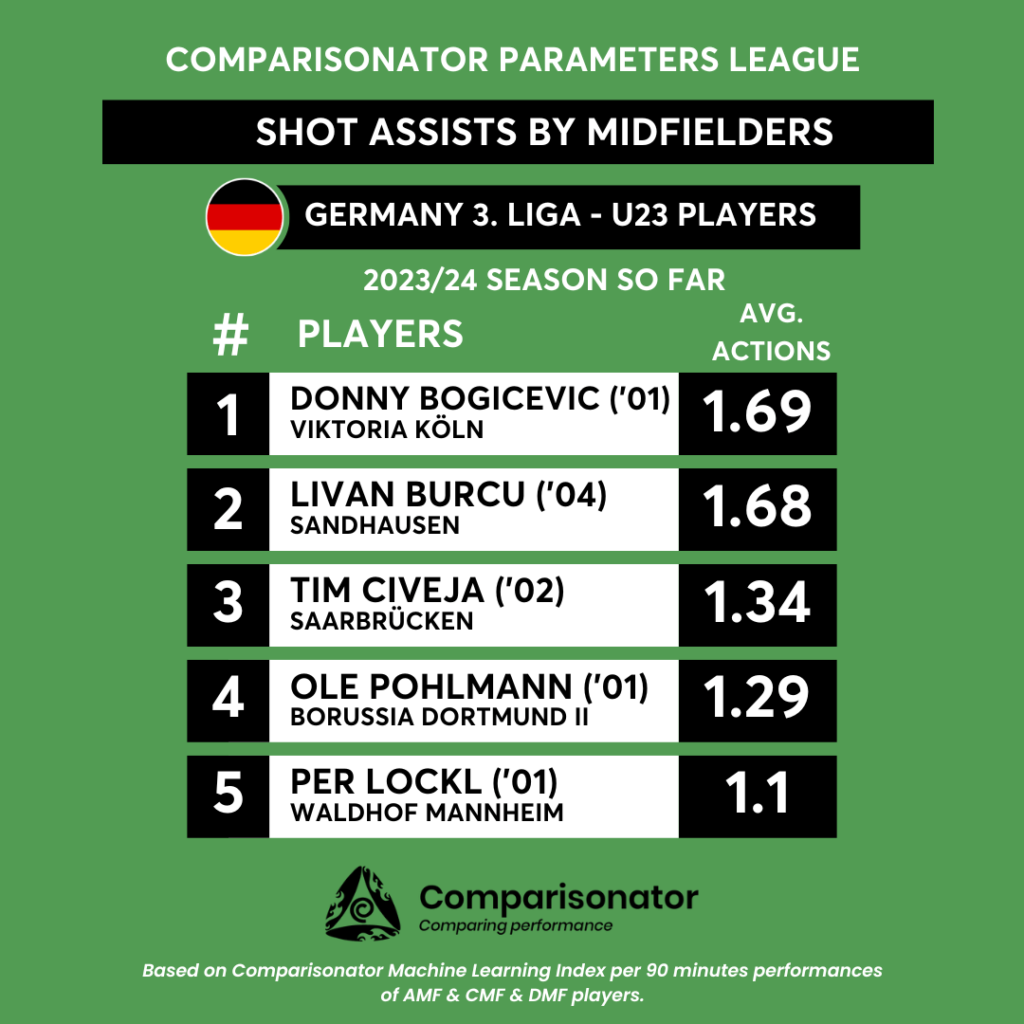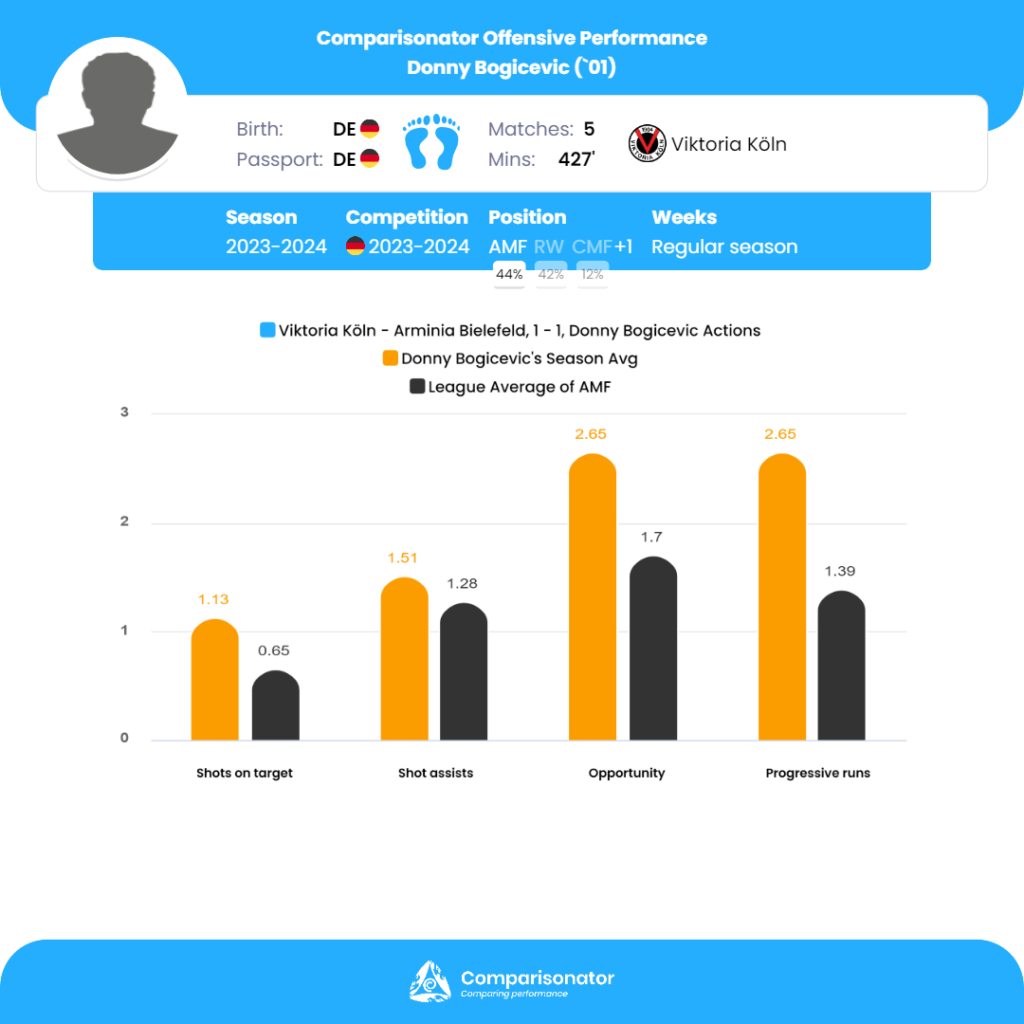 Progressive Runs
Wingers often provide the flair and dynamism on the flanks, and in this aspect, Marvin Obuz stands out with an average of 3.19 progressive runs per 90 minutes. Dominik Kother isn't far behind, securing the second spot with 2.36 progressive runs, while Julian Hettwer demonstrates his dribbling prowess in third place with 2.33 progressive runs. Falko Michel and Aaron Keller follow closely with 2.07 and 2.05 progressive runs respectively. These wingers are a constant threat to opposition defenses with their ability to advance the ball.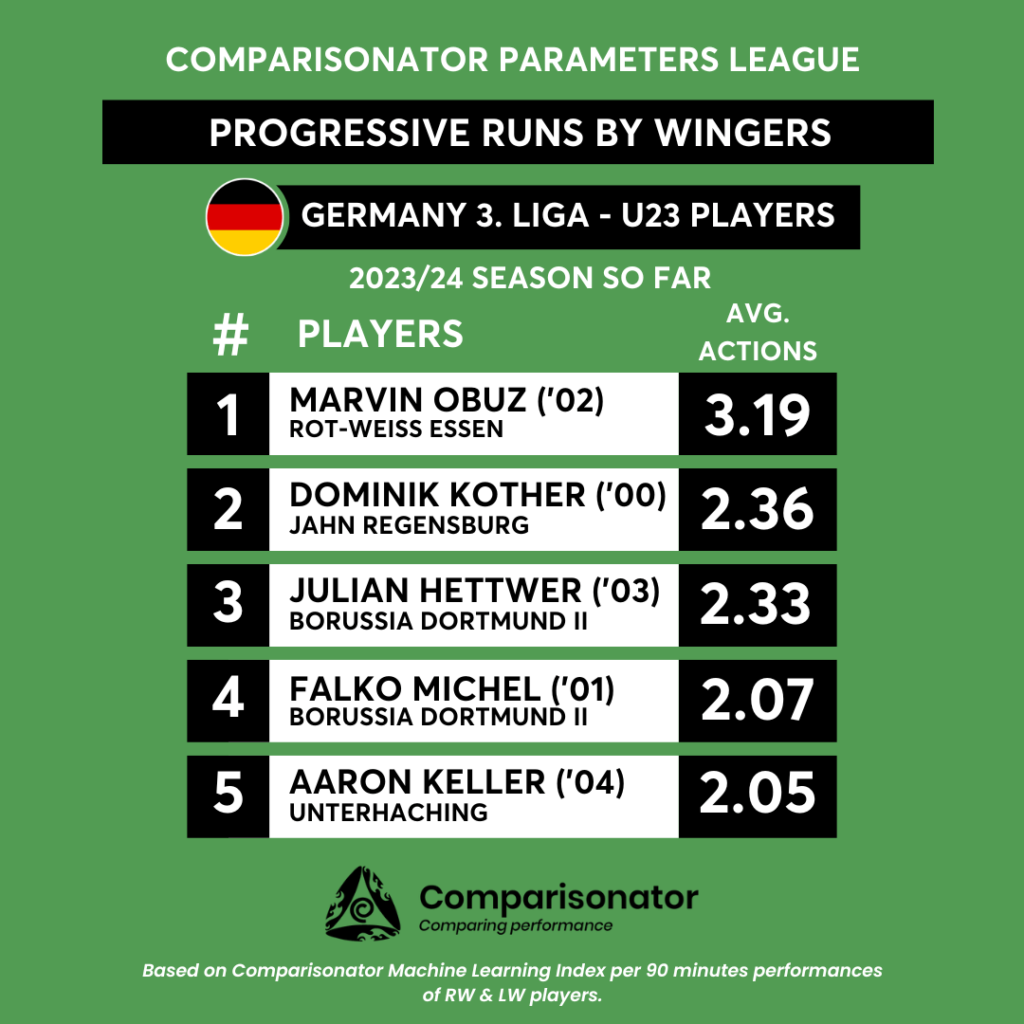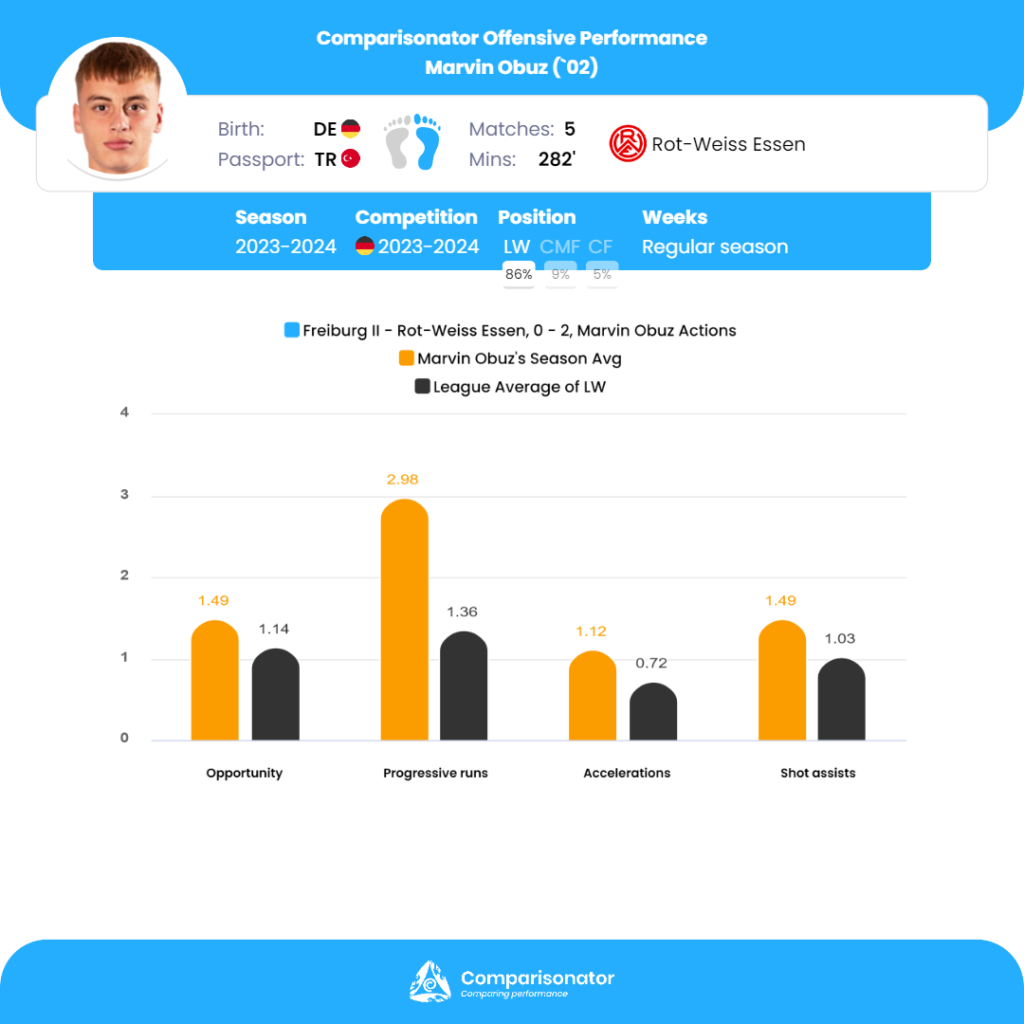 Ball Recoveries in Opponent Half
Fullbacks are no longer just defenders; they contribute significantly to both attack and defense. Alexander Lungwitz leads in ball recoveries in the opponent's half with an impressive 5.21 per 90 minutes. Fabian Greilinger secures the second position with 4.54 ball recoveries, while Bastian Allgeiger and Benedikt Bauer follow with 3.25 and 2.88 ball recoveries respectively. Leon Sommer completes the top five with 2.7 ball recoveries. These fullbacks not only defend diligently but also actively regain possession in dangerous areas.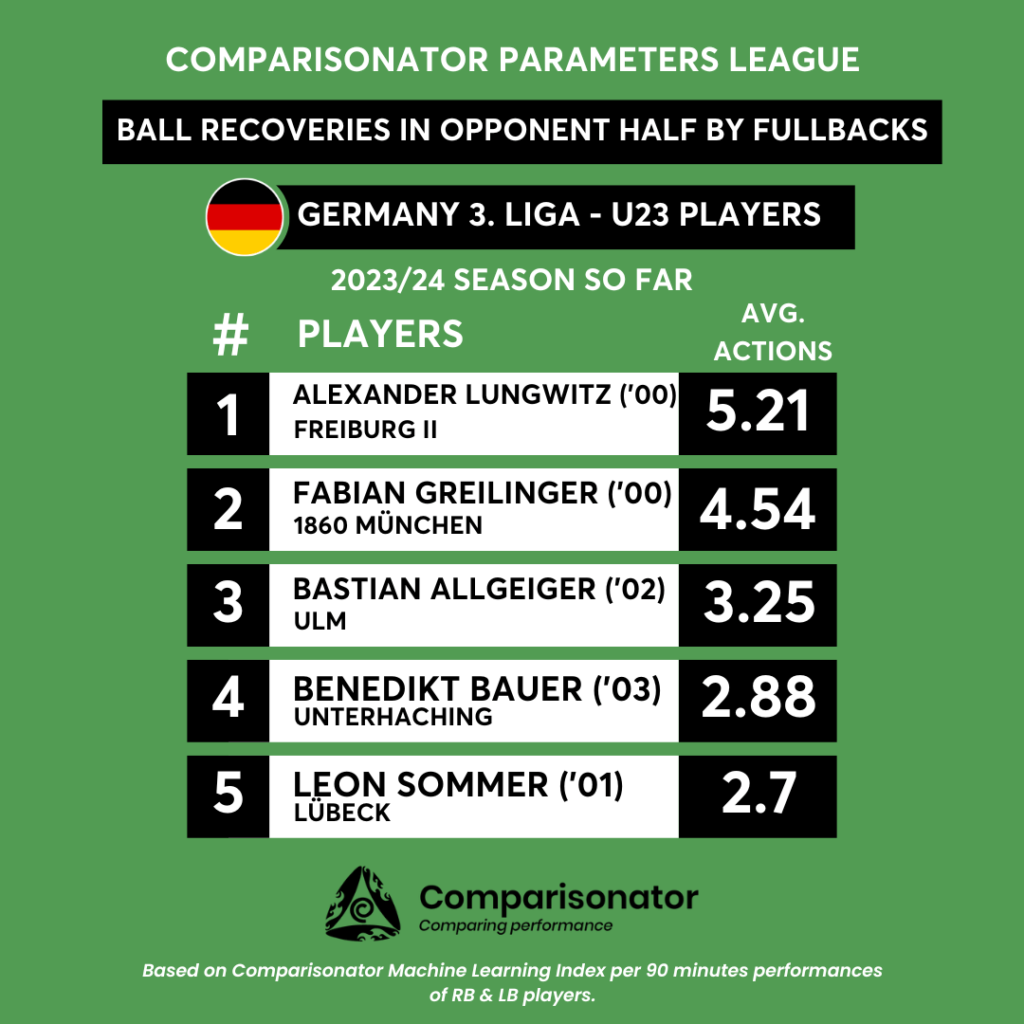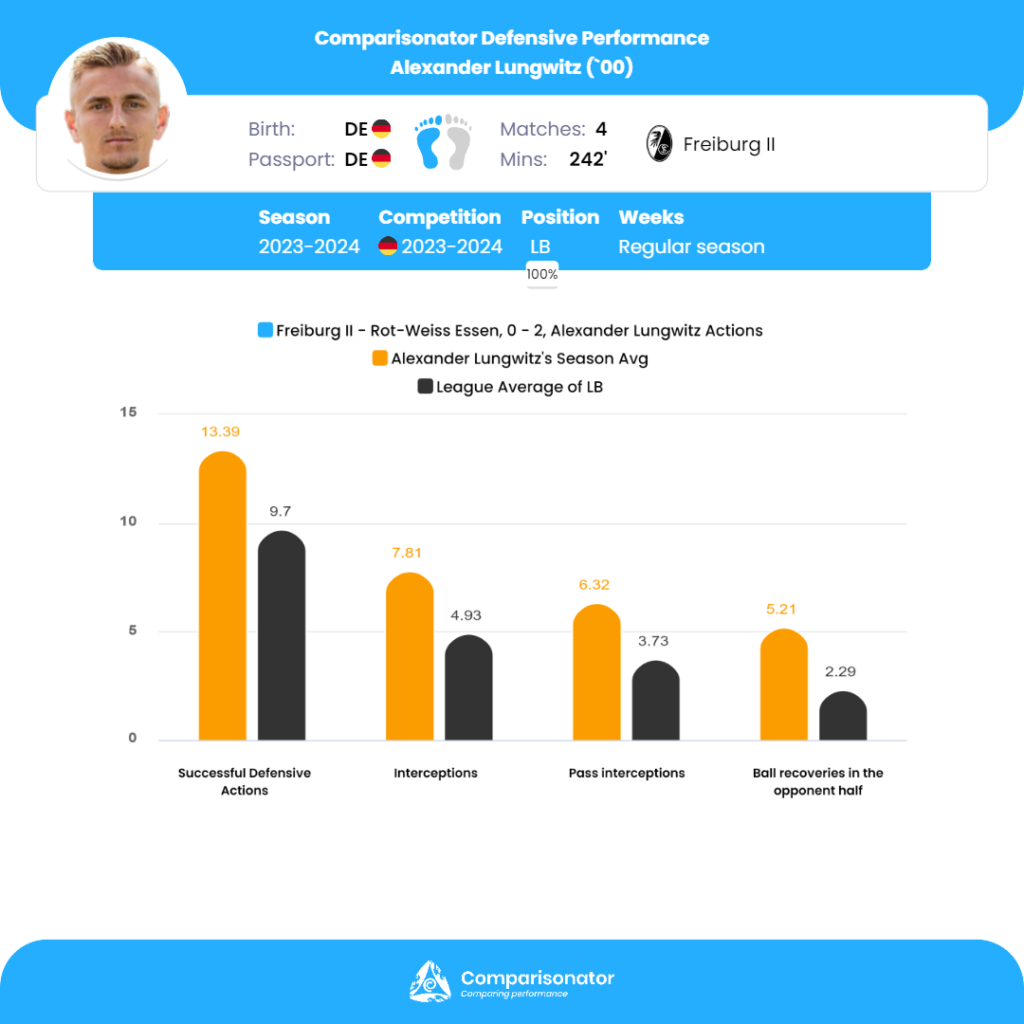 Touches in Box
Strikers are the goal-hungry players, and Malik Batmaz leads with an average of 5.27 touches in the opponent's box per 90 minutes. David Philipp secures the second spot with 4.87 touches, while Paul-Philipp Besong demonstrates his attacking presence in third place with 4.07 touches. Maximilian Breunig and Cyrill Akono complete the top five with 3.89 and 3 touches respectively. These strikers are constantly involved in the action, making life difficult for opposing defenses.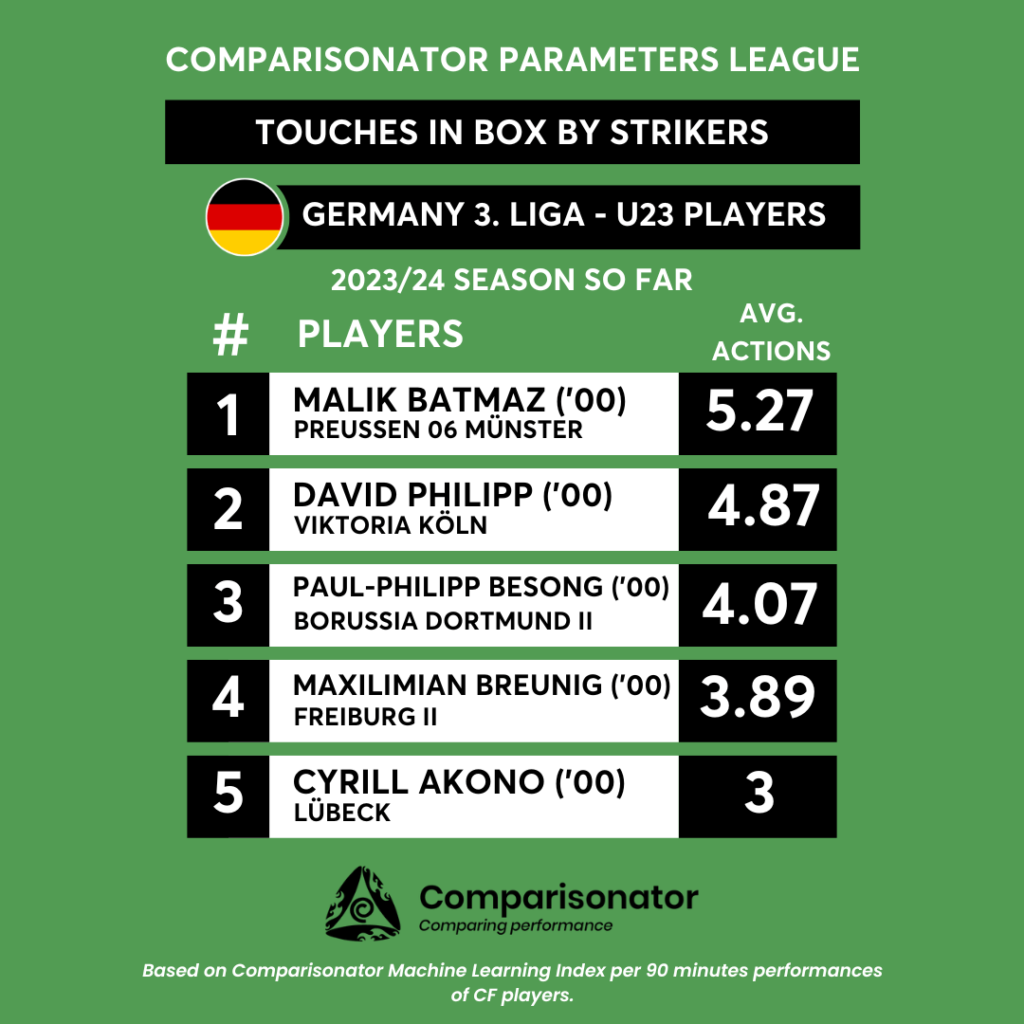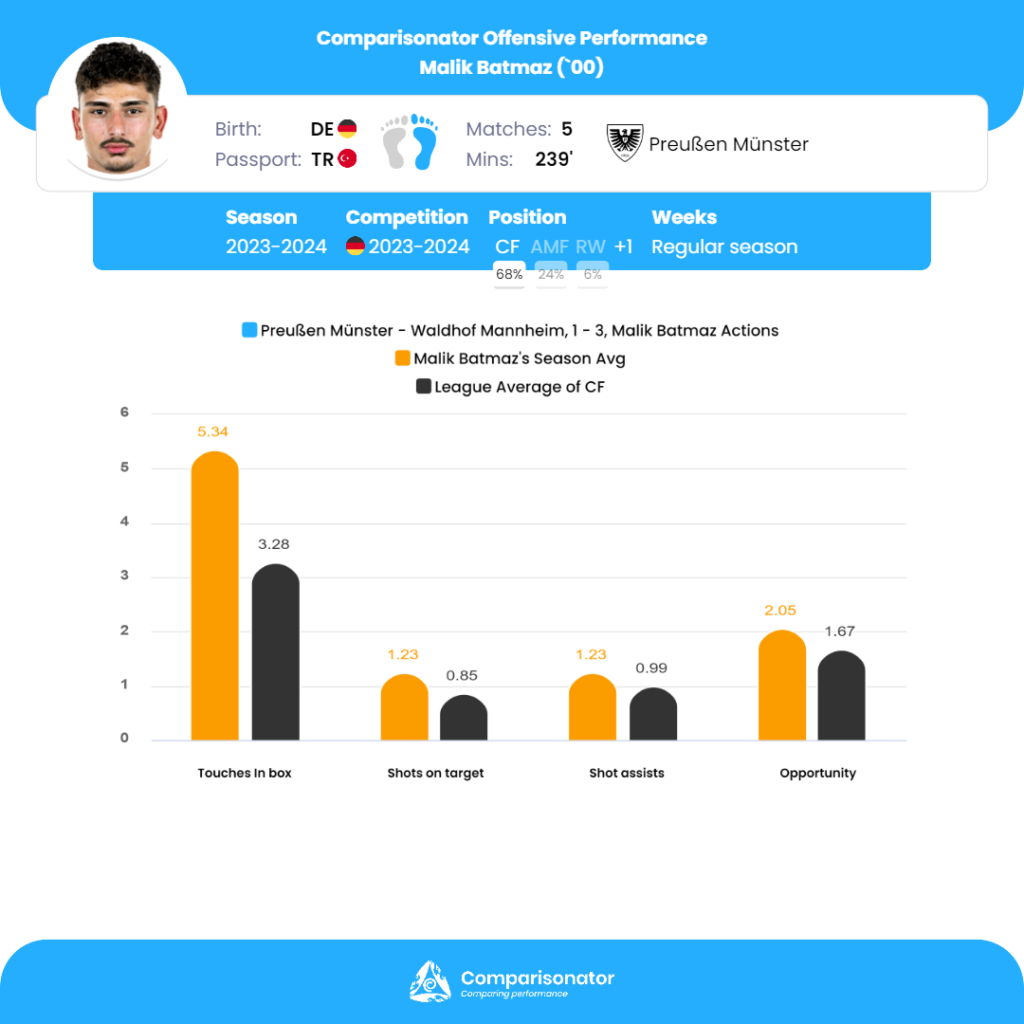 Clearances
In the heart of the defense, center-backs play a pivotal role, and Joel Bichsel leads with an average of 4.76 clearances per 90 minutes. Kevin Ehlers secures the second position with 4.53 clearances, while Louis Breunig demonstrates his defensive prowess in third place with 3.88 clearances. Marvin Senger and Tom Gaal complete the top five with 3.85 and 3.84 clearances respectively. These center-backs provide a solid foundation for their teams, thwarting opposition attacks with their clearances.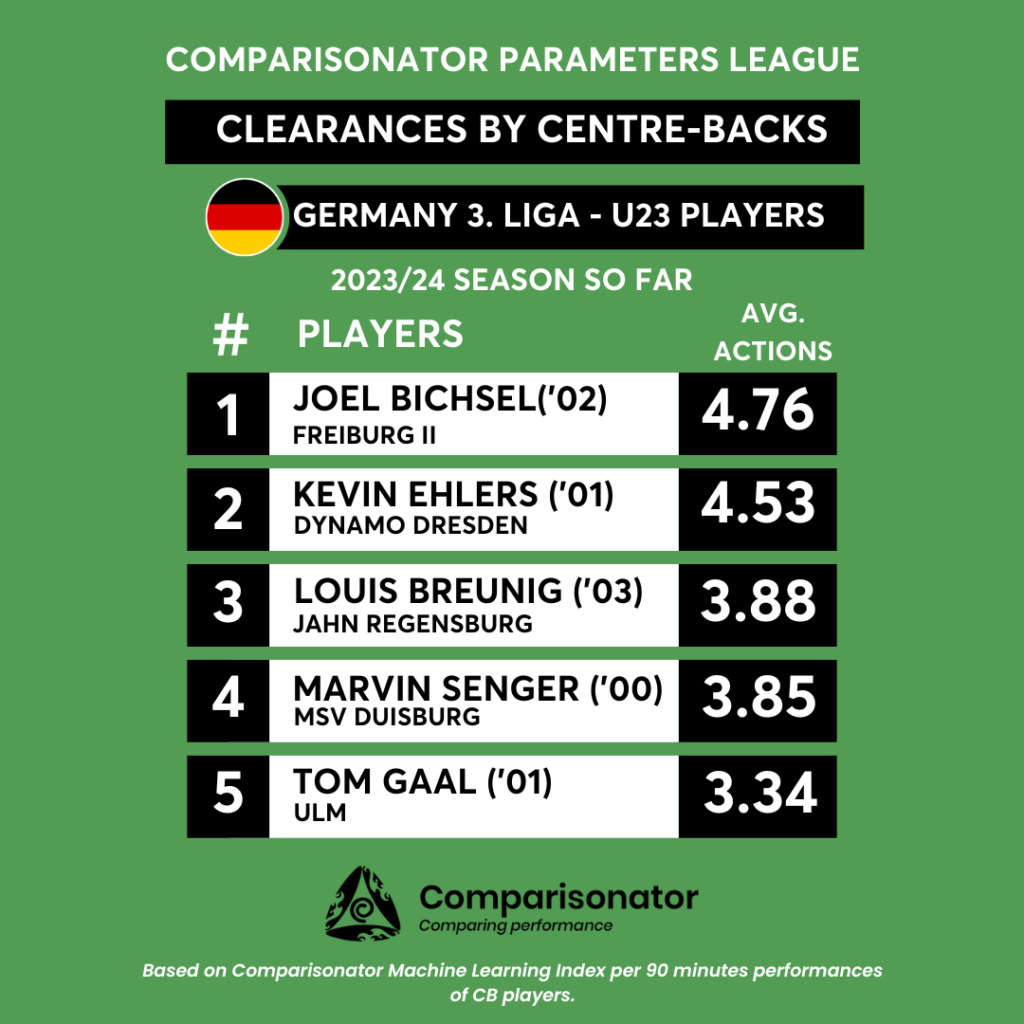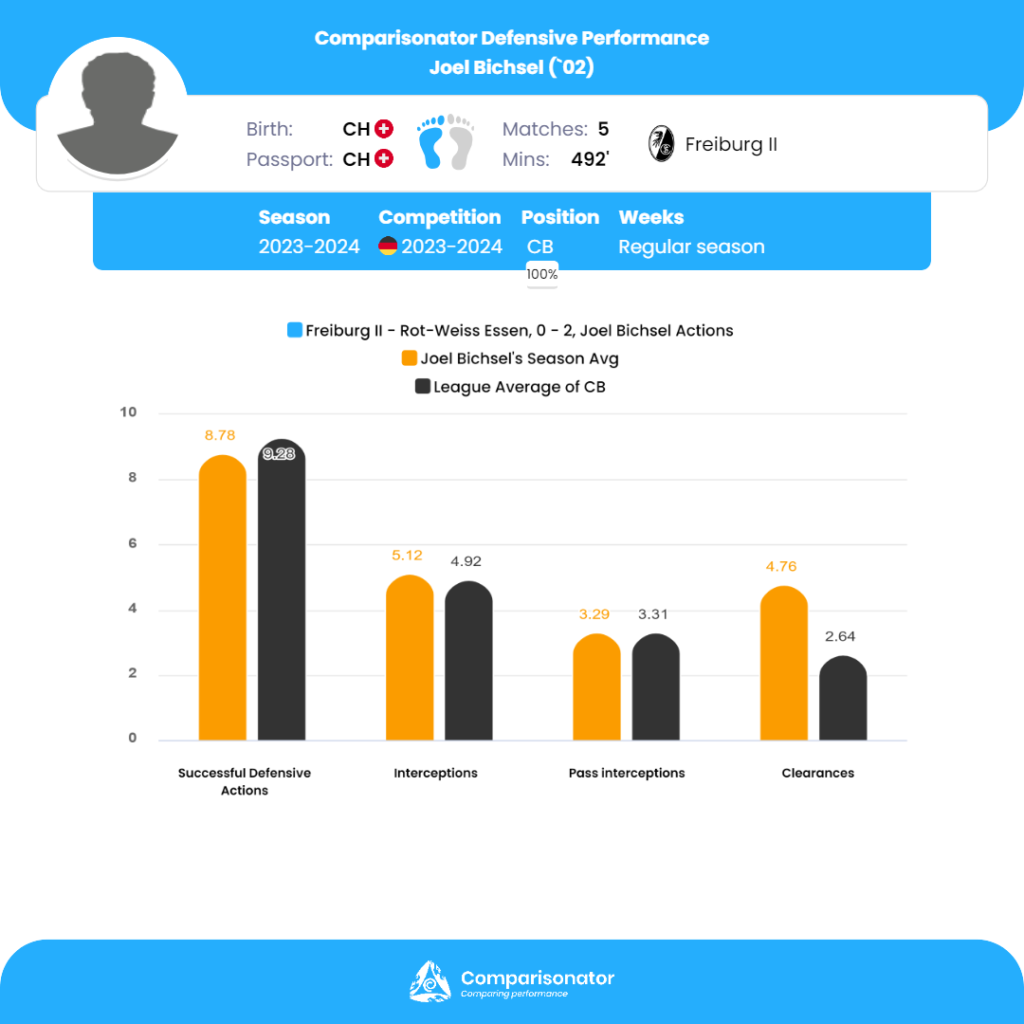 HOW DOES COMPARISONATOR's RECRUITMENT FEATURE WORKS?
"Recruitment Shop" allows recruiters & scouts to search/list players with one click from any league and any position according to their performance (using artificially intelligent Comparisonator Performance index), height, age, passport country. Player actions can be filtered towards qualities searched for. Out of contract players can be found from more than 300.000 players within the database.
For example decision makers will can list all U21 best centre forwards (or any positions) in Croatia & Serbia (or from 275 competitions), add amount of goals, aerial duels won if looking for a target man from the filter section, or dribbles made if looking for forwards. Very simply detail the position to search to find suitable players.
Selected via Comparisonator machine learning index.
Data Comparisons provided by Comparisonator is for educational purposes only and not intended to be monetized.