Austria 2. Liga unveils a talented cohort of U23 players who are making their mark in pivotal performance metrics as identified by Comparisonator platform. Across key parameters such as key passes by midfielders, successful dribbles by wingers, ball recoveries by fullbacks, shots on target by strikers, and duels won by center-backs, these rising stars showcase their potential and proficiency in various positions. Their contributions not only speak volumes about their individual abilities but also hint at their role in shaping the future of Austrian football.
Best U23 Players in the Austria 2. Liga in 5 Parameters
The best 5 players ranked in the selected parameters based on the matches played so far this season. These players ranked according to their per 90 min averages. In this analysis, Comparisonator team used the Recruitment Shop feature of the Platform.
Key Passes
Successful Dribbles
Ball Recoveries
Shots on Target
Duels Won
Please note that all numbers are per 90 min data from the 2023-24 Season So Far.
HOW DOES COMPARISONATOR's RECRUITMENT FEATURE WORKS?
"Recruitment Shop" allows recruiters & scouts to search/list players with one click from any league and any position according to their performance (using artificially intelligent Comparisonator Performance index), height, age, passport country. Player actions can be filtered towards qualities searched for. Out of contract players can be found from more than 300.000 players within the database.
For example decision makers will can list all U21 best centre forwards (or any positions) in Croatia & Serbia (or from 275 competitions), add amount of goals, aerial duels won if looking for a target man from the filter section, or dribbles made if looking for forwards. Very simply detail the position to search to find suitable players.
Key Passes
Kilian Bauernfeind leads the U23 midfielders with an average of 0.42 key passes per 90 minutes, demonstrating his playmaking abilities. Jonas Karner, David Ungar, Vesel Demako, and Paolo Jager follow closely, exhibiting their roles in creating goal-scoring opportunities from the midfield.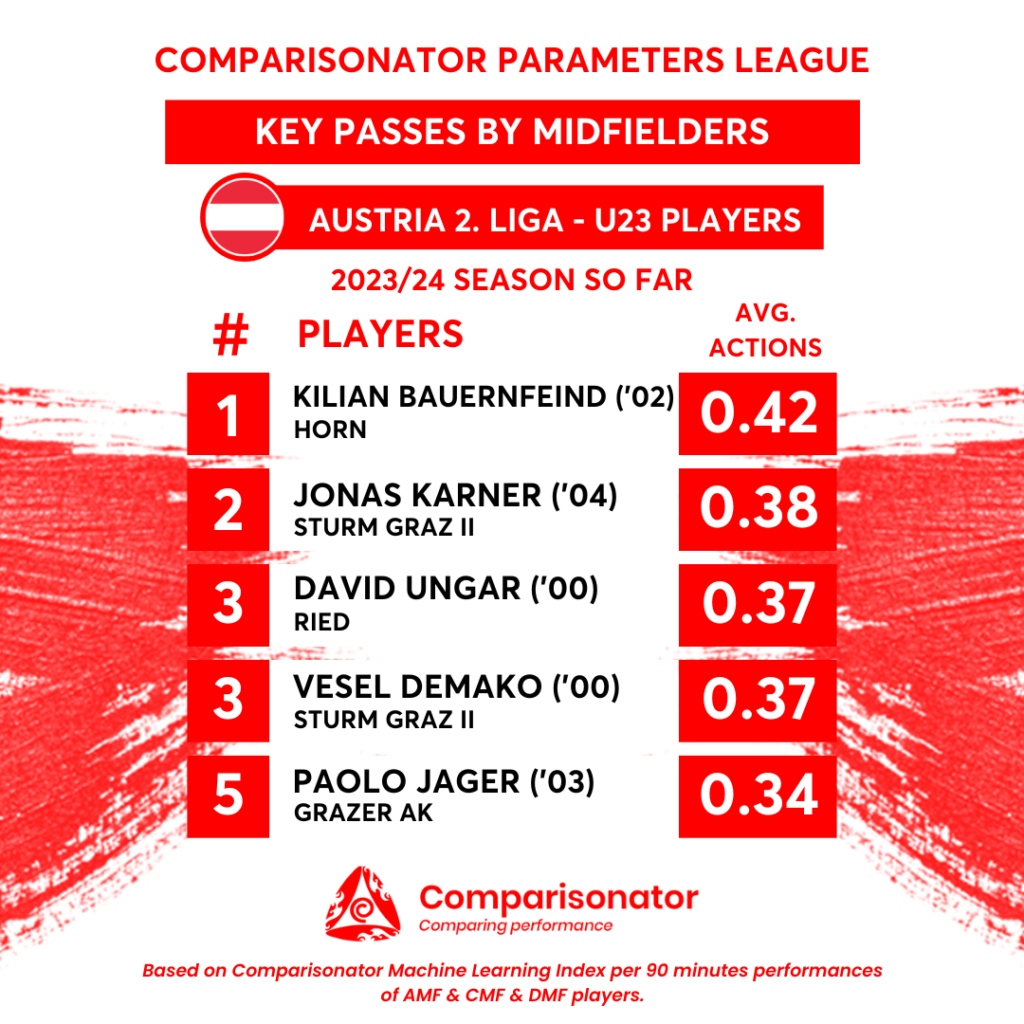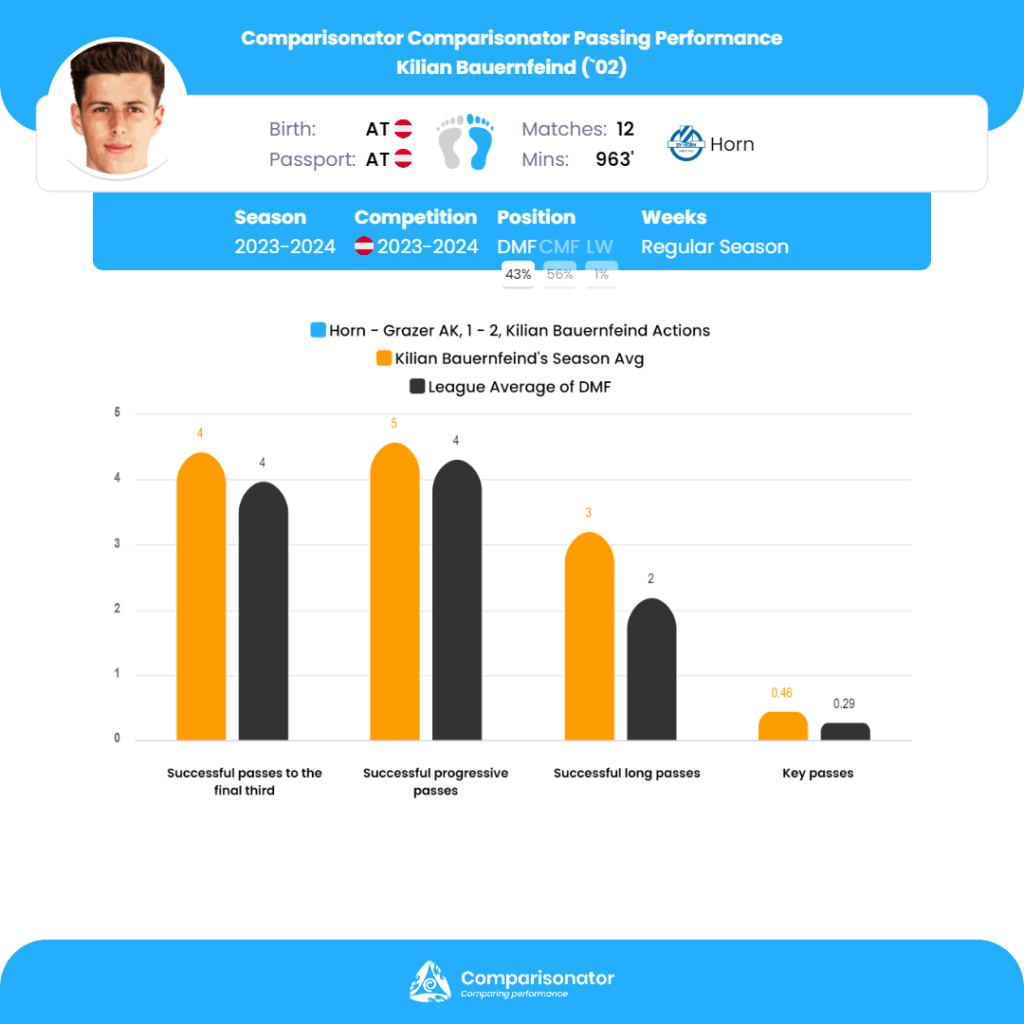 Successful Dribbles
Haris Ismailcebioglu tops the U23 wingers with an impressive average of 4.1 successful dribbles per 90 minutes, showcasing his flair and ability to take on opposition defenders. Winfred Amoah, Anteu Fetahu, Andre Leipold, and Lukas Parger also feature prominently, displaying their adeptness in beating opponents.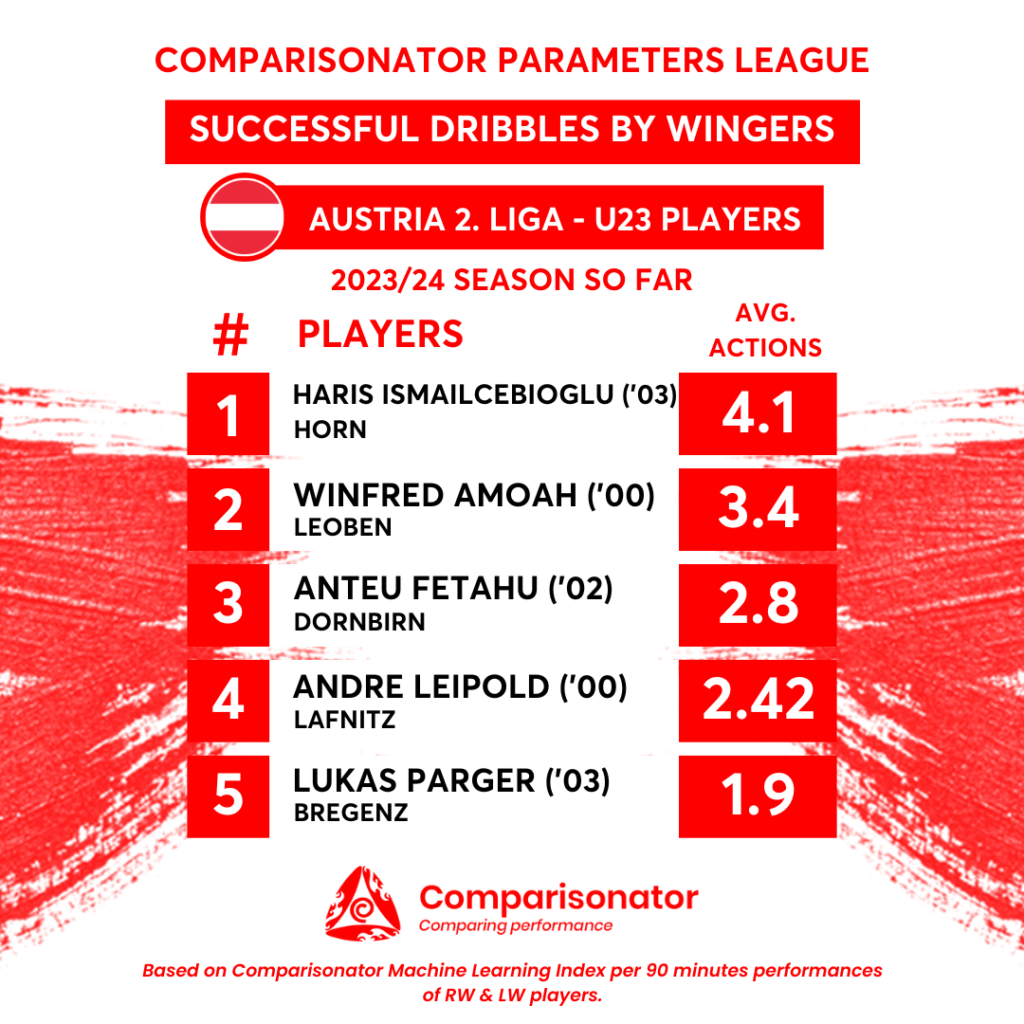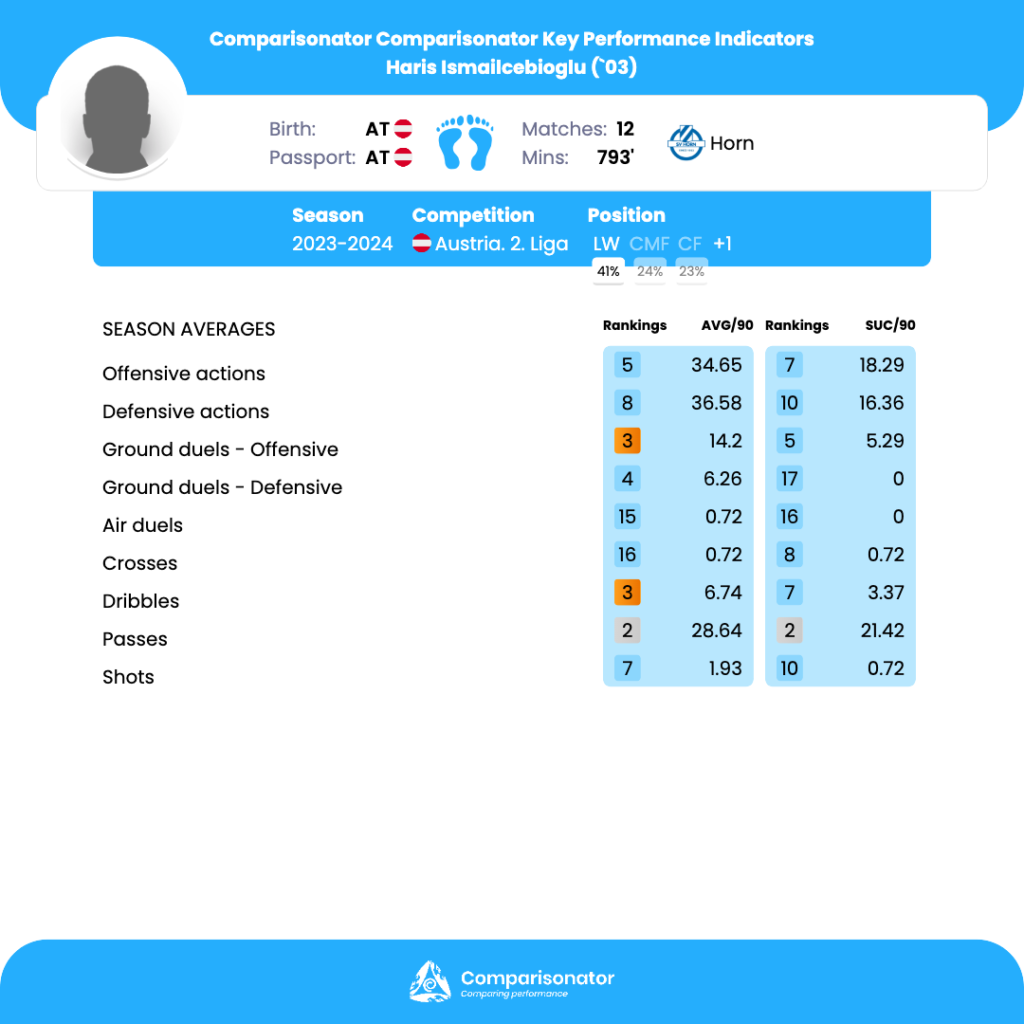 Ball Recoveries
Matteo Schablas leads the U23 fullbacks with an average of 11.06 ball recoveries per 90 minutes, followed closely by Benjamin Atiabou, Julian Keiblinger, Johannes Schriebl, and Leon Grube, illustrating their defensive contribution and ability to regain possession.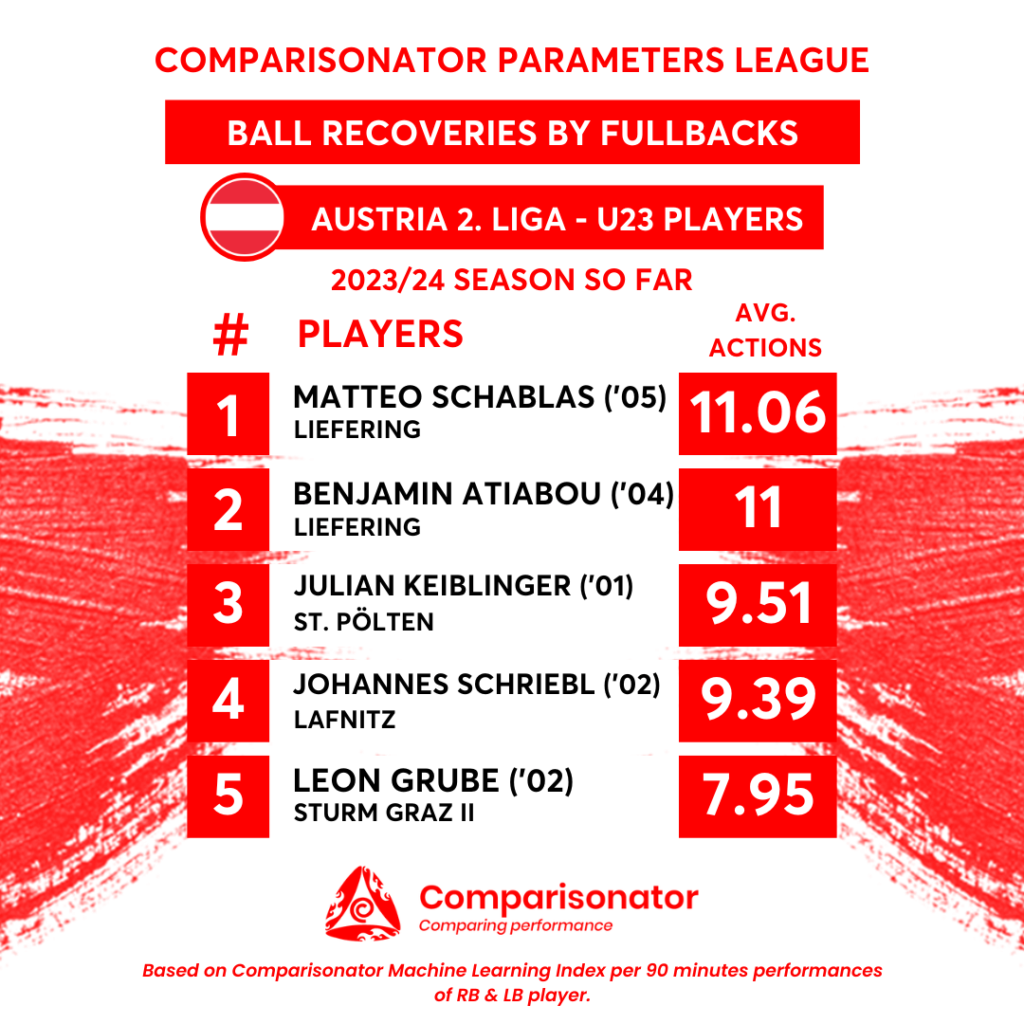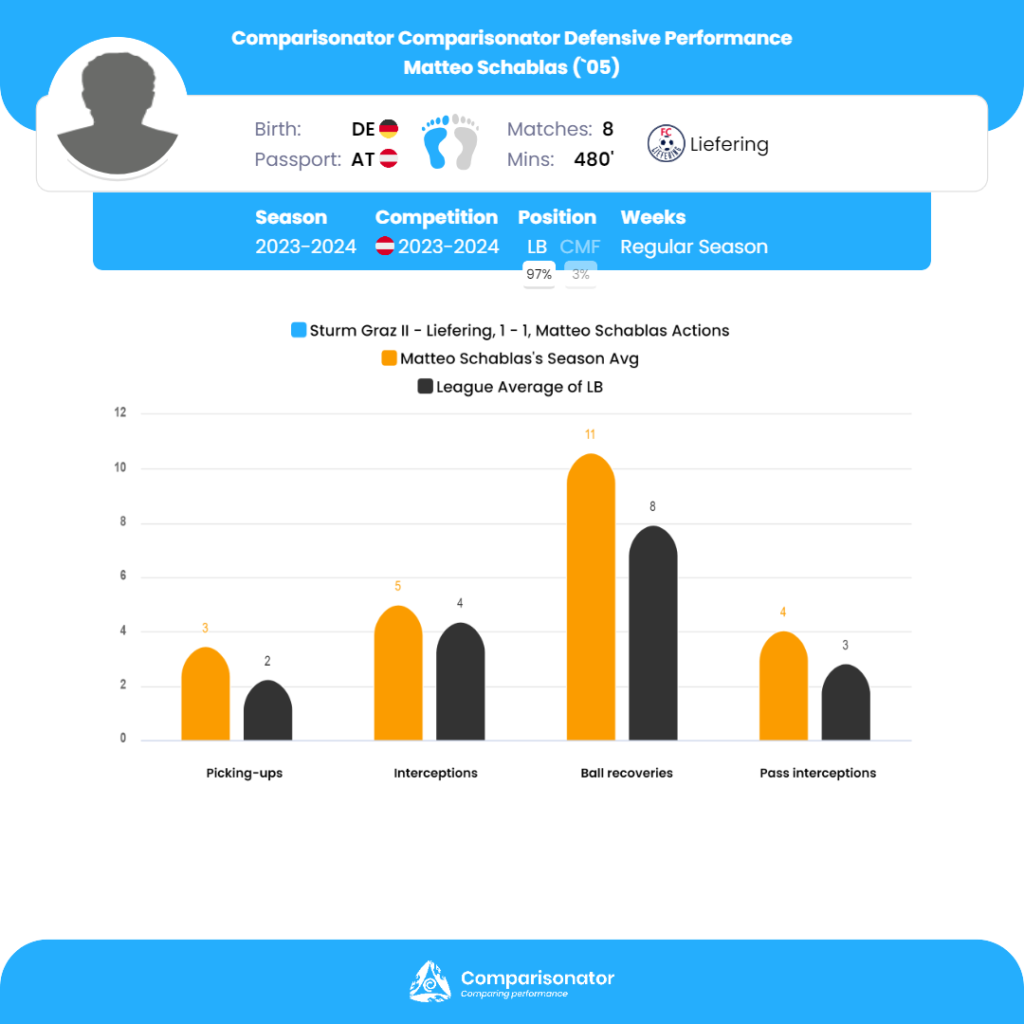 Shots on Target
In the realm of shots on target, Leon Grgic emerges as the top U23 striker with an average of 1.23 shots on target per 90 minutes, showcasing his accuracy and goal-scoring threat. Samuel Guedes, Yannick Woudstra, Amady Camara, and Lukas Brückler also exhibit their proficiency in testing opposition goalkeepers.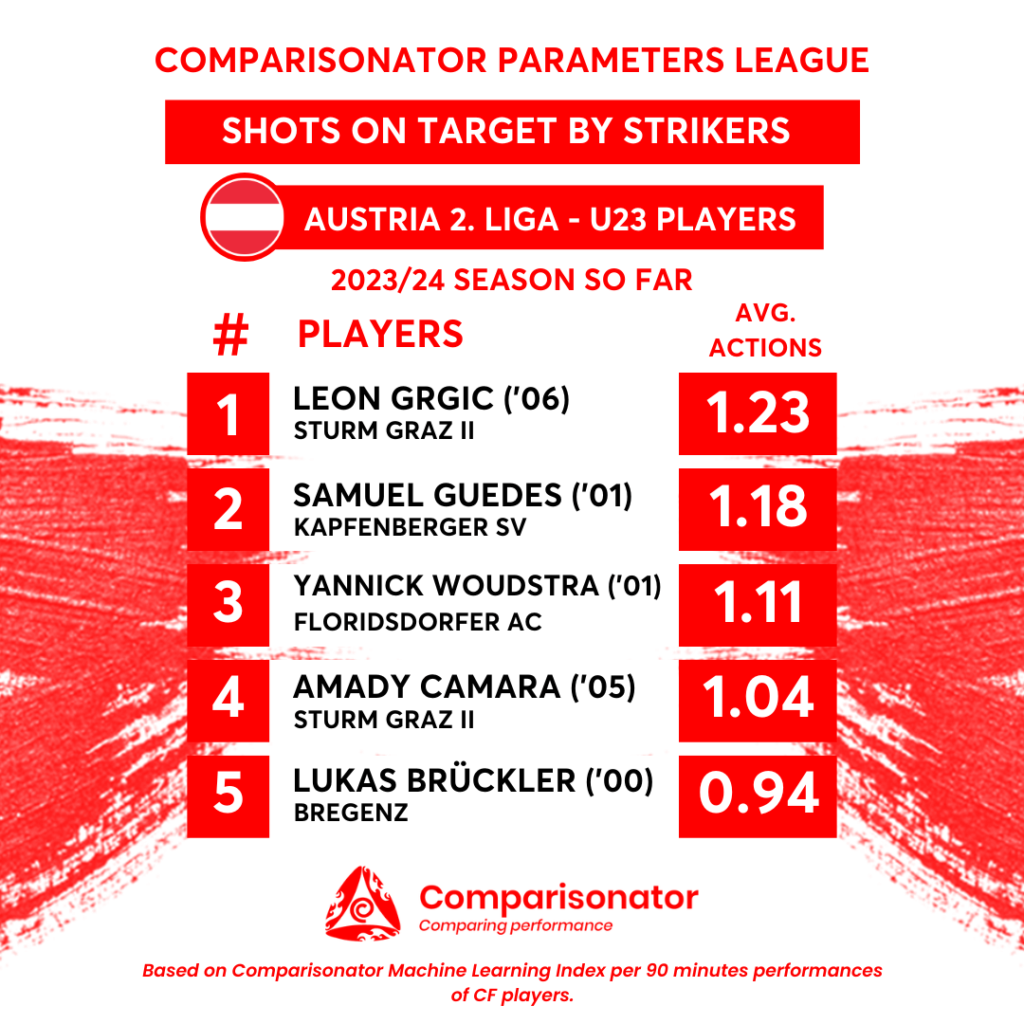 Duels Won
The U23 center-backs showcase their dominance in duels, with Simon Furtlehner leading the pack with an average of 12.8 duels won per 90 minutes. Matheus Lins, Arjan Malic, Gabriel Heider, and David Heindl closely trail, displaying their defensive strength and ability to win crucial battles.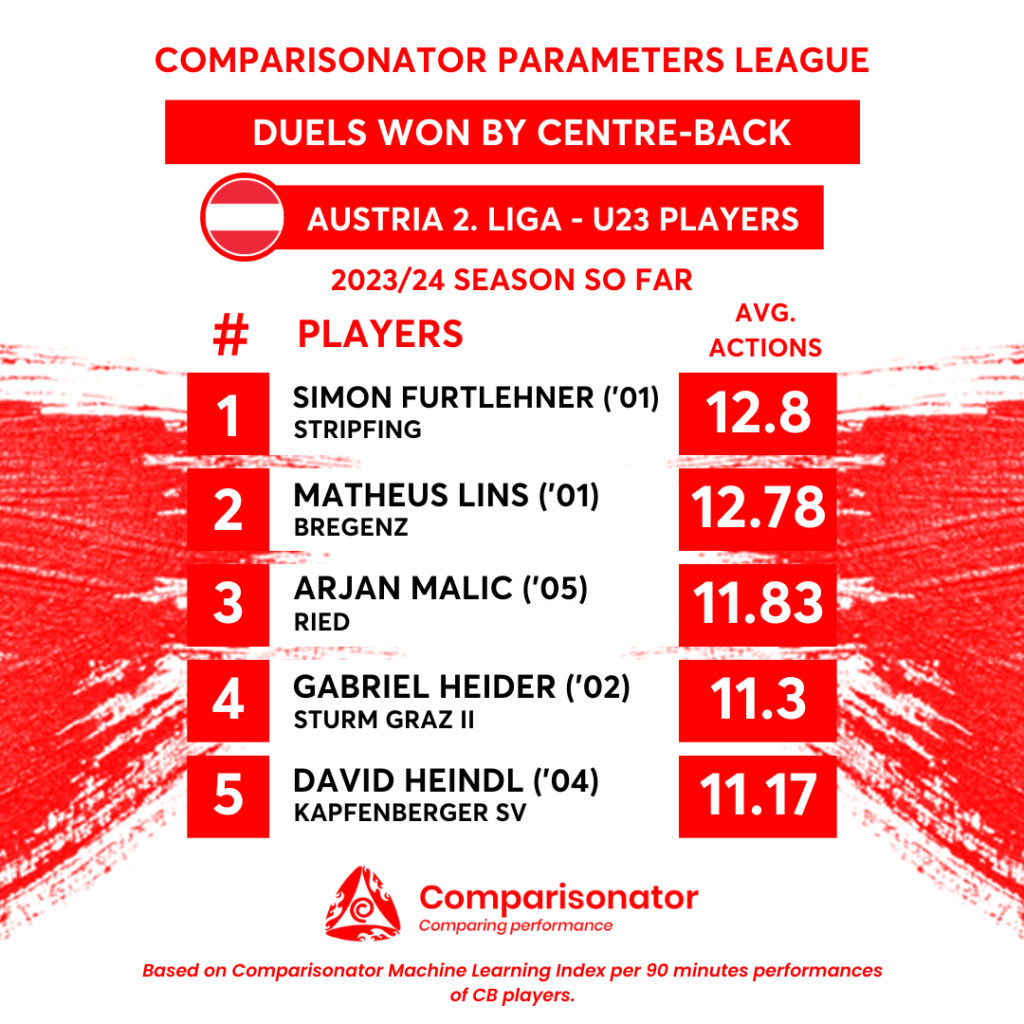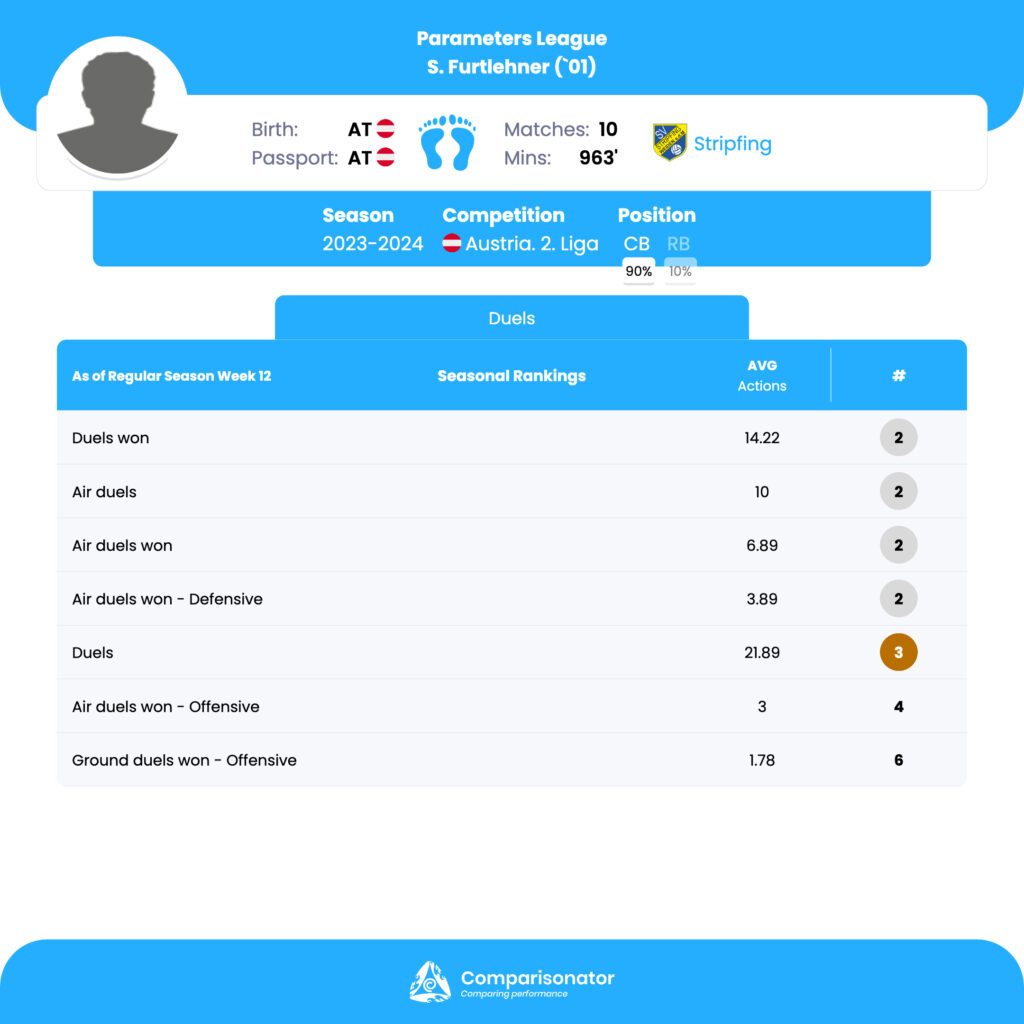 Selected via Comparisonator machine learning index.
Data Comparisons provided by Comparisonator is for educational purposes only and not intended to be monetized.