In the highly competitive realm of the Argentina Liga Profesional, young talents are emerging as catalysts of change. Comparisonator platform has meticulously analyzed the performance of U23 players across five vital parameters: picking-ups by midfielders, shot assists by wingers, successful dribbles by fullbacks, shots on target by strikers, and duels won by center-backs. In this comprehensive analysis, we dive into these categories to unveil the exceptional U23 players who are shaping the future of Argentine football within the Liga Profesional.
Best Players of Argentina Liga Profesional in Selected Parameters
The best 5 players ranked in the selected parameters based on the matches played so far this season. These players ranked according to their per 90 min averages. In this analysis, Comparisonator team used the Recruitment Shop feature of the Platform.
Please note that all numbers are per 90 min data from the 2023 Season So Far.
Picking-Ups by Midfielders
Shot Assists by Wingers
Successful Dribbles by Fullbacks
Shots on Target by Strikers
Duels Won by Centre-Back
Picking-Ups
Midfielders are often the architects of a team's success, and Franco Diaz leads this category with an astonishing 5.81 picking-ups per 90 minutes. Alan Rodriguez secures the second spot with 4.23, followed by J. Ignacio Nardoni, Hernan Lopez Munoz, and Federico Redondo, who complete the top five with 4.05, 3.82, and 3.67 picking-ups respectively. These midfield maestros not only orchestrate play but also effectively regain possession for their teams.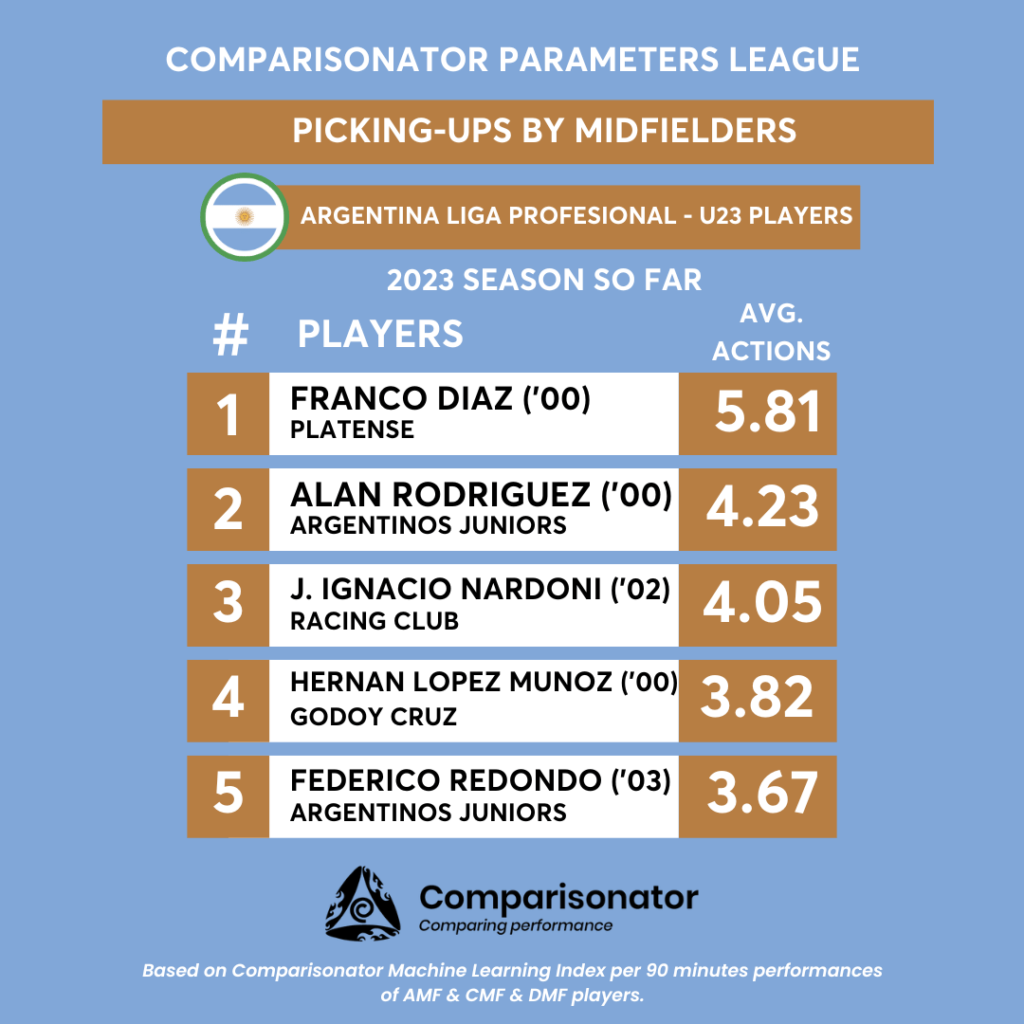 Shot Assists
Wingers bring pace and creativity to the game, and Ramiro Sordo takes the lead with 1.36 shot assists per 90 minutes. Lautaro Giaccone follows closely with 1.19, while Brian Aguirre and Jaminton Campaz share the third spot with 1.04 shot assists. Lautaro Guzman completes the top five with 0.95 shot assists. These wingers are instrumental in creating goal-scoring opportunities for their sides.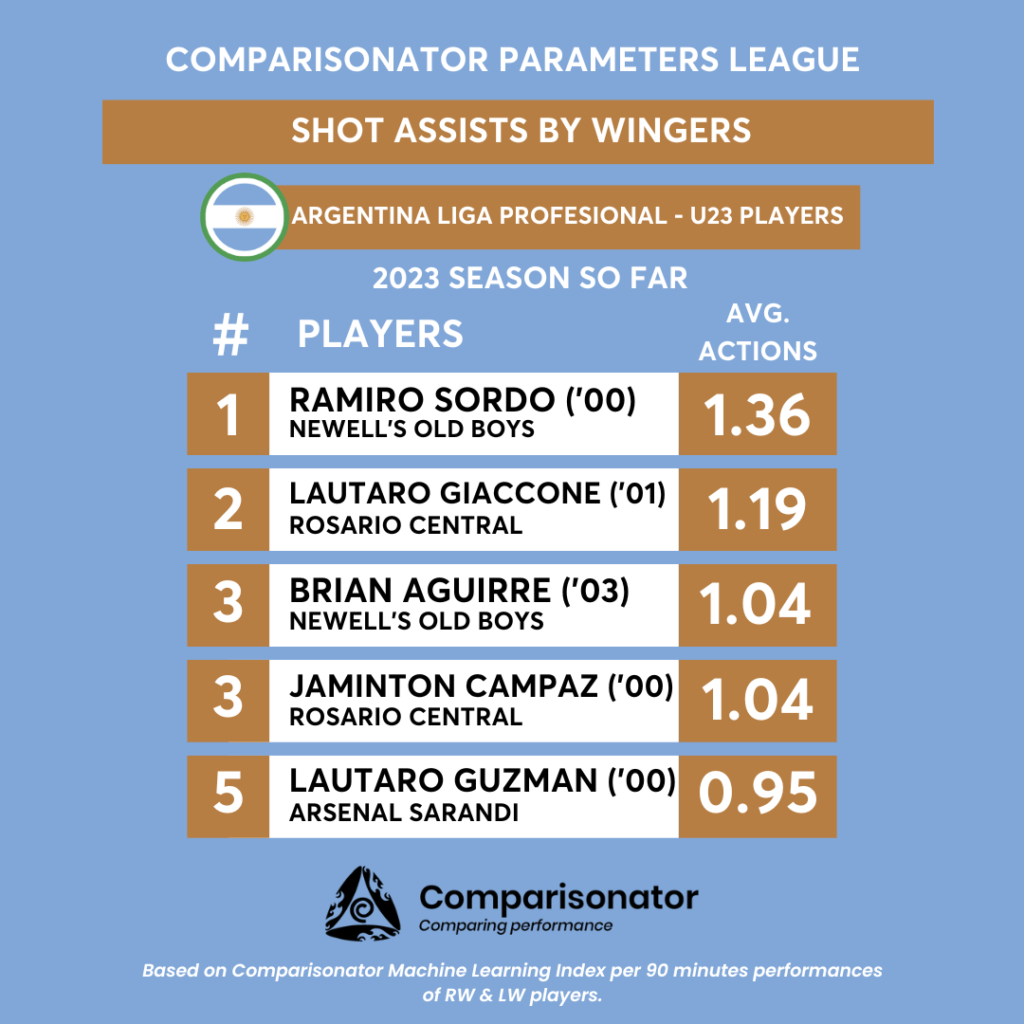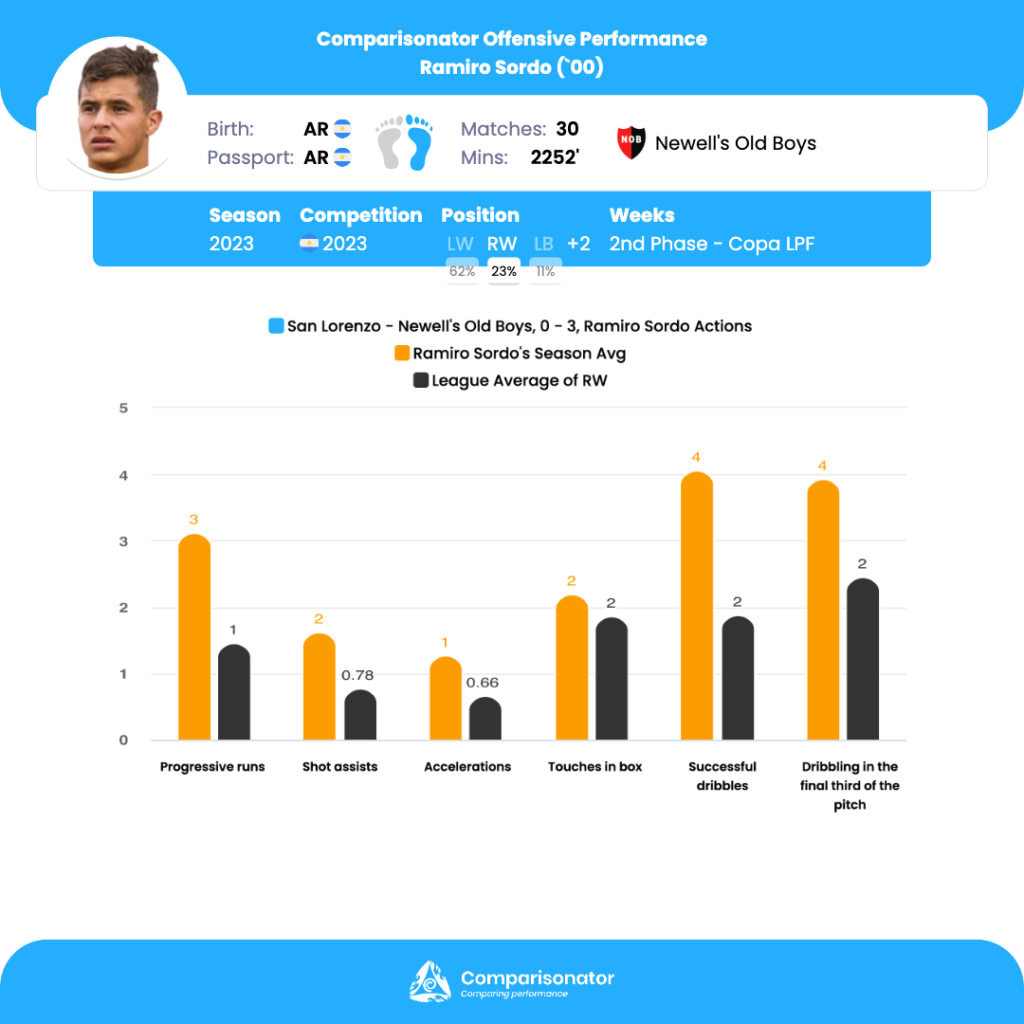 Successful Dribbles
Fullbacks are increasingly multifaceted, and Guillermo Enrique leads with an impressive average of 3.24 successful dribbles per 90 minutes. Kevin Zenon secures the second position with 2.57 successful dribbles, while Agustin Giay and Santiago Montiel follow with 2.22 and 2.19 successful dribbles respectively. Braian Aguirre completes the top five with 1.95 successful dribbles. These fullbacks not only defend resolutely but also contribute significantly to their team's attacking play.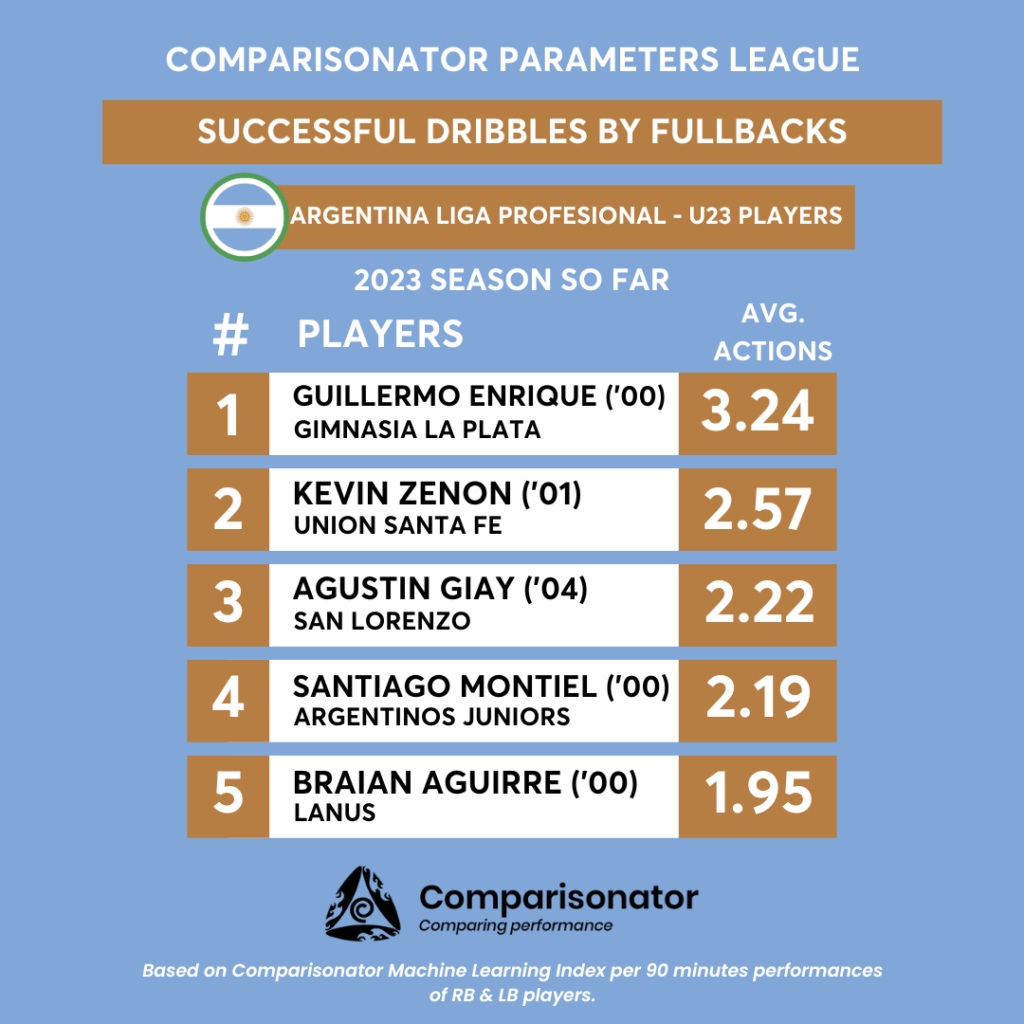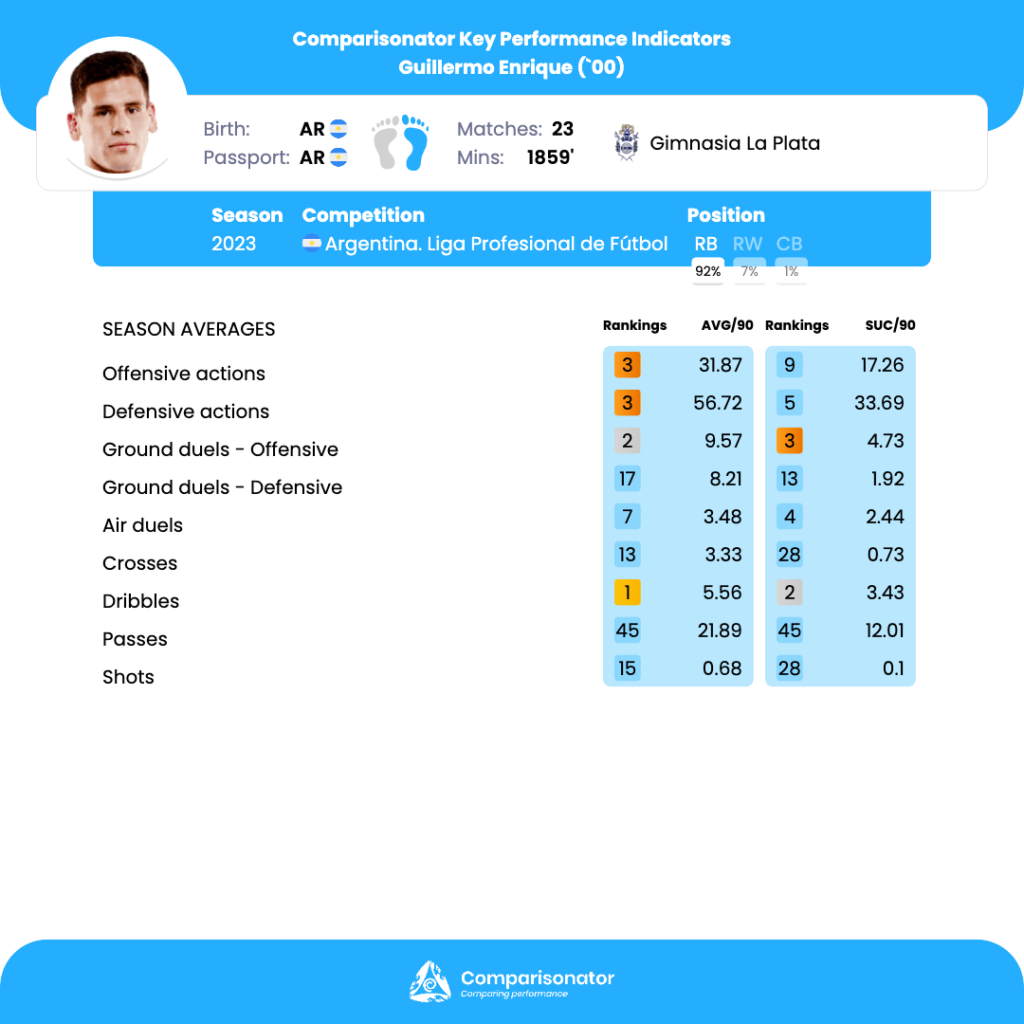 Shots on Target
Strikers are the goal-scoring focal point, and Luciano Gondou takes the lead with 1.02 shots on target per 90 minutes. Salomon Rodriguez secures the second spot with 0.91, followed by Flabian Londono and Abiel Osorio, who share the third position with 0.6 shots on target. Santiago Pierotti completes the top five with 0.5 shots on target. These strikers maintain a constant threat on goal, keeping opposition defenses on their toes.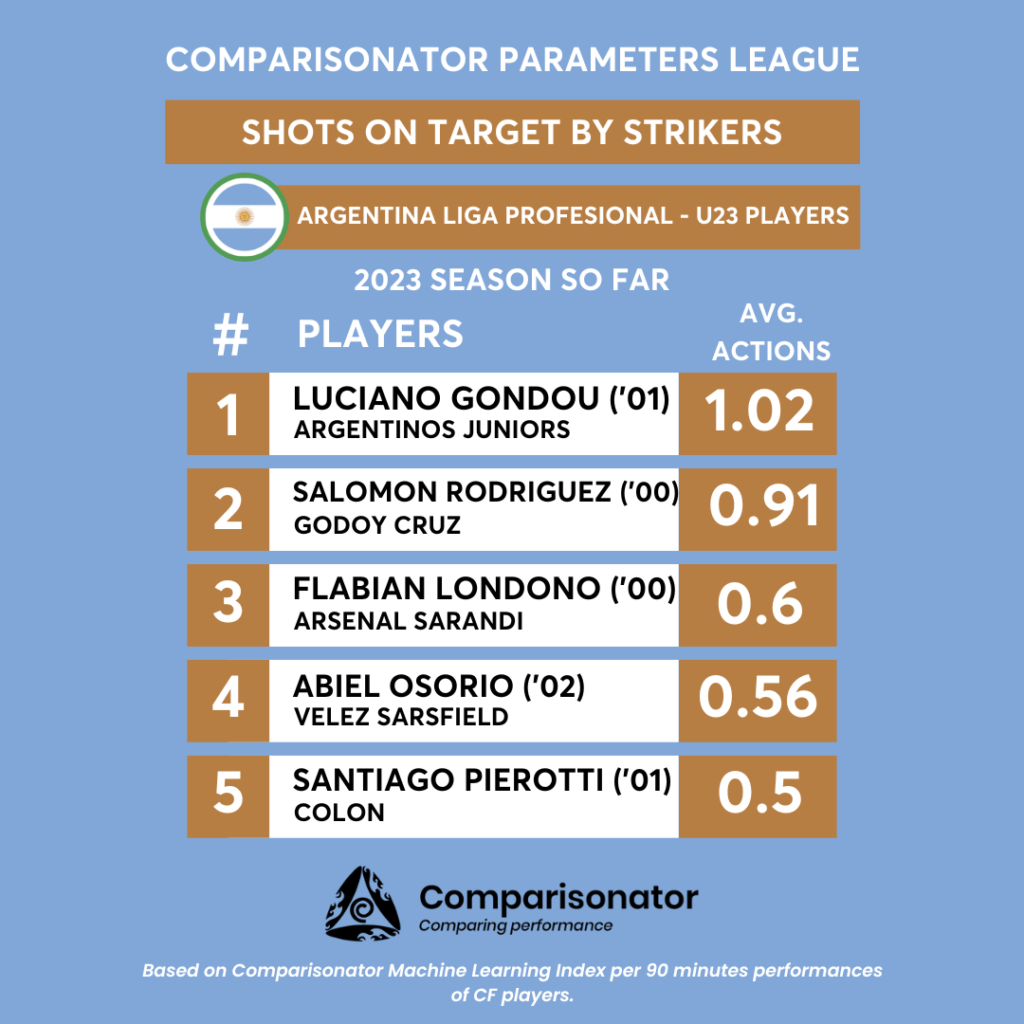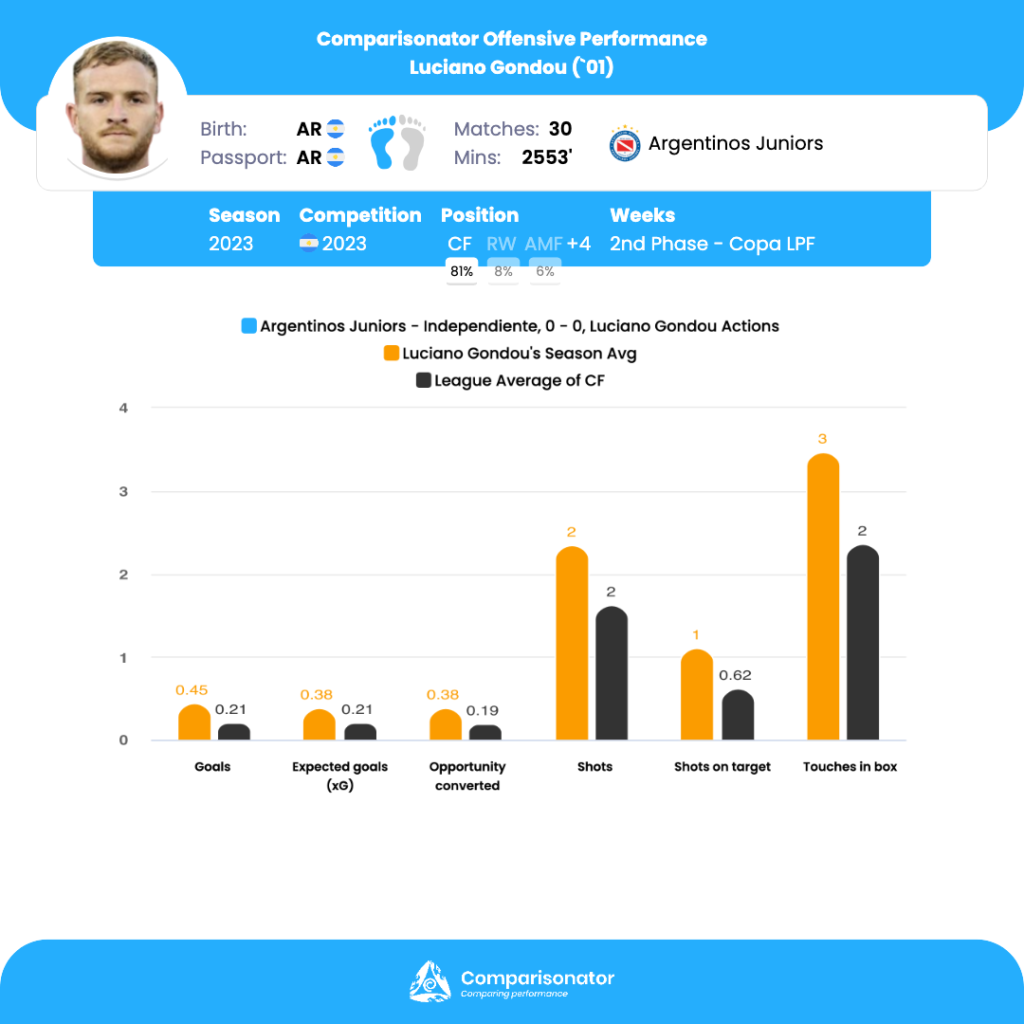 Duels Won
Centre-backs are the backbone of defense, and Marco Di Cesare leads this category with an impressive average of 12.18 duels won per 90 minutes. Francisco Alvarez secures the second position with 11.48, while Santiago Nunez and Joaquin Pombo follow with 11.23 and 10.65 duels won respectively. Nicolas Meriano completes the top five with 9.77 duels won. These center-backs not only provide a solid defense but actively engage in battles for possession.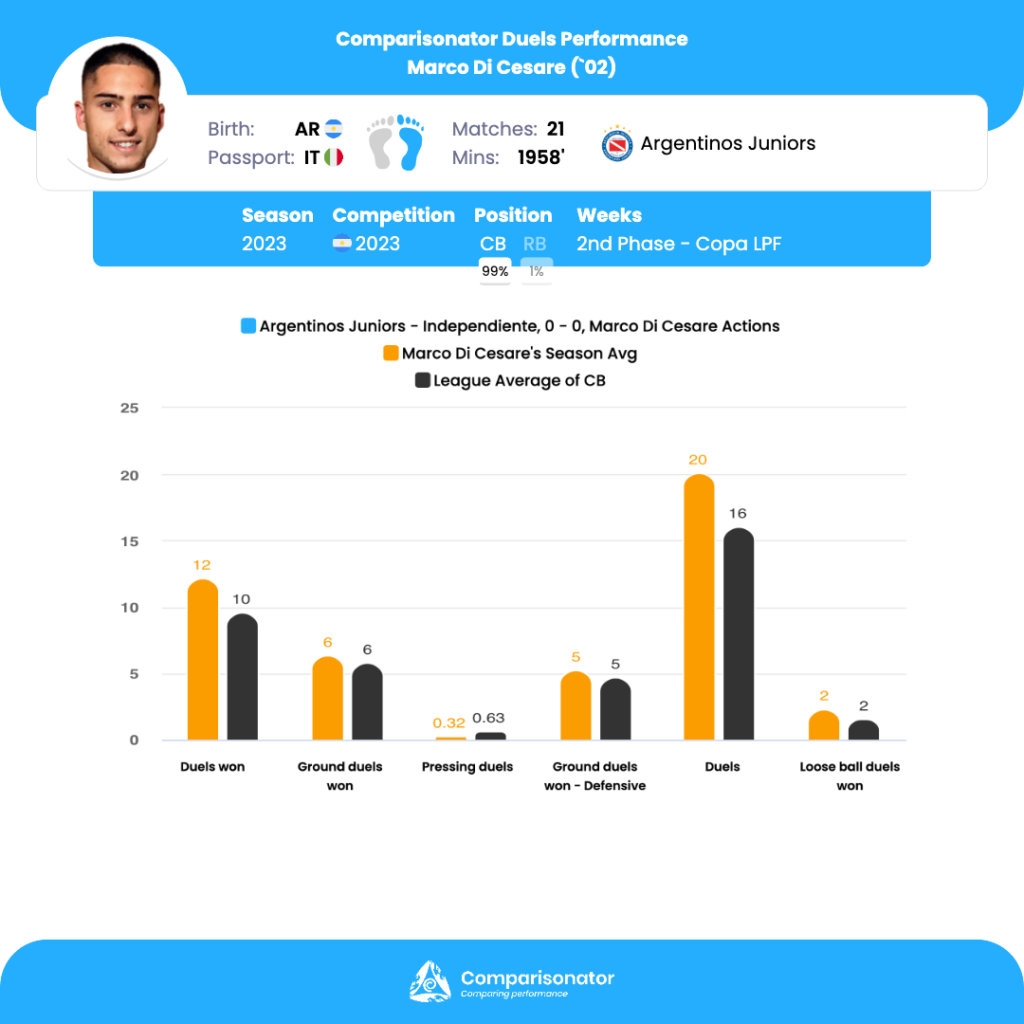 HOW DOES COMPARISONATOR's RECRUITMENT FEATURE WORKS?
"Recruitment Shop" allows recruiters & scouts to search/list players with one click from any league and any position according to their performance (using artificially intelligent Comparisonator Performance index), height, age, passport country. Player actions can be filtered towards qualities searched for. Out of contract players can be found from more than 300.000 players within the database.
For example decision makers will can list all U21 best centre forwards (or any positions) in Croatia & Serbia (or from 275 competitions), add amount of goals, aerial duels won if looking for a target man from the filter section, or dribbles made if looking for forwards. Very simply detail the position to search to find suitable players.
Selected via Comparisonator machine learning index.
Data Comparisons provided by Comparisonator is for educational purposes only and not intended to be monetized.