Not everyone is in the ideal 11, but…
The bonus rule in the Mozzart Bet Super League is set at 21, but in the world you are still considered a young player when you are 23 years old. Although in Serbia it is often said that it is already too late for a major European trophy, it is not true that foreigners – perhaps not the biggest clubs – do not follow what is happening in that era. Analytical platform Comparisonator thus dealt with the performance of U23 players in the course of the season so far, and although statistics can be deceiving, they can also direct the spotlight on players who may have gone under the radar until now.
He will certainly not give universal answers, because just as there are several coaching schools, there are also different football philosophies. Those with a mathematical mind will try to show everything in excel tables, those with a more casual attitude towards numbers will wave their hands and say that football is not something that can be easily calculated.
The truth is probably somewhere in the middle, so statistical data should not be dismissed in advance, although some "discoveries" will certainly surprise you, as they did us.
Let's say, in one of the five parameters that Comparisonator dealt with , Nikša Vujanović stood out as the best dribbler among U23 Mozzart Bet Superliga players. The Montenegrin football player, only the more attentive followers of the domestic championship would know that he plays for Voždovac, in 90 minutes on the field he dribbled as many as 2.5 times over the goalkeeper, more than Stefan Mitrović from Crvena zvezda (2.14), his teammate on loan in Čukarički Vladimir Lučić (2.11) and far more than Milutin Vidosavljević (1.72), who left Banovo brdo to join Radnički from Kragujevac, and another player from the current champion Kings Kangva .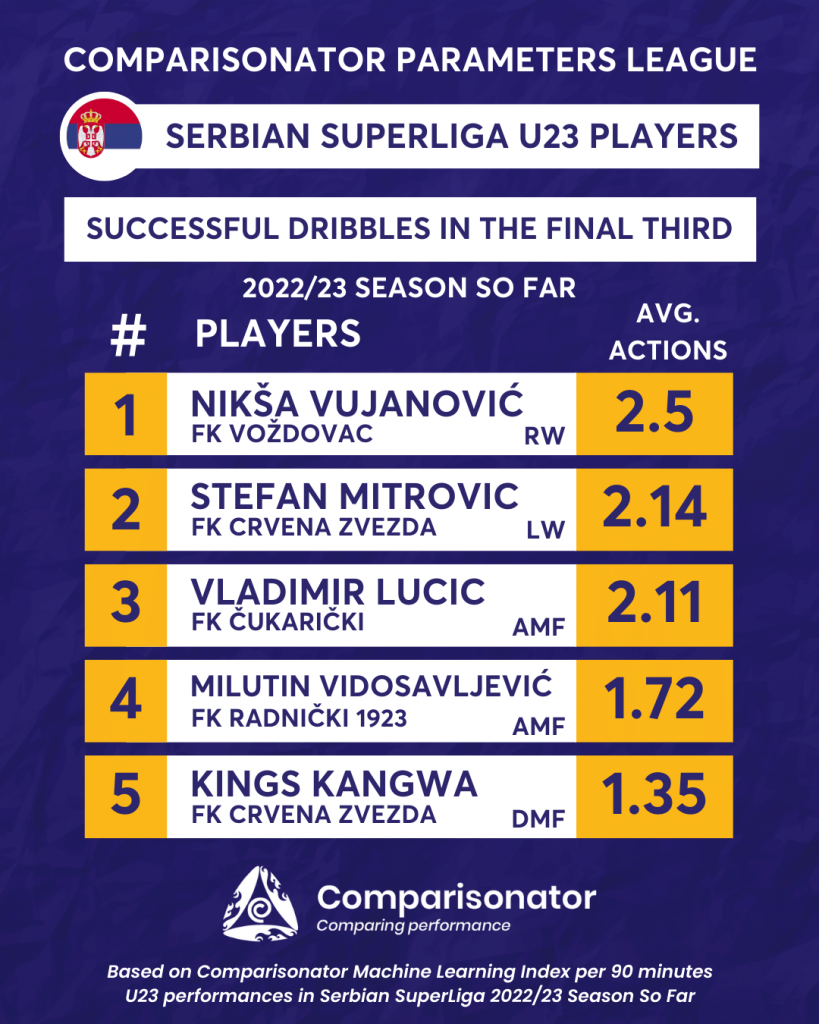 Kangwa , on the other hand, is unrivaled when it comes to passes in the last third of the field, there are as many as 21.25 of them in 90 minutes on the field, which is not too surprising because the red and whites mostly "camp" in the opponent's half of the field, so the footballer from Zambia is there in a slightly more favorable position than most competitors. Although he himself is responsible for the situation being the way it is. As it was, Lučić is second in this segment with 17.61 successful passes in the last third of the second, followed by Čuk's Nikola Petković (16.34), Mirko Topić (15.44) from Vojvodina, and Spartak's Petar Stanić (13.93). .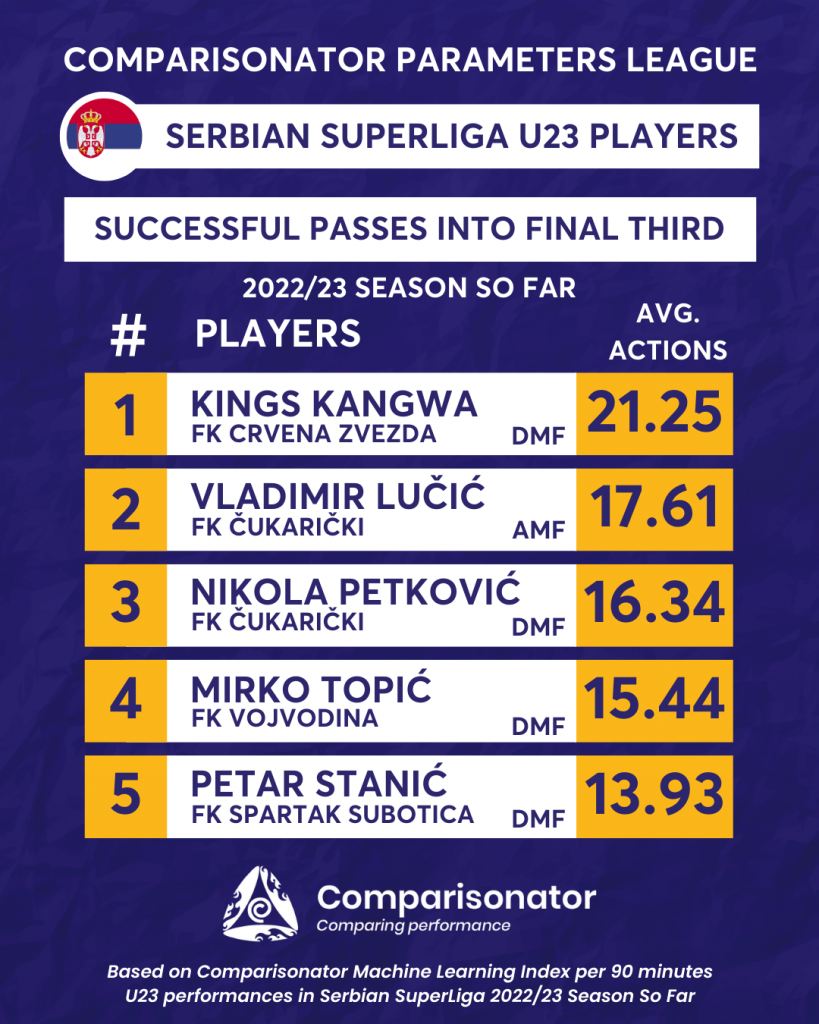 Petkovic 's name on this previous list should not be surprising, because he is far ahead of everyone when it comes to the number of possessions in the opponent's half of the field with as many as 3.21 per 90 minutes on the field. Interestingly, despite the fact that Partizan fans don't always see his contribution on the field, Kristijan Belic is second with 2.64 interceptions. Kangva is again present in third place with 2.17, and finally there are Javor's Bubakari Dukure (1.99) and stopper Strahinja Eraković (1.88), which again says a little about Zvezda's field supremacy.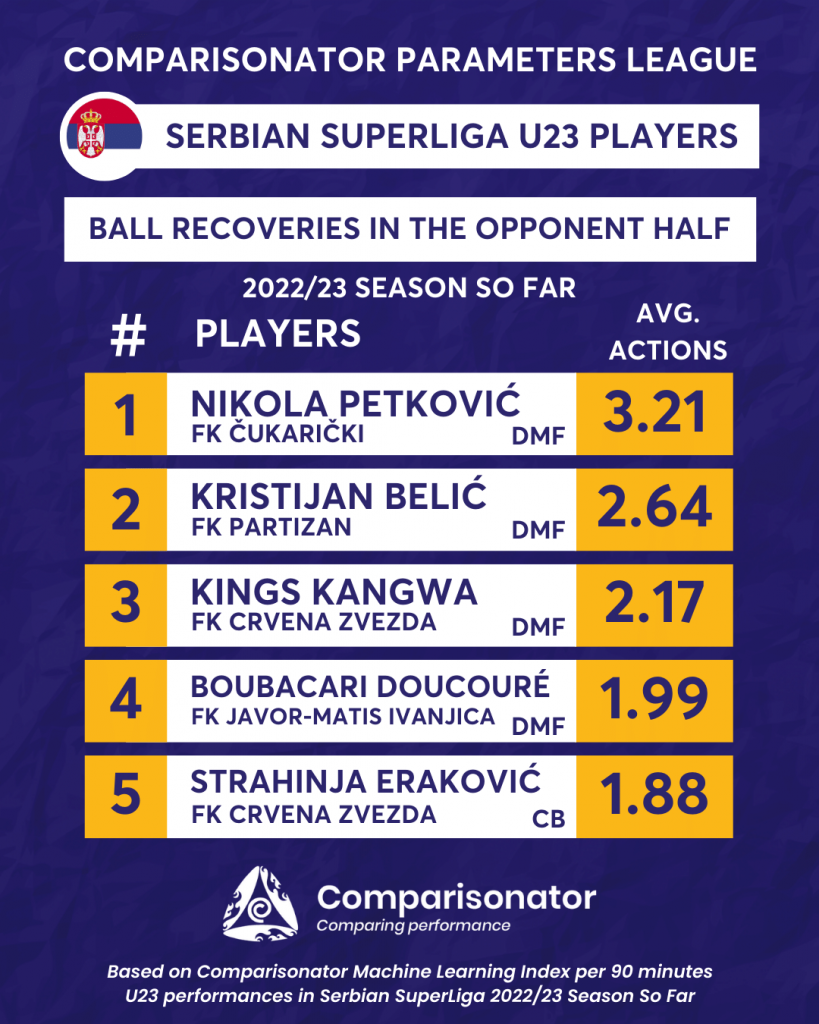 And yet, not a single Zvezda U23 player is on the list of the top five when it comes to chances created. On it, with an index of 1.65 for 90 minutes, Jug Stanojev from TSC dominates the field, followed by Spartak's Andrej Todorovski and Javorov 's Luka Gojković with 1.43 each, Milosavljević (1.33) and Mitra Ergelaš (1.32) from Novi Pazar.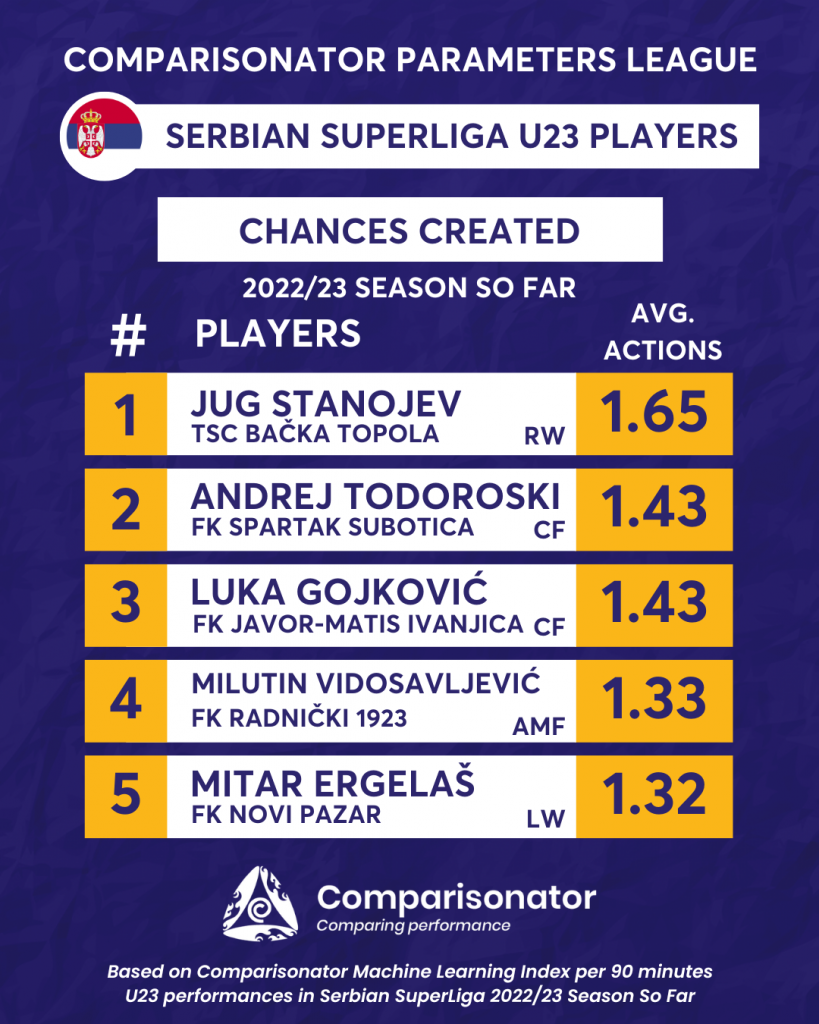 In the end, the duels won and a new plus for Kristijan Belić , who in that segment is absolutely superior in front of Petr Ratkov from TSC (11.54), Pazar's Sead Islamović (11.39), Voša's right back Marko Bjeković (10.79 ) and stopper Slobodan Rubežić of the Novi Pazar Superliga (10.23). Belic 's performance per 90 minutes on the field – 12.99 duels won.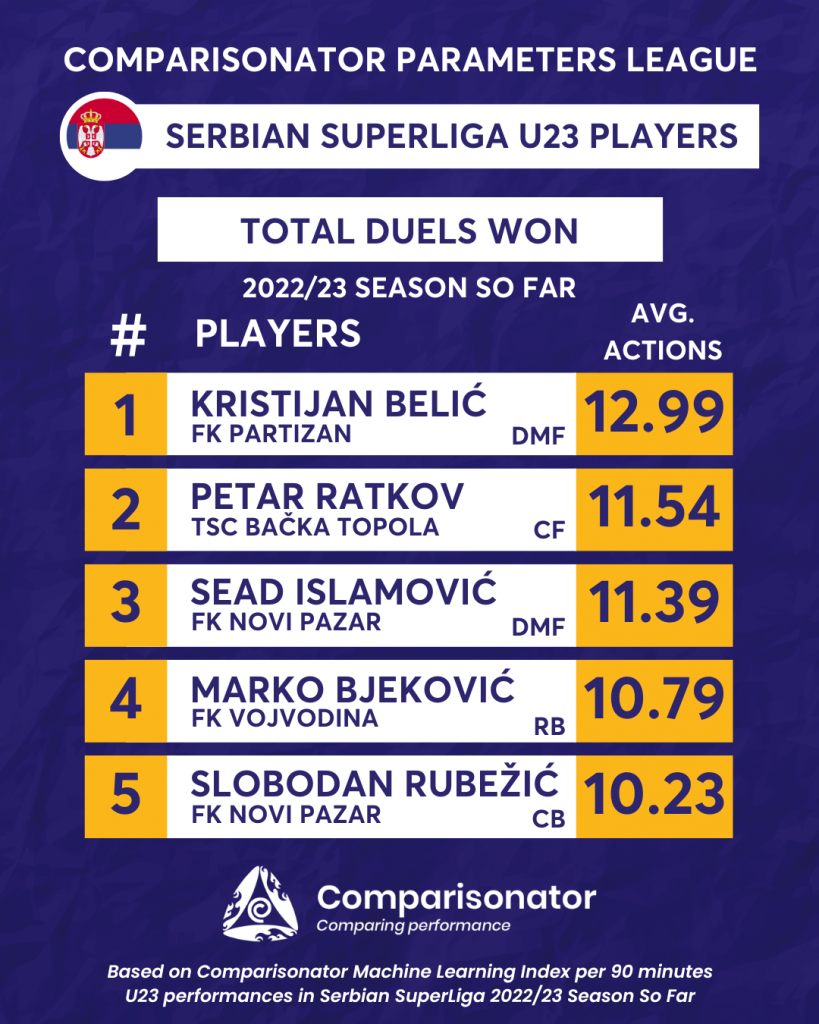 If statistics were to decide, and all parameters were included in the equation, the ideal Mozzart Bet Superliga 11 composed of U23 players, in a 4-4-2 formation, according to Comparisonator , would look like this: Aleksandar Popović (Partizan) – Marko Bjeković (Vojvodina), Svetozar Marković (Partizan), Strahinja Eraković (Crvena zvezda), Ognjen Mitrović (Spartak) – Jug Stanojev (TSC), Kings Kangva (Crvena zvezda), Kristijan Belić (Partizan), Stefan Mitrović (Crvena zvezda) – Nikola Štulić (Radnički Niš), Luka Gojković (Javor).
Now, statistics are one thing, eyeballs are something completely different, but still we live in a time where numbers sometimes gain too much importance, so who likes…