2023/24 season of the Croatia 1. HNL has seen the emergence of exceptional young talent, with three standout U23 players identified by the Comparisonator platform for their impressive performances so far. These young stars have not only demonstrated their skills and abilities but have also outperformed their peers in key statistical categories, making a significant impact on their respective teams. Domagoj Bukvic, the Right Winger from Osijek, has excelled in shot assists, key passes, and picking up the ball. Martin Baturina, the Attacking Midfielder representing Dinamo Zagreb, has showcased his dribbling, box presence, and progressive runs. Ivan Smolcic, the Right Back for Rijeka, has made his mark with ball recoveries, shot assists, and smart passes. In this article, we delve into the performances of these three exceptional U23 players and their contributions to the 2023/24 Croatia 1. HNL season.
3 Best U23 Players in Croatia 1. HNL – 2023/24 Season So Far
Domagoj Bukvic – (RW) Osijek
Domagoj Bukvic, plying his trade as a Right Winger for Osijek, has been a standout playmaker in the 2023/24 Croatia 1. HNL season. Leading the league in shot assists with 1.2 and key passes with 0.2 per match, Bukvic has been instrumental in creating goal-scoring opportunities for his team. His remarkable picking-up stats of 3.1 underline his ability to recover the ball efficiently and contribute both offensively and defensively, making him a pivotal figure in Osijek's campaign.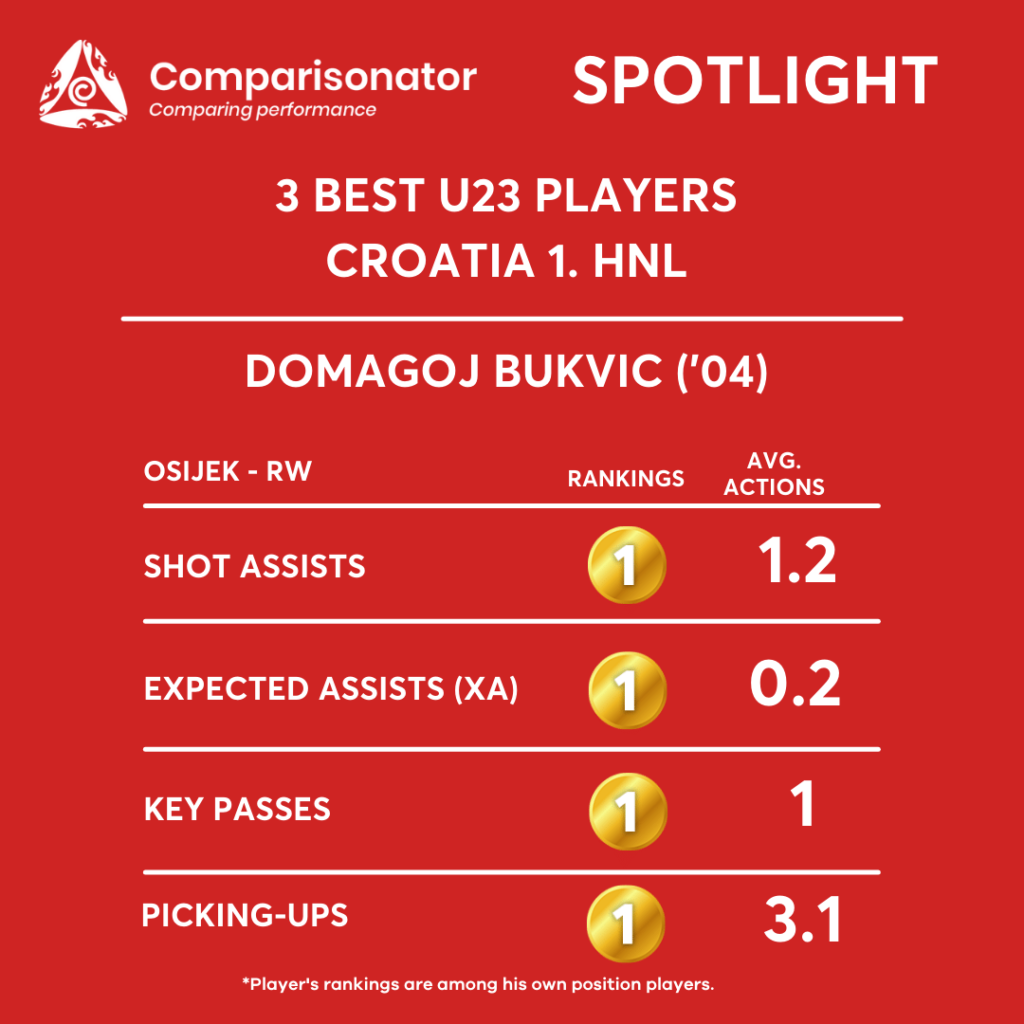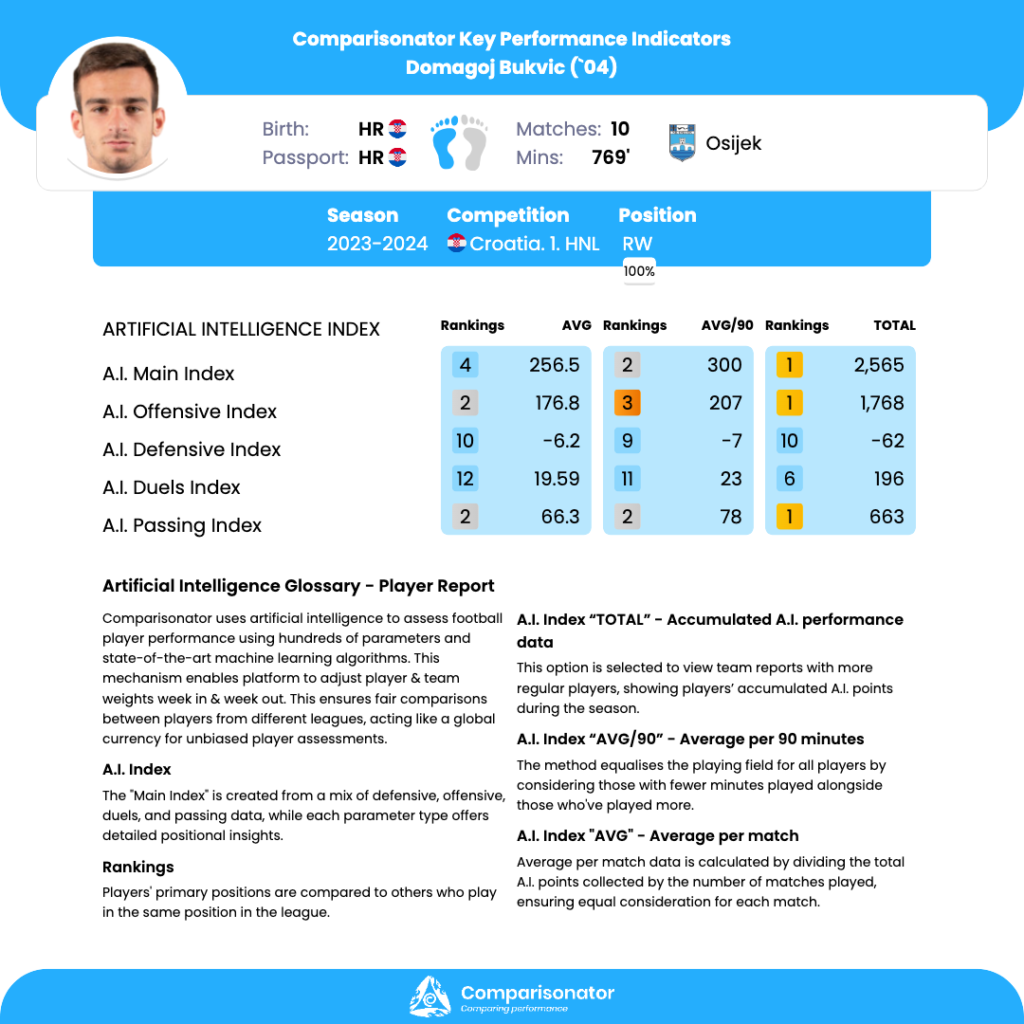 Martin Baturina – (AMF) Dinamo Zagreb
Dinamo Zagreb's Martin Baturina, operating as an Attacking Midfielder, has impressed with his creativity and flair. Ranking first in the league with 3.25 successful dribbles, 4.63 touches in the opponent's box, and 3.25 progressive runs per match, Baturina has been a dynamic force driving his team's attack. His ability to navigate tight spaces and consistently impact the final third has made him a vital asset for Dinamo Zagreb.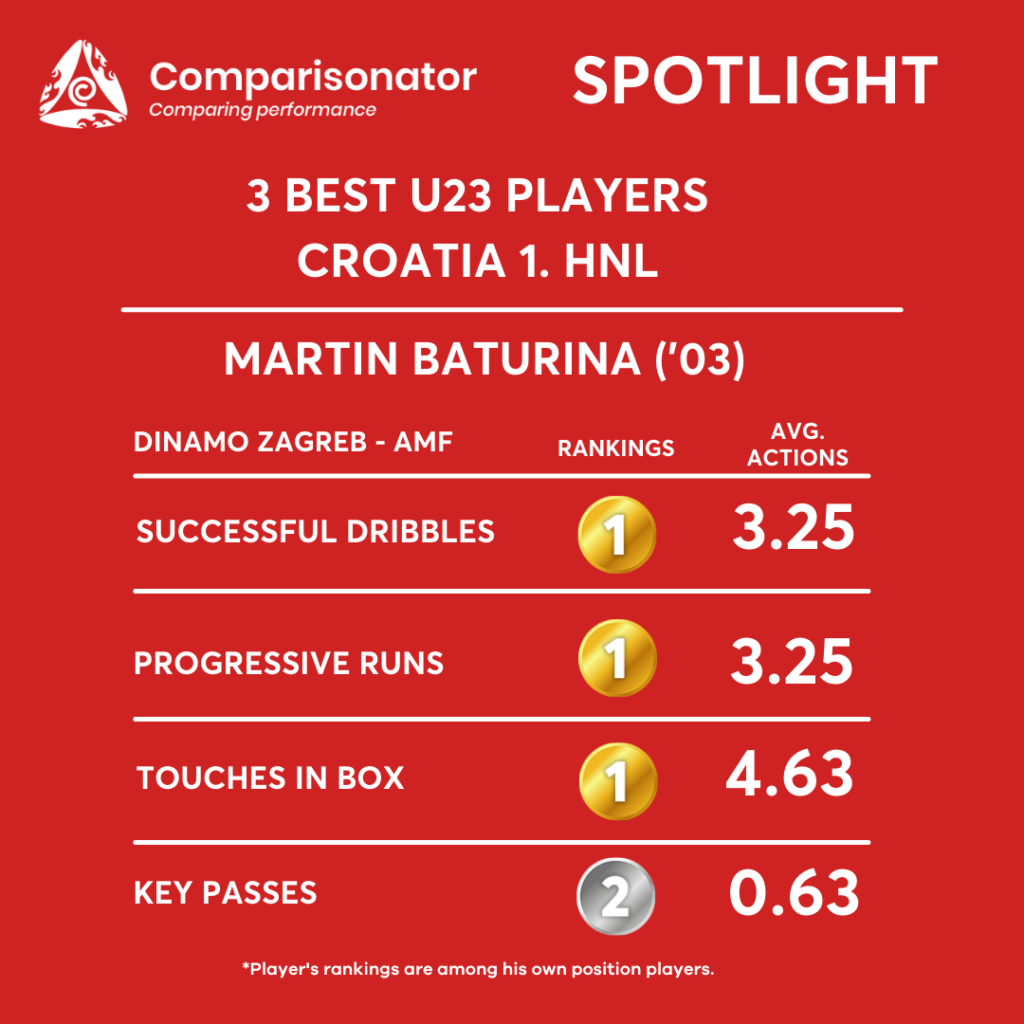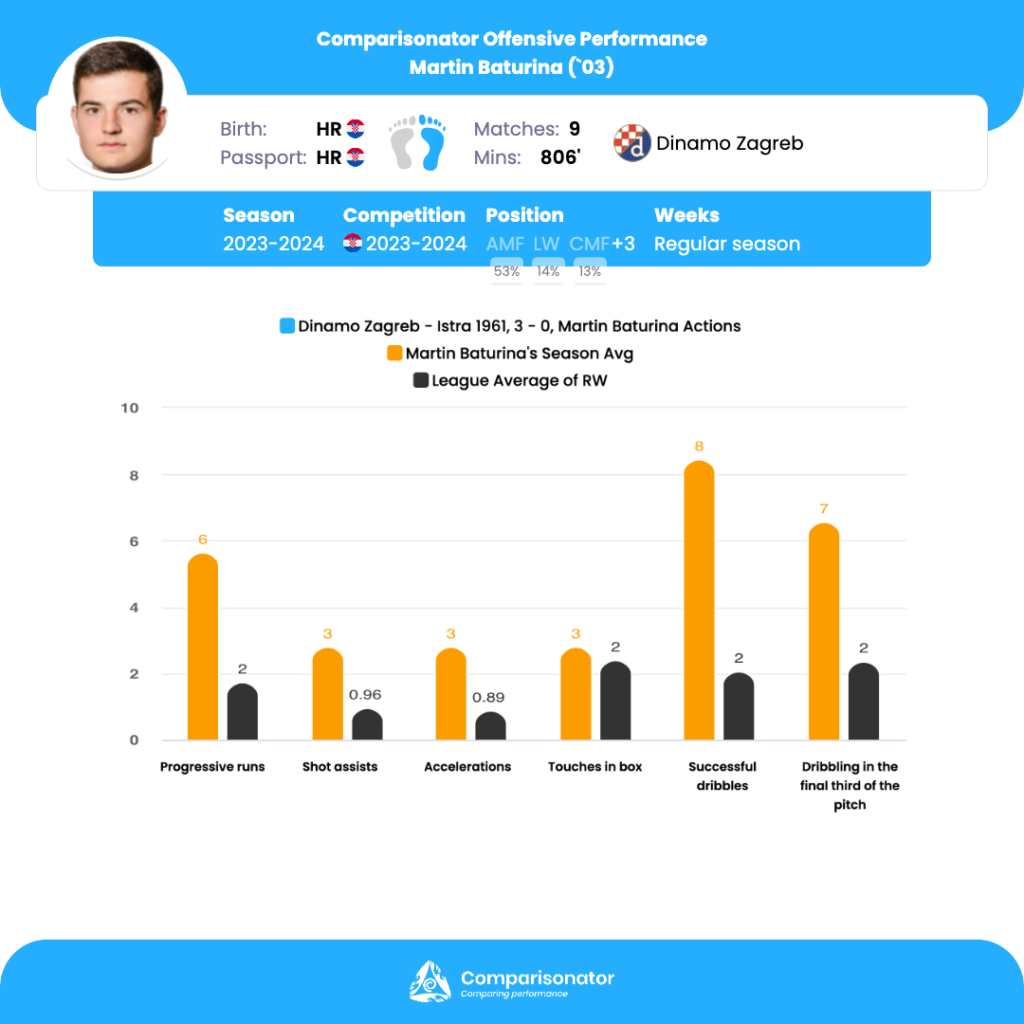 Ivan Smolcic – (RB) Rijeka
Rijeka's Right Back, Ivan Smolcic, has been a defensive rock and a key contributor to his team's success. Topping the league in ball recoveries with an impressive 10.63 per match, Smolcic's ability to regain possession has been invaluable in Rijeka's defensive efforts. Additionally, his 1.5 shot assists and 0.25 smart passes per match highlight his versatility and ability to contribute to both the attack and defense.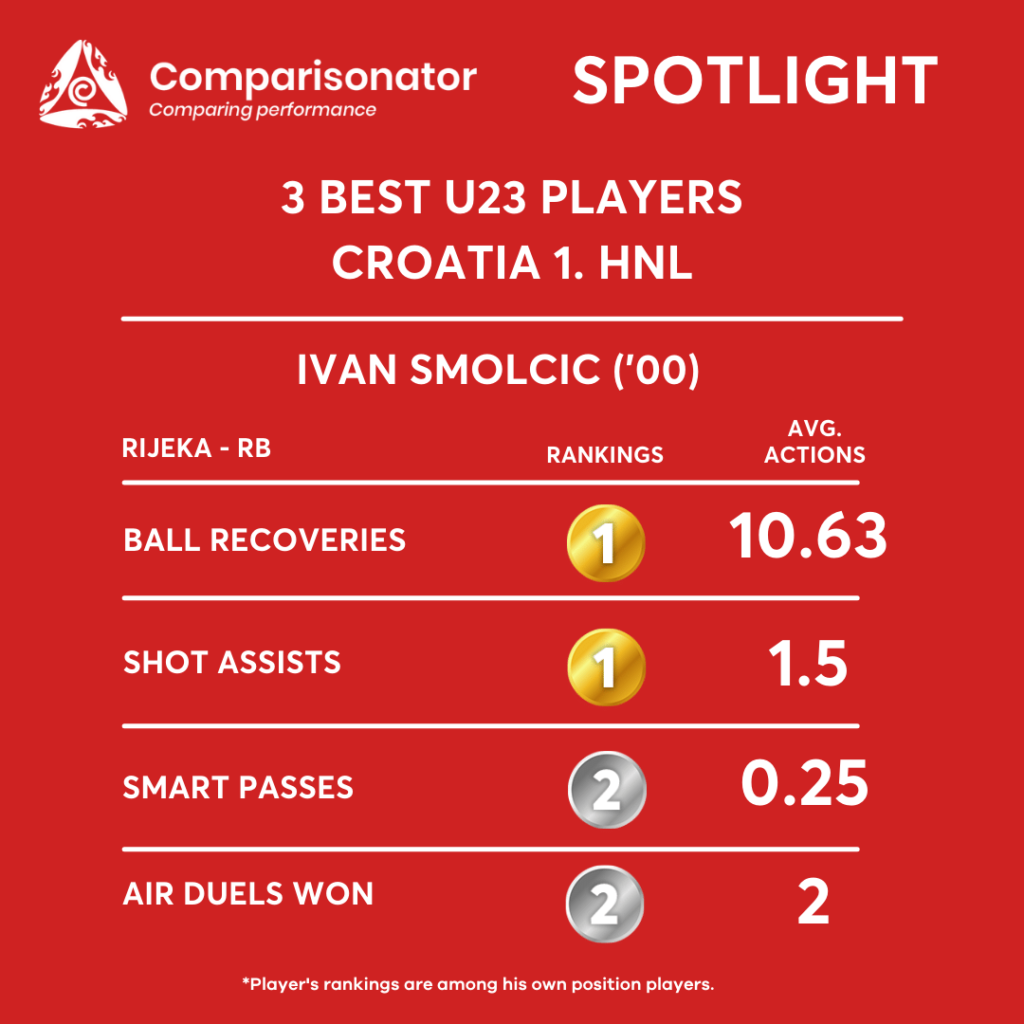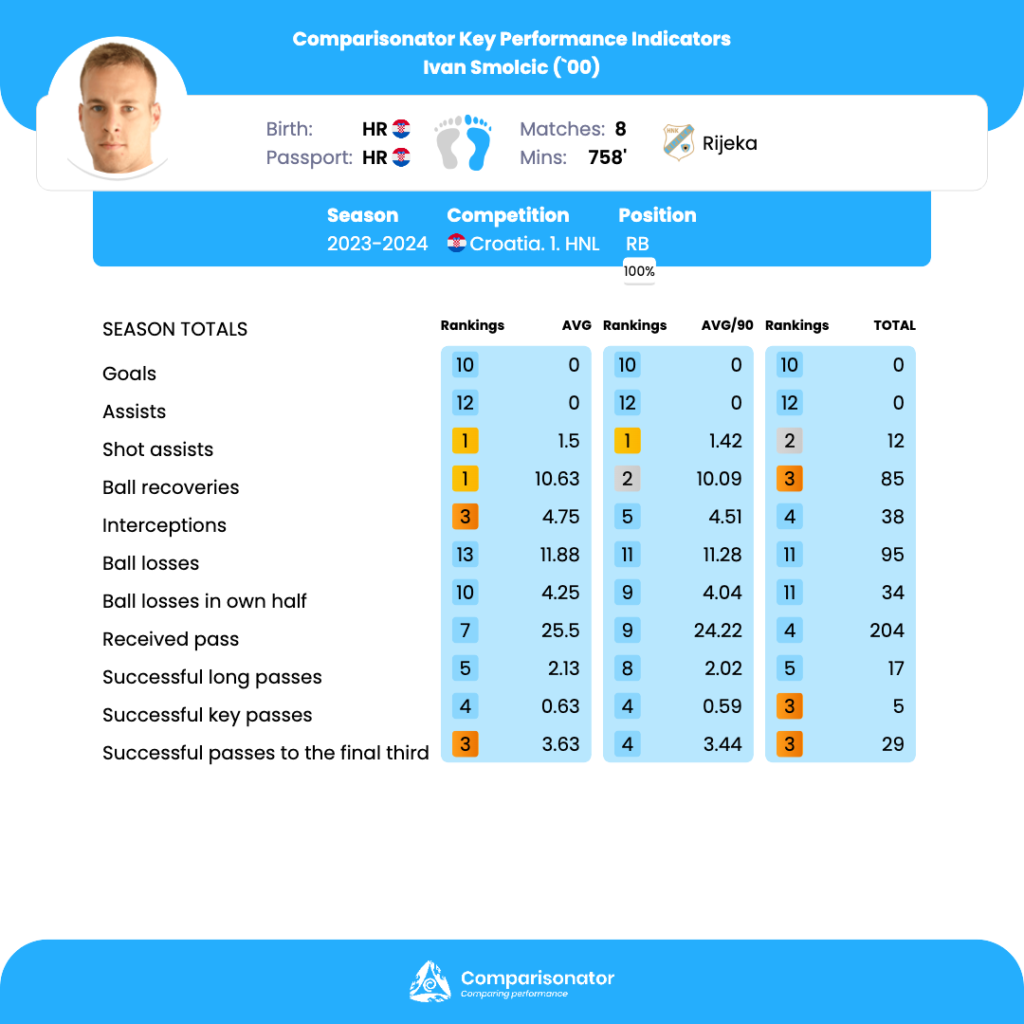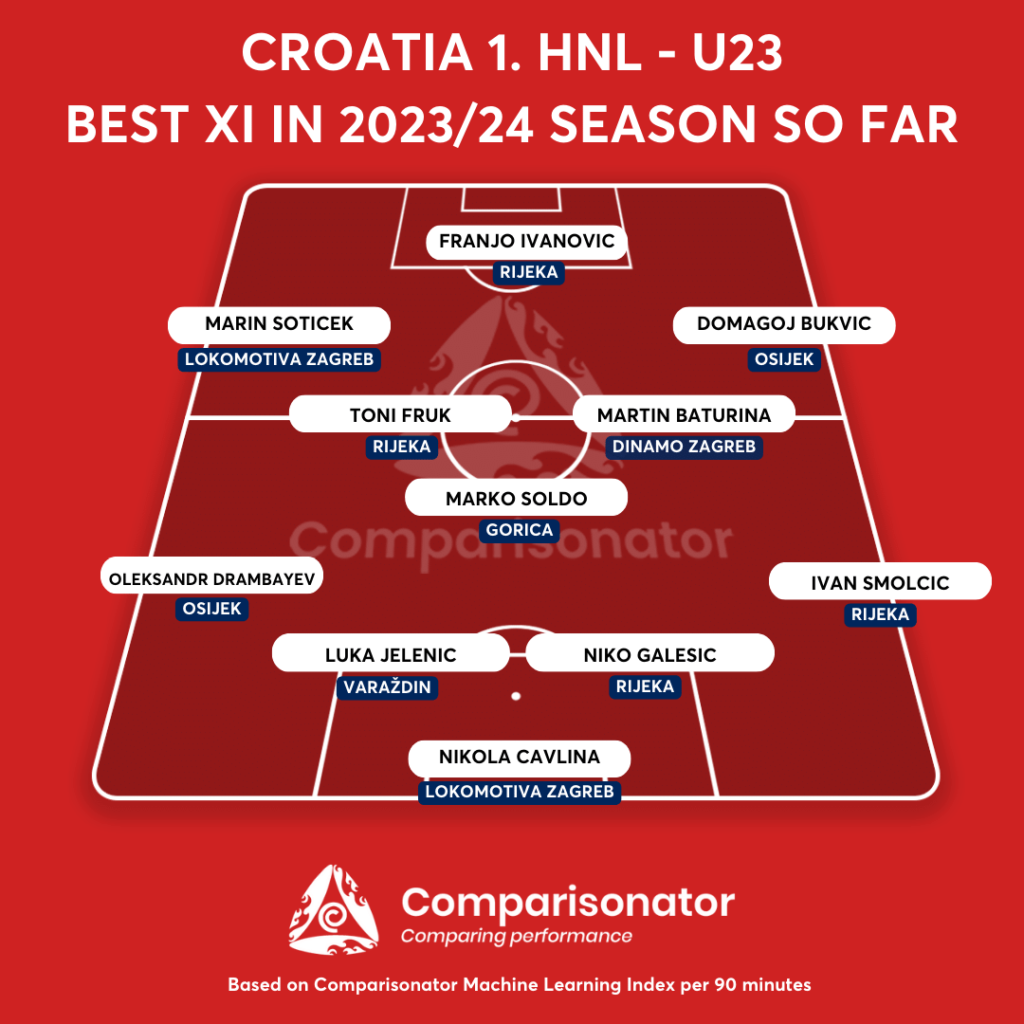 Selected via Comparisonator machine learning index.
Data Comparisons provided by Comparisonator is for educational purposes only and not intended to be monetized.