The 2023/24 season of the AFC Champions League has witnessed a scintillating start, with three standout players making an indelible mark during the Group Stage's first week. Identified by Comparisonator platform, these extraordinary athletes have consistently outshone their peers, showcasing their exceptional skills and contributions to their respective teams. Kodjo Laba, the Centre Forward for Al Ain, has been a revelation with his incredible scoring opportunities and progressive passes. Michael, the Right Winger from Al Hilal, has dazzled with his dynamic runs and expected assists. Romarinho, the Attacking Midfielder representing Al Ittihad, has excelled in creating goal-scoring opportunities and delivering expected goals. In this article, we delve into the performances of these three exceptional players and their substantial impact on the AFC Champions League's first week.
3 Best Players in AFC Champions League – 2023/24 Season Group Stage First Week
Kodjo Laba – (CF) Al Ain
Kodjo Laba, leading the line as a Centre Forward for Al Ain, has been nothing short of sensational. His Comparisonator Main Index score of 983 reflects his overall dominance in his position. Laba has not only been a goal-scoring machine but has also created seven opportunities, highlighting his versatility as a forward. Additionally, his seven progressive passes have been crucial in Al Ain's build-up play, making him a pivotal figure for the team's success in the AFC Champions League.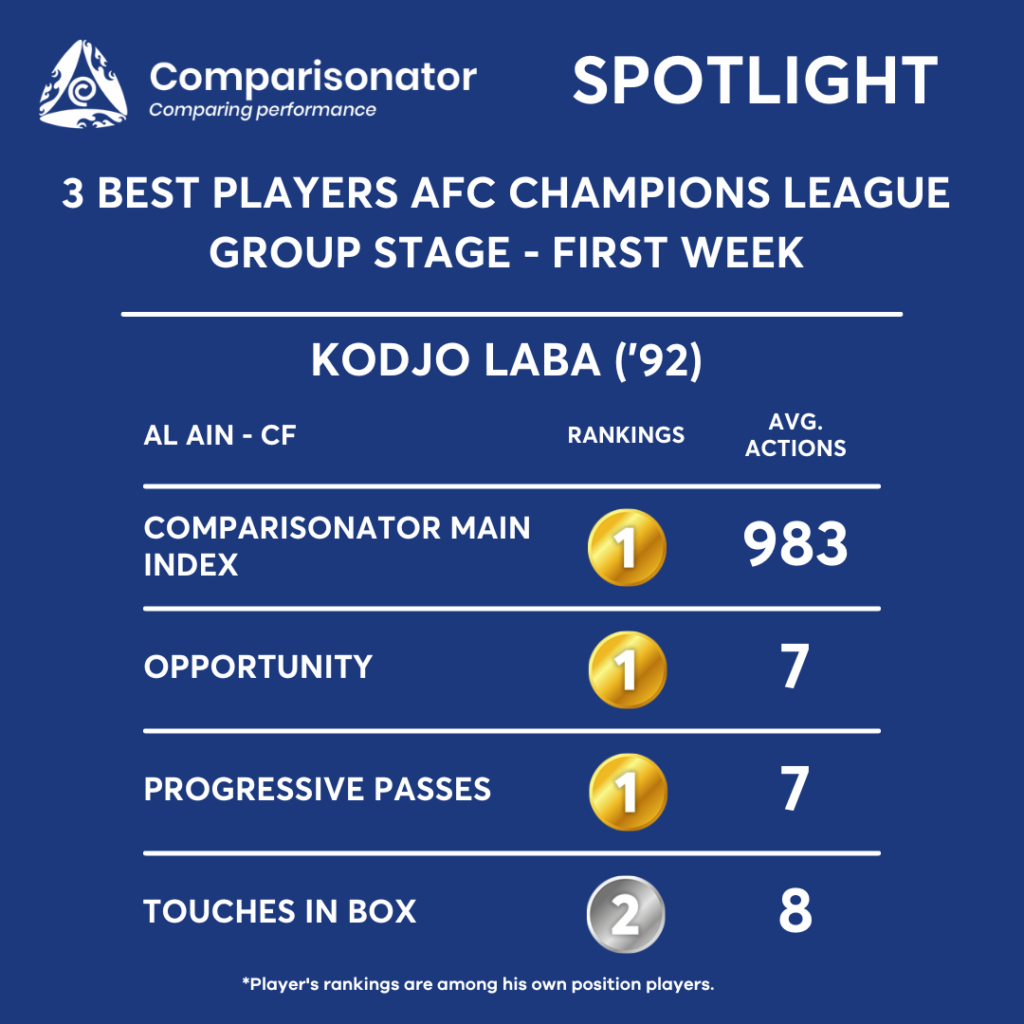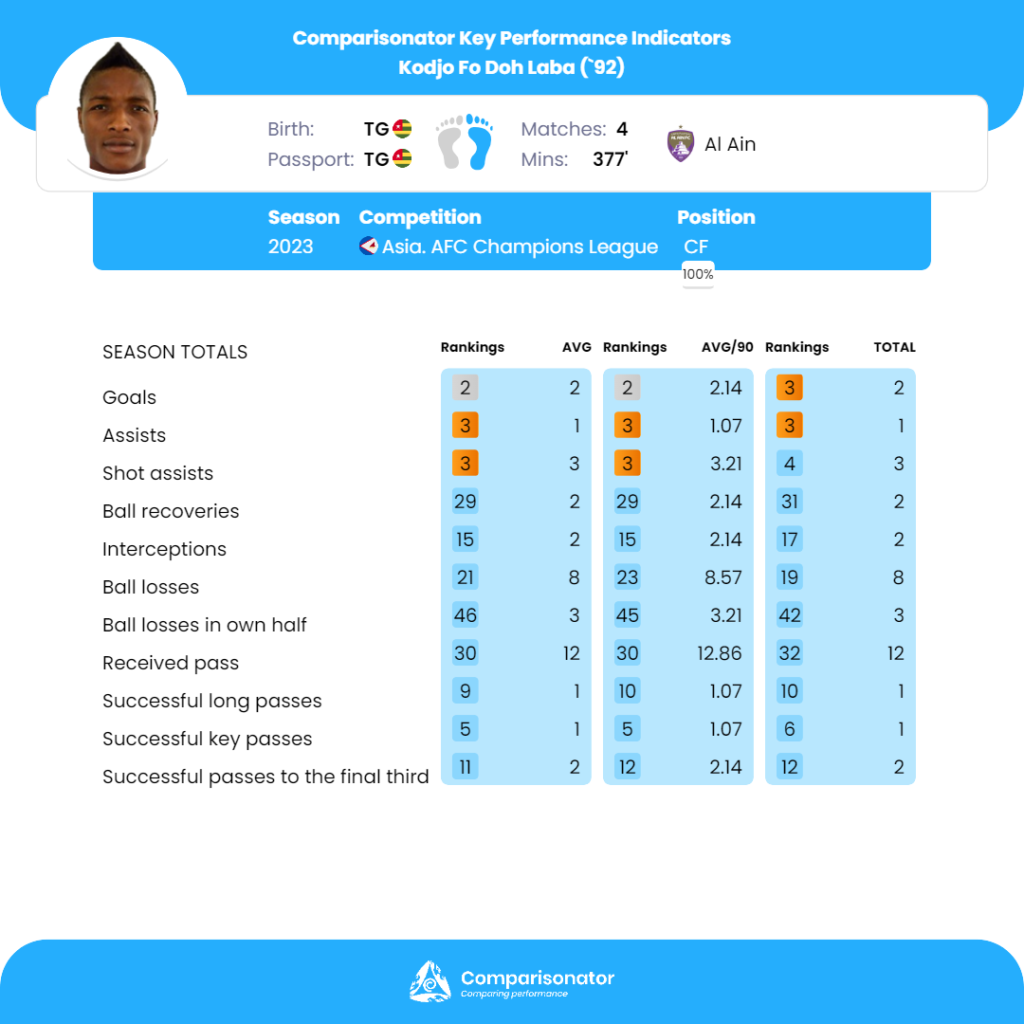 Michael – (RW) Al Hilal
Al Hilal's Right Winger, known simply as Michael, has added a dynamic flair to the tournament. His top-ranking Comparisonator Main Index score of 701 underlines his influence on the right flank. Michael's impressive seven progressive runs have troubled opposing defenses, while his expected assists of 0.76 demonstrate his creative vision and ability to set up scoring opportunities. His contributions have undoubtedly played a key role in Al Hilal's strong start.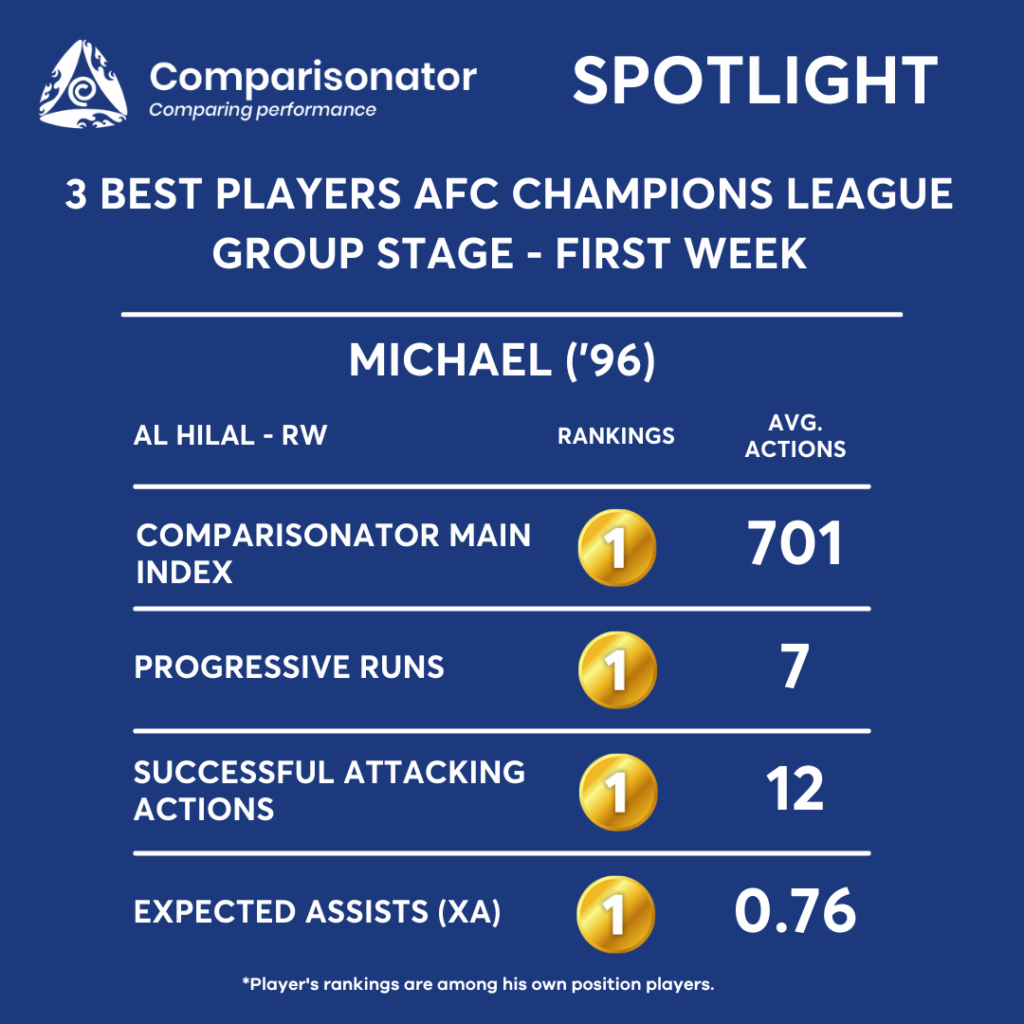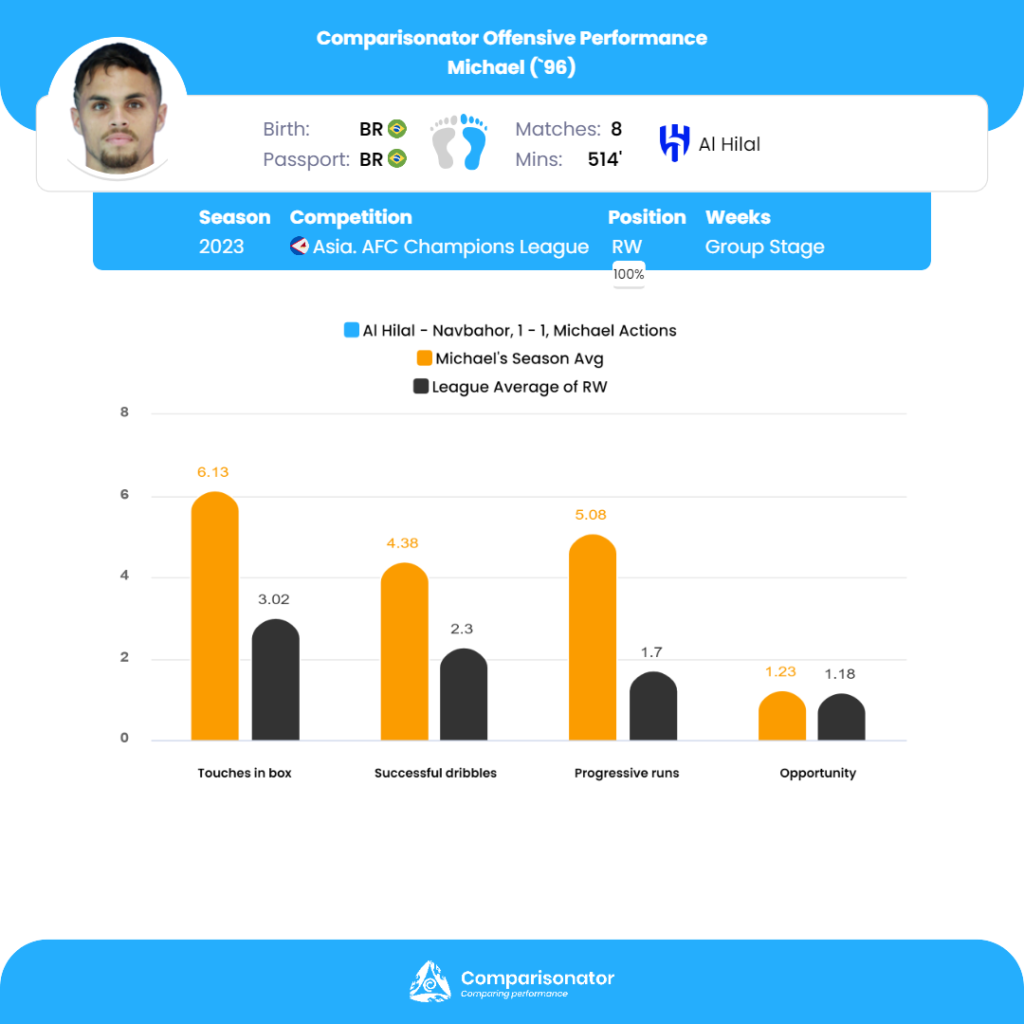 Romarinho – (AMF) Al Ittihad
Romarinho, the Attacking Midfielder for Al Ittihad, has been the creative engine of his team. His Comparisonator Main Index score of 663 reflects his ability to influence matches. Romarinho has demonstrated his goal-scoring prowess with an expected goals (xG) of 1.39, while his one goal and two key passes further solidify his impact in the attacking third. His ability to unlock defenses and create goal-scoring opportunities has been pivotal for Al Ittihad.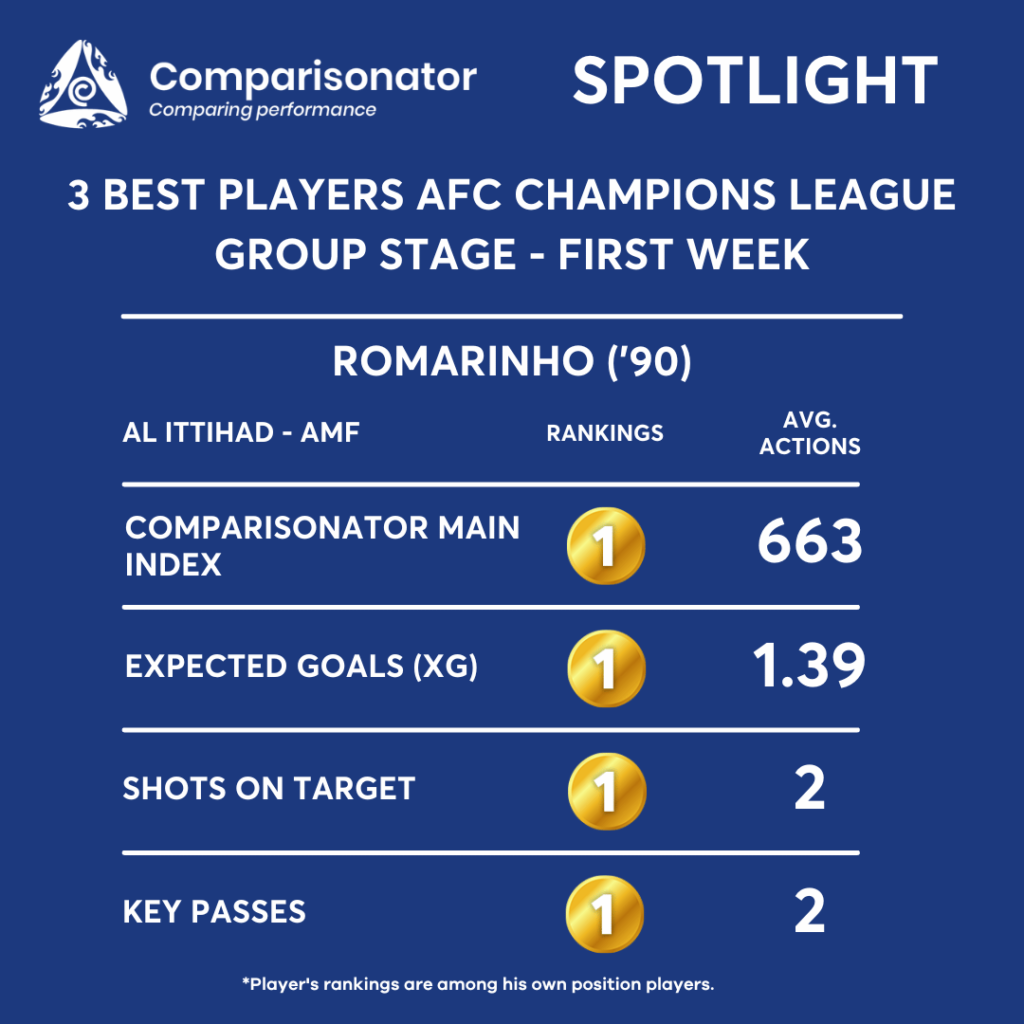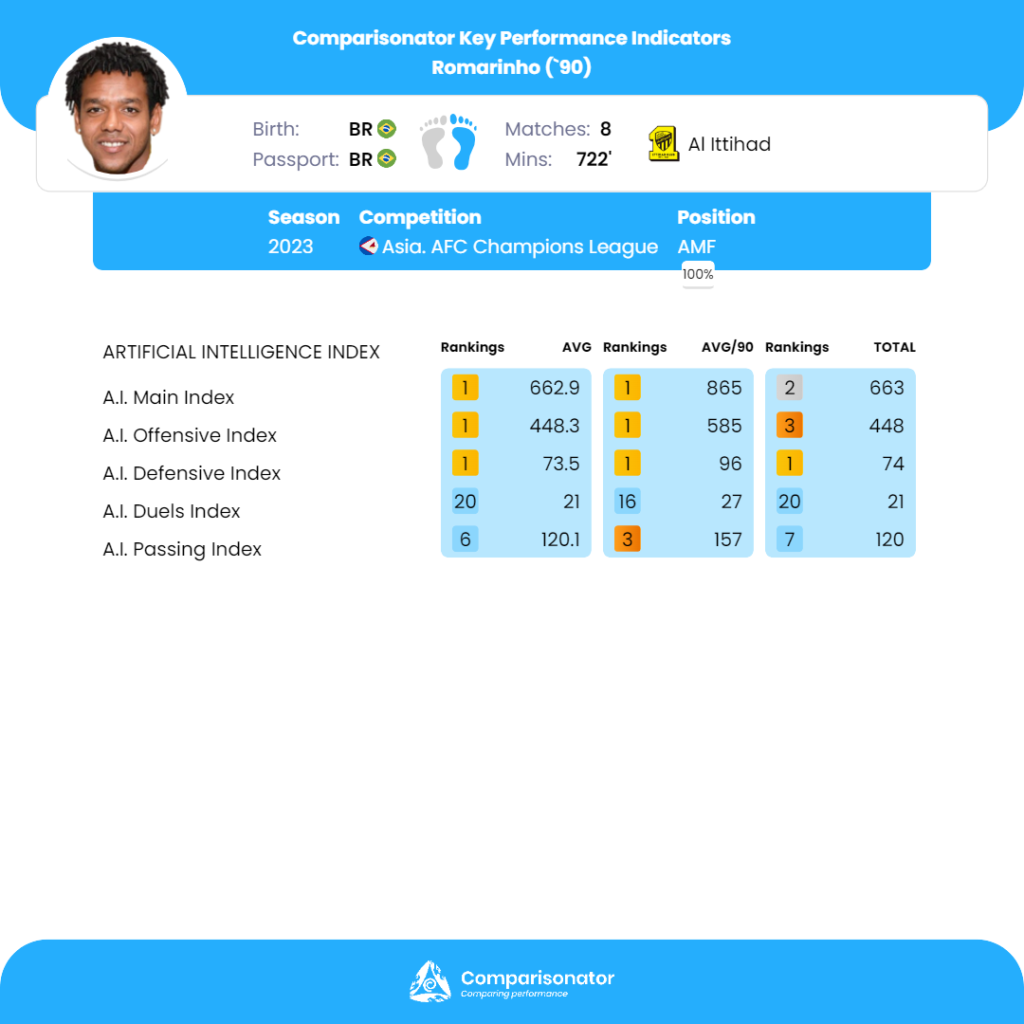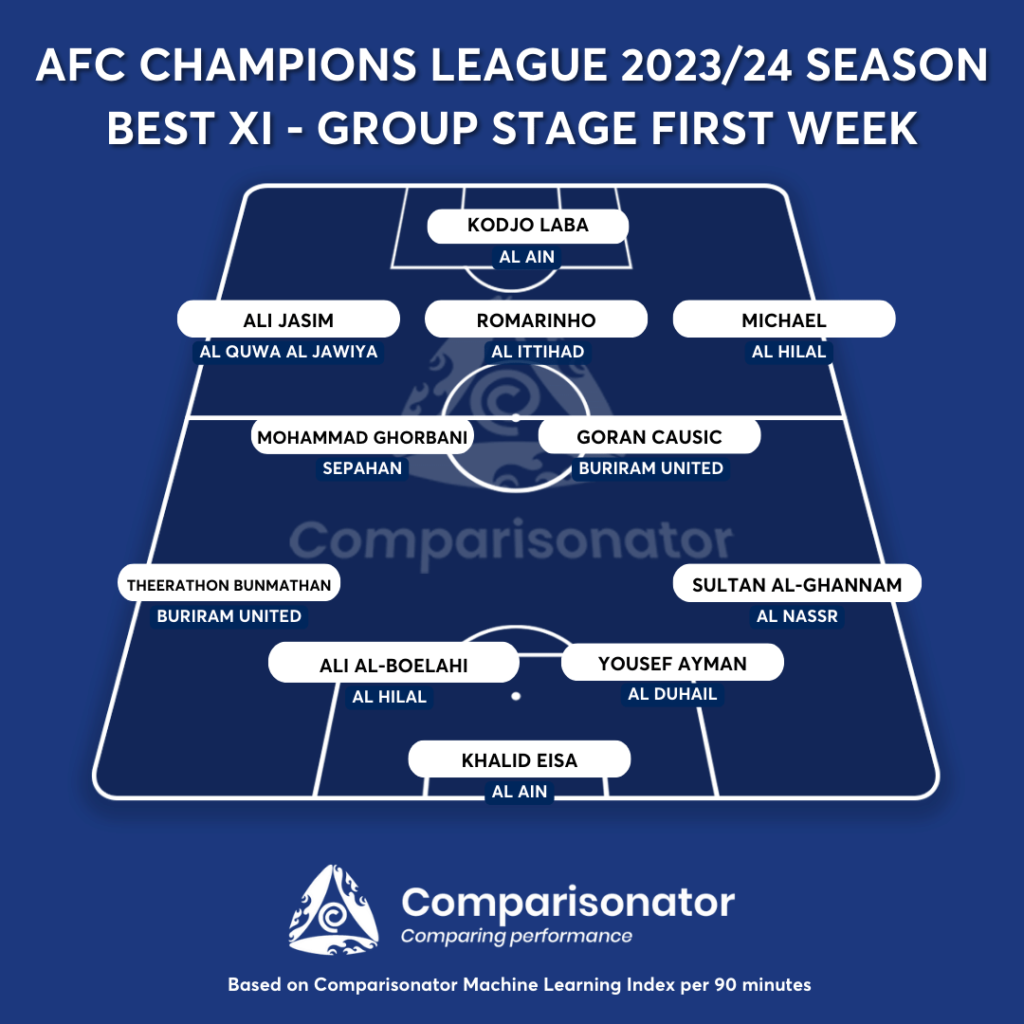 Selected via Comparisonator machine learning index.
Data Comparisons provided by Comparisonator is for educational purposes only and not intended to be monetized.