European Football Championships are always stand in a special place in continents heart. This is not just about football; it is about the root of Europe and quality football with real excitement.
After round 16 matches of EURO 2020, we prepared an analysis of each match according to Comparisonator Parameters League data.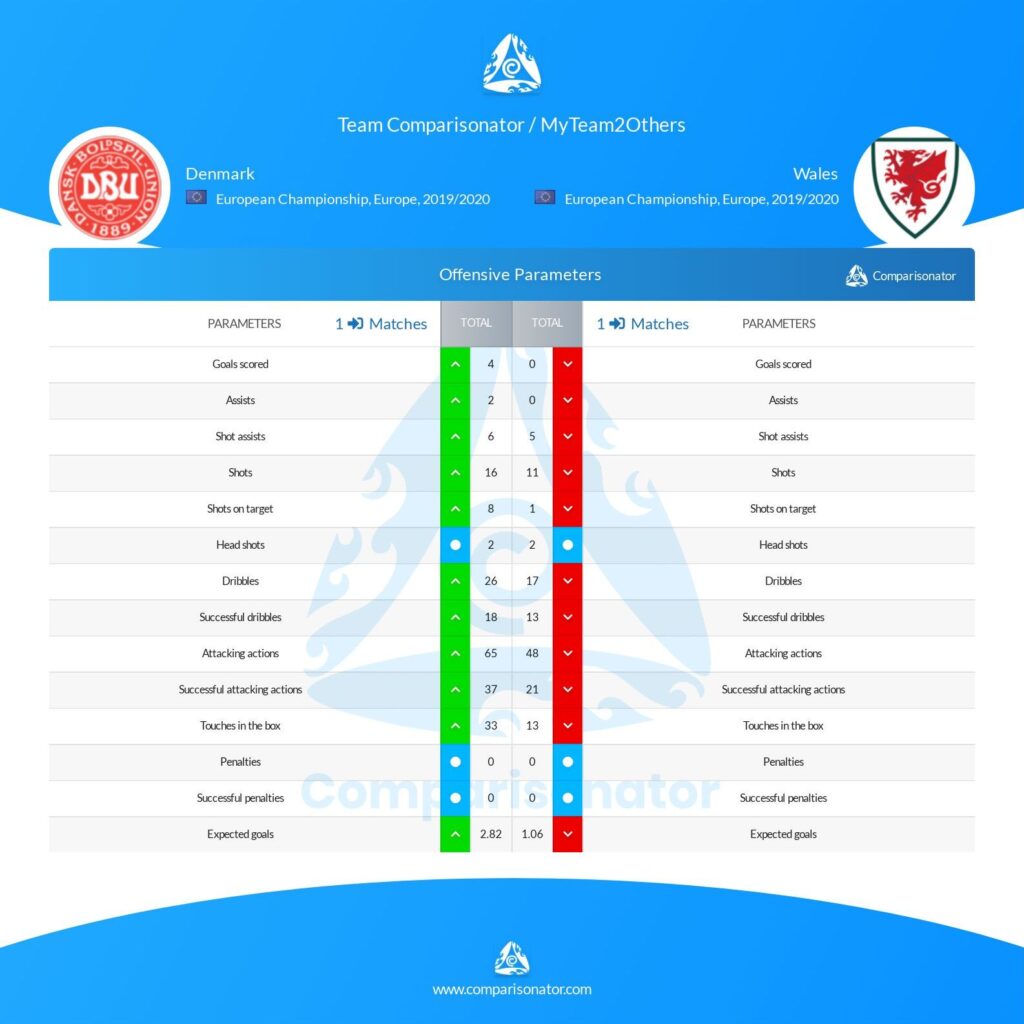 Denmark has shown a very offensive performance against Wales. Denmark is the third on parameters league with 86 of 153 attacking actions were successful, and 13 of 34 shots were on target. Denmark is the leader of round 16 with 76 recoveries in the opponent half. 13 of these recoveries lead to a shot within 20 seconds. Denmark is the leader of 16 teams with 55 crosses and 28 successful crosses against Wales.

Italy is the leader of round 16 at shots, shot assists, shots on target. Italian players led with 102 dribbles, and more than half of them (56) were successful. Italy is the second at successful smart passes (9) and successful through passes (7), and Italy was 100% successful at key passes with 10/10. Italy is the leader again with winning 83 of 191 offensive duels.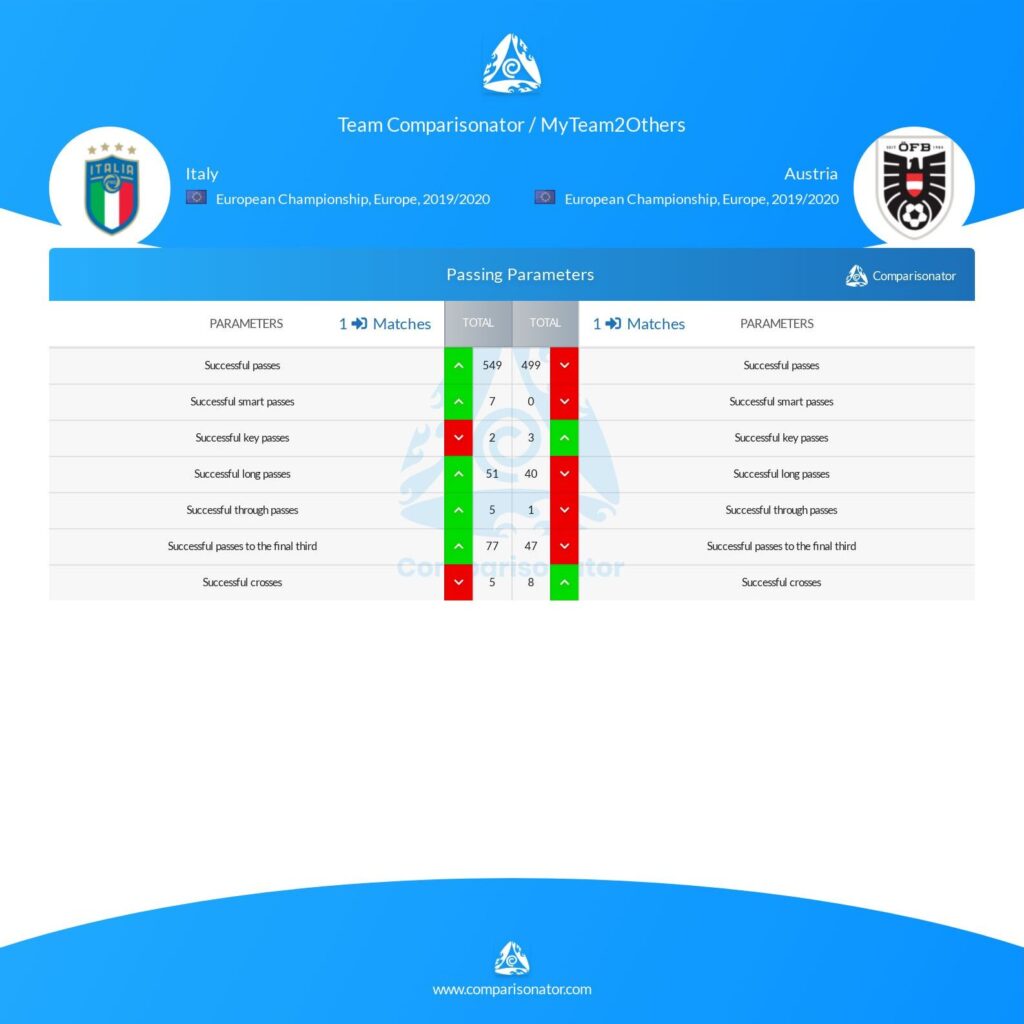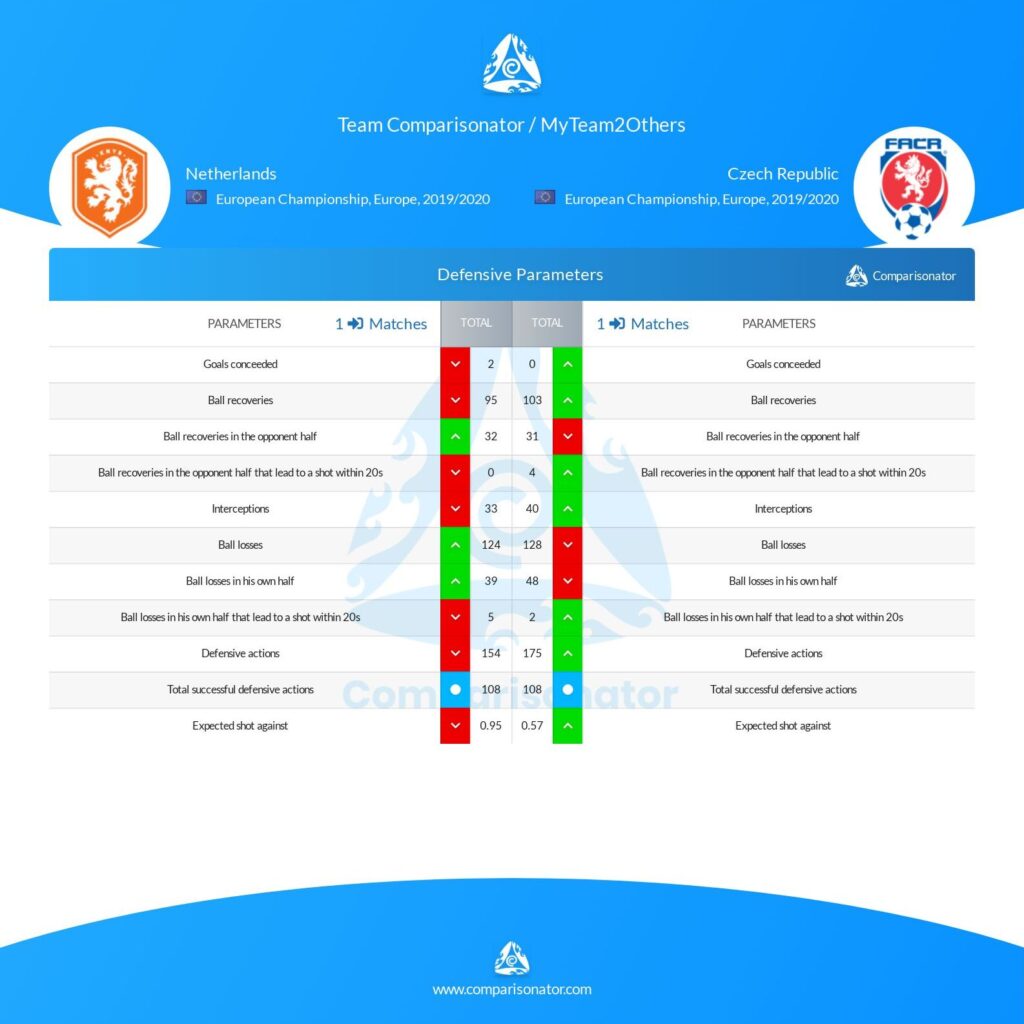 The Czech Republic was one of the surprises at round 16 eliminated the Netherlands. The most exciting part of this match was that Czech's offensive stats were not very high, but defense parameters were higher. The Czech Republic is the leader with 190 ball recoveries against the Netherlands, and 55 of them were at the opponent's half. They were leading round 16 with 390 defensive actions and 256 successful shows that the Czech team spent more time at defense.

The fourth match of round 16, Belgium-Portugal, was the most equal as Comparisonator parameters shows. In every offensive parameter, Portugal was more in action at offensive actions than Belgium (such as shots on target, dribbles, attacking actions, touches in the box). Still, Belgium was able to score the goal and win the match. On the other hand, Belgium was the team with fewer mistakes like ball losses (81-89), more ball recoveries (74-71), and interceptions (44-32) overall.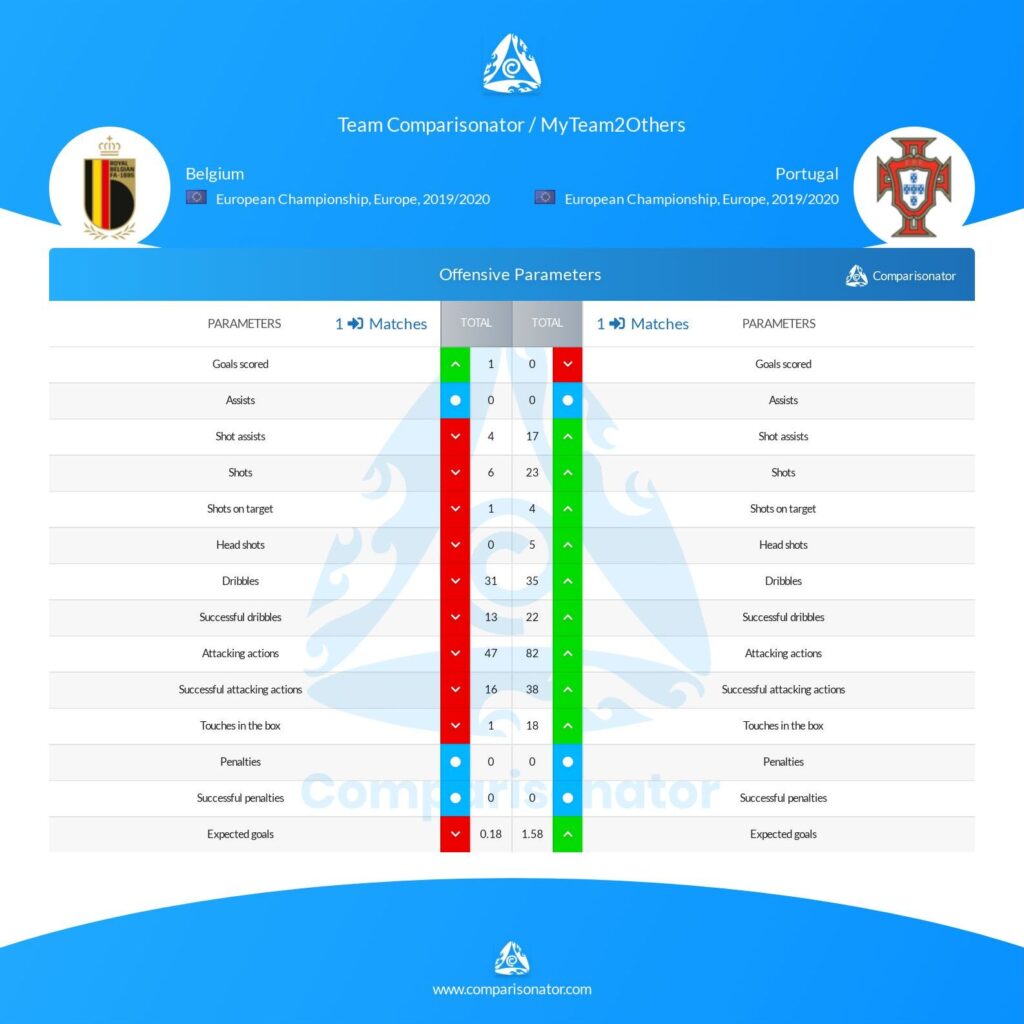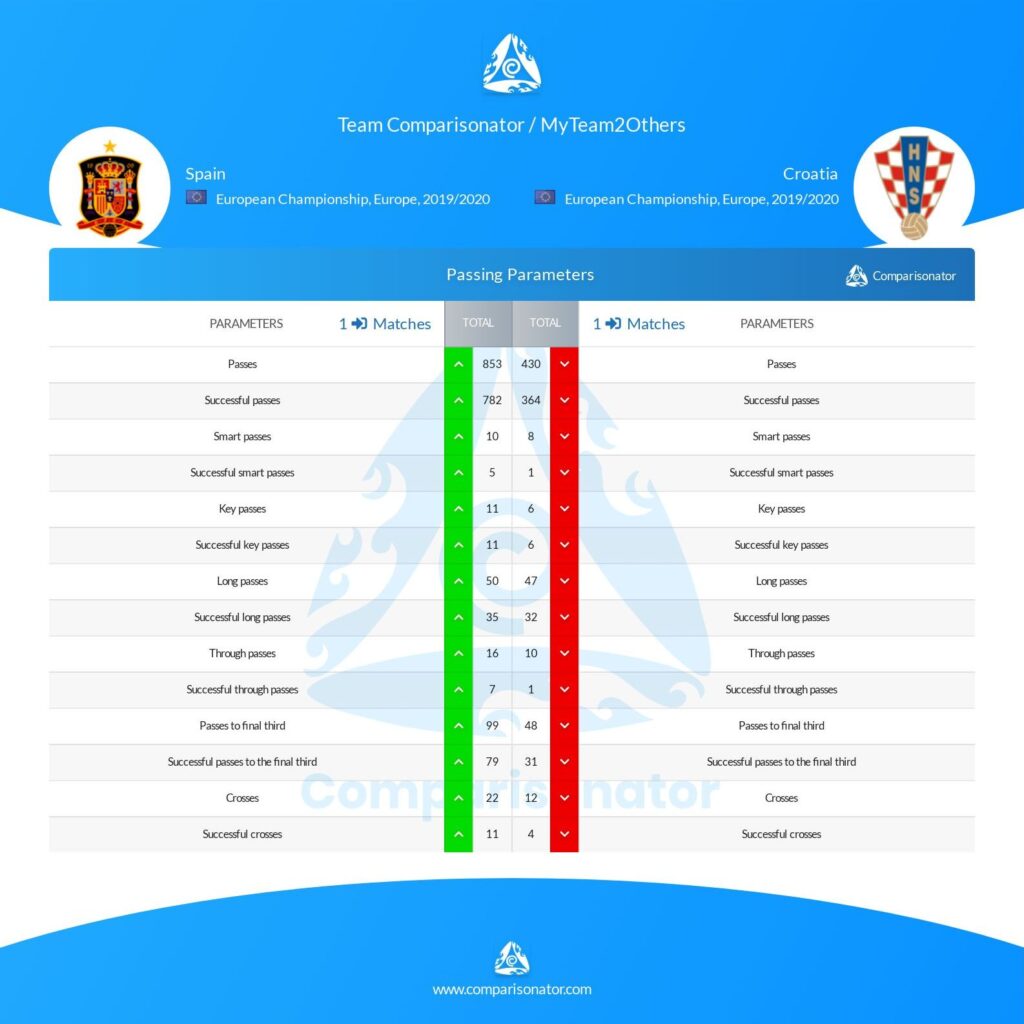 Against Croatia, Spain had very remarkable stats on Comparisonator Parameters League. Spain touched the ball nearly three times more than Croatia and won more offensive, defensive and aerial duels. The most fantastic information about Spain was that they were very effective in all passing parameters. 782 of 853 passes were successful, including 10 smart passes, 50 long passes, and all 11 of 11 key passes were successful. Spain's 79 successful passes to the final third made them leader at this parameter within 16 teams of the round.

Switzerland signed of the biggest surprise of EURO 2020 after eliminating last World Cup winner France with penalty shot-outs. Although France was leading the match in offensive parameters, especially touches in the box (31-17), successful attacking actions (47-24), and shots (26-12), Switzerland was able to score at fewer positions.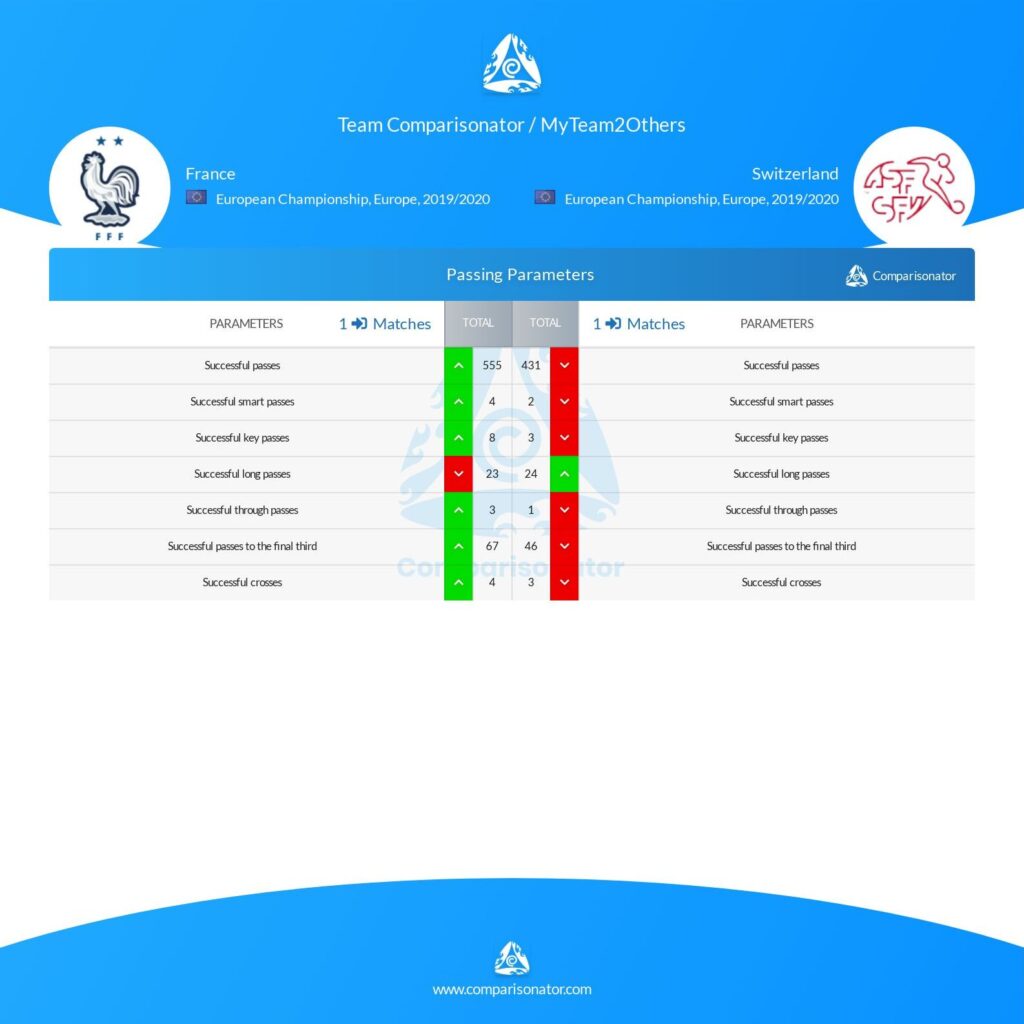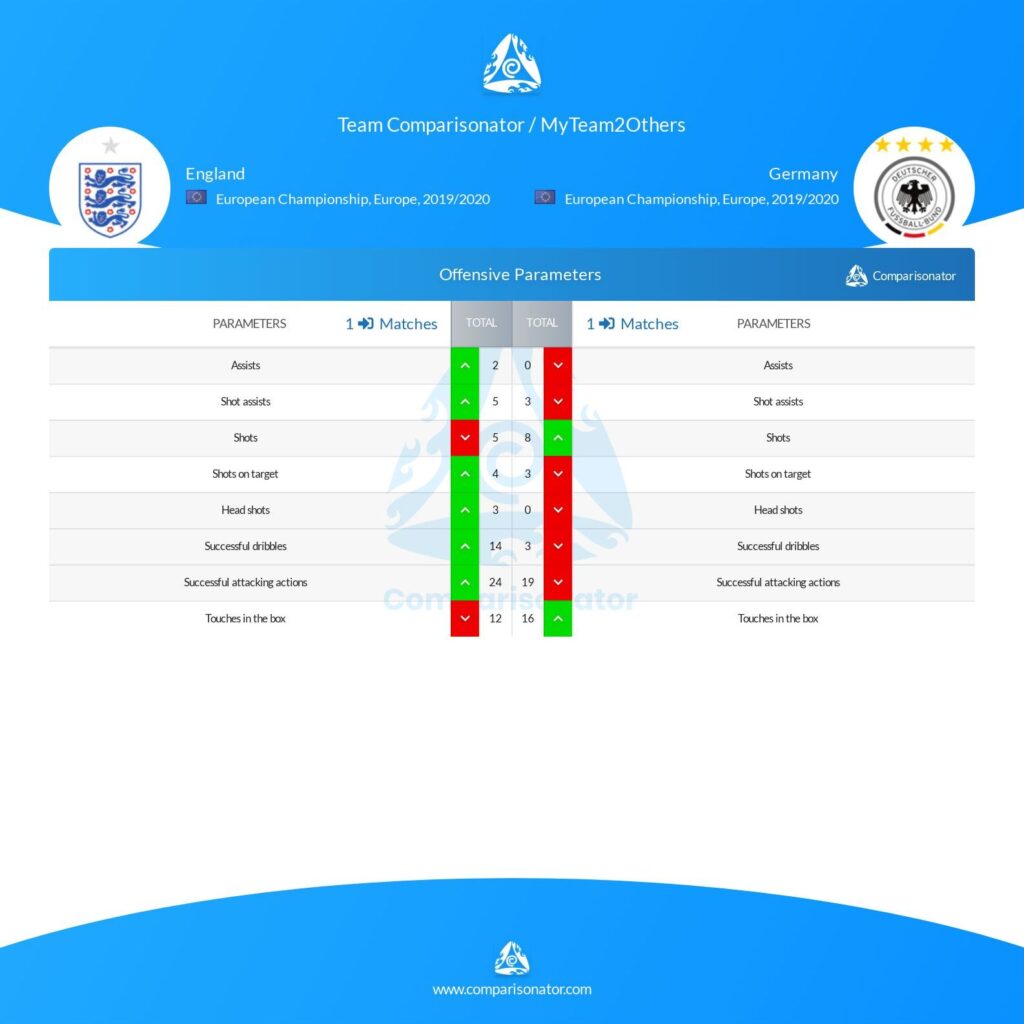 At the match between England and Germany, England was better than Germany at offensive parameters such as shots on target (4-3), successful dribbles (14-3), and successful attacking actions (24-19). Germany touched the ball in the box (16-12) and had better stats at passing parameters, smart passes, crosses, through passes, and passes to the final third. According to Comparisonator data, England won against Germany with successful defensive parameters and more minor mistakes such as ball loss (79-92), ball losses in own half (24-35).

The last match of round 16 was Sweden-Ukraine, another duel not ended at 90 minutes. According to Comparisonator Parameters League, Ukraine forced Sweden to defend and make fewer mistakes during Sweden's attacks. Both teams were nearly equal at duels parameters, and the difference came from scoring the winning goal.