Jack Grealish signed a 5-year contract with Manchester City, as expected. The Comparisonator editor team analysed Grealish's 2020-2021 season performance based on the Comparisonator's Viewpoint, Parameters League and Virtual Transfer tools.
Jack Grealish had a spectacular season with Aston Villa in the 2020-2021 Premier League. Grealish played on the left wing for half of the season, and his second position was AMF. We analysed Grealish's league performance and compared him with all Premier League wingers, analysed Key Performance Indicators and virtually transferred him to the PL to see Grealish's performance in the same position players.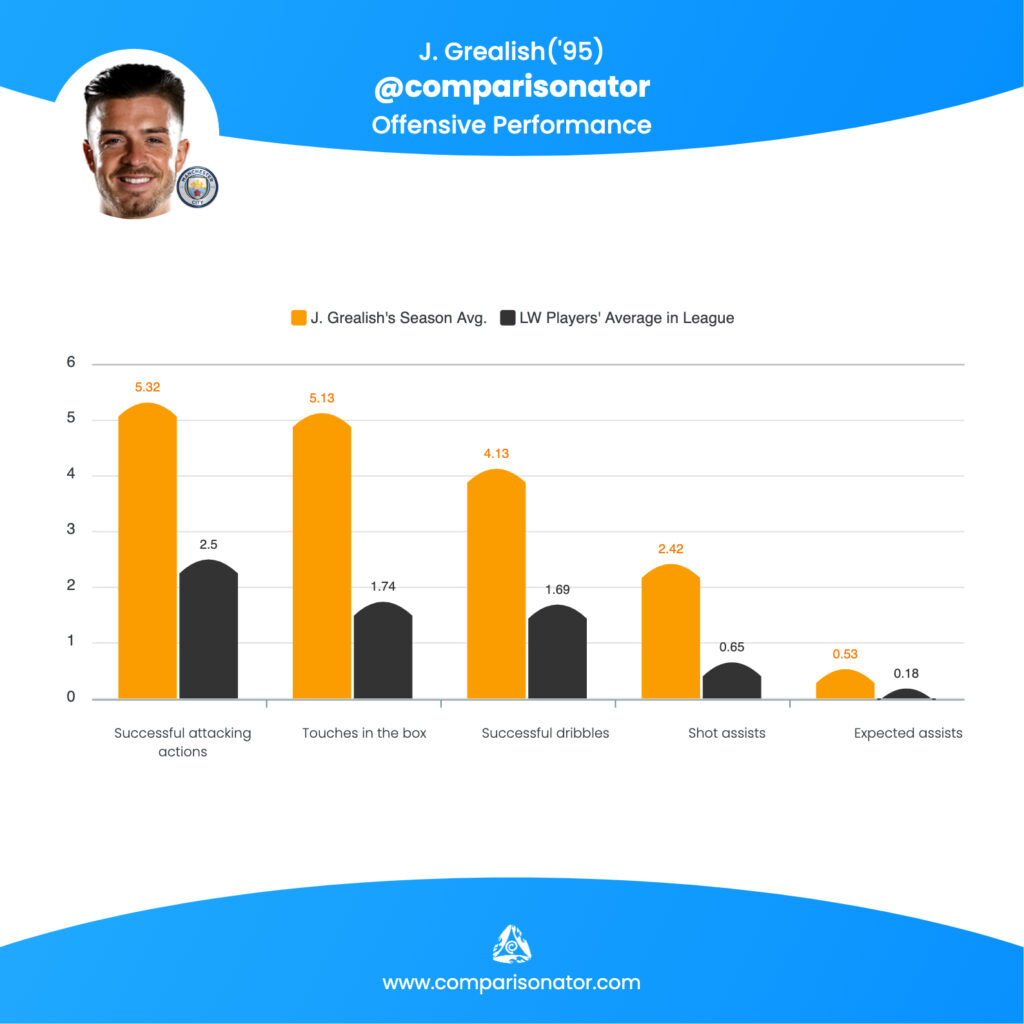 Comparisonator platforms' View Point Table – Season averages vs other left wings
Statistics indicate that Jack Grealish is above in offensive parameters compared to other left wings playing at Premier League.
Grealish's 4,13 successful dribbles per 90 min and 5,13 touches in the box per 90 min indicate that Grealish both carries the ball to the final third and stays at the opponent's box, so his score contribution.
Key Performance Indicators – Jack Grealish's Rankings vs Other Wingers in Premier League
The most remarkable information about Jack Grealish is his success rate. As we can see on the right-side picture, when we compare his average of 90-minute ranks with success rate, all his ranks are better. This detection is also valid in passing parameters, such as successful passes to the final third.
Grealish made total 9 assists and rated number one in assists. As equally important, he is number one shot assist maker with 2.42 shot assists per 90 minutes. His player maker ability excels when you see him again topping the table with 29 total successful key passes compared to all left wingers in the PL
Comparisonator's Virtual Transfer
Manchester City wingers are leaders of the box in Premier League
When we analyse Premier League left-wingers in the 2020-2021 season, an eye-catching table comes front that, first three left-wingers who touch in the box are all wearing Manchester City jerseys.
Foden is the leader with 5,85 touches in the box per 90 minutes, Raheem Sterling is second with 5,65, and Grealish follows his new teammates with 5,13.