Since the last three or four years, we have caught one of the best generations of goalkeepers and stoppers around the world, a question on the minds of football lovers is How Would the National Team Play in 3?
Of course, this question makes a lot of sense. Because national teams are the organizations where the most important players of those countries show up, Ozan Kabak, Çağlar Söyüncü, Merih Demiral trio are our three players with the highest-profile.
High-level tournaments are tournaments of those who have visibly played the result-oriented game since the 2016 European Championship. Of course, we can take the time from Greece in 2004, but we would go too far back. It is impossible not to see the Spanish hegemony and the German panzers. Our closest result-oriented football example may be the story of France reaching the cup in 2018, which has reached the number of stars that will fill the galaxies in its own home. Naturally, result-oriented play is indispensable for national teams, as football players play together for very short periods of time and spend seasons in different football cultures. Nobody has the Barcelona based Real Madrid squad from 2008-2012.
Returning to our triple play story; No matter which team we create, the number of our players playing abroad for the first time would be more than the number of players playing in the Super League. The game in which we can stand firm and score will carry us forward. Ex: France-Turkey Euro 2020 qualifying matches. Another point we should especially accept is our inexperience and the lack of creative players compared to other world giants. In our group; Italy, Switzerland and Wales have been around for years. There is no need to mention Italy, the chances of winning the trophy are quite high and we will play in Rome if our first match will be played under normal conditions. There is Bale in Wales, willing to play football years later again. Switzerland, on the other hand, comes with the order and system it has maintained for years.
Then let's start examining the team:
Uğurcan Çakır (GK)
Our goalkeeping rotation is better than ever for many years. Of course, I could write Mert, who carried us to the trophy, but his season with Başakşehir prevented me from putting a mentally worn Mert on the team. I found suitable to put Ugurcan,whose performance increased after Abdullah Avcı. Those who want to make Altay play are also right, but Altay has no National Team experience. Uğurcan, who was also involved in the elimination processes, may be more accurate.
Ozan Kabak (RCB)
After the chaotic environment of Schalke, Ozan accepted Liverpool's call to 'Come Together', even though the stoppers in his hand were injured one by one, even though it displayed a distant image from the last year. Ozan acts as Liverpool's only original stopper in Van Dijk's injury. It would be a mistake not to play Liverpool's current center back, where the one of the most precious babies born in the middle world of football. Ozan's playmaking and long ball skills may be our first recipe for salvation when we are under pressure.
Çağlar Söyüncü (CB)
I put Çağlar, one of the most influential stoppers of the same league, next to Ozan. Çağlar has had the chance to play regularly for two years since Maguire transferred to ManU with a record transfer fee. It is a great success to be the leader stopper in a league like the Premier League where quality and pace are the highest, where the smallest mistakes are not left unpunished, and in a club that always targets the first four places after the championship. Following these successes, he was selected to the Golden 11 of the Premier League last year. If Çağlar plays, it will be our most important player that rival teams will pay attention to.
Merih Demiral (LCB)
Maybe a name who finds his chances to form less despite the other two players, but he will be our backbone in defense. Although football has reached different dimensions, its economic size and entertainment level are different with each passing year, we need players who will hit their fists on the field in tournaments and cups, and who will quell their enthusiasm while the other nations' players sing their national anthem enthusiastically. Because he was left-footed and clashed box to box with the powerful strikers of other teams without fear, I make Merih play as the left back in my Euro 2021 team.
Zeki Çelik (RWB)
Nazım may be the only name that will force Zeki with his form, but Zeki is one of the most important right-backs that fits the modern fullback definition, the most valuable right-back in the French League and one of the most valuable 15 right-backs in the European market.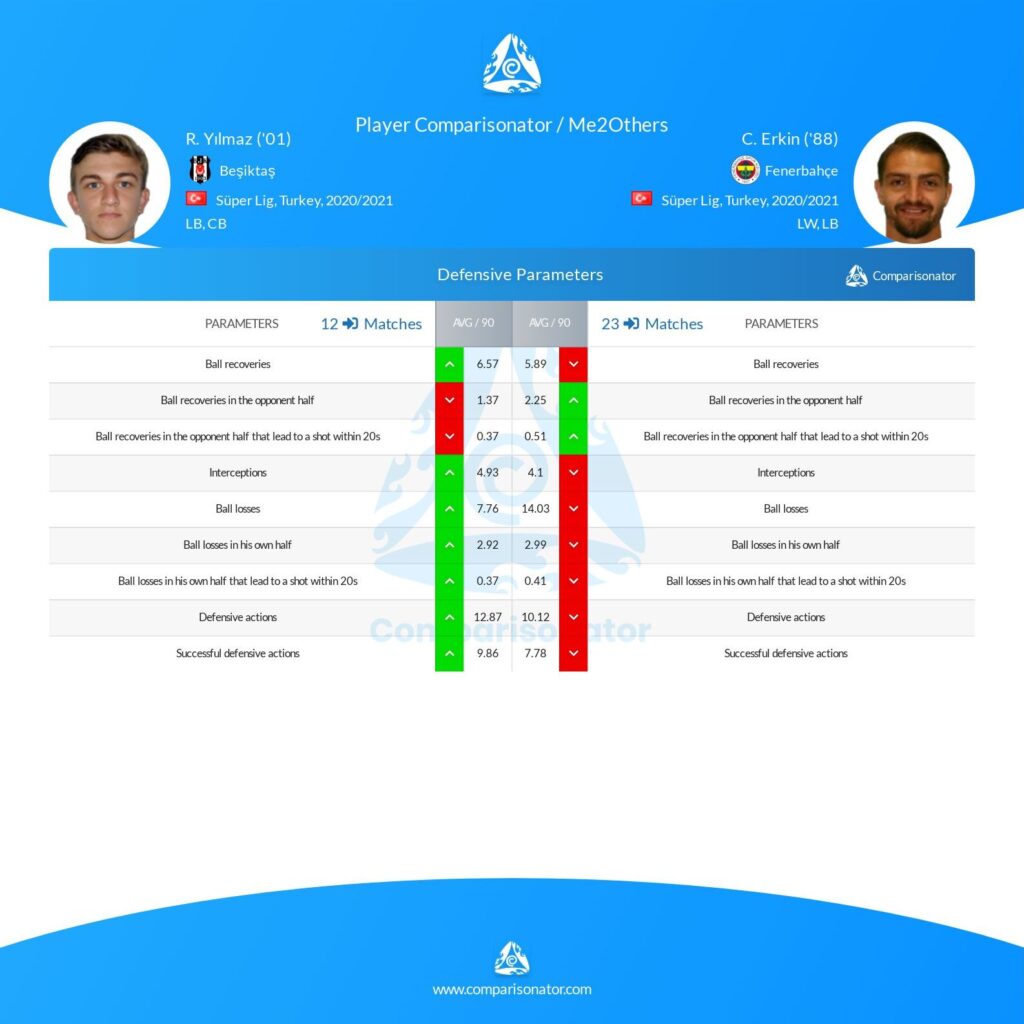 Rıdvan Yılmaz (LB)
Like Zeki, he's a name that builds his career from a very young age. This year, under the management of Sergen Yalçın, he took his place in the left-back and I think he was entitled to play in EURO 2021. I could also put Caner, who is more experienced and can be played on, but he did not play in eliminations, and Ridvan's successful defensive actions and pressure duels are more.
I want to put a mark here. I chose my wing backs from players whose origin was defense back. As I mentioned at the beginning, filling the left and right of 3-4-3 with attacking players can be visually feast. The creativity level of the team can be quite high, but let's face it, the European Championship is not a place where we are experienced. The contribution of the offensive players by coming back is very small. It is a well-known fact that offensive players lack to play long distances.
Ozan Tufan and Taylan Antalyalı (LCM, RCM)
I wanted to write them together because the tasks of the two were a complement to each other. Taylan is a player who owns almost every successful pass in our league. When we are under pressure, Ozan Kabak, Çağlar and Taylan can soften that pressure. Ozan Tufan can carry us forward with his tempo and ball bearing features. It can deter opponents with the physics and pressure he will put in the midfield. Ozan is also a player who directly affects the score. He can disrupt the balance of the opponents by running into the penalty area.
Cengiz Ünder (RCAM)
Although Cengiz could not find enough luck this year, he is the most talented player of our team for many years, he is our most important counter attack weapon, his dribbling skills are one of best wherever he gets the ball. Yusuf Yazıcı could have been preferred and a Lille trio could be formed with Zeki, Yusuf and Burak but the most important reason for Yusuf's increase in Lille is his direct transformation into the second forward and his activity near the goal. Yusuf can enter the game when we need score the most. The best part of this system is that you can replace the central back player with the player of the region you want.
Hakan Çalhanoğlu (LCAM)
Hakan has been the focus of criticism with his National Team performance for years. This year there is a different situation. Under the leadership of Zlatan, Hakan learned how to win a match. He has become Milan's real number 10, which has born from the ashes years later. I think he will be useful for us in EURO 2021.
Burak Yılmaz (ST)
Honestly, I would like to play with Ali Akman, let Cenk's form peak and play with plenty of forward. Burak is experiencing his second honeymoon with football and he has shown how he is the flag player since his transfer to Lille.
Finally, as I mentioned at the beginning, against the experienced wolves of the cup; I think we can disrupt our opponents if we play with tough, leading and oppressive players.