The purpose of this study was to understand which countries are still into long passing games and which countries are preferring more wing attacks and utilising crosses.
The data comparison included 2020/21 season for Europe, and last year for South America.
Commentary "Crosses Made"
There is a certain move from LaLiga towards more crosses taken compared to previous years. Is usual "Ticky & Taka" departing from Spain? Hispaniards jumped 4 ranks in this parameter compared to previous 5 years. Interestingly Spanish speaking Argentina is also moving to more winger attack scenario, opposite side of their arch rival Brasil, while Brazillians maintain their cross level. Russian Premier Liga + Turkish Football Federation remains in the same level in this parameter while The Premier League is going into more passing game, leaving their tradition behind in air born football. Italians, Germans and Dutch prefer more direct game, diagonalism is way behind in this trio while Portugues taken over the short passing game from their neighbours Spain, not into crossing game at all.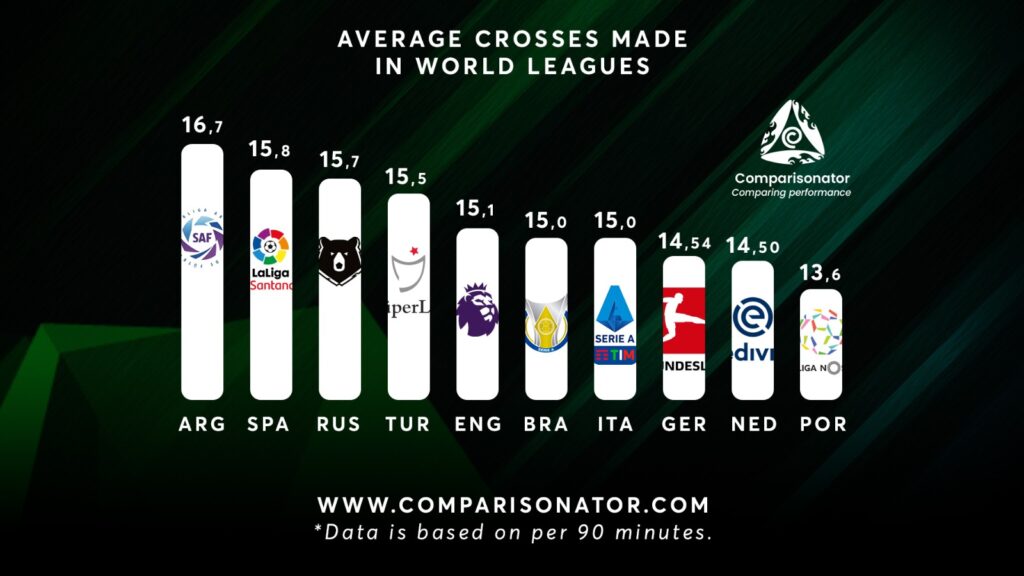 Commentary "Long Passes Made"
Go back to 10 years, English football was the master of long passes game. As the crosses scenario, short passing game took over the Pommies by the looks of it. Amazing switch comes from Eredivisie & Bundesliga, taking the top spots in the ladder. Oranges and Panzers gradually lifted up their long passes game, switching to faster & more effective game plans. More importantly Spain and Russia are following the suits of more long ball game. Very interesting data comes from Brazil, being at the bottom of the ladder in crosses and left long passing play, dropped down to mid table in long passes made compared to past seasons. Turkish league has also dropped the long passing strategy and went into more creativity.